Watch the 2019 New Wave Actors Talk About Hollywood Career-Building
Note: the below originally ran in November as part of our coverage of Film Independent's The New Wave. Enjoy!
***
With the recent launch of not one but two Godzilla-sized streaming services further adding to our current glut of "Peak TV" programming, it might seem as though there are more professional opportunities for Hollywood creatives than ever before. But the simple fact remains: there are still far fewer gigs out there than there are aspirants eager to fill them. Add to that the fact that despite great strides made in recent years, many of the institutional factors that limit work for underrepresented voices still remain, and it becomes clear: this is a business that has never been easy—and never will.
So it's all the more impressive, then, when an onscreen performer is able to use their charisma and talent to actually break through the white noise fogging up the industry and establish themselves an artist whose work demands to be followed. And the careers of five such performers were the subject of October 21's "New Wave Actors Conversation."
Panelists for the event included New Wave honorees Asante Blackk (When They See Us, This is Us), Olivia Cheng (Warrior), Dawn-Lyen Gardner (Queen Sugar), Huma Quereshi (Leila) and Lauren "Lolo" Spencer (Give Me Liberty). The event was moderated by SAGindie Executive Director Darrien Michele Gipson. Watch the full conversation and read up on some of the highlights below:
NEW WAVE ACTORS
Redefining "diversity." Gipson began by reading a quote from The Night Of… actor Riz Ahmed about "diversity and inclusion," and how such paradigms often fall short. Gardner—whose background is African American and Chinese—agreed that while well intentioned, "Once you say something like diversity, it's implied that the 'normal' is X," adding that. for Hollywood casting purposes, an unspoken rule of thumb is that "white is normal—which is unnamed," she said. "It's the othering that's involved… there's an interrogation we haven't fully done."
Pressure cooker. Increased sensitivity around issues of representation have impacted the actors' careers is complicated ways—not all of them positive. Cheng stated that she has received criticism from the Asian American community for roles viewed, by some, as tropes or stereotypes. "I feel pressure that one wrong move or one wrong choice as an actress and I set my community back," Cheng said. "I know they're not trying to disrespect me. They've trying to communicate that they're uncomfortable with what they see [on screen]."
Collaboration. For Spencer, who uses a wheelchair, it's important that performers from underrepresented groups feel empowered to help shape their characters based on their own experiences—and having humble and receptive collaborators is key. According to Spencer, Kirill Mikhanovsky—writer and director of Give Me Liberty—came to her and said, "I don't know what it's like to live with a disability. I don't know what it's like to be a black woman. So if you read this [the script], if you see anything you don't feel is authentic, please let us know."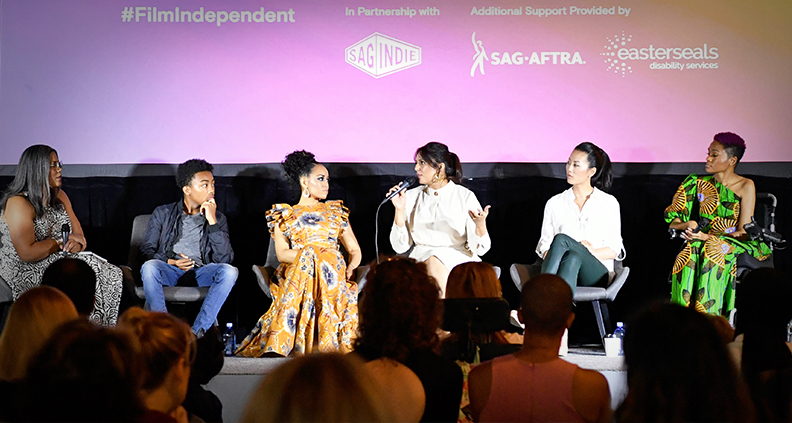 Breakthrough roles. "I was so blessed to have When They See Us be my first project ever," enthused Blackk, of the critically acclaimed Netflix historical drama—a role that earned the 18-year-old newcomer an Emmy nomination. He praised the show's director, Film Independent Spirit Award nominee Ava DuVernay, noting how "she reflects the real world on set." In fact, Blackk's aunt Samira Wiley (no stranger to inclusive film projects, as one of the stars of Orange is the New Black) commented, upon visiting him at work: "I've never seen a set that's been as multicultural as I have on this," Blackk paraphrased.
False meritocracy. The panelists agreed that good work should always deserve to win out, but that certain communities don't always start out on equal footing in order to produce such work. "It's not important that I get cast because I'm Asian," says Quereshi. "It's important that I get cast because I'm good," adding, "Merit is very vague. When you start at unequal places, how do you compare two people who didn't start at the same starting line?" Gipson agreed, asking: "How do you make an Oscar-worthy film, with a tenth of the budget of a bigger film?"
Not-so-color-blind casting. Gipson asked for the panel's feelings about the idea of so-called "color-blind casting." Again, Gardner says she appreciates where the attitude comes from, but "I don't desire to be color-blind, because I value my color and all that it implies," she said. "That's where stories get specific, and thus more universal." She continued: "If you've been marginalized, that's less space that you've been allowed to take up," saying that such limitations can create insidious perceptions and which performers are appropriate for which parts.
"To talk about your process as an actor is the last thing you want to do, because in essence you want to disappear [into the role]," said Gardner at one point. This, despite the generous insight on display at The New Wave. Said Blackk: "There are so many of us waiting to be discovered. We just have to look and find these people."
The New Wave is produced by Film Independent, in partnership with KCRW and sponsored by official host, The Museum of Contemporary Art (MOCA). Supporting Sponsors are Easterseals Disability Services, Hulu, LA County Department of Arts and Culture, National Endowment for the Arts, Netflix, SAG-AFTRA, SAGindie, Warner Bros. and Writers Guild of America West.
Film Independent promotes unique independent voices by helping filmmakers create and advance new work. More Film Independent Events here.
To become a Member of Film Independent, just click here. New Members who join this week will receive $5 off the cost to join or renew. To support us with a donation, click here.
More Film Independent…
(Header: Lolo Spencer in Give Me Liberty)