ICYMI: Andrew Garfield's Favorite Andrew Garfield Performances
Note: the blow blog piece originally ran in March of this year. To see what other events we have coming up at Film Independent—both in-person and online—please go here.
***
Andrew Garfield could run for President. That fact is supported not just by the 38-year-old actor's sky-high (practically celestial!) approval rating, but also by the British Oscar nominee's actual place of birth: Los Angeles, California. "I do feel a sort of strange comfort here," said the …tick, tick, boom! star onstage to TCM Host and moderator Dave Karger at the Wallis Annenberg Center for the Performing Arts in Beverly Hills. The career-spanning March 15 event marked Film Independent Presents' first trip back to the venue since November of last year—with a sold-out audience eagerly listening under their KN95s.
"When I fly into LA, I immediately get infected with sort of the collective unconsciousness here. I start to care about what movies made more money over the weekend," Garfield joked. It was a jovial start to an expansive, deep-dive survey of Garfield's film career—from early highlights like The Social Network to this year's awards-mongering triptych of Spider-Man: Far From Home, The Eyes of Tammy Faye and …tick, tick, BOOM!
Garfield even got emotional at times, particular when talking about shooting musical boom!'s climactic "Why?" number and it's relationship to the recent death of his mother.
With the actor no doubt still in the Southland somewhere getting fitted for his tux for Sunday night's Oscars ceremony (the man does know how to wear a suit!), here are some more of the evening's highlights:
ANDREW GARFIELD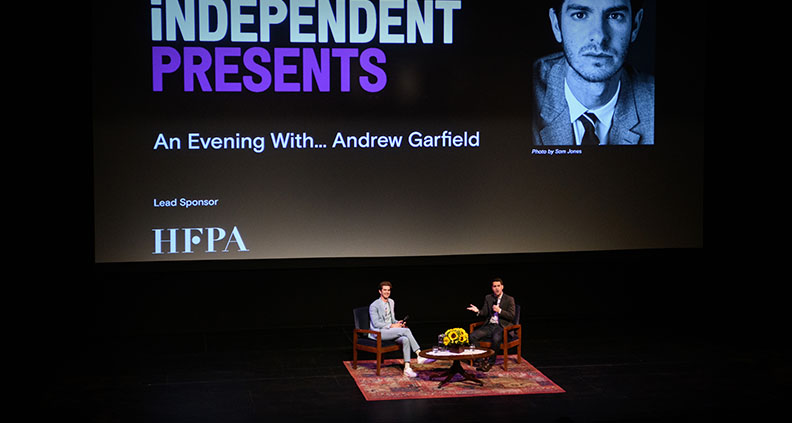 Heroes, peers and competitors. After brushing past his early love of Steven Seagal, Karger asked Garfield about his earliest acting inspirations. Garfield cited Mike Nichols' HBO adaptation of Tony Kushner's Angels in America (2003)—"That was on repeat in our shared house," he said. Then there's Mark Rylance, whose tenure Artistic Director at London's Globe Theater overlapped with Garfield's time in drama school. "We'd go kneel at the alter of Mark Rylance whenever we could; he's our greatest living actor." Though not great enough to beat Garfield at the 2018 Tony Awards, where Rylance was bested by his upstart countryman's star turn in—what else?—Broadway's revival of Angels in America. "That's right," Garfield said with irony, "I'm a better actor than Mark Rylance."
Not bad for a beginner. After discussing his lead role in the British TV film Boy A (released theatrically in the states), Karger asked about Garfield's first proper big screen role, in Robert Redford's 2007 political drama Lions for Lambs. "I was Number Four on the call sheet—Number One was Robert Redford, who was also the director, Number Two was Meryl Streep and Number Three was Tom Cruise. This was my first movie? I was a tadpole!" His ultra-green nervousness on set was balanced out, he says, by Redford's extremely relaxed veteran approach. "He was two hours late every day!" Garfield laughed.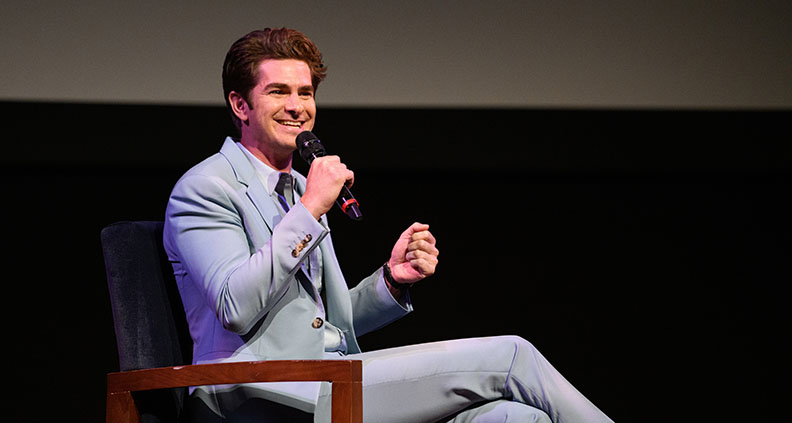 Being "social." Garfield recalled the process of being cast as ousted Facebook co-founder Eduardo Saverin in 2010's The Social Network—his breakout Hollywood role. "It was the greatest film script I had ever read," he said of Aaron Sorkin's screenplay. After initially reading for Mark Zuckerberg, Garfield says he was pulled aside by director David Fincher and told: "I have two actors who I think could play Mark and you're one of them. But I only have one I think could play this other part [Eduardo], so I have to split you up." Jesse Eisenberg's portrayal of Mark Zuckerberg would later be nominated for an Oscar. "Do you wish you had played Mark?" Karger asked. "NO," replied Garfield, emphatically.
Arachnophobia. On accepting the role of Peter Parker in director Mark Webb's two-film reboot of Sony's Spider-Man franchise (post-Tobey Maguire, pre-Tom Holland), Garfield said: "I had to sign on without having seen a script," he said. "Spider-Man had been my first Halloween costume as a kid, [the character] was so important to me." Was there any hesitation? Absolutely. "I had to think about it for about a week before I said yes to the screen test," Garfield said, "There are so many things that could go wrong here; there are so many things that don't feel good to me." Yeah, but still: Spider-Man. "My rational voice was at war with a raging inner three-year-old going, Are you crazy?! There's no way we're not doing this!" he laughed.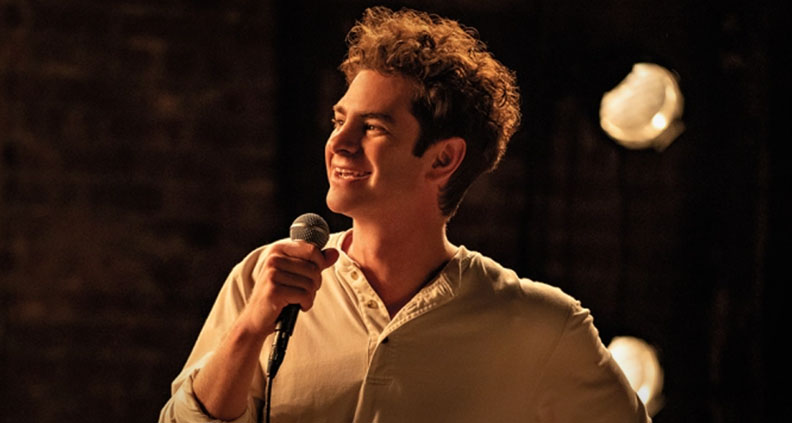 Getting back to work. Garfield said that he was already a fan of indie filmmaker Ramin Bahrani's movies Chop Shop and Man Push Cart when he signed on to star in the director's 2014 drama 99 Homes, about America's recession-era subprime mortgage crisis. "I come from working class roots—you wouldn't know it by my suit right now," he said, glancing down at his cocoon of slim grey tailoring. "My father was a working-class Jewish American guy, my mum was a working class girl from Essex. It [Bahrani's screenplay] just felt like Grapes of Wrath or Death of a Salesman updated." The project, he said, was a welcome antidote to his disorienting and then-recent Spider-Man experiences.
Gratitude. Closing with a clip from …tick, tick, boom! of Garfield's solo piano performance of "Why?" Garfield got emotional, talking about how the moment helped him process his mother's death from cancer, which happened immediately prior to shooting. "I cried watching that, not because of what I'm doing, but because of…" teary-eyed, the actor struggled to continue, "I'm singing for my mother in that. I'm just so grateful that I got to do that—that's loss, trying to deal with it and trying to move forward," adding, of the song: "It was a message in a bottle for my mum, from my mum, for Jonathan [Larson], for Jonathan's community—it was this container of grief, and for the longing for more life."
Film Independent promotes unique independent voices by helping filmmakers create and advance new work. To become a Member of Film Independent, just click here. To support us with a donation, click here.
More Film Independent…
(Header photo: Getty Images)