We The People: Bringing the Conversation about Inclusion Below the Line
The good news? As a whole, the entertainment industry has made tremendous strides in recent years to acknowledge, discuss and address Hollywood's inclusion lingering problem. But! Too often these efforts are focused solely on the top half of the call sheet. And sure, it's great that the industry is trying to make for more underrepresented voices in places like the director's chair, writers room and on screen. But, as we all know by now, there are so many more people involved in the creation of our stories than just the sexy names above the title.
In short, greater inclusion is needed just as badly needed below the line as it is above. The issue was the focus of the September 22 We The People Inclusion Summit panel "Can You See Me Now: Below-the-Line and Buried," which occurred as part of the 2018 LA Film Festival.
Moderated by Jennifer Westin (production executive, Mar Vista Entertainment), the panel featured Congyu E (producer, Searching), Carlos Rosario (costume designer, The Girl in the Spider's Web), Joi McMillon (editor, If Beale Street Could Talk), Kris Bowers (composer, Of Monsters and Men) and Eddie Perez (stunt coordinator, Shameless.)
We The People took place over two days at the Writers Guild Theater in Beverly Hills. Watch the full panel below and read up on some of the highlights below:
BELOW-THE-LINE AND BURIED
The problem is systemic. Said Rosario: "I wish I could hire more crew that represents the diversity of America. But the challenge I have is that it's still a very white industry." He theorized "the white population [has] much more privilege; it's white people [who are able to] take the risk of going into a creative field," adding, "Minorities might feel like they might not have the opportunity to fail."
"Stunt" casting. As a stunt coordinator, Perez said that because his work in visible on-camera, "Our department has seen the effects [of inclusion initiatives] sooner." He described the phenomena of "non-descript" stunt performers—the extras who jump out of the way of a moving vehicle in a scene, for instance—and how, over recent years, he has received less pushback from higher-ups in assembling more diverse groups of "random bystanders" to appear on camera.
Diverse viewpoints means better ideas. Westin asked the panelists how they've observed diversity behind the camera impacting the final product. "I've seen that the more diverse the crew is, the more nourishing the creative process is. When you get to work with people who have roots in every different culture, you get to have a product that's much more interesting," said Rosario.
Education, mentorship, opportunity. Said McMillon: "Access and education are two very important things in making below-the-line more diverse. A lot of times I was the 'only' [only woman; only African-American] in the cutting room," adding that she works to mentor a group of young black female editors and introduce these mentees to peers for assistant editor positions. "Education, mentorship [and] access," are all critical, said Bowers, who observed—with irony—that he was one of only four black kids in the jazz department at Julliard.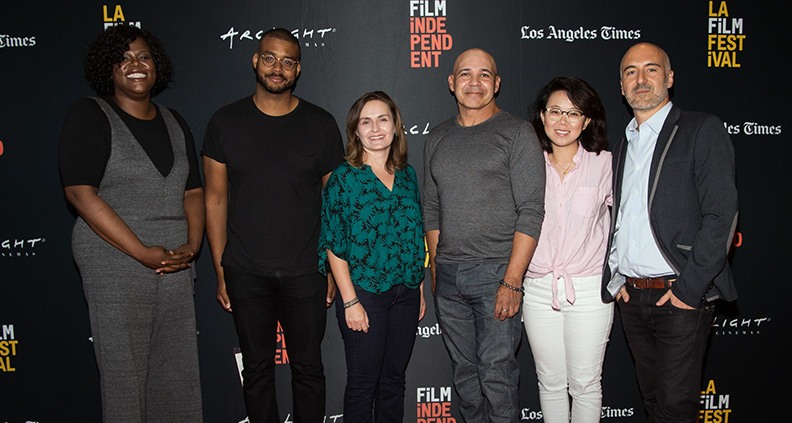 Like a boss. Westin observed: "Getting in the door is one thing. Becoming a department head is another." McMillon agreed, noting the difficulty of getting a breakthrough gig that would finally elevate her from assistant to primary editor on a project. "A lot of times the interview process would go well," but to no avail, she said. "It took Barry [Jenkins] making me an editor on Moonlight. I was more than ready to work on a film, I just wasn't being asked to." For her work on the film, McMillon would eventually win a Film Independent Spirit Award.
Going beyond stereotypes. The panelists agreed that key to getting past limiting stereotypes is by developing personal relationships with filmmakers. Bowers cited frustration, early in his career, only being offered hip-hop work—"That's just one small part of what I create," he said. He noted that Justin Simien (Dear White People) was one of the first people to give him a real opportunity to do something different. "If there's not that conversation," he said, "[the filmmakers] will just stick to whatever stereotype they have of me in their mind."
Trickle-down inclusion. Westin said that, anecdotally, "It seems when you have a person of color or woman in a producer role, there's a huge trickle down [effect]. Is that enough?" Rosario replied: "I think it has to come from everywhere. If each one of us can make a change in our own little corners, it will make a difference on the larger scale," adding, "The above-the-line is the [selling point], because those are the faces you see. But it's up to us."
Further reading and resources. Looking for more resources regarding issues of inclusion and representation for below the line crewmembers? Some of the organizations and outlets mentioned during the panel include: the American Cinema Editors internship program, Grammy in the Schools composers program, the DGA's Assistant Directors Training Program and—of course— Film Independent's myriad Artist Development programs.
For more information about upcoming Film Independent events, click here. To learn more about our Film Education programs, click here.
Learn how to become a Member of Film Independent by visiting our website. The 2018 LA Film Festival took place September 20-28. See more of Festival coverage on Film Independent's blog and YouTube channel.