Pedacito de Carne

Project type: Fiction Short
Project status: Production
Director/Producer: Akilah 'AK' Walker
Producer/Writer: Diana Gonzalez-Morett
Producer: Camila Villanueva
Director of Photography: Joshua Echevarria
Casting Director: Liz Ortiz

Email: goodmotherfilms@gmail.com

Help independent filmmakers tell their stories.
Make a donation to Pedacito de Carne today.
Film Independent's Fiscal Sponsorship program opens the door to nonprofit funding for independent filmmakers and media artists. Donate today and help bring Pedacito de Carne to life.
Logline
Sandra finds herself in a new role as a caregiver for her mother living with dementia. Burnt out by the nonsense that is social service, the relentless pile-on of caregiving demands, and the heartbreak of slowly losing parts of her mother, Sandra risks it all and takes a night off.
Synopsis
Pedacito de Carne is a drama that follows Sandra, a young millennial caregiver for her mother, Antonia who is living with Frontotemporal Degeneration, a rare form of dementia. The disease is quickly progressing and both women have to adjust, grieve and cope with the awkwardness and helplessness of their new roles. Both women are haunted by Antonia's delusions, most viscerally of crocodiles stalking by.
The pair embark on a journey to get answers on why they are not receiving vital benefits from social security. At the office they are met with the most complex system and rude burnt out workers, who drive Sandra to make a bold statement. A moment of light hearted revenge ensues and gives Sandra a sensation of levity and connection with her Mom.
High off their stint, Sandra runs into an old flame, who asks her out and ignites a desire that her instincts tell her to squelch. Ignoring her duties she takes the night off. The next morning in the wake of her night of respite, to Sandra's surprise, she is met by her mother, who is fondly unrecognizable.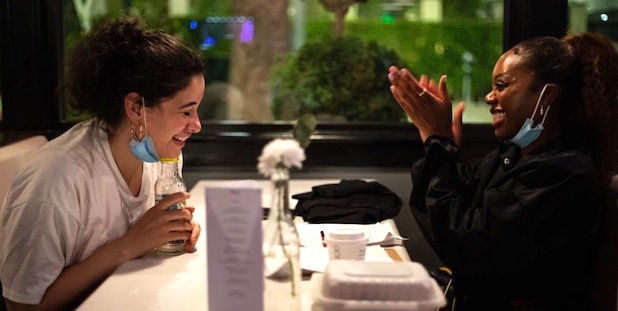 Meet the Filmmakers
Akilah 'AK' Walker – Director/Producer
Akilah "AK" Walker is an actress, auteur and creative producer fascinated by the performative, the magical and the absurd–especially as it relates to people of the African diaspora. Akilah was named 'Best First Time Director (Female) by The Independent Shorts Awards in October of 2021 for her directorial debut short film Ivar Tunnel: Shook Ones (IT:SO) which gained distribution and made its television debut on the REVOLT channel in July 2022. The film also won Best US Short Film from the San Francisco Indie Film Festival and Best Cinematography from the Black Women Film Network. 'IT:SO' premiered at the Toronto Black Film Festival in February 2022 and was featured in a collection of films on the black-owned streaming platform Kweli TV. Ivar Tunnel: Shook Ones had its West-Coast Premiere at The 2022 Micheaux Film Festival and will screen at The Hip Hop Film Festival in August 2022.
Currently, AK is in pre-production to direct her second short film, Pedacito de Carne as a fellow of the NALIP/Netflix Latino Lens Women of color Narrative Short Film Incubator. Pedacito will be produced through Good Mother Films, a production company she co-founded in 2020 with creative partner, Diana Gonzalez-Morett
In film, she can be seen in Emmy-nominated director Jaclyn Bethany's Under The Lantern Lit Sky and Sorry To Bother You helmed by the legendary Boots Riley. Walker also performed in the highly-selective ABC Discovers Talent Showcase in 2020. Williams wrote and directed the short film Yoga Love which is currently in post-production. AK also co-directed Broke Brie along with Khomari Flash, a television pilot following a young woman living in LA on a hilariously tight budget, which premiered at the Women of African Descent Film Festival. AK co-founded Good Mother Films, a creative production company that specializes in producing innovative and community-conscious content for film, television, web, theatre and beyond. AK holds an MFA in acting from American Conservatory Theater in San Francisco as well as a BA in Acting from Fordham University. Originally an Atlanta native, she now proudly calls Los Angeles home.
Diana Gonzalez-Morett – Writer/Producer
Diana Gonzalez-Morett is a creative producer, writer, actress, and caregiver. Diana finds creative strength in her fluidity as a multi-hyphenate
and is passionate about supporting creative visions.
In 2020 Diana and Akilah 'AK' Walker co-founded Good Mother Films a BIPOC, woman-led creative company that specializes in producing personal stories told with emotional depth, bold artistry, and always considering their social impact. In 2021, the company produced its first short film, award-winning Ivar Tunnel: Shook Ones which is currently airing on the REVOLT network. In 2022, Pedacito de Carne a short film written by Diana, was one of five films selected to be produced as part of the NALIP/Netflix Latino Lens: women of color narrative short film incubator. Diana is also an associate producer for #Hashtagtheshow a sketch comedy web series about being a Black and Brown in America. Each episode highlights the absurdity in everyday life addressing everything from microaggressions to 'woketivism'.
When she is not filmmaking Diana works as a teaching artist and director for Bergen Performing Arts Center working with children from ages 5-25. She is also an integral part of the team of Lotus Arts Management, one of the country's premier dance agencies, handling artist and client relations and supporting the president administratively. Diana received her MFA in Acting from the American Conservatory Theater in SF where she received awards for her innovation and work within the program. She received her BFA in Theater Arts & Acting from Marymount Manhattan College. Diana is currently based in New Jersey where she is a full-time caregiver for her mother living with frontotemporal dementia (FTD). It would be unfair to not acknowledge that she does everything with the help of her loyal chihuahua, Lupita.
Camila Villanueva – Producer
Camila is an award-winning Filipino-American filmmaker based in New York, NY. She has produced several projects including Masaru (2022) and Firecracker (2022) both of which are in the festival circuit for 2022. Camila is an exceptional storyteller who specializes in the Asian-American experience and promoting Filipino culture to the mainstream media.
Camila Joliana Torres Villanueva was born in Metro Manila, Philippines. Camila immigrated to the United States in August 2000 and grew up in the San Francisco Bay Area, CA. She previously worked as a Biomedical Engineer specializing in Cardiac Medical Devices as a sales rep for implantable cardiac pacemakers and defibrillators until December 2017. In May 2018, she moved to Los Angeles to pursue a career as an actress. She then realized her true calling as a visual storyteller after enrolling in the Directing Certificate program at UCLA Extension in April 2019.
She started her career in Hollywood as the Unit Production Manager for Ashley Jones is Perfectly Normal (2021) and as a First Assistant Director on various short films, feature films, music videos, commercials, and promo videos. Camila is a strong leader on set and gives her heart in every production.
Joshua Echevarria – Director of Photography
Joshua Echevarria is a Jersey City based Cinematographer who travels globally shooting narratives, documentaries and commercials resulting in a
diverse portfolio of work. His focus has always been on narrative projects and he is drawn to character driven films that examine the unseen and often overlooked aspects of humanity. He loves using light and composition as a tool to drive the story forward while communicating the emotions and thoughts of a character. Some of his most recent work includes AAPI film Don't which was sponsored by Kodak and Panavision, Netflix sponsored short, Hija Del Mar, which was shot in Puerto Rico and premiered at LALIFF in June and But I'm Here Too featuring Tony Goldwyn and his daughter Tess Goldwyn. Joshua's work has been seen on National Geographic, Netflix, Amazon Prime and more. For his commercial work, Josh has collaborated with Spotify, Nike, Michael Kors, New Balance, NFL, Footlocker and more. Although he works on all formats, Josh also specializes in shooting 16mm and 35mm film.
Contact
For inquiries, please contact fiscalsponsorship@filmindependent.org.