The Falling World

Seeking finishing funds for our Spring 2022 Festival Premiere!
Project type: Narrative Feature
Project status: Post-Production
Writer/Director: Jaclyn Bethany
Producer/Executive Producer: C.C. Kellogg
Producer/Executive Producer: Isabelle Chester
Director of Photography: Kenny Suleimanagich
Editor: Soojin Chung

Email: jaxybeth@gmail.com

Help independent filmmakers tell their stories.
Make a donation to The Falling World today.
Film Independent's Fiscal Sponsorship program opens the door to nonprofit funding for independent filmmakers and media artists. Donate today and help bring The Falling World to life.
Logline
October 1992. A group of law students head to a remote home upstate where a girl disappeared two years earlier.
Synopsis
October 1992. It's Fall Break at Quincy Law School and first year Lark is invited to the remote country estate of a classmate, the enigmatic and beautiful Hadley Warren. Lark joins Hadley and her boyfriend, Arthur, as well as their friends Maeve and Baxter for a relaxing, fun weekend.
Over the weekend, Lark begins to bond with each person, including Hadley's sister, Margot, slowly starting to feel accepted. However, she can feel something is off. Maeve reveals to Lark that a girl named Jill was Hadley's best friend her first year at Quincy. She disappeared on the property two years ago, coincidentally, over fall break. As the days and nights unfurl, Lark begins to fall for Hadley while slowly realizing what really happened to Jill.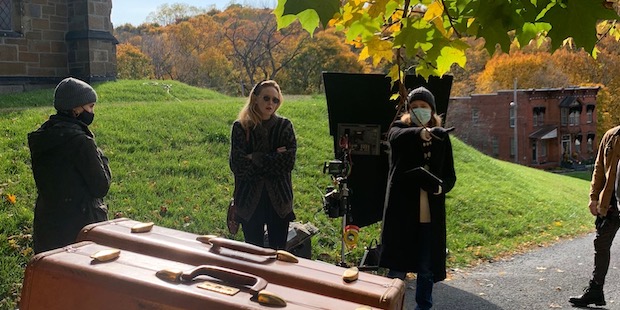 Meet the Filmmakers
Jaclyn Bethany – Writer/Director
Jaclyn Bethany is a graduate of the the American Film Institute with an MFA in Directing. Her first feature Indigo Valley was released by Giant Pictures, her second Highway One premiered at Santa Barbara Film Festival and has played festivals worldwide. Her digital series The Rehearsal won an Emmy in 2020.
C.C. Kellogg – Producer/Executive Producer
C.C. Kellogg is a maker/producer of theatre and film. Her mixed
media and live work has been featured in performances and residencies internationally. C.C. holds an A.B. in English as well as a Certificate in Theater from Princeton University. She also holds an MA in Shakespeare in Performance with a new media emphasis from Bath Spa University where she is a current PhD researcher focusing on live performance capture. Her production company, Valmora Productions, was founded in 2017 to foster emerging talent in film and digital media from female identifying creatives.
Isabelle Chester – Producer/Executive Producer
Isabelle Chester most recently can be seen in the Protozoa Pictures feature film, Catch The Fair One, directed by Joseph Kubota Wladyka which premiered at the Tribeca Film Festival and won the Audience Award. She has worked with Peter Bogdanovich on editing Orson Welles' final film, The Other Side Of the Wind as well as a Buster Keaton documentary, The Great Buster: A Celebration, both which were bought by Netflix.
Kenny Suleimanagich – Director of Photography
Kenny Suleimanagich is a cinematographer based in New York City and Los Angeles. His work spans narrative, documentary, and commercial across 16mm, 35mm and digital formats. Projects he has shot have appeared at Sundance, Slamdance, Maryland, New
Orleans, Camden, and Outfest Film Festivals.
Soojin Chung – Editor
Soojin Chung has worked in countless narrative feature films, short films, documentaries, music videos, commercials and promos since 2000. A graduate of the American Film Institute editing program, Chung was awarded the American Cinema Editors (ACE) Eddie Award for Student Editing in 2008. The films that Chung edited played numerous film festival such as Sundance, Venice and more.
Contact
For inquiries, please contact fiscalsponsorship@filmindependent.org.