10 Indies We Love About the Agony and Ecstasy of Back to School
Most people agree that once Labor Day passes it's Sayonara, summer! It's never fun to say "goodbye" to vacations, swimming pools or the beach and "hello" to textbooks, pop quizzes and annoying teachers. But believe it or not, heading back to school has just as many pros as cons. We look forward to seeing our friends, going to prom and letting loose at weekend house parties. But other days, we just want to ditch class, curl up and watch a movie. So should you decide to play hooky this month, here are 10 Indies We Love to help pass your truancy, all about the agony and the ecstasy of heading back to school.
---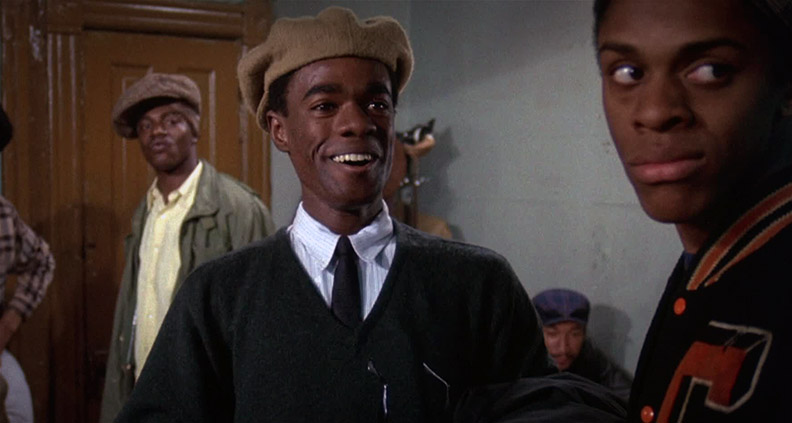 COOLEY HIGH (1975)
Where You Can Watch: Vudu
Director: Michael Schultz
Starring: Glynn Turman, Lawrence Hilton-Jacobs
Why We Love It: Years before the ascendancy of Spike Lee director Michael Schultz took Blaxploitation to the next level, using his work to take on heavy topics affecting the African-American community while also exploring themes that are binding on a universal human level. Glynn Turman and Lawrence Hilton-Jacobs star as Preach and Cochise, two best friends on their way to graduating from Chicago's Cooley High. Schultz blends genres, making sure audiences laugh at the jokes before shifting gears to bring social topics like gang violence, sexism and educational opportunities for black communities to the fore. It certainly proved a successful formula—the low-budget dramedy was a box office smash, grossing more than ten times what it cost to make.
---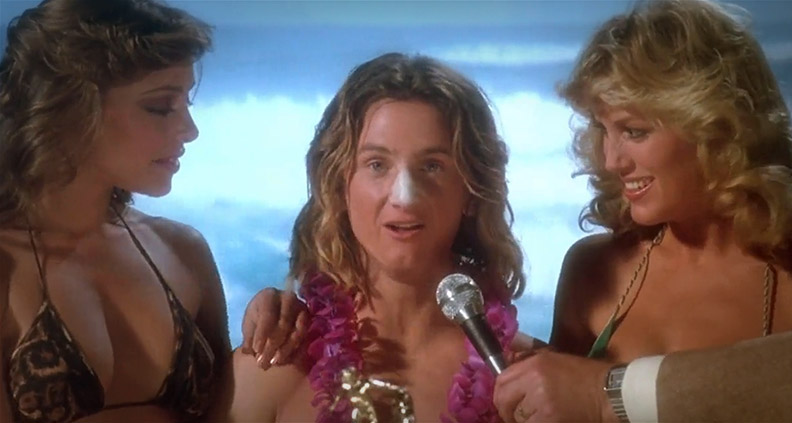 FAST TIMES AT RIDGEMONT HIGH (1982)
Where You Can Watch: Crackle, iTunes, Amazon, GooglePlay, Vudu, Playstation, Microsoft
Director: Amy Heckerling
Starring: Sean Penn, Phoebe Cates, Jennifer Jason Leigh
Why We Love It: In her debut feature, director Amy Heckerling firmly proved she could make a name for herself in an industry dominated by men. Based on Cameron Crowe's autobiographical book (Crow also adapted the screenplay—his first), Fast Times is a hilarious dramatization of what high school was really like in southern California circa 1982. It wouldn't be the last time Heckerling showcased her knack for capturing youth. She'd of course go on to make yet another unforgettable high school movie (Clueless), but there are countless moments throughout her debut we'll totally remember forever–we'll never look at a carrot the same way again! Fast Times paved the way for decades of youth-oriented films, which seemingly used Fast Times as their blueprint. And as with most of Heckerling's films, it's the ensemble of actors—and Heckerling's ability to extract great performances—that truly elevates the material, bringing such timeless characters such as Jeff Spicoli (Sean Penn) to life.
---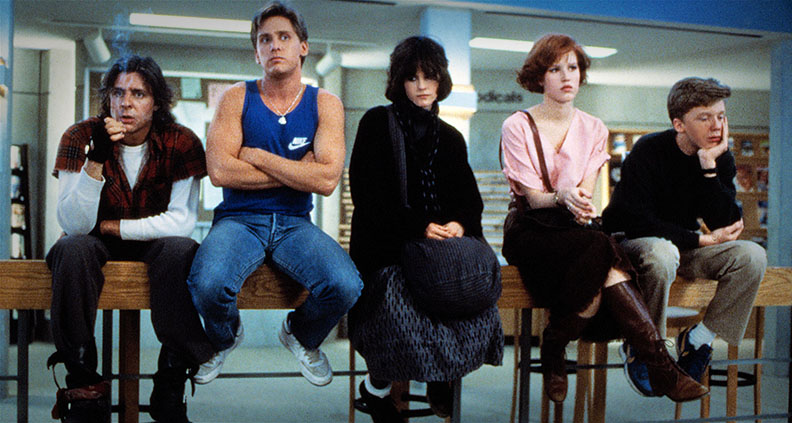 THE BREAKFAST CLUB (1985)
Where You Can Watch: iTunes, Amazon, GooglePlay, Vudu, Playstation, Microsoft
Director: John Hughes
Starring: Emilio Estevez, Molly Ringwald, Judd Nelson, Ally Sheedy, Anthony Michael Hall
Why We Love It: We can all agree that The Breakfast Club is one of the first films that pop into our heads when thinking of movies about high school. After all, who could forget The Jock, The Geek, The Princess, The Outcast and The Criminal? Breakfast Club is a testament to the magic that can happen when five perfectly cast actors step into five perfectly drawn, three-dimensional characters. Hughes' one-of-a-kind teen dramedy is a stellar example of 1980s filmmaking and is now rightly regarded as a modern classic. The film was made on a paltry $1 million dollar budget but eventually grossed $38 million and became one-third of the timeless "Hughes High" movie trilogy, along with Sixteen Candles and Ferris Beuller's Day Off). Cue the Simple Minds!
---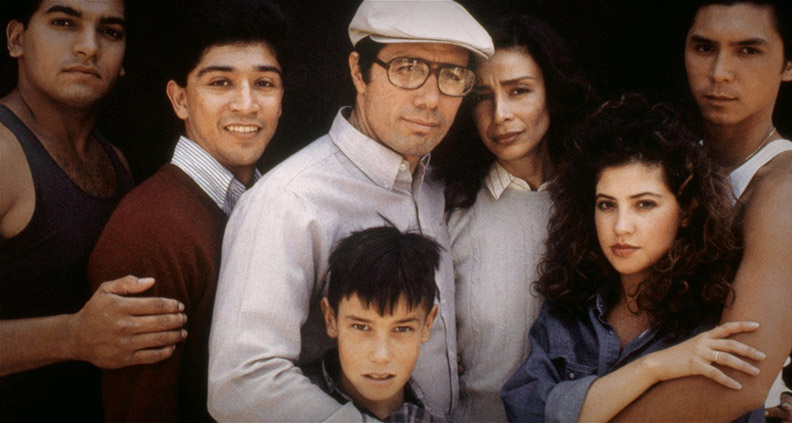 STAND AND DELIVER (1988)
Where You Can Watch: Amazon, GooglePlay, Vudu, Playstation, Microsoft
Director: Ramon Menendez
Starring: Edward James Olmos, Lou Diamond Phillips, Rosanna DeSoto, Andy Garcia
Why We Love It: Stand and Deliver is the true story of Jaime Escalante—the James A. Garfield High School math teacher who made unprecedented strides in motivating his under-performing (and under-privileged) students in early 1980s East LA. In Ramon Menendez's touching dramatization of the story, Edward James Olmos stars as Escalante, who earned an Academy Award nomination for his iconic performance. The remarkable achievements of both Escalante and his pupils are unsentimentally detailed in the critically acclaimed inspiration drama, which cleaned up at the 1989 Film Independent Spirit Awards, winning six awards including Best Feature, Best Director and Best Screenplay.
---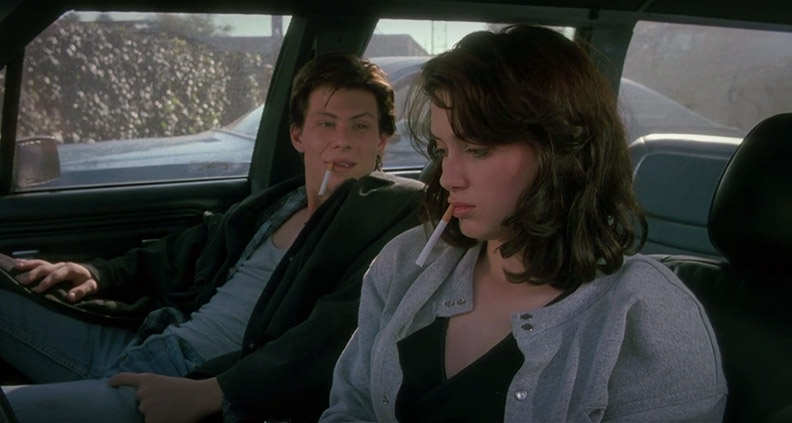 HEATHERS (1988)
Where You Can Watch: Netflix, Hulu, iTunes, Amazon, GooglePlay, Vudu, Microsoft
Director: Michael Lehmann
Starring: Winona Ryder, Christian Slater, Shannen Doherty
Why We Love It: Before Clueless or Mean Girls, the late 1980s delivered some truly deranged young women who totally redefined the art of the high school popularity contest. Michael Lehmann's cult classic debut stars Winona Ryder as Veronica, a rebellious smarty-pants who just so happens to be best friends with three of the most famous girls in school—all named Heather. When suicide becomes trendy amongst the student body, Veronica begins to questions who her real friends actually are, meeting a sociopathic love interest (Christian Slater) who eggs her on. Pop hit "Teenage Suicide (Don't Do It)" plays as the death count rises, Drain-O is swallowed, shots are fired and blood is splattered. But somehow, Lehmann's dark comedy always manages to make us laugh. It's satirical, quotable and is also the winner of the 1989 Spirit Award for Best First Feature.
---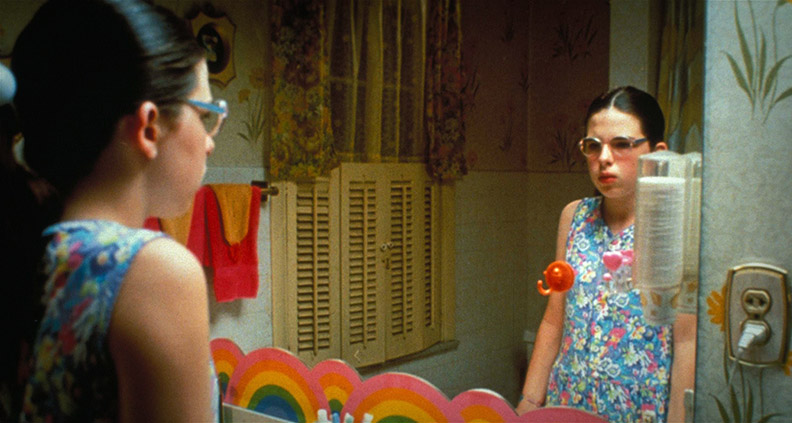 WELCOME TO THE DOLLHOUSE (1994)
Where You Can Watch: iTunes, Vudu, Playstation
Director: Todd Solondz
Starring: Heather Matarazzo, Matthew Faber, Brendan Sexton III
Why We Love It: If you're one of the many who look back at your adolescent years without much fondness, perhaps you'll feel a bit better about that post-pubescent turmoil once you meet Dawn Weiner. In his second feature, one-of-a-kind indie auteur Todd Solondz took his bizarre aesthetic to the next level, seeing just how uncomfortable he could dare to make his audience. Such would become his signature: pushing boundaries, inventing inexplicable characters and telling inimitable stories that may not necessarily be appealing to everyone (or anyone). As Dawn, Heather Matarazzo makes her acting debut—for which she won an Film Independent Spirit Award for Best Debut Performance—as a nerdy teenager desperate for attention and beauty. As her hormones rage, her parents nag and her siblings annoy, Dawn experiments with various techniques to enhance her appearance in an effort to satisfy her sexual curiosity. Aside from Matarazzo's win, the film also received four other Spirit Award nominations, including a Best Director nod for Solondz as well as one for Best Feature.
---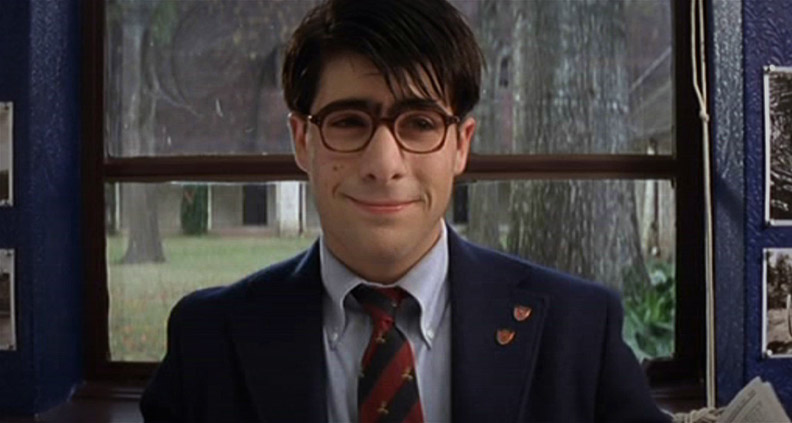 RUSHMORE (1998)
Where You Can Watch: HBO, Amazon, GooglePlay, Vudu, Playstation, Microsoft
Director: Wes Anderson
Starring: Jason Schwartzman, Bill Murray, Olivia Williams
Why We Love It: Wes Anderson is the type of visionary filmmaker that defined his signature right from the start of his career, enabling audiences to recognize one of his movies from the very moment it begins. Anderson and frequent collaborator Owen Wilson penned this screenplay about a most unusual love triangle, between a peculiar teen named Max Fischer (Jason Schwartzman in his acting debut), who, along with rich industrialist Herman Blume (Bill Murray), competes for the affections of Olivia Williams' reticent elementary school teacher. The film launched Schwartzman's career, who would become a regular member of Anderson's repertory company. Rushmore won the acclaim of critics, secured a loyal fan base for Anderson's artistry and won two Spirit Awards –for Best Director and Best Supporting Male for Bill Murray.
---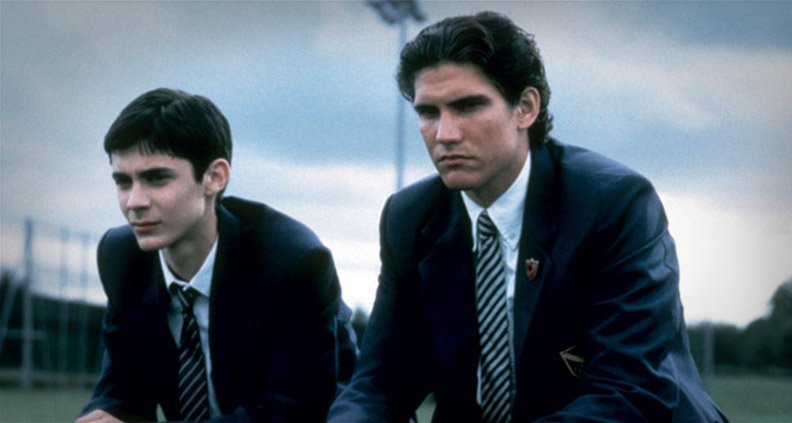 GET REAL (1998)
Where You Can Watch: Amazon, GooglePlay, Microsoft
Director: Simon Shore
Starring: Ben Silverstone, Brad Gorton
Why We Love It: Simon Shore's endearing feature debut is yet another great high school dramedy, as well as one of the most underrated LGBT indies currently out there, exploring the fleetingness, uncertainty and change that accompanies a young man's coming-out-of-the-closet and first love in ways that many gay men can undoubtedly relate to. Most of the film takes place in a British high school, where Steven (Ben Silverstone) is coming to terms with his homosexuality, realizing he has the hots for classmate John (Brad Gorton). The main problem with this crush is that the object of his affection is a popular athlete—and seemingly straight. That is, until he's not… The two begin hanging out, making out and hiding out. Shore's bittersweet tale has the sincere ability to connect with audiences in a genuine and authentic way regardless of your sexual orientation and is a reminder of how high school can be both agony and ecstasy.
---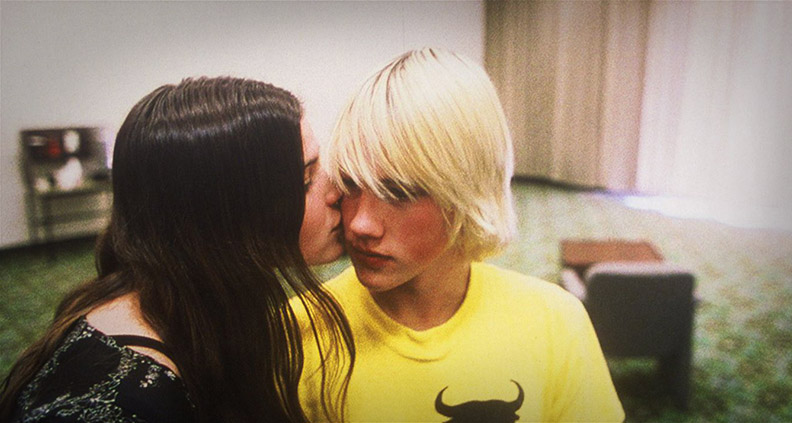 ELEPHANT (2003)
Where You Can Watch: DVD
Director: Gus Van Sant
Starring: Elias McConnell, Alex Frost
Why We Love It: Pioneering independent filmmaker Gus Van Sant made an audacious artistic statement with this powerful drama inspired by the unfathomable Columbine tragedy. Definitely falling under "the agony" side of going back to school, any student or faculty members' biggest fear is starkly rendered in Elephant, portrayed with such realism that at times it almost feels like a documentary. In typical Van Sant form, the film has a slow build. We follow several students throughout what they presume to be just another ordinary day at their Oregon high school. But that day soon becomes soaked in blood and fear as the unthinkable occurs. While always notorious for displaying brevity in his boldly visionary works, Van Sant takes on the utmost of sensitive subject matter in a way that comes off as effortless. The film received a nomination for Best Director at the Film Independent Spirit Awards, where Van Sant had previously won in the Best Screenplay category twice.
---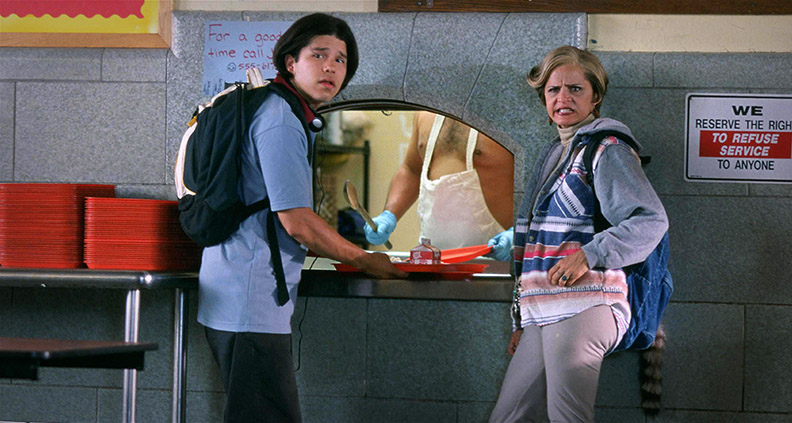 STRANGERS WITH CANDY: THE MOVIE (2005)
Where You Can Watch: DVD
Director: Paul Dinello
Starring: Amy Sedaris, Stephen Colbert, Paul Dinello
Why We Love It: Pizza! Pizza! What could be better than Comedy Central's ridiculously funny TV series Strangers with Candy? Easy: a feature length movie version! Creator and star Amy Sedaris—along with her co-stars, writers and first-time director Paul Dinello—gave fans the ultimate revival of Jerri Blank when this prequel feature hit theaters. In the film, our favorite boozer, user and loser gets released from prison and returns home to her family only to discover that her father (Dan Hedaya) is in a coma. Returning to high school in an attempt to make a fresh start, Jerri and her two new best friends attempt to win the science fair in order to make daddy proud and potentially awaken him from his slumber. Whether you're a fan of the show or are meeting Jerri for the first time, it's guaranteed you won't be able to stop laughing.
---
To learn more about Film Independent, subscribe to our YouTube channel. You can catch up with the rest of our blog here. And to learn how to become of Member of Film Independent, just click here.