Be Mine: 10 Indies We Love About Crazy Couples and Tragic Affairs
In celebration of Valentine's Day, we're reposting the below piece from 2016. Special thanks to author Chris Lombardi. Box of drug store chocolates and heart-shaped card not included.
***
When it comes to celebrating our love lives, there are two types of people out there: those who look forward to the kisses, roses, chocolates and the romantic happenings of Valentine's Day, and everyone else. But hey, at least there's chocolate. Lots and lots of chocolate.
We dedicate this blog to the singles, the recently dumped, or anyone else out there who hates V-Day and is in no mood for PDA. So instead of watching a cheesy Hollywood rom-com, here are 10 choices for films about crazy relationships that will make you feel much, much better about your own love life.
WHO'S AFRAID OF VIRGINIA WOOLF (1966)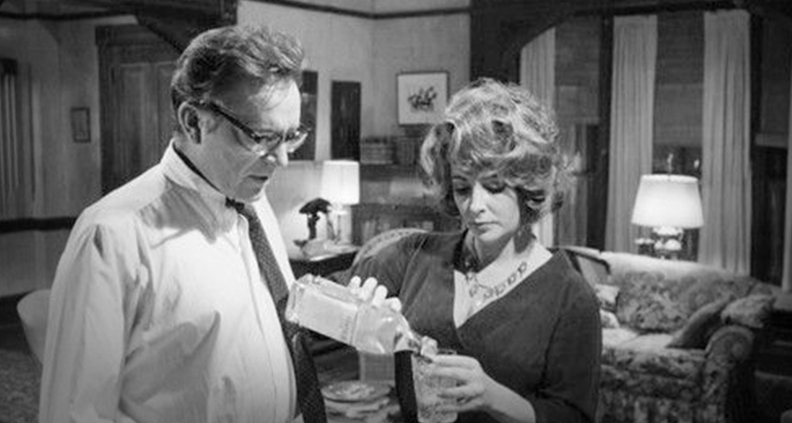 Director: Mike Nichols
Crazy Couple: Elizabeth Taylor & Richard Burton
Where You Can Watch: Amazon, iTunes, Google Play
Why We Love It: This Hollywood classic, based on the acclaimed play by Edward Albee, stars real-life couple Elizabeth Taylor and Richard Burton, who were married to each other (for the first of two times) during production. In the film, they play Martha and George, an unhappily married couple who spend a lot of time drinking, screaming, throwing hysterical fits and then drinking some more. One night they decide to invite a young couple over for a nightcap and decide to display their habit of emotionally abusing each other in front of the captive audience. The film earned Taylor her second Academy Award for Best Actress— an ironic testament to the actor's legendarily turbulent on again/off again relationship with Burton.
BADLANDS (1973)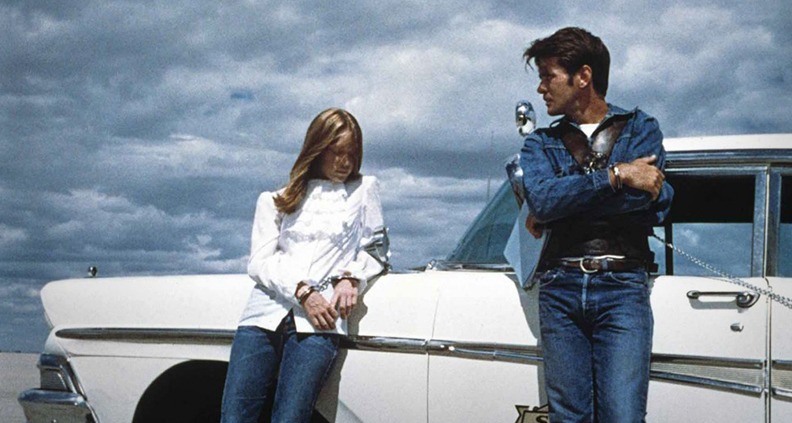 Director: Terrence Malick
Crazy Couple: Martin Sheen & Sissy Spacek
Where You Can Watch: YouTube, Amazon, Google Play, iTunes
Why We Love It: Before there was Mickey and Mallory, Martin Sheen and Sissy Spacek starred as Kit and Holly: an age-inappropriate couple who kick off their sordid love affair by going on a killing spree. When Holly's father (understandably) threatens the 20-something Kit and banishes him from seeing his 15-year-old daughter, Kit shoots him dead. The two deranged lovebirds then burn the house to the ground to make it look like a suicide but the plan backfires, sending them on the run. Their journey results in still more bloodshed throughout the South Dakota badlands. For these two, gunshots were clearly an aphrodisiac. Terrence Malick's feature debut launched Spacek to stardom. She would soon be cast as Carrie in Brian De Palma's classic horror film—yet another tale of teen hormones run amok!
SID AND NANCY (1986)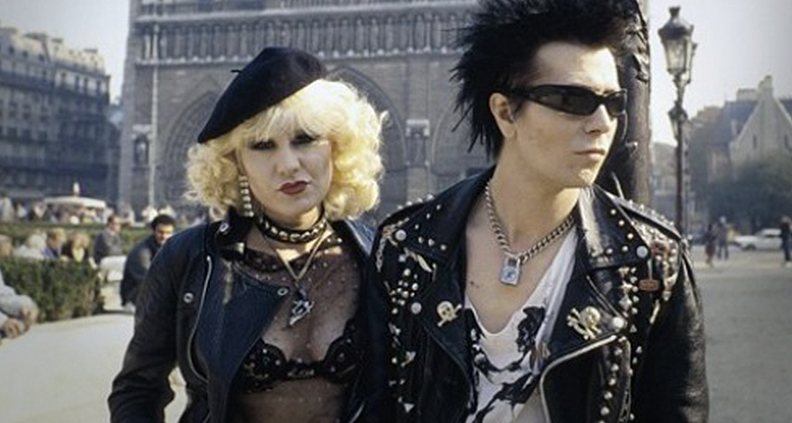 Director: Alex Cox
Crazy Couple: Gary Oldman & Chloe Webb
Where You Can Watch: DVD, Blu-Ray
Why We Love It: When the popular punk band The Sex Pistols disintegrated in 1978, many argued that it was the drug-fueled relationship between bassist Sid Vicious and girlfriend Nancy that instigated the break-up. Alex Cox's cult classic is the biographical portrait of Sid and Nancy's heroin-induced love affair, which was a pure reflection of the classic "can't live with/can't live without" attachment. Unfortunately for these two, it was pretty much just "can't live". Toward the end of 1978, Sid was charged with Nancy's murder before dying of a heroin overdose only a few months later. Not quite as romantic as Romeo & Juliet, but proof that sometimes love does kill.
THE WAR OF THE ROSES (1989)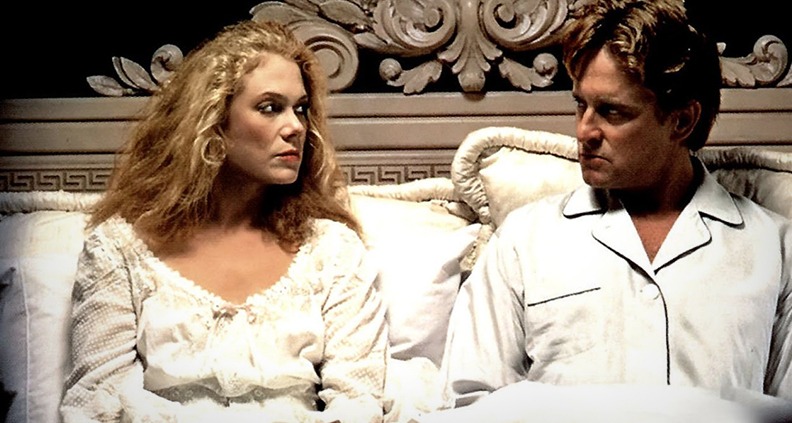 Director: Danny DeVito
Crazy Couple: Michael Douglas & Kathleen Turner
Where You Can Watch: Amazon, Vudu, YouTube, Max Go
Why We Love It: In Danny DeVito's sophomore effort behind the camera, the director plays a divorce attorney narrating the dissolving marriage of Oliver and Barbara Rose. The dark comedy features violently hilarious performances from Michael Douglas and Kathleen Turner who will make you think twice about ever getting married. When Mrs. Rose starts contemplating what life would be like without Mr. Rose and decides she wants to split, the two compete to drive each other out the front door. The audience witnesses this insane couple go head to head in a fight to see who gets to stay behind in their not-so-humble abode, proving that home is where the heartbreak is.
WHAT'S LOVE GOT TO DO WITH IT? (1993)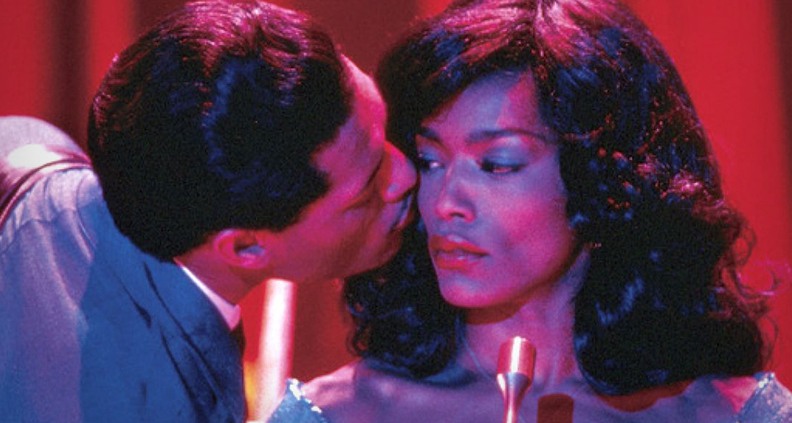 Director: Brian Gibson
Crazy Couple: Angela Bassett & Laurence Fishburne
Where You Can Watch: iTunes, Vudu, Amazon, Showtime
Why We Love It: If there's one woman out there who proved that money, success, fame and talent could in no way purchase love or happiness, it's Tina Turner. In her Oscar-nominated role, the irreplaceable Angela Bassett stars as Tina, bringing the story of her rise to mega-stardom to the big screen. The journey of the iconic Grammy-award winning superstar is inspiring–especially considering everything Tina had to survive. Featuring multiple fun and energetic music sequences, the movie almost seems romantic for a second or two when Tina first meets Ike, the Svengali who inevitably launches her career. At first Tina thinks she's met the man of her dreams, even though there are plenty of red flags that point to his controlling nature. They don't say, "Love is blind" for nothing. The relationship between Ike and Tina is one of the most uncomfortable and frustrating things to watch, as Tina gets physically and sexually assaulted by her deranged husband, but in the end Tina Turner is living proof that what doesn't kill you makes you stronger.
THE HOUSE OF YES (1997)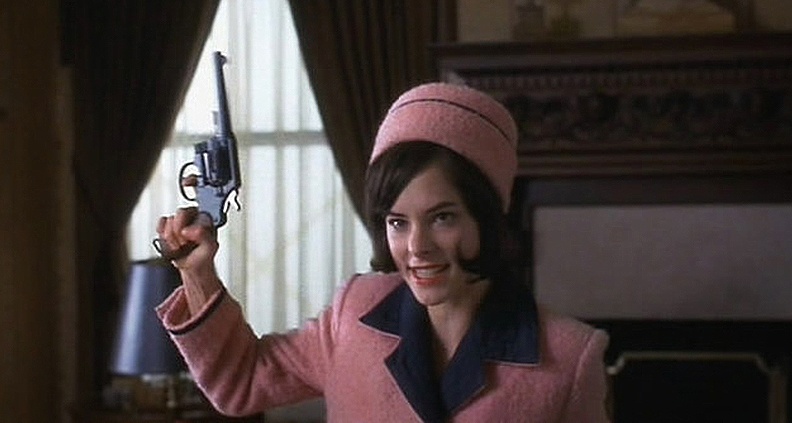 Director: Mark Waters
Crazy Couple: Parker Posey & Josh Hamilton
Where You Can Watch: Amazon, Vudu, Google Play, YouTube
Why We Love It: If you're an only child, count your blessings. You probably won't be as prone to feeling unsettled watching indie darling Parker Posey play "Jackie O" in this disturbingly hilarious black comedy as the rest of us. As Jackie, Posey is positively loopy as a mentally ill young woman housebound under her mother's care and supervision. Jackie has perfect hair, dresses elegantly and speaks with Patrician eloquence—plus she's quite the historian! Her obsession with the Kennedys (hence her nickname) is almost as bizarre as her infatuation with her twin brother Marty, played by Josh Hamilton. On the eve of a torrential hurricane, Marty brings his fiancé (Tori Spelling) home to meet the family and announces his engagement. Jackie, off her meds and in rare form, is not prepared for this news. Her reaction instigates an extremely awkward evening full of inappropriate seduction and (in both senses of the term) character assassination.
HEDWIG AND THE ANGRY INCH (2001)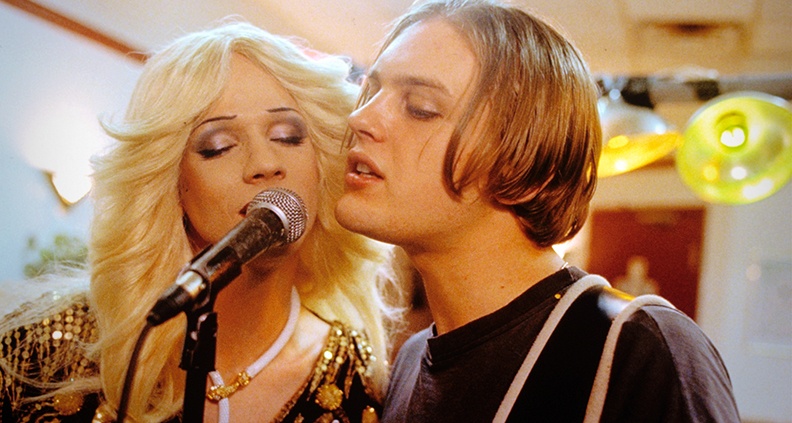 Director: John Cameron Mitchell
Crazy Couple: John Cameron Mitchell & Michael Pitt
Where You Can Watch: Amazon, Vudu, iTunes, GooglePlay
Why We Love It: If you want to get inspired over your less than perfect love life, Hedwig may be the perfect on-screen protagonist for you. John Cameron Mitchell writes, sings, directs and takes center stage as the brazen lead character in his first feature, which was nominated for five Film Independent Spirit Awards in 2002. This vibrant rock odyssey is the ultimate testament to unrequited love—no one understands rejection, loneliness and having their heart stolen quite like Hedwig. While touring the States playing at a chain of seafood restaurants, we learn of the East German Hedwig's deceitful love affair with world-famous rocker Tommy Gnosis (Michael Pitt). Before becoming an international star, Tommy and Hedwig were in love—until Hedwig is stabbed in the back and robbed of her lyrics, melodies and alter ego. While Hedwig flails, Tommy is catapulted to mainstream success. But despite all of the hardships our gutsy, glittery heroine endures she still gets up on stage and grabs heartbreak by the balls.
THE SHAPE OF THINGS (2003)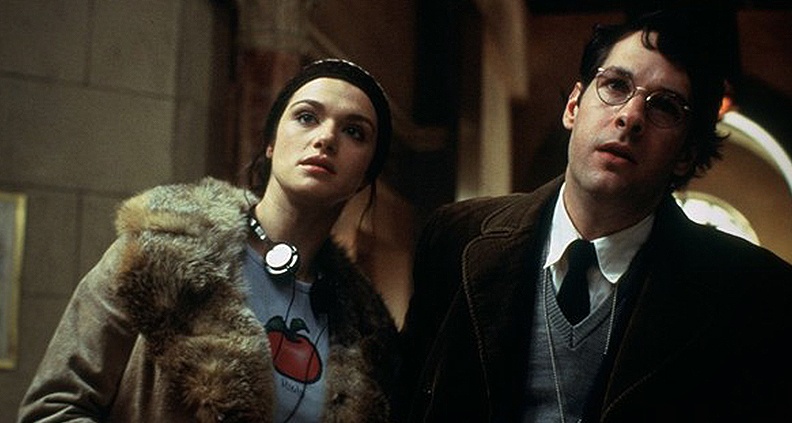 Director: Neil LaBute
Crazy Couple: Paul Rudd & Rachel Weisz
Where You Can Watch: Hoopla, DVD
Why We Love It: Anyone who's ever dated a sociopath or compromised their identity for a significant other will likely sympathize with Paul Rudd's character Adam in Neil LaBute's seriously twisted dark comedy. Adam is a frumpy, recently dumped nerd who meets a beautiful, cultured art student named Evelyn (Rachel Weisz). The two begin dating. Slowly, Evelyn begins to mold Adam into a completely different type of man—from the way he dresses, to his mannerisms and, ultimately, his entire persona. Adam is convinced he's met "the one" and is making plans for a blissful future, unbeknownst to the fact that he may actually be the victim of a deranged social experiment. We won't give away the love crime that is committed, but to say "nice guys really do finish last" is putting it mildly.
LARS AND THE REAL GIRL (2007)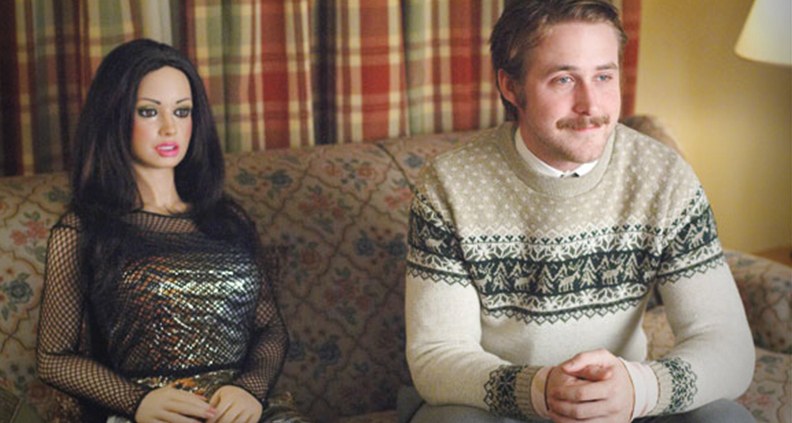 Director: Craig Gillespie
Crazy Couple: Ryan Gosling & Bianca the Sex Doll
Where You Can Watch: Amazon Prime, Hulu, iTunes
Why We Love It: While some may have trouble believing that Hollywood heartthrob Ryan Gosling could ever have trouble with the ladies, he does a perfect job depicting the titular sad sack in this unusual comedy. Lars is a shy, sweet young man who's excited to introduce his new girlfriend to his brother and sister-in-law, who've been hoping for him settle down. They're in for a shock when Lars brings home Bianca, a life-size sex doll. Even though he's more interested in romance than sex, Lars raises eyebrows everywhere he goes. Attempting to fulfill his emotional desire for a meaningful relationship, he treats Bianca like a real girl, which understandably is cause for concern. However, everyone plays along in support of Lars' awkward newfound romance while Lars himself undergoes psychological treatment in hopes that he'll find the social skills necessary to carry on a similar relationship…with an actual human. So for all of you out there who are sick of being single, you could always just order your significant other online. Maybe you'll even get lucky with free expedited shipping!
RUBY SPARKS (2012)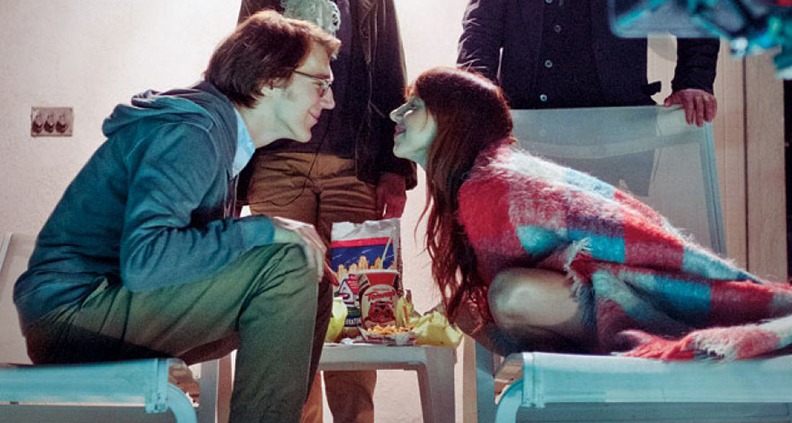 Director: Valerie Faris & Jonathan Dayton
Crazy Couple: Paul Dano & Zoe Kazan
Where You Can Watch: Amazon, Vudu, iTunes, GooglePlay
Why We Love It: Real life sweethearts Valerie Faris and Jonathan Dayton—the Film Independent Spirit Award winning directing duo behind Little Miss Sunshine—team up with another real-life couple, Paul Dano and Zoe Kazan, for a highly conceptual battle of the sexes. Dano plays a novelist with a serious case of writer's block, who finally gets some inspiration once he starts writing about the girl of his dreams. Much to his delusional delight, he wakes up the next day to find that Ruby (Kazan), his fictional character, has actually come to life. Even better, if he doesn't like something about Ruby all he has to do is edit her dialogue. But even in this imaginative world doing so comes at a price, as too many edits (and latent misogyny) turn Ruby into more nightmare than a dream come true. While the plot is obviously fantastical, the realities of modern relationships are smartly dissected, representing valid perspectives from both Mars and Venus. It's quite the bipolar fable. What's even more ironic, the writer behind the writer is Kazan, who earned a Film Independent Spirit Award nomination for Best Screenplay for the film.
---
To learn more about Film Independent, subscribe to our YouTube channel. You can catch up with the rest of our blog here. To learn how to become a Member of Film Independent, just click here.