10 Indies We Love About Frantic Family Gatherings and Giving Thanks
Ah, Thanksgiving. It's easy to forget what the holiday is really about—stuffing your face with as much food as possible to avoid awkward social interactions with family members you haven't seen all year and passing out in a turkey coma with your mouth open. Of course, we all secretly love our families, no matter how frustrated they make us. So we gather to give thanks for whatever it is that fills our heart with gratitude. Surprisingly, there isn't that much of a tradition of Thanksgiving-themed movies. But we did manage to dig up 10 Indies We Love all centered around Turkey Day. And "crazy" is definitely the keyword here. Most of these films involve chaos, lots of shouting and, of course, plenty of food. So unfasten that top button, pull up your Spanx, and don't forget to leave room for popcorn!
---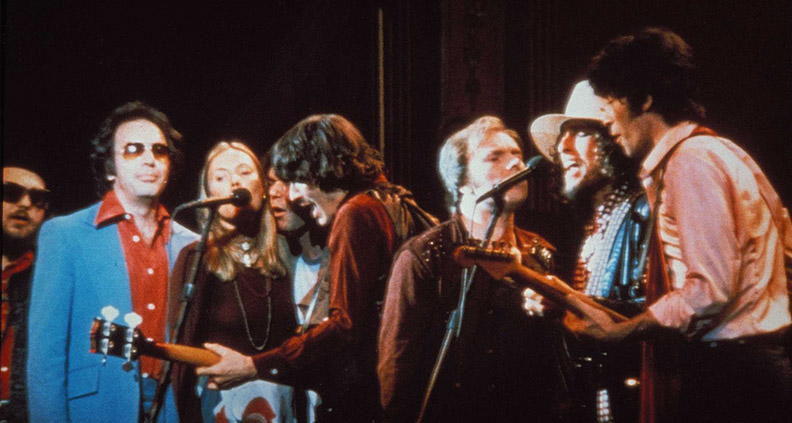 THE LAST WALTZ (1978)
Where You Can Watch: Amazon, Hulu, iTunes
Director: Martin Scorsese
Why We Love It: On Thanksgiving Day 1976, Canadian-American rock legends The Band performed their very last concert at the Winterland Ballroom in San Francisco. And Martin Scorsese, already a legend in his own right, was there with his cameras to capture the entire event. Today, The Last Waltz is hailed as one of the greatest music documentaries of all time, with intimate footage of the happenings that occurred both onstage and behind the scenes. Scorsese interviews members of The Band, who spent 16 years on the road before capping off their run with this celebratory all-star event. Special guests Bob Dylan, Neil Diamond, Joni Mitchell, Emmylou Harris, Ringo Starr and Neil Young join Rick Danko, Robbie Robertson, Richard Manuel, Levon Helm and Garth Hudson for one hell of a farewell concert, which Scorsese masterfully captured to live on forever. As instructed at the start of the feature: THIS FILM SHOULD BE PLAYED LOUD!
---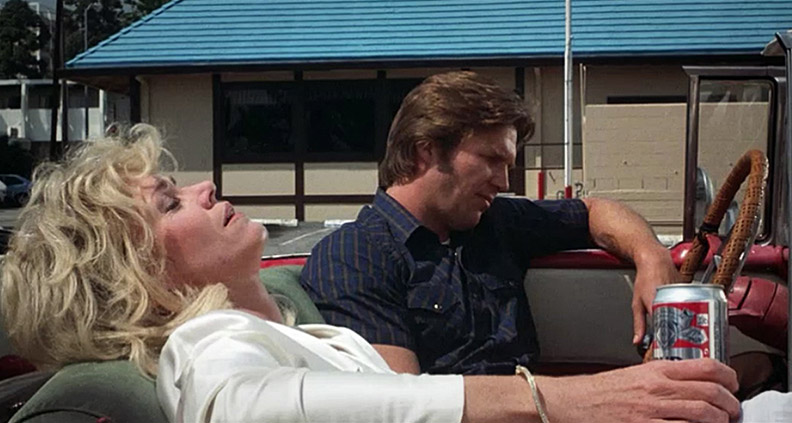 THE MORNING AFTER (1986)
Where You Can Watch: Amazon, Vudu, Google, Microsoft
Director: Sidney Lumet
Stars: Jane Fonda, Jeff Bridges, Raul Julia
Why We Love It: Nobody wants to celebrate Thanksgiving the way Jane Fonda does in Sidney Lumet's thrilling drama The Morning After, a departure from the crazy family gatherings on our list. In an Oscar-nominated role, Fonda stars as Alex, an alcoholic who has very little to be thankful for. Instead of turkey and pumpkin pie, she finds herself entangled in a web of murder and uncertainty. In the gripping opening scenes, Fonda awakens in a stranger's apartment to find the stranger lying dead next to her. Having blacked out the night before, she has no recollection of what occurred. Is she the killer? Or did she cheat death? More importantly: is she the next victim? These are all questions in Alex's confused mind. Jeff Bridges costars the policeman attempting to puzzle together the pieces of the mystery, joining Fonda to help unravel the mystery. Let's just hope that she had a better Christmas.
---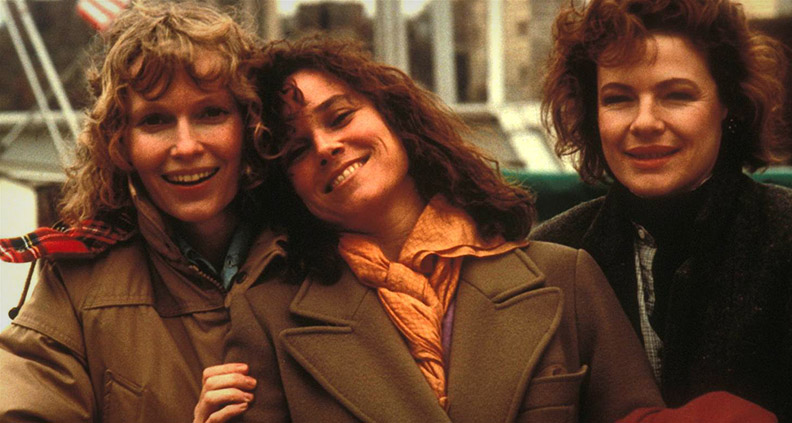 HANNAH AND HER SISTERS (1986)
Where You Can Watch: Amazon
Director: Woody Allen
Stars: Mia Farrow, Dianne Wiest, Barbara Hershey
Why We Love It: One of Woody Allen's most commercially successful and critically acclaimed films follows the lives of Hannah (Farrow) and sisters Lee (Hershey) and Holly (Wiest) over the course of two Thanksgiving holidays. As with most of his scripts, Allen designs an intricate character study that delves deep into the lives of these women, as well as the non-relatives who inform the sisters' perspective on the world. Another reliable element of Allen's work is his ability to assemble the best of the best when it comes to casting. In Hannah, the cast is flawless in its ability to give their characters unparalleled dimension. The three leads, in conjunction with supporting players Michael Caine (who along with Wiest won an Oscar for his performance), Julia Louis-Dreyfus, Carrie Fisher and John Turturro all contribute to the film's greatness, delivering performances that live on and still stand out in each of their respective careers. The film earned seven Academy Award nominations. Along with the actor trophies, Allen took home the gold for his screenplay.
---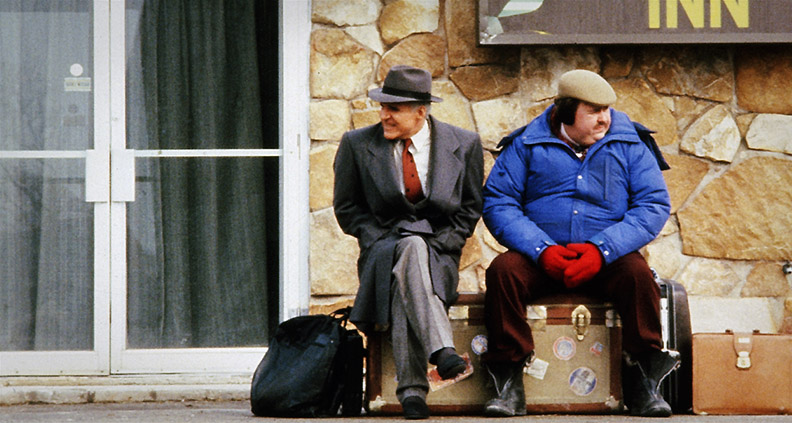 PLANES, TRAINS AND AUTOMOBILES (1987)
Where You Can Watch: iTunes, Amazon, Vudu, Playstation, Microsoft
Director: John Hughes
Stars: Steve Martin, John Candy
Why We Love It: For many, this beloved John Hughes comedy is undoubtedly the first title that springs to mind when thinking of movies centered on Turkey Day. Steve Martin stars as Neal, a man on a mission to make it home to his family for Thanksgiving despite encountering repeated roadblocks along the way. The first catastrophe occurs when poor weather conditions disable his plans to fly home, resulting in a desperate search for alternate options. Enter John Candy. The late comedy icon plays a shower curtain ring salesman who offers a ride to Martin's character, sending the uneasy duo on an outrageous adventure together on the road. Not only is Planes a Thanksgiving Day classic, it's also up there on the list of all-time great buddy comedies, with Candy's character spending the majority of the film driving Martin crazy with his inappropriate jokes and embarrassing candor. It reinvented The Odd Couple formula, and still holds today.
---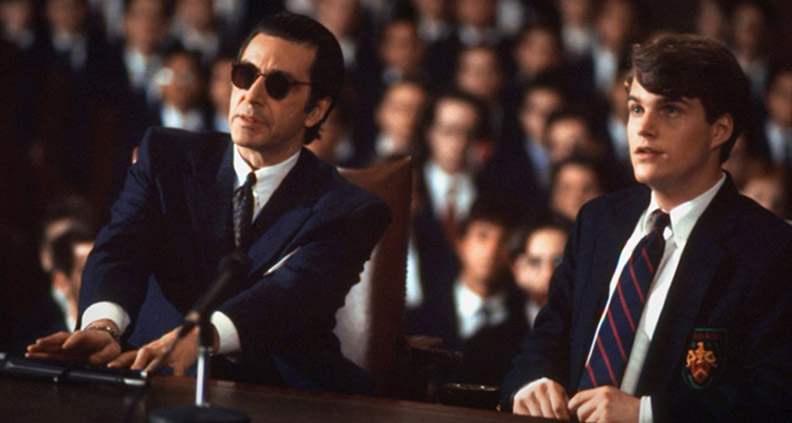 SCENT OF A WOMAN (1992)
Where You Can Watch: HBO, iTunes, Amazon, Google, Playstation, Microsoft
Director: Martin Brest
Stars: Al Pacino, Chris O'Donnell, Gabrielle Anwar 
Why We Love It: Martin Brest's critically acclaimed drama features Al Pacino's (first-and-only, somehow) Oscar-winning performance as Col. Frank Slade, a blind US Army retiree who doesn't have the most agreeable personality. In a role that launched his career, Chris O'Donnell plays Charlie Simms, an overachieving prep-school student anxiously awaiting college. To afford a trip home for Christmas, Charlie takes a temp job as an assistant to the Colonel for the Thanksgiving holiday weekend. Most caretakers have clashed with the militant Slade and Charlie is no exception. However, an unexpected bond is forged between these two opposites as Charlie gets a crash course in all things culture: music, women and the best way to cross items off of your bucket list. But the Colonel has an ulterior motive for the duration of their gentlemanly exchange—he intends on committing suicide. A remake of the Italian film, Profumo di donna, Brest's drama also stars the late Philip Seymour Hoffman and the alluring Gabrielle Anwar. The film earned four Oscar nominations, including Best Picture, Best Director and—of course—Best Actor.
---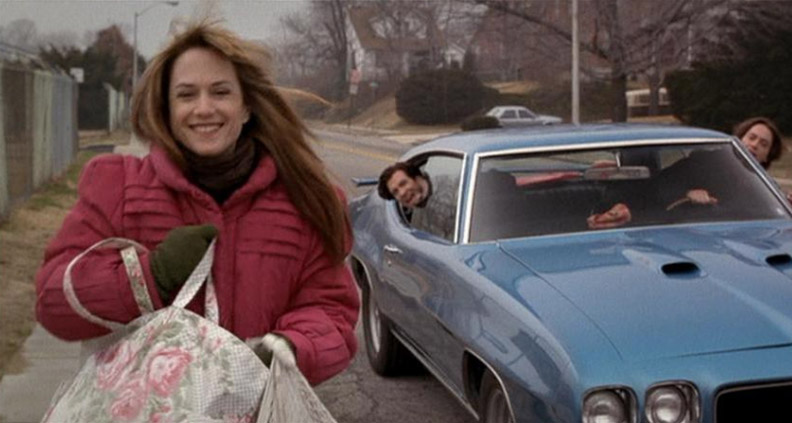 HOME FOR THE HOLIDAYS (1995)
Where You Can Watch: Google, Microsoft
Director: Jodie Foster
Stars: Holly Hunter, Robert Downey Jr., Anne Bancroft 
Why We Love It: For her sophomore outing in the director's chair, the stars aligned for Jodie Foster, with three Hollywood all-stars stepping up to showcase their best displays of onscreen narcissism. Holly Hunter and Robert Downey Jr. star as siblings, their mother played by the iconic Anne Bancroft. Foster's comedy gathers together a smorgasbord of outrageous personalities around the Thanksgiving table—which Hunter's character inadvertently commits to attending when daughter states that, for once, she's planning on spending the holiday with her boyfriend. When it comes to capturing the craziness of family, Home for the Holidays is comic insanity at its finest (there's a reason these relatives only see each other once or twice a year). The supporting ensemble is full of top-notch talent including Charles Durning, Claire Danes, Dylan McDermott, Steve Guttenberg and Cynthia Stevenson.
---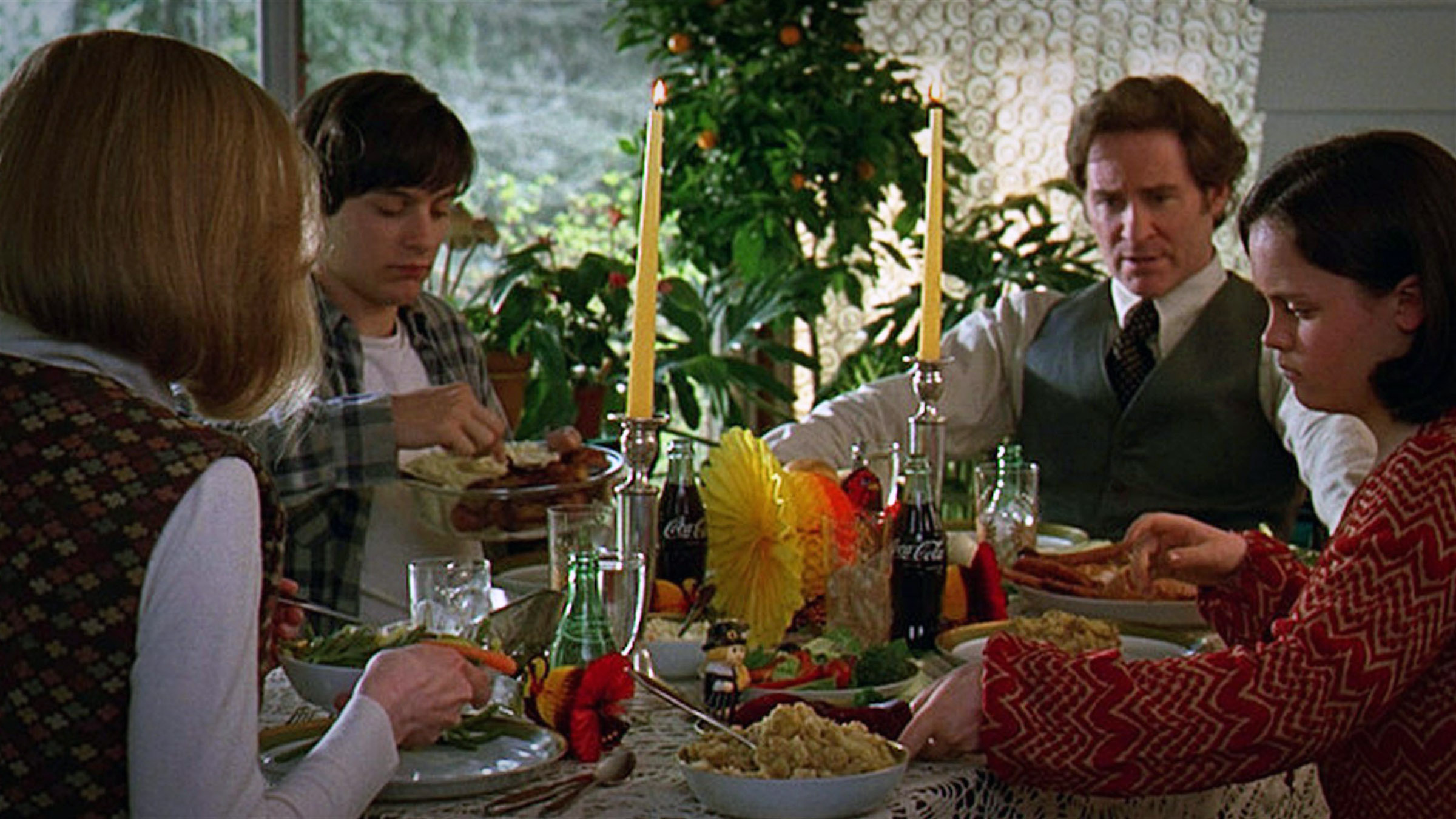 THE ICE STORM (1997)
Where You Can Watch: Starz, Amazon, Vudu, Playstation, Microsoft
Director: Ang Lee
Stars: Kevin Kline, Joan Allen, Christina Ricci, Sigourney Weaver
Why We Love It: What can be said about the great Ang Lee that hasn't been said already? He's pretty much won every award there is to win, mastered various genres, persevered in the wake of controversy and proven himself to be one of our most humbly gracious storytellers. Lee's Criterion Collection drama, The Ice Storm, adapted from the novel by Rick Moody, is set in early 1970s Connecticut. Lee gathers together yet another massive ensemble (a reoccurring theme), bringing to life the many shades and dimensions of these deeply rich characters. The film technically unfolds the weekend after Thanksgiving—but since that's when Tobey Maguire's college student comes home to visit parents Kevin Kline and Joan Allen and kid sister Christina Ricci for a break from school, the festivities have been rescheduled. While this family is the main hub in which all other characters connect, Lee's deeply effective portrait of the American family tackles everything from puberty to swinger parties, asserting itself as one great big coming of age story—no matter the age. Sigourney Weaver and Elijah Wood co-star.
---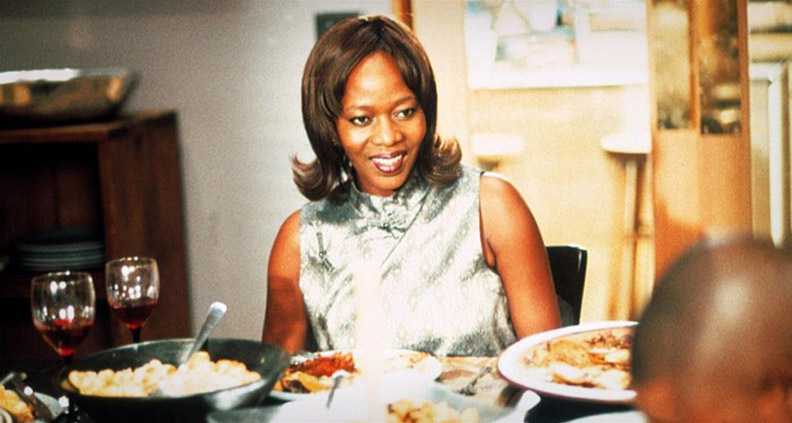 WHAT'S COOKING? (2000)
Where You Can Watch: Amazon, Microsoft
Director: Gurinder Chadha
Stars: Mercedes Ruehl, Joan Chen, Alfre Woodard, Kyra Sedgwick
Why We Love It: Of all the Thanksgiving-themed films on this list, this is by far the one most likely to make your mouth water. Gurinder Chadha's slice-of-life and culinary cinema is a lighthearted, multicultural celebration of Thanksgiving, food and independent women. The film stars Mercedes Ruehl, Joan Chen, Kyra Sedgwick and Alfre Woodard as the matriarchs of families from four different ethnic backgrounds, who organize and prepare a wide range of delicious eats for their families. There are a variety of traditional Thanksgiving Day must-haves (some putting a spin on the standard recipes) and then there are dishes you may not expect, made to reflect each family's origins. The heartwarming dramedy is a great find for all you foodies out there—and hey, you might even get inspired to try something new at your holiday this year! The always-exceptional Juliana Margulies co-stars alongside the rest of these wonderful women. Expect your stomach to be growling by the time the credits roll.
---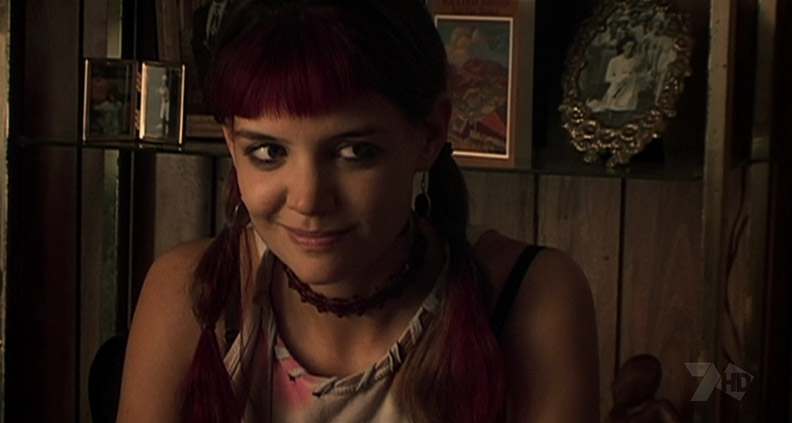 PIECES OF APRIL (2003)
Where You Can Watch: iTunes, Amazon, Google, Playstation, Microsoft
Director: Peter Hedges
Stars: Katie Holmes, Patricia Clarkson, Oliver Platt
Why We Love It: Katie Holmes rose to fame on the teen drama Dawson's Creek, but she truly broke free of that show's "Joey" in Peter Hedges feature film debut. Holmes stars as April, who along with her boyfriend Bobby attempts to prepare Thanksgiving dinner for family: a dying mother (Patricia Clarkson, who earned a Film Independent Spirit Award nomination for Best Supporting Female), two siblings (Alison Pill and John Gallagher, Jr.), father (Oliver Platt) and often-senile grandmother (Alice Drummond). Occupying a tiny apartment in a graffiti-covered building on a New York City street most would hope to avoid, April definitely gets an "A" for effort for the meal she is trying to prepare. Many of her disadvantages are pre-existing—especially the mental anguish tied into her fragile relationship with her mother. Then there's the matter of April's stove… it doesn't work. Hedges' dramedy is light enough to avoid being maudlin and sentimental enough to not seem corny. The emotional elements are executed in a beautifully subtle manner, which in conjunction with the handheld digital cinematography from Tami Reiker gives the film a really intimate feel. There are a lot of laughs to be had leading up to this (spoiler!) Thanksgiving Dinner, but the performances from Holmes and Clarkson are reason enough to see the movie.
---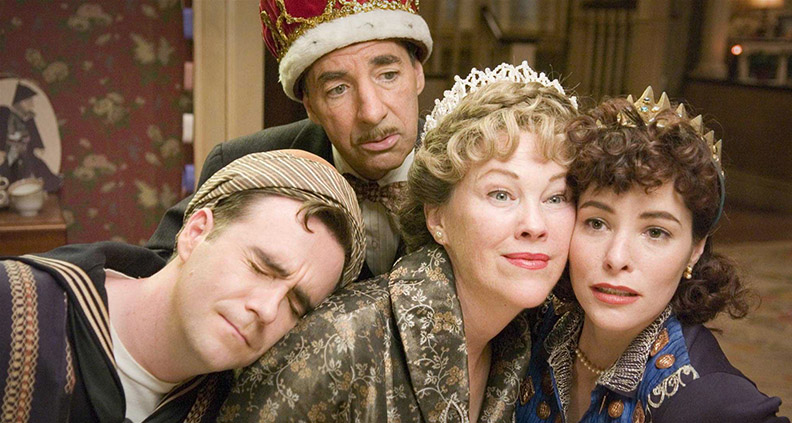 FOR YOUR CONSIDERATION (2006)
Where You Can Watch: iTunes, Amazon, Google, Playstation, Microsoft, Vudu
Director: Christopher Guest
Stars: Catherine O'Hara, Parker Posey, Eugene Levy
Why We Love It: The satirical comedies of Christopher Guest have brilliantly compartmentalized and parodied a variety of personality types—dog show enthusiasts, folk musician, and (twice) actors. Here, his subjects desperately spend every waking moment obsessing over whether or not they will get an Oscar nomination. That's the basis for Guest's incisive takedown of Hollywood, actors and the Academy Awards. Guest's cast of esteemed regulars unite once again on the set of Home for Purim (eventually renamed to Home for Thanksgiving), a "period piece" set in the South during the 1940s. When an internet rumor goes viral that there's early Oscar buzz for the low-budget, hot-mess of a movie they're making, the dramatics really come out. This Hollywood satire brilliantly tackles how accolades and trophies (or even the possibility of one) can change the way an actor thinks and feels. Catherine O' Hara and Parker Posey are both divine in their roles, as actors pretending to be actors pretending not to care about getting a nominations that they're so desperately hoping to receive.