These are the 2018 Film Independent Spirit Award Grant Winners
Unless they're on the clock and paying attention to their early-morning call times, filmmakers aren't generally known for being enthusiastic early risers. Too many late nights on set and/or stuck in the editing bay and/or locked inside a star wagon, trying to memorize lines. So you can imagine what sort of enticement might be necessary to convince these dawn-averse artistic types to all arrive somewhere together at 11:00am in the morning, turned out in their finest and funkiest brunch attire, no less.
Luckily, Film Independent's January 6 Spirit Awards Nominee Brunch in West Hollywood offered plenty of reason to rise 'n shine: great food, creative camaraderie and $150,000 in cash grants, awarded to five different up-and-coming and mid-career filmmakers. And as LA braced for some much-needed rain the 2018 nominees arrived, eager to interact—as both fans and colleagues—to celebrate a pretty amazing film year.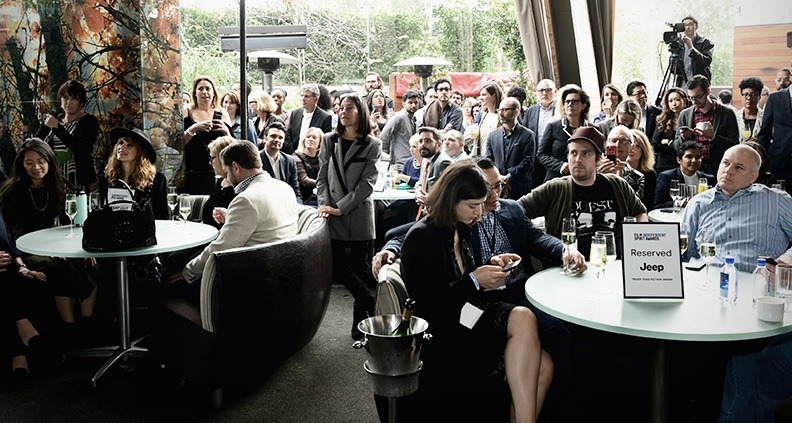 But as fun as it is to watch celebs like Daniel Kaluuya, Salma Hayek Pinault and Timothée Chalamet brush shoulders over champagne flutes of neon orange mimosa, the true purpose of Saturday's event was to award $150,000 in filmmaker grants—fully double the amount of award money given out in 2017 and featuring two brand-new grants.
The awards were presented in a brief ceremony, introduced by Film Independent brunch co-hosts John Cho, star of this year's multiple Spirit Award-nominated Columbus, and Search Party's Alia Shawkat. Said Film Independent President Josh Welsh: "The Spirit Awards grants are designed to provide critical support to these filmmakers, recognizing them for past accomplishments and helping them develop new work."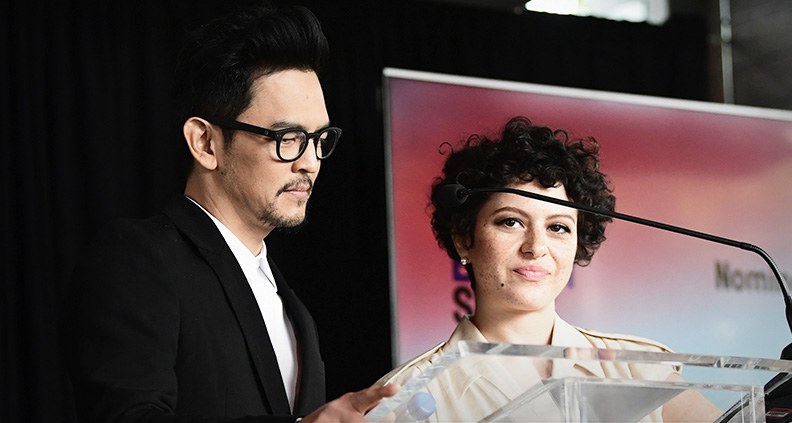 Chloé Zhao (The Rider, Songs My Brothers Taught Me) received the inaugural Bonnie Award, named for American Airlines pilot Bonnie Tiburzi Caputo, who in 1974 became the first female pilot to fly for a major U.S. airline. The Bonnie Award recognizes a mid-career female director with a $50,000 unrestricted grant sponsored by American Airlines. Finalists for the award included So Yong Kim and Lynn Shelton. Chloé Zhao is also nominated for Best Director for The Rider at the 2018 Spirit Awards. Watch her speech below:
Jonathan Olshefski (Quest) received the Jeep Truer Than Fiction Award, presented to an emerging director of nonfiction features who has not yet received significant recognition. The award is in its 23rd year and includes a $25,000 unrestricted grant funded, for the first year, by the Jeep brand. Finalists also included Shevaun Mizrahi (Distant Constellation) and Jeff Unay (The Cage Fighter). Watch Olshefski's speech below:
Justin Chon (Gook) received the Kiehl's Someone to Watch Award, recognizing a talented filmmaker of singular vision who has not yet received appropriate recognition. In its 24th year, it provides a $25,000 unrestricted grant funded, for the fourth consecutive year, by Kiehl's Since 1851. Finalists also included Amman Abbasi (Dayveon) and Kevin Phillips (Super Dark Times). Watch Gook producer Alex Chi accept on Chon's behalf below:
Summer Shelton (The Jinx, People Places Things) received the Piaget Producers Award, honoring emerging producers who, despite highly limited resources, demonstrate the creativity, tenacity and vision required to produce quality independent films. In its 21st year, the award includes a $25,000 unrestricted grant funded, for the 11th year, by Piaget. Finalists included Giulia Caruso & Ki Jin Kim and Ben Leclair. Watch Shelton's speech below:
Matty Brown received the Seattle Story Award, honoring a filmmaker who exhibits innovation, diversity and uniqueness of vision while demonstrating a history of transforming perspectives through rich stories. The award includes a $25,000 cash grant, sponsored by Visit Seattle, to create a short film inspired by Seattles independent spirit. The short will premiere during the 2018 Film Independent Spirit Awards broadcast. Watch Brown's speech below:
To see who else is nominated at this year's 33rd annual Film Independent Spirit Awards click here, and be sure to check out this year's nominations press conference with hosts Lily Collins and Tessa Thompson:
With returning host Nick Kroll and John Mulaney, the 2018 Film Independent Sprit Awards will be held Saturday, March 3 on the beach in Santa Monica and broadcast exclusively LIVE on IFC at 2:00pm PT / 5:00pm ET.
For more information about the Sprit Awards, click here and subscribe to our YouTube channel to watch speeches. And don't forget: Twitter, Facebook and Instagram. Not a Member of Film Independent yet? Become one today.
(Header, L-R: John Cho, Jonathan Olshefski, Chloe Zhao, Summer Shelton, Alia Shawkat, Josh Welsh and Matty Brown)