2018 Film Independent Spirit Award Winners Announced!
As Daniel Plainview once said, I'm finished. That's right—the 2018 Film Independent Spirit Awards have been given out and the tent is coming down, as the ambient hum of semi-inebriated celebs is replaced by the crashing of waves and whoosh of the roller coaster on the Santa Monica Pier.
The show? Unpredictable as always. Not to mention hilarious, heartfelt and deeply inspiring—a clear extension of the vibrancy, honesty and humanity of the films being honored and, of course, of the filmmakers themselves. We hope you'll continue to lend them your support for years to come.
As always, if you missed any acceptance speeches and the memorable opening monologue, you can check out our YouTube channel. Now! Here's who won: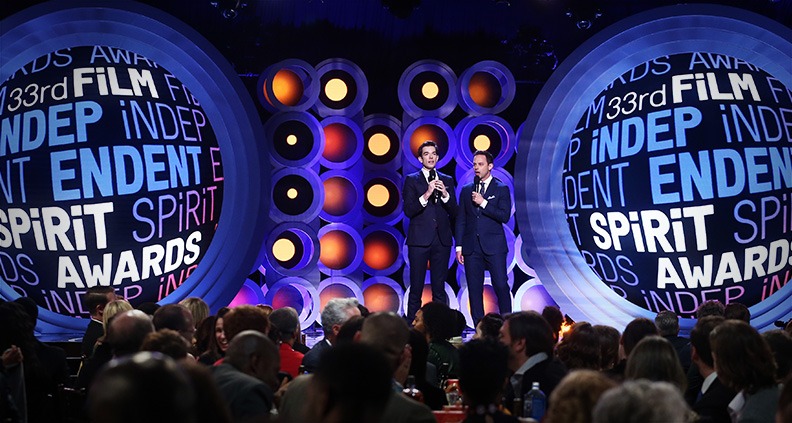 BEST FEATURE – Get Out (Producers: Jason Blum, Edward H. Hamm Jr., Sean McKittrick, Jordan Peele)
BEST DIRECTOR – Jordan Peele, Get Out
BEST FEMALE LEAD – Frances McDormand, Three Billboards outside Ebbing, Missouri
BEST MALE LEAD – Timothée Chalamet, Call Me by Your Name
BEST SUPPORTING FEMALE – Allison Janney, I, Tonya
BEST SUPPORTING MALE – Sam Rockwell, Three Billboards outside Ebbing, Missouri
BEST SCREENPLAY – Greta Gerwig, Lady Bird
BEST EDITING – Tatiana S. Riegel, I, Tonya
BEST DOCUMENTARY FEATURE – Faces/Places (Directors: Agnés Varda, JR; Producer: Rosalie Varda)
BEST CINEMATOGRAPHY – Sayombhu Mukdeeprom, Call Me by Your Name
BEST FIRST FEATURE – Ingrid Goes West (Director: Matt Spicer, Producers: Jared Ian Goldman, Adam Mirels, Robert Mirels, Aubrey Plaza, Tim White, Trevor White)
BEST FIRST SCREENPLAY – Emily V. Gordon, Kumail Nanjiani, The Big Sick
JOHN CASSAVETES AWARD – Life and nothing more (Writer/Director: Antonio Méndez Esparza; Producers: Amadeo Hernández Bueno, Alvaro Portanet Hernández, Pedro Hernández Santos)
ROBERT ALTMAN AWARD – Mudbound (Director: Dee Rees; Casting Directors: Billy Hopkins, Ashley Ingram; Ensemble Cast: Jonathan Banks, Mary J. Blige, Jason Clarke, Garrett Hedlund, Jason Mitchell, Rob Morgan, Carey Mulligan(
BEST INTERNATIONAL FILM – A Fantastic Woman, Chile (Director: Sebastián Lelio)
PIAGET PRODUCERS AWARD – Summer Shelton
KIEHL'S SOMEONE TO WATCH AWARD – Justin Chon, Gook
JEEP TRUER THAN FICTION AWARD – Jonathan Olshefski, Quest
BONNIE AWARD – Chloé Zhao
SEATTLE STORY AWARD – Matty Brown
Two-time co-hosts Nick Kroll and John Mulaney delivered the goods, including a few pretty savage digs at Harvey Weinstein and Kevin Spacey. Andy Samberg took the stage (as Judd Nelson in The Breakfast Club) to mourn all of the filmmakers independent film world is about to lose to Hollywood blockbusters. And Kristin Wiig took the stage as "Fay Fontaine" and 100-plus-year-old director who's "been very old for 40 years."
Missed the show? Relive some of the highlights below. You can watch the entire broadcast again in its entirety via the Film Independent Spirit Awards page on Facebook Watch.
Thanks for watching! Stay tuned to this blog for addition Spirit Awards recaps and exclusive content.
Learn more about Film Independent by visiting our website. Learn how to become a Member of Film Independent by clicking here—only Members vote, so if you want a hand in deciding who'll be on this list in 2019, now's your chance!
The Film Independent Spirit Awards are sponsored by Premier Sponsors American Airlines, AT&T, IFC and the Jeep brand; Principal Sponsors Piaget and Visit Seattle; and Supporting Sponsor Truly Spiked & Sparkling. Bulleit Frontier Whiskey is the Official Spirit. FIJI Water is the Official Water. Landmark Vineyards is the Official Wine. Lindt is the Official Confectioner. Getty Images is the Official Photographer.
(Header: Jordan Peele accepting the Spirit Award for Best Director for Get Out)