2018 Project Involve Shorts Make Their Debut at the LA Film Festival
As we've written about, 2018 marks 25 years of Project Involve, Film Independent's signature diversity program for filmmakers from underrepresented backgrounds. And as they do each year, the 2018 Project Involve Fellows have once again collaborated together to create a series of short films, premiering as part of the action-packed programming slate at this year's LA Film Festival—which continues through this Friday, September 28 at various points throughout the city.
Alumni of the program have included Effie T. Brown (producer, Dear White People), Film Independent Spirit Award winner Andrew Ahn (writer/director, Spa Night), Cherien Dabis (director, Amreeka), Rhys Ernst (director, Transparent) and many more.
2017 even saw a Project Involve produced film, Emergency (directed by Carey Williams, written by Kristen Davila, produced by Joenique Rose and shot by Jomo Fray) play at the Sundance Film Festival in January, where it won a Special Jury Award.
At a Thursday, September 20 screening on Day One of the Festival, Senior Project Involve Manager Francisco Velasquez introduced the shorts to a sold out theatre of Opening Night attendees. Thanking the many supporters he said, "Project Involve is so blessed to have friends who get it and are woke." The mood was celebratory and each of the 6 films was followed with shouts of support and applause. Here are this year's shorts:
LIBERTY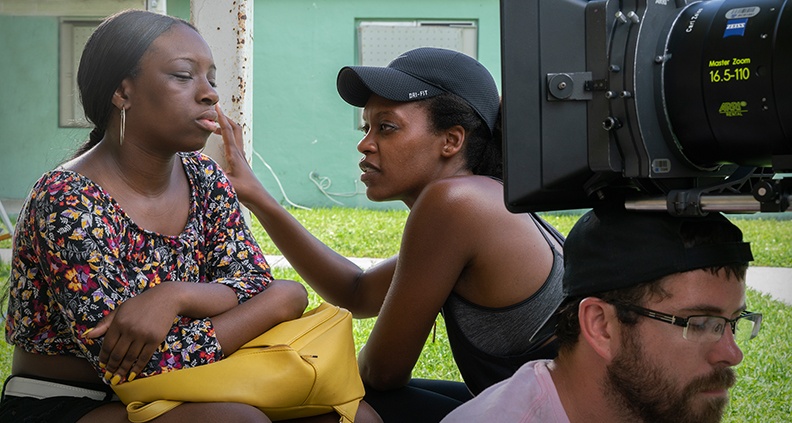 Writer/Director: Faren Humes
Producers: Kate Fisher, Diego Najera, Diana Ward
Executive Producer: Kimberly Han
Cinematographer: Zamarin Wahdat
Editor: Aleshka Ferrero
Set in Liberty City (also known as the Pork and Beans), a historic community in Miami that is undergoing gentrification and heavy redevelopment, Alex is given a housing voucher and must relocate, leaving her best friend Milagros behind. The filmmakers used non-actors and actual residents of the community in the film. Also, Liberty marks a milestone: the first Project Involve short shot on location, outside of Los Angeles. To learn more about the making of the film, check out the filmmakers' production diary.
MASCULINE/MASCULINE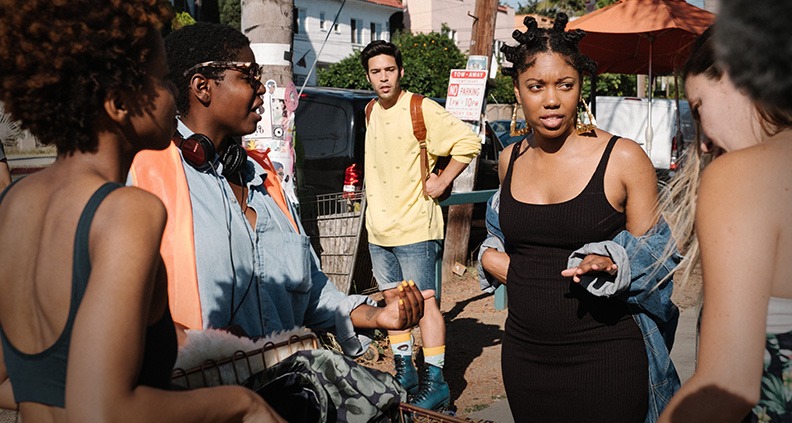 Director: Sam Bailey
Writer: Hank Jones
Producers: Ashim Ahuja, Mariyam Mahbub, David Yu Hao Su
Executive Producer: Sheri Bradford
Cinematographer: Ante Cheng
Editor: Autumn Dea
 In an alternate reality where women possess hyper-masculine traits, two 20-something female friends' alpha personas are challenged at a party. Chicago director Sam Bailey and her talented cast team up for this comedy, which displays just how ridiculous toxic masculinity sounds when the gender roles are reversed. Meanwhile, the leads create an incisive portrait of female friendship displayed through raw emotion.
WEDNESDAY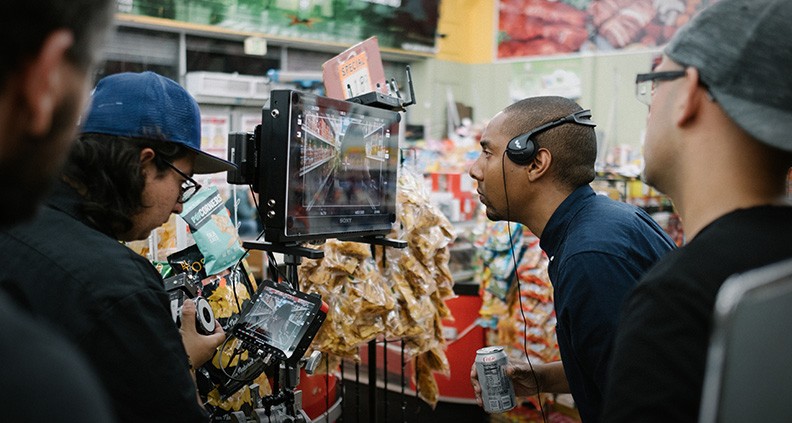 Director: Dan Willis
Writer: Jessica Shields
Producers: Melina Lizette, Mariyam Mahbub
Executive Producer: Jamilah Alston
Cinematographer: Mike Dallatorre
Editor: Steph Zenee Perez
Recently homeless, living with her mother in their car, a young woman commits a reckless act, desperate to preserve a vestige of their former life. After a stressful day, the daughter shoplifts the ingredients for a much-needed meal. The mother disapproves of her daughter's actions, but the pair comes back together while cooking. The film ends with a sobering display of statistics about the current state of homelessness in LA.
A TRUE CRIME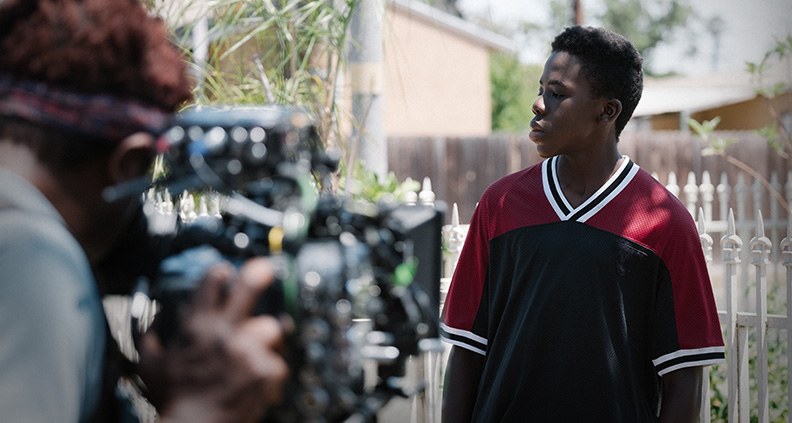 Writer/Director: Marques Green
Producers: Diego Najera, Kate Fisher
Executive Producer: Sheri Bradford
Cinematographer: Bruce Cole
Editor: Shayar Bhansali
Longing for the supposed camaraderie of gang life, a young man's unwise choices lead him to a tense situation and leave him vulnerable to abusive police tactics. He searches for relative safety, with both the authorities and within his gang. An intimate look at the conflicts—internal and external—faced by young people of color in modern America.
JUST ONE NIGHT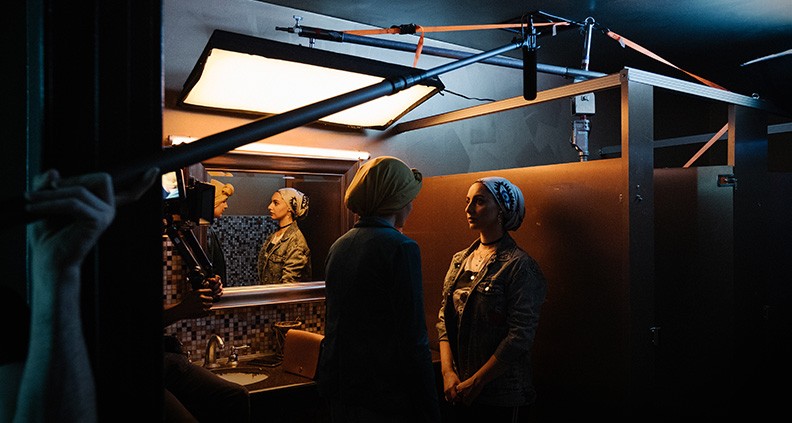 Writer/Director: Sahar Jahani
Producers: Mariyam Mahbub, Ashim Ahuja, Melina Lizette
Executive Producer: Jamilah Alston
Cinematographer: Bongani Mlambo
Editor: Ruben Navarro
Two best friends (Rum and Yusra), both devout Muslims, put aside their religious convictions to enjoy a night on the town where secrets are surfaced and their friendship is put to the test. Facing pressure to be "good Muslims" the two women clash, and eventually make peace. A humane look at the struggle between faith and the difficulties of asserting one's identity in an environment that isn't always hospitable to it.
THE COIN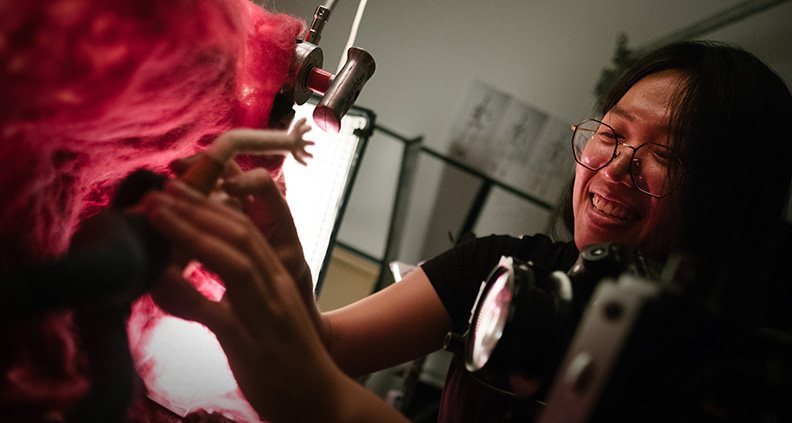 Writer/Director: Siqi Song
Producers: Diana Ward, Ashim Ahuja
Executive Producer: Kimberly Han
Cinematographer: Bongani Mlambo
A stop-motion animated short film that follows a Chinese girl who moves and searches for her true identity inside of her. Whimsically drawn with tactile, woolen textures, the story comments on the place of heritage in the face of forging one's own path, with an emphasis on food as a vessel for cultural traditions.
To learn more about this year's Fellows, click here. To learn how to apply to be a part of next year's Project Involve, click here. Check out highlights from this year's LA Film Festival:
Presenting Media Sponsor is Los Angeles Times. Official Host Venue is ArcLight Cinemas. Platinum Sponsors are American Airlines, EFILM | Deluxe, HBO and TikTok. The University Sponsor is Loyola Marymount University School of Film and Television. Official Screening Partner is Wallis Annenberg Center for the Performing Arts. Festival Supporters are Directors Guild of America, eTech Rentals, Kona Productions, TREETI and Visit Seattle. Festival Affiliates are 21st Century Fox Global Inclusion, ATK Audiotek, Konsonant Music, SAGindie and Writers Guild of America West. Additional support provided by National Endowment for the Arts. Stella Artois is the Official Beer. IMDbPro is the Official Industry Resource. CITI is the Official Credit Card. The LINE, NoMad Los Angeles and Freehand LA are the Official Hotel Partner. Essentia Water is the Official Water. Hillersden Estate Wines is the Official Wine. Getty Images is the Official Photographer.
(Header: Masculine/Masculine)