2022 Film Independent Producing Lab and $150,000 Imaginar Producers Residency Applications Open
"Producer" in the filmmaking world is one of those infamously nebulous words – it is one of those roles where no one really knows what you do unless you're the one doing the "producing." It's not as straightforward as an actor, a stunt coordinator, a costume designer or a VFX artist. When you ask anyone the question "What does a 'producer' mean to you?", it's hard to put your finger on a tangible answer.
It can mean taking on a second mortgage on your house to finance an indie that eventually becomes a blockbuster franchise. Or, if you head up the production company of an auteur director, it means juggling the company's eclectic development slate at various stages of production while solving problems in real-time on the set when weather conditions hinder production on location. Many times, it is about securing financing or production tax credits in particular jurisdictions. Many producers will tell you that literally no two days are alike!
Which begs the question: how does one even begin to learn the tricks of the trade of becoming a producer, let alone a successful one? Well, here's where Film Independent's Producing Lab comes in!
Now in its 22nd year, the annual Producing Lab is an intensive program designed to help creative, independent producers develop their skills and further their careers by introducing Fellows to film professionals who can advise them on both the craft and business of independent producing. Each Producing Lab Fellow will be paired with an experienced Creative Advisor with whom they'll work to develop their project over the course of the program.
Projects that have come out of the Producing Lab over the years include: Elegance Bratton's The Inspection produced by Chester Algernal Gordon, which was the Opening Night Film at the Forum this past Monday and will be released by A24 on November 18; Saim Sadiq's 2022 Cannes Un Certain Regard Winner Joyland produced by Apoorva Charan, and Chloé Zhao's Spirit Award-nominated debut Songs My Brothers Taught Me, produced by Angela C. Lee and Mollye Asher. In addition, the Producing Lab has supported some of the film industry's most exciting independent talent, including Lizzie Shapiro (Shiva Baby), Lena Vurma (Adventures of a Mathematician) and Avril Speaks (Jinn).
As we recently announced, this year's creative advisors and guest speakers include Carly Hugo, Sarah Kim, Amy Lo, Amanda Marshall, Lena Vurma, Mollye Asher, Liz Cardenas, Dr. Nicole Friedman, Christine Hsu, Lauren Mann, Diego Najera, Ross Putman, Lizzie Shapiro, Anita Surendran, Sheila Hanahan Taylor and Elliott Whitton.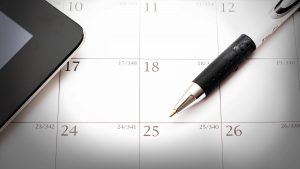 If you've caught the coverage of the announcement, you know that in addition to our excitement about this year's program, Fellows and their projects, we are delighted to announce the launch of the Imaginar Producers Residency for Latinx Producers, which is made possible by The Walt Disney Company, Searchlight Pictures, and in collaboration with NALIP. Over the course of nine months, three selected Fellows will receive a $50,000 cash grant, mentorship, professional and financial coaching, project development and more to gain significant traction for their projects. Collaborating with Disney and Searchlight executives will help these Fellows gain a deeper understanding of how to package and set up projects for studios so that they may find success with both independent and studio projects. Applications for the Imaginar Producers Residency open today, November 1 and can be accessed here.
"Film Independent is deeply committed to championing creative producers," remarked Angela C. Lee, Director of Artist Development. "And this innovative new partnership with the Walt Disney Company and Searchlight Pictures tackles the need for a pipeline of diverse studio producers. We couldn't be more thrilled to further our support to Producers with the launch of this Fellowship, as we welcome the talented and intrepid cohort of Producers in this year's Film Independent Producing Lab."
"The Walt Disney Company is committed to embracing stories and storytellers who reflect the rich diversity of our world. Alongside Searchlight Pictures, we are thrilled to collaborate on this meaningful initiative with Film Independent and in collaboration with NALIP in support of expanding the Hispanic and Latinx producing community," said Christine Cadena, VP, Diversity Equity & Inclusion. "We look forward to the launch of the program and engaging deeply with the Fellows as we reimagine a more inclusive tomorrow, together."
"We are incredibly proud to be combining the resources and experience of these organizations together to form the Imaginar Producers Residency for Latinx Producers," adds Matthew Greenfield, Searchlight President and Film Independent Board Member, and David Greenbaum, Searchlight President. "Producers are a key driver in bringing new, exciting, and diverse stories to audiences worldwide, and this program will identify emerging talent and give them the tools they need to succeed."
We are also very excited to award this year's Alfred P. Sloan Foundation Producers Grant to Shao Min Chew Chia, who will receive $30,000 to further develop her aforementioned project The Plutonians through the Producing Lab. Awarded to outstanding producers whose screenplays integrate science or technology themes and characters into dramatic stories, the Sloan Producers Grant is part of the Alfred P. Sloan Foundation's nationwide film program to advance public understanding of science and technology.
"I'm very grateful to the Sloan Foundation for honoring me with this grant and for the work that they do in bringing stories about science to the screen," shared Shao Min Chew Chia, adding that "The impact that scientific progress has on the arc of human history is indelible and profound, and how we face scientific discoveries and wield new technologies will determine what the future holds. Starting with The Plutonians, our brazen comedy about the cost of ambition and the value of curiosity, I hope to do my part in telling science stories and I can't wait to be in the audience watching many others. Thank you Film Independent and Sloan Foundation!"
So without further ado, and ICYMI, these are the projects selected for this year's Film Independent Producing Lab:
Title: Booger 
Producer: Lexi Tannenholtz
Logline: Anna's on a mission to find her dead friend's cat while her life (and body) falls apart in the process. Will finding Booger save her from her immeasurable grief?
Title: Mountains
Producer: Robert Colom
Logline: A Haitian demolition worker is faced with the realities of redevelopment as he is tasked with dismantling his rapidly gentrifying neighborhood.
Title: Out of Water
Producer: Aya Hamdan
Logline: A coming-of-age drama about the childhood, teendom, and adulthood of a young woman growing up in Pittsburgh, Pennsylvania, to an American mother and Syrian-born Muslim father. When Layla's grandpa arrives from Syria, her relationships with her family members and her identities, including her sexuality, are tested.
Title: The Plutonians
Producer: Shao Min Chew Chia
Logline: When the official definition of the word "planet" puts Pluto under threat of expulsion, ninth planet expert Alvin Gibbs swoops into a sleepy international astronomy conference to save it. Bullying his peers with increasingly desperate ploys, Alvin fails to win this debate but rediscovers why Pluto matters to him in the first place.
Title: Tiny Birds with Broken Brains
Producer: Sabrina Stoll
Logline: Tiny Birds with Broken Brains is a coming-of-age drama, set-in small-town Ontario in the 80s and 90s, that centers around an immigrant South Asian family and the complicated relationship between Shabnam, the traditional, traumatized mother and her youngest daughter, Amanjeet.
Title: Wonderland
Producer: Pin-Chun Liu
Logline: When her mother disappears with the family bankroll in Las Vegas, eleven-year-old Adeline Tang hires a devious street magician to bring her mother home before her father finds out.
And here is a brief re-introduction to our awesome Producing Lab Fellows!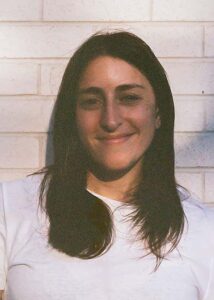 Lexi Tannenholtz (producer, Booger)
Lexi Tannenholtz is a producer based in NYC. She is currently in post-production on Chestnut, directed by Jac Cron and starring Natalia Dyer with Utopia Films, and Shudder's Bad Things by Stewart Thorndike, starring Gayle Rankin and Molly Ringwald. She also just wrapped production on Booger by Mary Dauterman starring Grace Glowicki, which took part in the 2022 Tribeca Film Festival Creators Market. Her films have screened at SXSW, Palm Springs and Maryland Film Festivals and she has worked in partnership with Netflix, FX, Comedy Central, and Adult Swim. Other work includes The Dream on Hulu, Chris Gethard's docu stand-up special, Half My Life and a Broad City documentary, which premiered at the 92nd Street Y in conversation with Ilana Glazer, Abbi Jacobson and Whoopi Goldberg. Lexi was also Regis Philbin's assistant 1,000 years ago.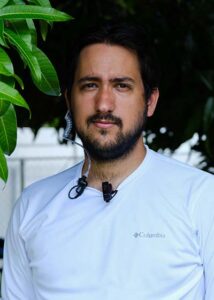 Robert Colom (producer, Mountains)
Robert Colom (he/him) is a Cuban film producer, writer, and graphic designer born in Miami, whose work illuminates stories of Florida and the Latin American diaspora. He is a member of the Caribbean creative collective Third Horizon, and has been a programmer for their flagship initiative, Third Horizon Film Festival, since 2021. He has produced and collaborated on projects for Sesame Workshop, Film Independent, and A24. His films have played worldwide, including most notably at Sundance, Miami Film Festival, and Berlinale, and have been acquired by HBO, PBS, and Criterion Channel. In 2022, Robert founded Cinemóvil, a free mobile repertory cinema touring the Miami neighborhood with a program of classic and contemporary films from Latin America and the Caribbean. Mountains, his first feature as writer-producer, is currently in post-production.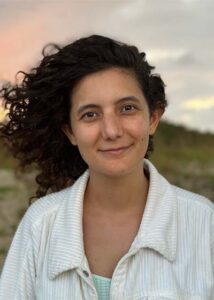 Aya Hamdan (producer, Out of Water)
Aya Hamdan is a Palestinian-American producer based in Brooklyn, NY. She founded 10 Mils Productions, through which she leverages her business background, the power of story, and her commitment to representation in the media to support storytellers from her communities. Aya co-produced Dunya's Day, which won the short film Jury Award for International Fiction at the 2019 Sundance Film Festival. She produced Dress Up, which was supported by Sundance Ignite and The Jacob Burns Film Center's Creative Culture Fellowship. In 2022, it screened at Oscar®-qualifying festivals and The Museum of Modern Art as part of The Future of Film is Female film series. Dress Up explores themes also present in Aya's upcoming debut feature film in development, Out of Water.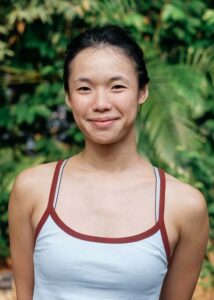 Shao Min Chew Chia (producer, The Plutonians)
Shao Min Chew Chia is a Singaporean writer-director and producer. Since graduating from Harvard University with an Honors B.A. in the Comparative Study of Religion, she has since produced multimedia content for international sporting events, commercials, music videos, short films, and documentaries. Of the short films she has produced, All Dogs Die (dir. Ninna Palma) was supported by The Spike Lee Production Fund and European Short Pitch, and went on to screen at the Karlovy Vary International Film Festival (2021), amongst many others. She wrote the feature narrative, Wanton Mee (dir. Eric Khoo), which screened at San Sebastian Film Festival (2015) and Berlin International Film Festival (2016). In November 2020, Shao Min's feature documentary, Sementara, won the Audience Choice Award at the Singapore International Film Festival and was listed as one of NME's 10 best Asian films of 2020.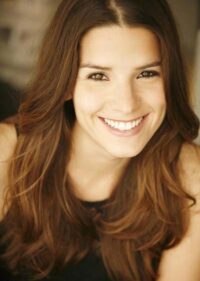 Sabrina Stoll (producer, Tiny Birds with Broken Brains)
Sabrina Stoll is a German creative producer, writer and filmmaker based in Los Angeles. Sabrina's most recent short film, Alma y Paz, premiered at Berlinale 2022 and was produced via Film independent's Project Involve Fellowship. She also produced the short film Just A Drill – about gun violence in American high schools – that won the Women in Film production grant in 2018 and Women in Film fellowship. Sabrina wrote and produced a short for Fox Digital as part of their Bite Size Horror series that premiered at the Cannes International Series in 2017 and is now on Hulu. In the unscripted & documentary worlds, she received an Emmy Award for Interactivity in 2017 and a Clio Award for Music in 2016. Sabrina is the creative director and producer for a Women Empowerment Campaign with Geena Davis, Ford and Google, a campaign promoting greater diversity and female representation in cast and crew, winning a Streamy Award for Social Good in 2017.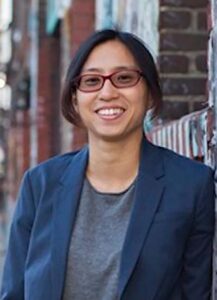 Pin-Chun Liu (producer, Wonderland)
Pin-Chun earned a sociology degree from National Taiwan University and later her MFA in Producing from the AFI Conservatory. Her features and short films – including Way in Rye, Contrapelo and Wonderland – have played in over 50 festivals worldwide, winning multiple awards and widespread distribution in the process. Their most recent films, Test Pattern, won the Blackstar Lionsgate/Starz Producer Award and was distributed theatrically by Kino Lorber in 2021 and nominated for three Gotham Awards and three Independent Spirit Awards; and Paper Tiger, which premiered at the 2020 Austin Film Festival and won the Narrative Feature Audience Award, was released in the summer of 2021 by Gravitas Ventures. She is a nominee for the Producers Award at the 2022 Independent Spirit Award. Pin-Chun is drawn to stories of human struggle, of small individuals caught in big systems, and intimate character studies.
The 2022 Producing Lab is supported by the Alfred P. Sloan Foundation. Additional support comes from the National Endowment for the Arts.
For more information on any of the Labs or the projects that have been developed in them, please contact please contact  artistdevelopment@filmindependent.org. Additional information and an application form can be found at filmindependent.org.
Film Independent Artist Development programs promote unique independent voices by helping filmmakers create and advance new work through Project Involve; Filmmaker Labs (Directing, Documentary, Episodic, Producing and Screenwriting); Fast Track finance market and Fiscal Sponsorship, as well as through grants and awards that provide over one million dollars annually to visual storytellers.  To support our work with a donation, please click here. Become a Member of Film Independent here.
Keep up with Film Independent…