Forum 2022 Day 1: 'The Inspection', Collaborating with the Universe and More
As the fall awards season starts to heat up ahead of the Spirit Awards nominations announcement next month, our intrepid team at Film Independent has been working tirelessly to bring you another signature event – the 2022 Film Independent Forum. With a plethora of programming offered this year, filmmakers, curators and cinephiles alike converged at the Directors Guild of America Theater in Los Angeles to plumb the depths of the machinations behind independent cinema.
The 16th incarnation of the Forum commenced on Monday, October 24 with a full day of in-person events, ranging from one-on-one Industry Connect meetings and an in-depth presentation on impact producing, to the Filmmaker Keynote from writer-director duo Daniel Kwan and Daniel Scheinert (aka "Daniels") and Opening Night—a screening of A24's The Inspection, followed by a conversation with the filmmakers.
This week marks the first time in the Forum's history where the event is offered in a hybrid format: after yesterday's in-person programming, the rest of this jam-packed week is filled to the brim with virtual and livestream panels, case studies, and workshops for global audiences to enjoy! Here are some of the highlights of the day.
Opening Night Film: 'The Inspection'
Sponsored by Mississippi Film Office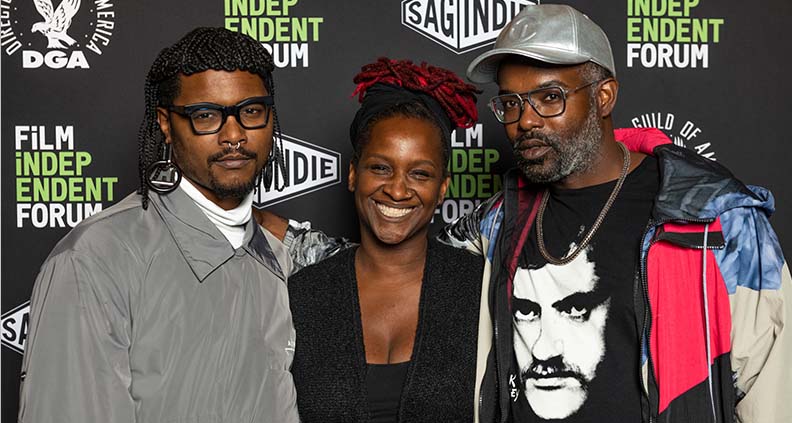 From contributing writer, Cortney Matz:
"This is a huge moment for me," reflected writer-director Elegance Bratton in the post-screening Q&A for his feature directing debut and this year's Opening Night Film, The Inspection. The upcoming military coming-of-age drama – and deeply personal "festival darling" – blurs the lines between documentary and narrative, retelling Bratton's own experience of homelessness and the challenges he faced in the Marine Corps as a gay man. Shot in the summer in Mississippi during the COVID-19 pandemic, the 19-day shoot was four days less than what was originally planned once the production had to contend with a pandemic-induced shutdown.
The genuine love amongst the creators was palpable on the stage, as the producers Effie T. Brown and Chester Algernal Gordon – also Bratton's life partner – recalled meeting at the Film Independent Project Involve gala a few years back and the enthusiasm with which Brown boarded the project. Warm fuzzies notwithstanding, the three Film Independent fellows agreed that the path from script to screen certainly had its challenges.
Even so, Bratton's love for sharing the finished film with audiences has not diminished as the adventure continues from one festival to another. For him, the film's success is the answer to his prayers when he was 16 and living in a homeless shelter. "This is for anyone who's been disregarded and underestimated, so you can see [that] your life has value."
The Inspection opens in theaters on November 18 with a limited theatrical release by A24.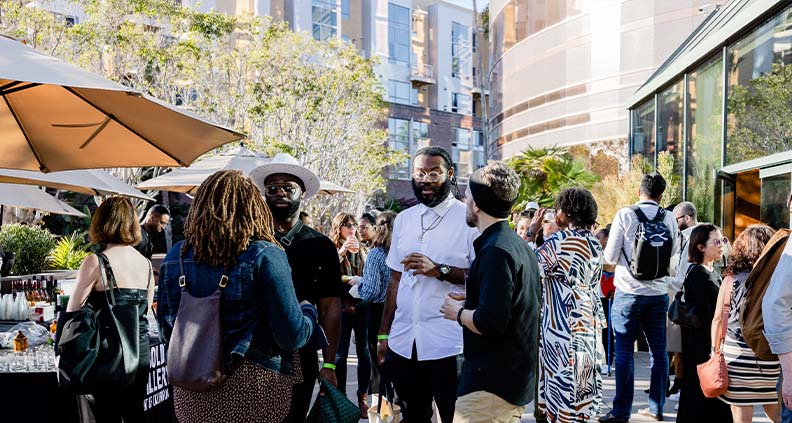 Under a clear blue sky on a balmy fall afternoon, everyone mingled at the welcome reception in the DGA Atrium and patio – replete with wine, cocktails, cheese & charcuterie delights – before returning inside for the first of the evening's offerings.
Filmmaker Keynote: "Collaborate with the Universe" with Daniels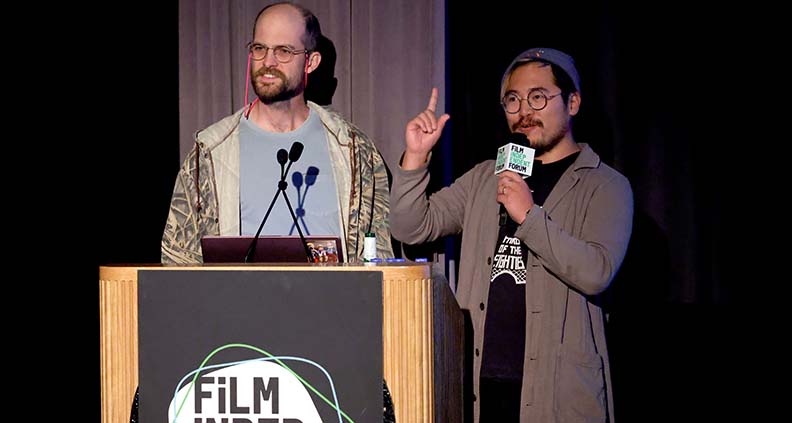 Spirit Awards Best First Feature nominees for their feature directing debut – the 2016 surreal Swiss Army Man – Daniels treated the packed theater to hilarious tales from their journey to this year's indie success story, Everything Everywhere All at Once. Before the duo took on the Michelle Yeoh-starring absurdist dramedy sci-fi, the college buddies from Boston's Emerson College directed music videos for almost a decade before moving to narrative features.
"Love the guard rails," quipped Kwan at one point, advising filmmakers to see the positive when things don't go according to plan, because that is often when you rediscover what's most important about your project. Along the way, they also developed handy VFX skills, to the point where they took care of 150 of the 250 VFX shots required in Swiss Army Man.
One-on-One networking at Industry Connect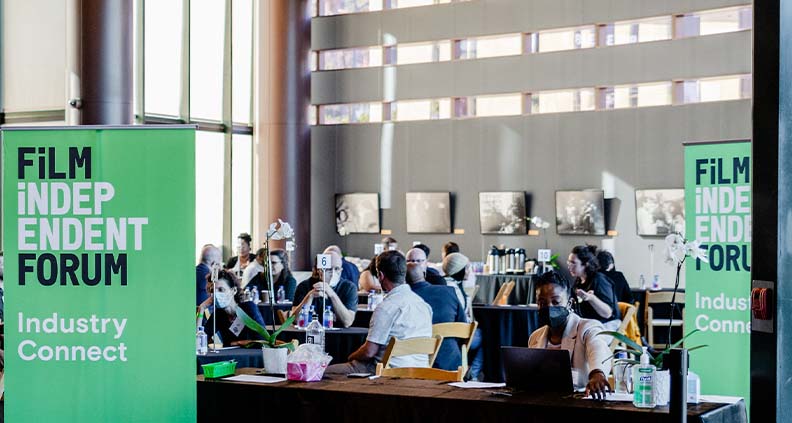 This year's Industry Connect – where participants meet agents, casting directors, distributors and other execs in one-on-one meetings lasting 12 minutes each – was abuzz with connections. Participating filmmakers included CAA agent Charlotte Lichtman, Radiant Films International's Director of Acquisition and Distribution Andrew Neel and Disney Television Studios' VP of Casting, Kim Williams, amongst others.
Impact Producing: "Stories Can Change the World. We Make Sure They Do."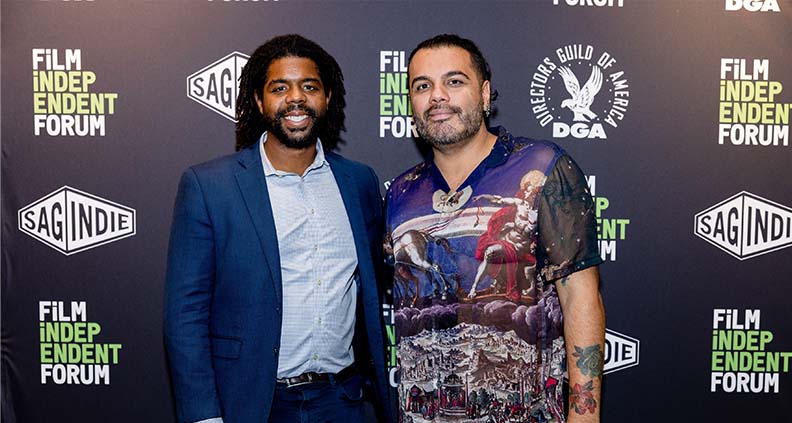 The four-day industry conference got underway at 2pm PT with a two-hour deep dive into how filmmakers can propel social, political and cultural transformation by injecting impact considerations into the earliest stages of any project. To help us navigate all this, we had two experts in the field from leading social impact agency Picture Motion.
CEO Brian Walker is a veteran in infusing social impact into entertainment and media content, dating back to his days with the Enterprise Diversity & Inclusion group at The Walt Disney Company. Director of Strategy & Impact Asif Khan works alongside Walker on projects that range in size to come up with nontraditional marketing and distribution models that optimize the reach of any filmed content with a story that deserves to be told.
But more than that, they want to leave audiences with actionable intelligence and action items after watching a particular film. Want to learn more about how to set up Grassroots Screenings for your project? What are some of the questions that you should be asking before solidifying the social impact goals for your film? How do you decide on the kind of impact you would like your film to inspire and activate? Watch the presentation on-demand with your Full Access pass or purchase a Virtual Only pass now!
The Forum continues through Thursday, October 27 with more superb pre-recorded panels and case studies releasing each day on the virtual platform, followed by a livestreamed panel at 5:30pm PT each evening. Be sure to keep up with Film Independent's blog and YouTube channel for more illuminating event coverage throughout the week. To jump straight to the daily recaps, here they are: Day 2, Day 3, and Day 4, respectively!
The 2022 Film Independent Forum is sponsored by the Directors Guild of America, SAGindie and the Mississippi Film Office.

[Header image: Opening Night Film 'The Inspection' screening at the 2022 Forum. Photo by Frazer Harrison/Getty Images]