A Seat at the Table: An Interview with 'Transparent' Producer and Opening Title Creator Rhys Ernst
Since its debut two years ago, Amazon's Emmy-winning Transparent has been one of the most widely praised, dissected and discussed series on TV. Jill Soloway's semi-autobiographical chronicle of the dysfunctional Pfefferman clan has also become an important document the ongoing debate around trans civil rights, providing viewers with a thoughtful, artful snapshot one family in transition, both literal and figurative.
One of Transparent's most arresting elements is its hypnotic, melancholic, nostalgia-drenched opening title sequence—an impressionistic collage of archival footage and images that gesture, without ever being too literal, at the show's core themes and threads of family, sex, gender and Jewish identity.
In fact, Transparent's title sequence was created by none other than filmmaker Rhys Ernst—an alumnus of Film Independent's Project Involve Class of 2012.
In addition to serving as a Transparent co-producer, Ernst (who is transgender) is a celebrated visual artist whose work has appeared at the Whitney Biennial and also worked as a consultant on the 2015 Academy Award winning feature The Danish Girl, advising the film's producers on trans community outreach.
With Focus Features and Film Independent, Ernst helped developed the Lili Elbe Fellowship, which will provide $10,000 to one trans filmmaker participating in the upcoming 2016-2017 Project Involve program.
Film Independent recently spoke to Ernst—who's hard at work on the third season of Transparent—about his career, the Lili Elbe Fellowship, Transparent and much, much more, including his favorite TV title sequences.
The last day to apply to be a part of the 2016-17 Project Involve program is this coming Monday, May 9. So don't delay! To learn how to apply, click here.
---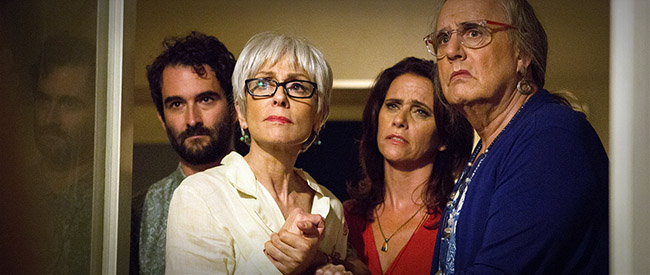 It's obvious that trans visibility is a big part of your filmmaking career. What does trans visibility mean to you, and how do you think trans visibility has changed in Hollywood over the past decade or so?
I grew up on media in the '80s and '90s and never saw any representation of trans people, except as the occasional butt of the joke or somebody on a talk show getting interrogated. More recently, the trend has been dead bodies on CSI. The first transgender man I ever saw on TV as a kid—I was about nine—it was such a sad portrayal. I rejected that part of me pretty decisively in response to seeing this bad portrayal on television.
What was that portrayal, if you don't mind me asking?
It was a talk show. Sort of [an] exploitative, prurient, sad kind of thing, and it was just kind of depressing. But then I grew up on the New Queer Cinema of the '90s, which was happening then.
Did you have any specific LGBT or queer filmmakers from that era that inspired you? 
Todd Haynes has always been someone I've looked up to and admired his work. I followed anything from Killer Films. I'd follow every year to see what they had coming out. So I followed a lot of the New Queer Cinema, but also a lot of Spike Lee movies. Looking at someone like Spike Lee and then looking at Todd Haynes you can see how both are examples of filmmakers who were uncompromising about their stance on identity politics—but within this framework of artful, independent films. They were touchstones for me.
And how did all of these formative experiences and influences inform your filmmaking career?
I was working in New York on films while getting turned down for the occasional job just for being trans, so all of these things were starting to build to the conclusion that I wanted to incorporate trans [themes] into my work. My goal has always been to not be didactic, and not to be a transplainer, but try to create a larger narrative conversation.
How did this lead to working with Jill Soloway on Transparent?
I met Jill at Sundance. She was there with her first short that she'd just directed about how her parent had just come out as trans. So that's how we met. I was also a Project Involve fellow when I met her, so these things were all building. Then two years later she reached out to talk about collaborating on this pilot, which was Transparent.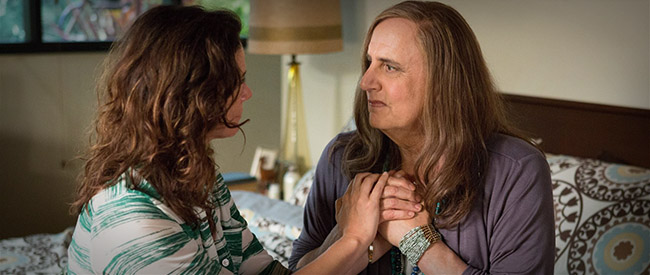 The Transparent credits sequence is one of the best credits sequences on TV. How did that assignment come together? 
What's so great about working with Jill is that she gives people a chance at the table who haven't always had access. She's been deliberate about having women and queer people and trans people to participate. And you know, I have an art film background as well as a narrative, so Jill just saw that potential and said why don't we have you do the title sequence?
And what was your creative approach? 
We just wanted to do something different. We were having a conversation about Bat Mitzvahs, and Zackary Drucker—who's another one of the producers on the show and a collaborator of mine—was helping source some stuff and brought in this 1968 documentary called The Queen about drag pageants which is pretty amazing. So we pulled in some stuff from The Queen and we actually reached out to friends and family and some of Jill's friends and family to get Bar- and Bat Mitzvahs tapes from the '70s and '80s. So we ended up with kind of a combination of real stuff and found stuff and some stuff we shot on VHS. I just tried to weave together this coming-of-age/Bat-Mitvah/becoming-a-woman motif—but also trans history with The Queen and stuff like that. It just happened organically, and I appreciate that Jill enabled me to approach it like a little art film.
Tell me a little bit about your involvement with Focus Features and the Lili Elbe Fellowship.
Basically, I worked on The Danish Girl as a consultant. One thing we all agreed on was that Focus needed to find some real, tangible way to give back to the trans community. [Focus] cares a lot about diversity in filmmaking, so I helped move the conversation forward around fellowships. The fact that I went through Project Involve and could draw from that experience was a good reference as to how we could create this program. And I felt like I benefited a lot from Film Independent's help and its programs. You know, diversity in the industry is such a big topic. You can't talk about trans people and access to jobs without talking about gender and race because those issues are very intersectional with trans civil rights. I think it's interesting to bring this all together and look at diversity in a holistic way. If we can bring more trans people into the industry, then surely we can bring in more women and people of color, you know?
Last question: as the creator of one of TV's all-time great opening credits, what are some of your favorite credits sequences? 
You know, the first one I noticed in a way where it was like oh, title sequences are becoming this thing was Six Feet Under. I feel like that one ushered in a new era. But I kind of love something like Twin Peaks. It's a blunt choice, but it matches the tone of that show. The music and the sawmills… I love that.
---
For more information about Project Involve, including the Lili Elbe Fellowship, please visit our website. For more info additional filmmaker programs and labs, please click here. And visit Rhys Ernst at his website by clicking here.
Check out Ernst's trans-history docu-series We've Been Around, made in partnership with Focus Features (a series which relates directly to his involvement with the Lili Elbe Fellowship.)
To learn more about Film Independent, subscribe to our YouTube channel. You can catch up with the rest of our blog here. Learn how to become of Member of Film Independent, just click here.
(Header photo credit: Jeremy Perkins)