Aziz Ansari Explains How He and His Friends Made 'Master of None' Season Two
Netflix's Master of None released its second season in May, once again earning reams of critical praise and enthusiasm for its thoughtful approach to storytelling. On June 5, fans gathered at LACMA's Bing Theater in Los Angeles to watch two episodes from the new season—"New York, I Love You" and "Thanksgiving"—at a special Film Independent at LACMA screening event. The episodes were followed by an entertaining and insightful conversation moderated by Film Independent at LACMA curator Elvis Mitchell with creator/actor/star Aziz Ansari, co-creator Alan Yang, actor/writer Lena Waithe, director Melina Matsoukas and writer Aniz Ansari.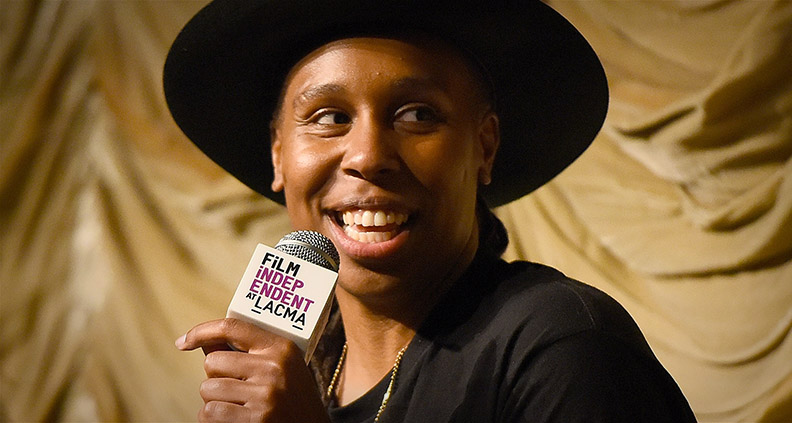 MUSIC AND THE MAKING OF 'THANKSGIVING'
One aspect of the new season that Mitchell singled out for praise was the show's soundtrack. Much recognition was given to Zach Cowie, a music supervisor for the show, whom the panel said had a huge vinyl record collection—the result of having working in the music industry for a long, long time.
"On this show, you can do so much with the right piece of music, the right song and the right image," Yang said. "Film is a visual medium and that stuff can be so much more powerful than just people bantering."
Viewers can easily be filled with nostalgia while watching the "Thanksgiving" episode in particular, as its time-hopping flashback structure allowed for the inclusion of numerous old-school hip-hop jams. Mitchell asked Matsoukas how she was able to craft each era as its own distinct period—essentially six different stories with six different entry points. Matsoukas said she wanted the episode to evolve through the years (and ears) right down to the hair, makeup, clothes, art direction and cinematography. Camera filters were used to enhance the vision.
And for the "Thanksgiving" episode especially, the writers agreed that they couldn't write that particular story alone. Waithe came in to co-write and give her perspective while also acting, which contributed to the overall success of the episode, one of the second season's most highly praised. The episode charts Waithe's character's coming out—a journey mirrored by the actor's own experience.
"I think that's why it works though, because when we do those kinds of stories it's coming from a real and sincere place," Aniz said. "We didn't sit and say 'and one character should be female, a woman of color and a lesbian!' No. We met Lena and were like, 'You're amazing. You're so funny. You need to be in the show!' so we shaped the character around her."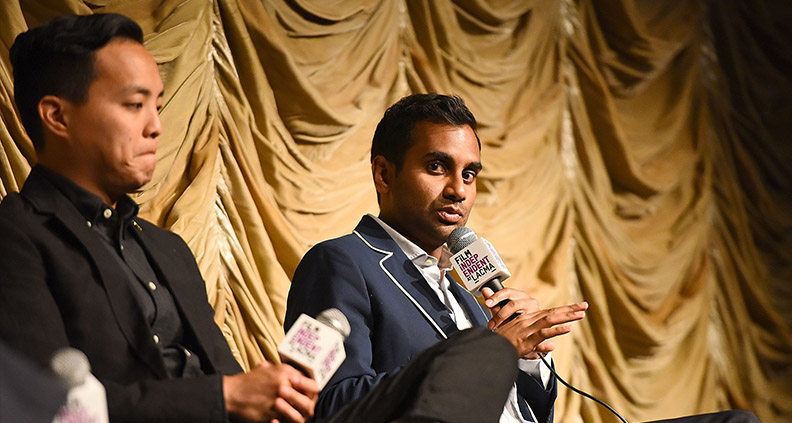 AVOIDING PREDICTABILITY
Aziz said they don't consciously try to make each episode of Master of None different from the one before. They look at each episode on its own and ask themselves "What can we do stylistically to enhance what that story is about?" The premiere "Thieves" episode was homage to the classic 1949 Italian film Bicycle Thieves, so the creative choice was made to shoot the episode in black and white. Colors were added to the second episode because they wanted to reflect the vibrancy of the Tuscany region of Italy. The structure of the "First Date" episode was crafted in a way that led to each date changing in and out—depicting several encounters as if they were part of the same contiguous narrative.
"With each thing, it was really just trying to figure out what we can do to make it feel different, but also stylistically feel part of the whole," Aziz said.
Aziz also said that it's hard to do the show and not feel like its falling into a pattern. The show took a long break following its first season; when the creators came back they were determined not to let the show fall into predictability. Yang and Aziz said that what drove them was the desire to be different, with Ansari stating that fear is what makes people fall back old routines, templates and patterns—something they hoped to avoid.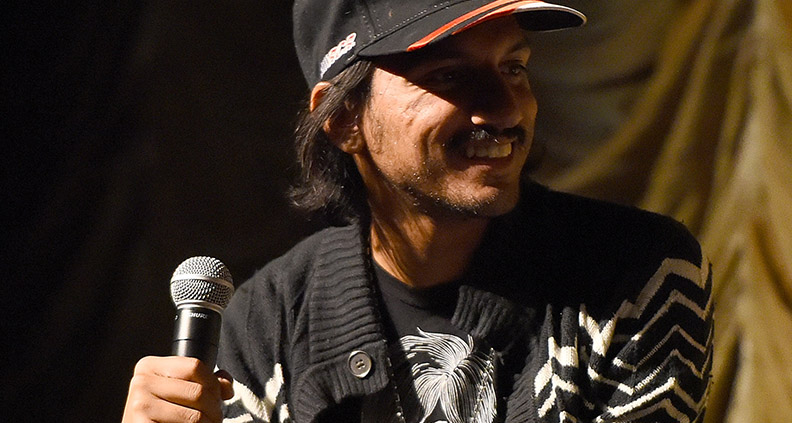 NETFLIX, POLITICS AND PERSONAL EXPERIENCE
Aniz said that the creators were fortunate to be in the position that Netflix gave them: massive creative freedom and the ability to challenge themselves. They didn't want to be complacent, which is what led them to taking such big risks with deaf characters in the episode "New York, I Love You."
"People of color communicating in American sign language is revolutionary," Mitchell observed.
Aziz humbly claimed that the show isn't trying to make any progressive statement other than using their own experiences to make art, and that Master of None's creative decisions aren't political (as some interviewers have asked). Even the title of the fictitious movie in the "New York" episode, Death Castle, was randomly chosen with no particular meaning behind it, except that it sounded funny. Fun fact: Andy Samberg voices Nicholas Cage in Death Castle. When they reached out to Cage they received a quick "no"—an anecdote that prompted a rupture of Cage impersonations across the panel.
What enriches Master of None's style of storytelling has more to do with the personalities of the creators and writers than it does any sort of agenda. Yang described a conversation he had with a group of people that opened his eyes to his own personal growth and development over the years: "We were all just sitting there eating sandwiches or something, and we were talking about how, as you get older, you start thinking about how you interact with the world in several ways," he said. "You gain some introspection."
Mitchell asked the team if there was a particular moment when they realized that this new season of Master of None was something different and special. Aniz said the moment for him was when they were filming "New York, I Love You." All the characters in the episode have different stories, but they connect to each other in the end by watching movies together. "We just wanted to write our experiences and hopefully people will find some commonalities," Aniz said.
To learn more about upcoming Film Independent at LACMA events—just click here. Not a Member of Film Independent yet? Become one today. If you want to catch more of Lena Waithe, she will be the keynote speaker at this weekend'' Diversity Speaks panels during the LA Film Festival. More info here.
The 2017 LA Film Festival takes place June 14-22, headquartered at the ArcLight Cinemas Culver City, with additional screenings at ArcLight Hollywood, ArcLight Santa Monica and more. Stay tuned to Film Independent's Twitter, Facebook and Instagram for the latest new additions and updates. And don't forget to subscribe to our YouTube channel for more exciting announcements.
Tickets and passes are on sale now. Sold out screenings? Get in with a Festival pass. In addition to screenings and special events (even when sold out) Festival passes provide entry to our super-fun Festival Lounge, featuring a 21+ hosted bar and the opportunity to rub shoulders with Festival filmmakers and other film industry professionals. Buy yours today. Film Independent Members save up to 25%.