Betsy Brandt Breaks Bad with Female Filmmaker Duo for 'Claire in Motion'
Opening this Friday, the new indie drama-thriller Claire in Motion represents a collision of talent between three women with a strong passion for independent filmmaking: writer/directors Annie J. Howell and Lisa Robinson—who spent a year collaborating together on a story inspired in equal parts by nature, location and psychological struggle—and star Betsy Brandt (late of Breaking Bad), who breaths onscreen life into the film's titular female protagonist.
In the film, Brand plays an emotionally troubled woman trying to keep her life together when her husband mysteriously disappears. The film premiered at last year's SXSW, where it was nominated for Grand Jury Award for Best Narrative Feature.
Despite proving herself time and again to be a versatile, effortlessly watchable performer over the course of her career on the small screen, Claire is Brandt's first starring role in a feature film, stepping into Claire's shoes to portray a complicated, multi-dimensional modern woman who becomes consumed with answering the mystery of her spouse's sudden disappearance.
Brandt, Howell and Robinson all took time to chat with us about the challenges of production—from shooting at the actual locations that inspired the script, Brandt's leap to a starring role and how the filmmakers brought the struggle of the psyche to life visually in this, their sophomore feature.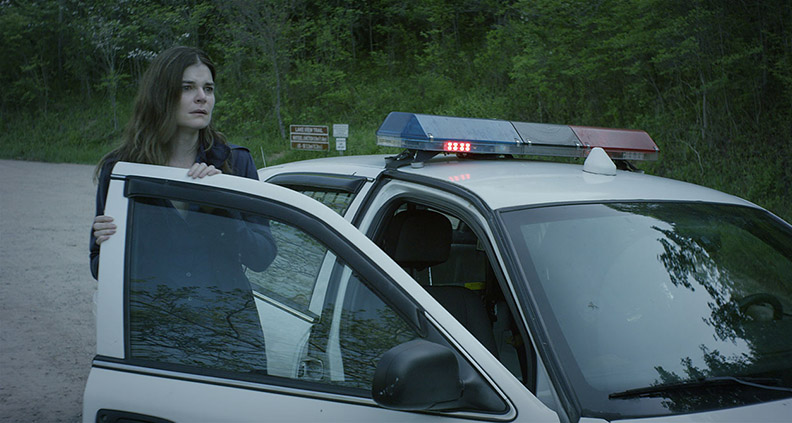 So what inspired the story of Claire in Motion?
Robinson: [Thinking about the] identities we perform, and hold on to, as our lives become more set in our late 30s—then something happens and it all falls apart. Annie was living in Athens, Ohio. I went to visit her, and we started to slow-cook this idea of where the story would take place. We wanted to make sure the film portrayed this town from Claire's psychological point of view, and that was destabilizing because her life was being torn apart. We wrote the screenplay remotely, which we had done on our first film. So [the process] was familiar to us. It's a lot of conferring, texting small potent thoughts or insights, little emails, little phone messages, sometimes Skype… Then [all of these methods] make their way into the actual writing, in which one person will write a good chunk and pass it to the other. I was also location scouting as we were writing, so that would work its way into the script.
Betsy, how did you become involved in the film?
Brandt: I immediately fell in love the Lisa and Annie and the script but I remember thinking, I can't do this right now. I had just finished shooting a sitcom pilot [Life in Pieces, now airing on CBS]. So I really wanted the opportunity to do something different. I loved the film they had made previously [2011's Small, Beautifully Moving Parts] and felt confident this would definitely be worth the time and the effort.
Do you think there's been a shift in the way Hollywood approaches films featuring a strong female lead?
Brandt: I like to see it be not something that's even noticed anymore. Whether it's a film like Claire in Motion or a film like Bridesmaids, I just think "That's a great part"—not necessarily that it's great for a man or a woman. I feel like we're getting closer to that.
Claire is a pretty complicated character. How do you take yourself to the dark side when you're acting?
Brandt: I just put myself in the shoes of my character, and with a dramatic role the shoes are of course heavier. Being in the environment, then taking it on physically. On Breaking Bad there were days I would have chest pains [before shooting certain scenes].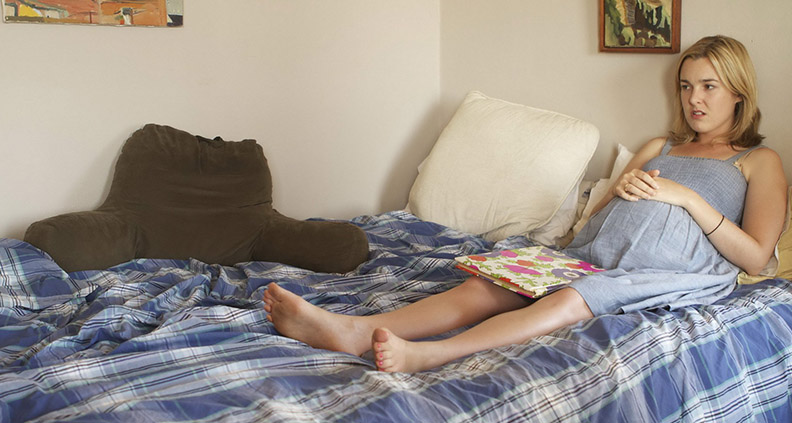 What was the biggest challenge you had to overcome as filmmakers?
Howell: One physical challenge was when we had to shoot this climactic scene at the top of an incredible mountain, which was part of [Ohio's] Wayne National Forest. The Appalachian hills, huge trees, big boulder structures… We shot one day [laughs]—one very dramatic day, with our crew having to go up this incredible incline. Just as the day wrapped this dramatic thunderstorm approached and sent us scurrying down the mountain. I thought, this is when people use the phrase "it's starting to get real in here" as lightning crashed down around us. Luckily, we finished the day. But I would say that that day is crystalized in my mind as being associated with the word "challenge".
What advice would you give to any aspiring filmmakers or actors?
Robinson: With film there are so many directions you can go. I think one important thing is to be sure you're making films that you'd really love yourself. I would advise young filmmakers to nurture their own stories and styles, their own obsessions, their own passions—what they like about film. [As a filmmaker] your individual voice is so important.
Howell: Try to harness what's right in front of you. Lisa and I have really been inspired by locations. If you think something is unobtainable, you may find all of the resources you need just by looking around you.
Brandt: Only do it if you have to do it. I think it takes that. Believe what you say, love your character—they [the characters] have to be human to you, and you have to love them. And as far as who you are in the industry, don't be a dick!
Claire in Motion opens this Friday, January 13. For more information check out the film's website and Facebook page. Not a Member of Film Independent yet? Become one today to vote for the 2017 Film Independent Spirit Awards. Want more? Follow us on Twitter, Facebook and on our YouTube channel.