Costume Designer Luca Mosca's Sartorial Lettera D'Amore to John Wick, Part One
Movies are a mosaic of moving parts. But we don't always see which parts, or who's moving them. Each month in Detail Oriented, Su Fang Tham explores some of the more specialized areas—and career paths—related to film production.
***
"Less is more; show, don't tell"– such is the mantra of stuntman-turned-director Chad Stahelski's creative team on the John Wick franchise. The Keanu Reeves-led assassin/revenge/action saga has amassed $581 million worldwide, from three entries to date. Transforming the way modern action movies are shot, the John Wick films steer clear of the fast cuts and shaky cameras of the past two decades. And instead of relying heavily on editing and CG, Stahelski prefers wide shots and long takes to capture the blunt, intense, intoxicating action sequences in-camera.
Since the first John Wick's release in 2014, the mythical assassin has quickly emerged as one of modern moviedom's most badass action heroes. But with all the attention paid to the series' action sequences and fantastical story world, it can be easy to forget that the emotional engine of John Wick starts with love: all John wants is to be left alone so he can mourn his recently deceased wife, Helen. But when the mob kills his only remaining connection to her – the beagle puppy she had arranged to be delivered the night after her funeral – a deluge of ultra-violent (yet visually mesmerizing) ass-kicking is unleashed by the supposedly reformed assassin.
Italian costume designer Luca Mosca has been on this wild ride from the very beginning, when the film began its life as a $20 million indie produced by Thunder Road Pictures with a negative pickup deal from Lionsgate. Not only is he charged with dressing the cast, Mosca also portrays the role of Wick's tailor in John Wick: Chapter 2. With John Wick: Chapter 3 – Parabellum available on streaming beginning tomorrow, we caught up with the designer for a deep dive into Wick work.
LUCA MOSCA, PART ONE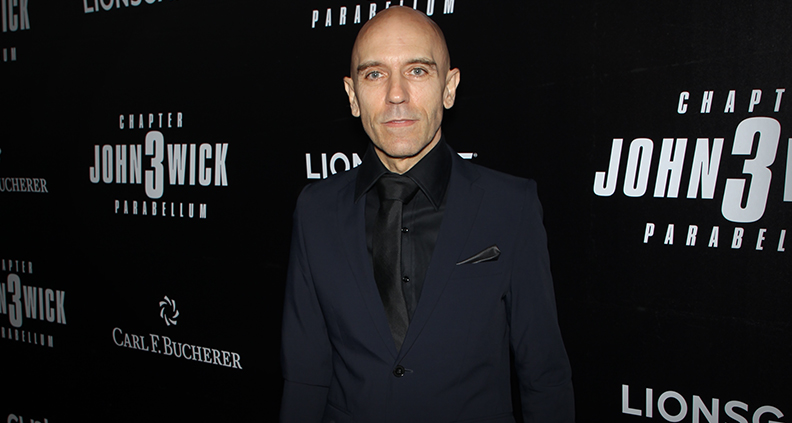 You studied Pharmacy at university. How did you transition to couture design?
Mosca: Many generations in my family have been in the pharmacy business, but my heart was never in it. I'd always wanted to be in fashion and there was a lot of that in Milan where I grew up, so that kind of just happened. When I was at university, I remember scribbling fashion silhouettes on the side of my chemistry and anatomy books — anything to keep the dream going.
How has your work on the John Wick series evolved from film to film?
Mosca: On the first film, we didn't have the budget that we did for Chapter 3. So we started with off-the-rack garments then dyed, embroidered and adjusted everything from there. And, voila! Now we have an iconic costume — I hear that some people dress up as John Wick for Halloween!
You can buy a "John Wick suit" on Amazon for $129. 
Mosca: [laughs] It would be interesting to get one, just to compare.
John is surrounded by death, but his motivations stem from his desire to live on and remember Helen. How do you externalize in your costuming the duality of the character?
Mosca: Other than the few flashbacks, the film takes place after Helen's death. So John's life has been devoid of all meaning, love and passion. With the first film my goal was to create a costume for a man whose heart has been broken; his life has been robbed of all meaning. The most effective way to visually display that was with the lack of color. So John's clothes are always gray, charcoal gray, black and white, sticking to a monochromatic color palette. He is a man in perpetual mourning.
Everyone in John Wick's world is impeccably elegant. You've said the initial inspiration for his efficient, stylish looks were the clean lines of a Glock pistol.
Mosca: In the script for the first film, there was a reference to the Glock in terms of John Wick's look. Even though a gun is dangerous and can be lethal, the Glock I looked at was charcoal gray, sleek and elegant in the way it caught the light. So that's how I made his gray suits: sleek and elegant. Keanu is tall, slim and fit, and he's blessed with an elegant demeanor and posture. Honestly, my job was made much easier with an actor like him. The fashion of this decade — where men's suits have a more tapered and slim-fitting look — is perfect for the clean lines of John's suits. It wouldn't have worked in the '80s or '90s when men's suits were more "relaxed fit."
In a Gentleman's Journal interview, you said John's suits are mostly dark gray rather than black due to camera lighting and night shoots.
Mosca: In terms of lighting, I really admire [cinematographer] Dan Lausten's team and the exemplary visual landscape they've created. I've always marveled at Baroque painters, in particular Caravaggio. A dimly-lit room with one candlestick is visually compelling — only a few features can be lit in that natural light, which makes everything else look dark. This is reminiscent of the Baroque period's rich regal colors, and you see that a lot in these films. So a night scene lit that way would allow a gray or midnight blue to look as if it's black.
How does the use of long takes and wide shots change what you do? 
Mosca: Imagine that instead of dressing actors for a feature, I am dressing dancers for a ballet. The artistry of Chad's choreography is such that the actors in an action sequence really move and look like dancers. In the "home invasion" scene in John Wick, that looks like a mix of Brazilian Capoeira and a dance to me; there was a very specific rhythm to it. Chad is a genius; every sequence is meticulously choreographed and aesthetically pleasing. My biggest concern was to make sure the actors could easily perform and express themselves physically with maximum freedom of movement, just as you would with dancers.
What about dressing the stunt team?
Mosca: For the stunt guys, the suits have to be made larger and looser to accommodate protective pads. Or, if they — or Keanu — are doing Judo throws, flips and high kicks, we need to adjust the pants so they won't rip. The same goes for armholes. We try our best to balance ease of movement without compromising the look. With technology nowadays, you can get very thin protective pads that are still effective.
To capture the action in-camera, the close-quarter combat sequences are painstakingly choreographed months before the cameras start rolling. Does your team get involved with these early rehearsals?
Mosca: Whenever time permits, I prefer to be there; I like to see what's happening with the stuntmen, what John will have to do with the horses [as in Chapter 3] and get a feel for each of the cast's physical requirements on the shoot. The more time I spend around the director, choreography, casting, etc., the more prepared I am to do my job.
The color palette of these films is exquisite. In the "Red Circle" sequence, background lighting is used to indicate when John is in danger. When he's in control, the lighting around him turns blue. When he's threatened, it becomes red. Do you have to factor this in?
Mosca: Chad, the cinematographer and my team agree on what the colors of the costumes should be. Then once the camera starts rolling, the DP takes over with lighting. My task is to design a specific controlled color palette to complement that.
That's it for Part One! Check out Part Two tomorrow to find out if bulletproof fabric really does exist and other behind-the-scenes John Wick sartorial secrets.
John Wick: Chapter 3 is available this Friday on SVOD and will be released on Blu-Ray and DVD on September 10. Is there an aspect of filmmaking you'd like to see explored in Detail Oriented? Let us know in the comments.
Get More Involved…