'Deadwood' is Coming to Fi Presents. These are the Five Episodes You Need to See First.
Pick up any book about the so-called new "Golden Age" of prestige TV (Alan Sepinwall's The Revolution Was Televised is my personal favorite) became such an important show. It was a Western, for one; not exactly pop culture's buzziest genre, circa 2004. It had no big stars, unless you counted the "My brother Daryl, and my other brother Daryl" guy from Newhart. And it was written—often extemporaneously, last-minute and under the influence of god-knows-what—by David Milch, one of the TV medium's genuinely iconoclastic geniuses/madmen.
That Deadwood ended so abruptly after its third-season cliffhanger was a minor tragedy for the show's fans—especially since (reportedly) the hit show was canned not for creative reasons or for lack of popular acclaim, but for esoteric business reasons involving actors' contract options and the expense of rebuilding the show's elaborate Western town sets after they had been prematurely struck between seasons. And so for a decade-plus, Deadwood existed in limbo.
But finally, Dakota Territories sheriff Seth Bullock, grudgingly benevolent saloon majordomo Al Swearengen, widowed gold baroness Alma Garret, industrious whore Trixie and all the rest have returned for a special Deadwood reunion film—airing in May on HBO.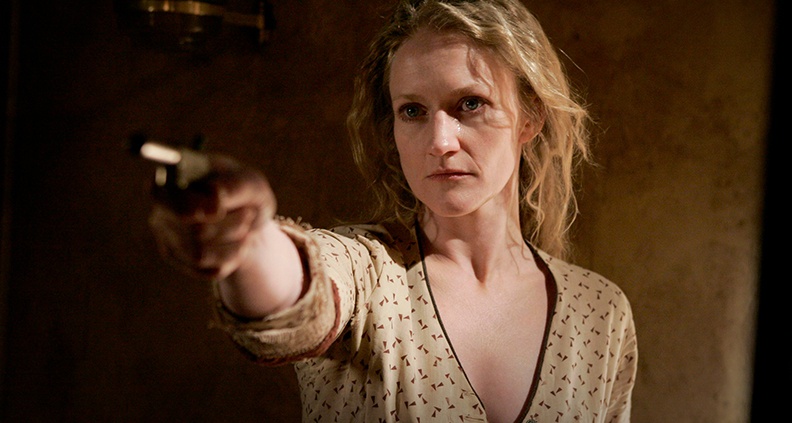 Can't wait that long? You can catch a sneak peek of clips from the new Deadwood film, along with an in-depth conversation with series stars Ian McShane, Timothy Olyphant, John Hawkes, Paula Malcomson and Gerald McRaney—as well as executive producer Carolyn Strauss and director Dan Minahan—next week.
That's right, following special engagements with Oscar-winning composer Ludwig Göransson and Oh, Hello! BFFs Nick Kroll and John Mulaney, Film Independent Presents once returns to the Wallis Annenberg Center for the Performing Arts next Tuesday, April 23 for An Evening With… Deadwood.
You haven't gotten around to binging the show yet? We've rounded up five of our favorite Deadwood episodes ever to get you up to (horse) speed—minor spoilers, so y'all be warned…
"DEADWOOD" (SEASON ONE, EPISODE ONE)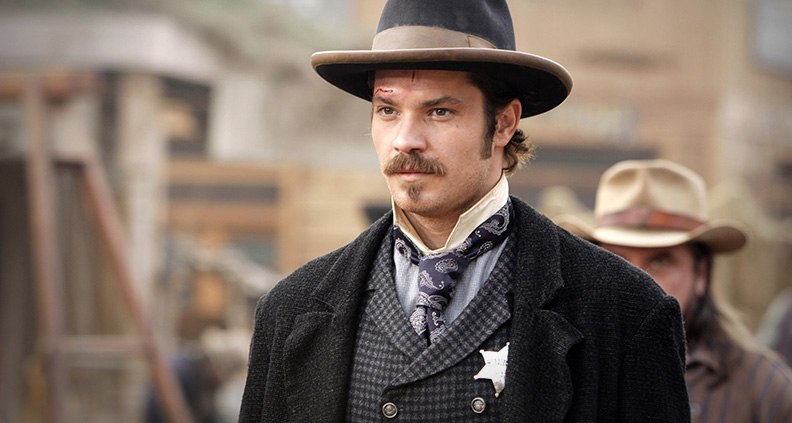 What's the deal? Premiering on March 21, 2004, Deadwood didn't just kick off with a bang—it kicked off with a hang(ing), as ostensibly soon-to-retire Montana marshal Seth Bullock (Olyphant) carries out one final act of impromptu justice in order to spare a condemned prisoner from torture at the hands of an angry mob. It was a shocking start to a series that would reinvent the Western genre for the 21st century. Using the actual recorded history of rough-and-tumble Deadwood, South Dakota as his jumping-off point, Milch and pilot director Walter Hill (The Warriors, 48 Hrs.) usher viewers into an imaginative, fully-fleshed out world populated by complicated lawmen, virtuous scoundrels, colorfully uncouth prospectors and willful women occupying both ends of the social spectrum.
"HERE WAS A MAN" (SEASON ONE, EPISODE FOUR)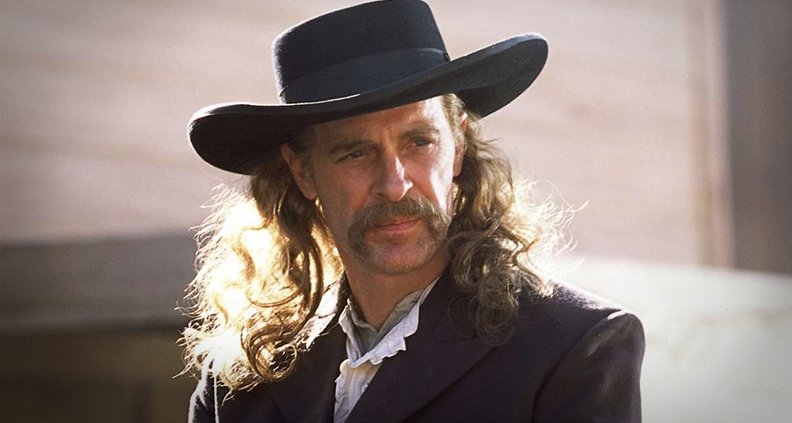 What's the deal? In the earliest episodes of Deadwood, one character in particular loomed large: iconic folk hero and reluctant gunslinger "Wild Bill" Hickok (played by Keith Carradine). Based on the historical figure of the same name, Hickok wasn't the show's protagonist (that would be either Olyphant's Bullock or McShane's Swearengen) but he was its gruffly personable center of gravity: a wizened cowboy Obi-Wan, unusually reasonable and self-aware amid the colorful supporting cast, resolutely noble despite decades of hard living and a precipitous drop in fortunes. While the other intrigues of Deadwood swirled around him—Brom Garrett's suspicious death, Bullock's deepening interpersonal conflict with Swearengen, Trixie's troublemaking pluck, the arrival of a new casino outfit to challenge Swearengen's monopoly, etc.—all Hickok wanted to was drink and play cards. Which is exactly what he's doing as he's suddenly gunned down by dim-witted lowlife Jack McCall (Garret Dillahunt), signaling that in both Deadwood the town and Deadwood the show all bets were off.
"REQUIEM FOR A GLEET" (SEASON TWO, EPISODE FOUR)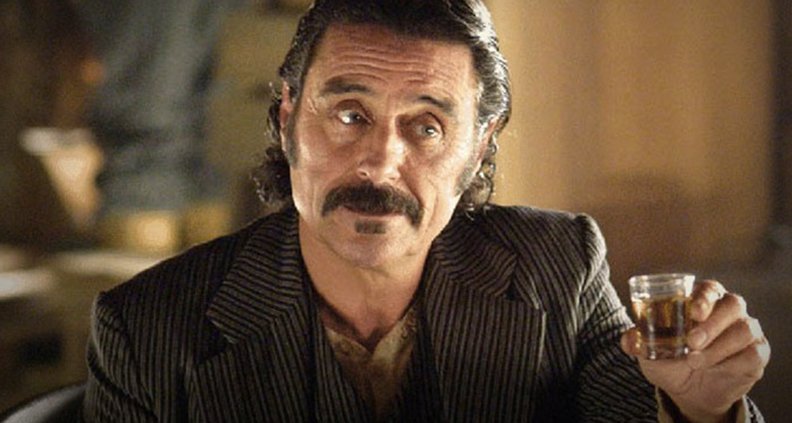 What's the deal? Singling out a single episode of Deadwood's second season for praise is incredibly difficult. This is uniformly one of the all-time greatest seasons of television ever produced, and the complex serialization of the show's plot means that each episode only represents a portion of the show's many compelling ongoing narratives: the escalating psychopathy of advance Heart Mining Co. geologist Francis Wolcott (Dillahunt, again), the burgeoning friendship between glamorously dour madam Joanie (Kim Dickens) and rough-hewn Jane (Robin Weigart), Deadwood's impending annexation by the Dakotas, the uneasy Swearengen/Bullock alliance in the face of camp interlopers, etc. But hey—this is the episode where Al Swearengen passes a kidney stone the entire episode. Which is exactly as disgustingly compelling as it sounds.
"TELL YOUR GOD TO READY FOR BLOOD" (SEASON THREE, EPISODE ONE)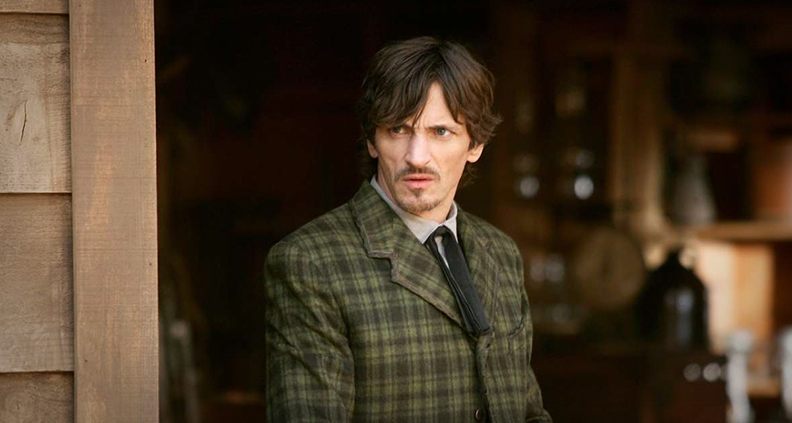 What's the deal? The first episode of Deadwood's unintended final season introduces the show's biggest bad yet: unscrupulous mining oligarch (and father of William Randolph) George Hearst, played with villainous mega-intensity by onetime Major Dad Gerald McRaney. As the town of Deadwood continues to rise up from the lawless mining outpost it once was into a recognizable semblance of civic organization—including a bank, free elections and telegraph communication—so too do the pressures of international capitalism bear down to crush our ragtag outlaw-protagonists. Heart's arrival ignites Season Three's primary animating conflict: will Deadwood and its citizenry remain autonomous? Or will Hearst claim the town, its interests, and even its people as his own?
"TELL HIM SOMETHING PRETTY" (SEASON THREE, EPISODE TWELVE)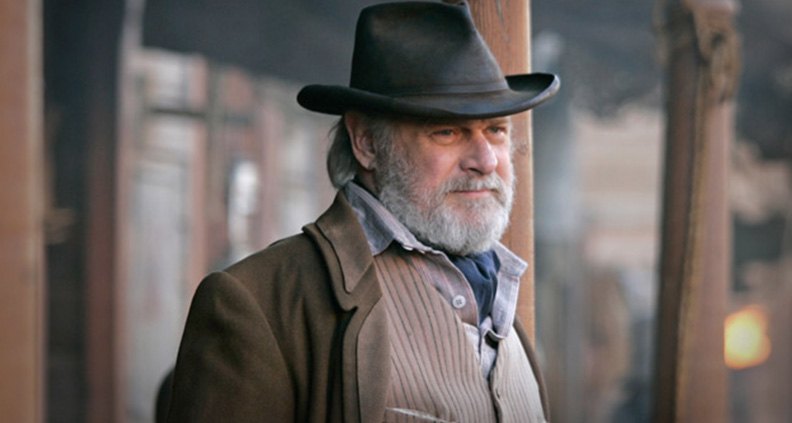 What's the deal? Deadwood's final installment for over a decade left the issue of George Hearst's victory over Bullock and Swearengen unresolved, with the results of an election to join the then-expanding United States of America still pending (though possibly already pre-decided via undemocratic back-channeling influenced by the camp's warring power players). By this point, Hearst is no longer a looming threat—he's already made multiple attempts on both Bullock and Swearengen's lives, and succeeded in authoring the death of benevolent prospector-turned-consigliere (and Alma Garrett's second husband) Whitney Ellsworth, the most devastating character death on Deadwood since Wild Bill drew the "dead man's hand" in Season One. But what will happen to the rest of the camp's inhabitants? Well, we might finally find out next Tuesday.
To get your ticket to April 23rd's An Evening with… Deadwood featuring exclusive new feature film clips and in-depth conversation with cast and crew, just click here. The Deadwood reunion film airs May 31 on HBO.
Coming up at Film Independent Presents…
For more information about upcoming Film Independent events, click here. To learn more about Film Independent Presents, click here.