Nick Kroll and John Mulaney Rudely Interrupt 'My Dinner with Andre'
Long a regular part of the Film Independent Presents ongoing programming calendar, the popular Live Reads series had, until Tuesday night, been conspicuously absent from the to-do lists of screenplay-obsessed LA culture vultures. The off-the-cuff series of star-studded onstage table reads (which has spotlighted everything from The Hateful Eight to Stand By Me to Dr. Strangelove) had, in fact, been on hiatus for most of the past two years. But you know the great thing about hiatuses? That they inevitably end.
And on Tuesday, March 19 the end to this particular hiatus had been promised in the form of BFF funnymen (and reapeat Film Independent Spirit Award hosts) Nick Kroll and John Mulaney, joining forces to channel the erudite supper conversation of Wallace Shawn and Andre Gregory's My Dinner with Andre.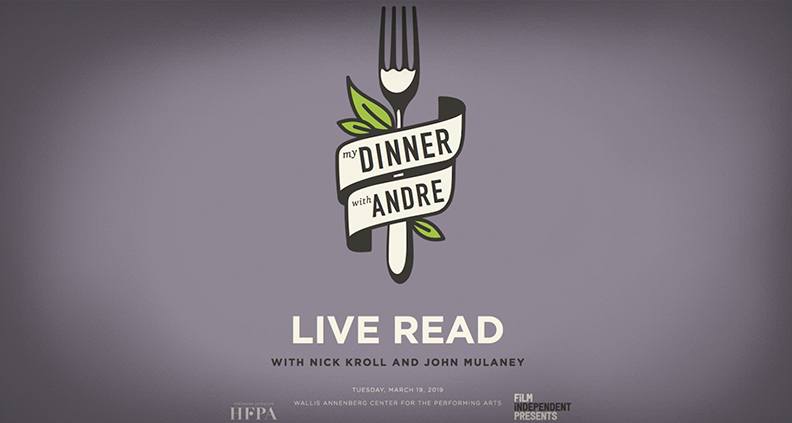 But it didn't exactly happen like that. Many (many) minutes after the scheduled curtain time, Film Independent Presents curator Elvis Mitchell stepped on to the stage to "regretfully" inform the crowd that stars Kroll and Mulaney were unable to make it. Instead, he said, the performance would now feature Hollywood legend Michael Keaton reading Gregory's part, with SNL writers' room vet and comedy world favorite Paula Pell as Shawn. No Kroll, no Mulaney.
The crowd in the darkened theater at the Wallis Annenberg Center for the Performing Arts in Beverly Hills tittered, not quite sure if this was all a put on or not. But Mitchell assured them that such was the case. Oh, that and the fact that that night's reading would be of the "original" version of the theatrical 1981 two-hander, directed for the screen by French auteur Louis Malle, and would include two additional characters cut out of the filmed version: Gil Faizon and George St. Geegland, charmed I'm sure—aka Kroll and Mulaney's alter egos from their hit Broadway show Oh, Hello!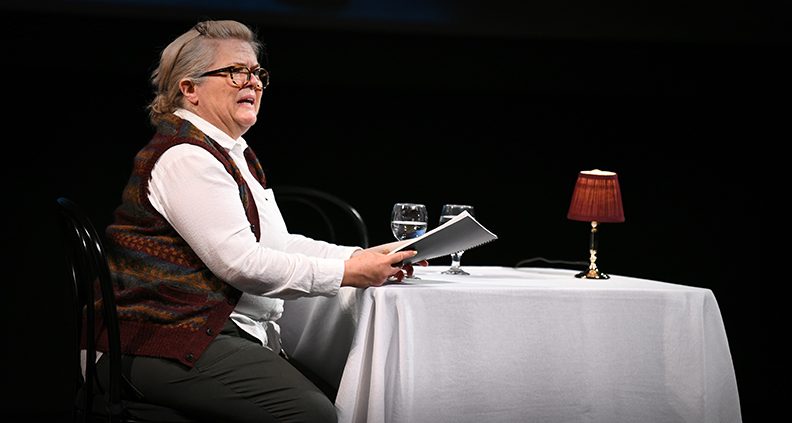 For those not in the know, Faizon and Geegland are a pair of tight-knit, aging-and-utterly deranged Upper West Side weirdos whose utter disregard for polite intellectual conversation (and basic hygiene) is rivaled only by their love of totally imaginary New York Mets games and early-1980s Saturday Night Live.
To the plaintive strains of Erik Satie's "Gymnopédies No. 1," Pell entered the minimalist stage—a single dinner table, set for service—script in hand, reading Shawn's melancholic opening monologue about life as a struggling playwright in late 1970s New York City. Soon, Pell's Shawn finds himself at dinner with estranged theater colleague Andre Gregory, Keaton entering to great applause.
With his characteristic fast-talking performance style, Keaton launched into Gregory's lengthy opening soliloquy, explaining in meticulous detail his ultra-bohemian creative and spiritual journeys of the prior few years—including sojourns to both Poland and the Sahara, sand-eating and live burial.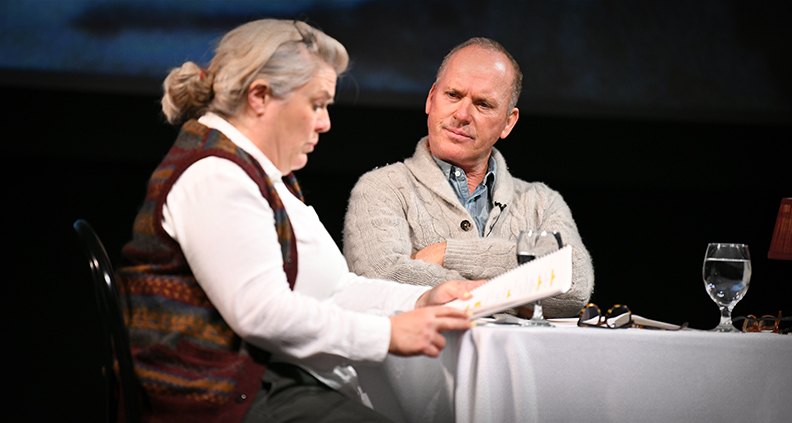 Then, 10 minutes in, Kroll and Mulaney entered in full makeup and costume—"a hodgepodge of corduroy, carpeting, hospital bracelets and leather that is actually a car interior," read Mitchell from stage direction—as, respectively, Faizon and Geegland. As the Oh, Hello! twosome joined the table, the full picture finally became clear: rather than the straight two-person read-through that had been previously been implied, audiences were in store for something else entirely.
Kroll and Mulaney had in fact written copious reams of their own dialogue, to be inserted alongside Shawn and Gregory's original text—adding constant, uninvited commentary on their tablemates' unfolding hi-toned conversation.
"When Wally told us Andre Gregory was in town, at first we thought he meant Andre the Giant. And we were stoked because we wanted to see if his big butt would break the restaurant chair," said Mulaney's Geegland. Observing Shawn's reluctance to explain to Gregory why they fell out of touch, Geegland said: "If you ghosted your friend, Wally, just own up to it. When our dog Pug Simon had a falling out with our skunk Fart Garskunkle, we ghosted Fart for months."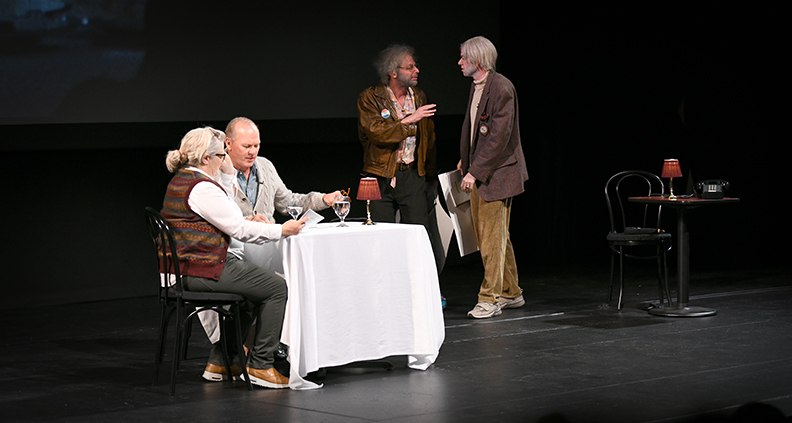 "That was one of the reasons Grotowski gave up the theater," said Keaton's Gregory of Gregory's playwright mentor, "he just felt that people in their own lives were performing so well that performance in the theater was superfluous, and in a way obscene." Added Faizon: "I played the role of a clown at a children's party once. But I was sobbing so much in the car, all my makeup had run down my face and I had to put on women's sunglasses.
Later, Gregory advised Shawn, "you have to constantly ask yourself the question with total frankness: is your marriage still a marriage?" Said Geegland: "You know when I knew my first marriage was over? When my wife was murdered."
And so on, until the Film Independent Presents audience was practically falling into the aisles, laughing at the absurd interaction between Andre's highbrow philosophizing and Hello's calculated gross-out humor.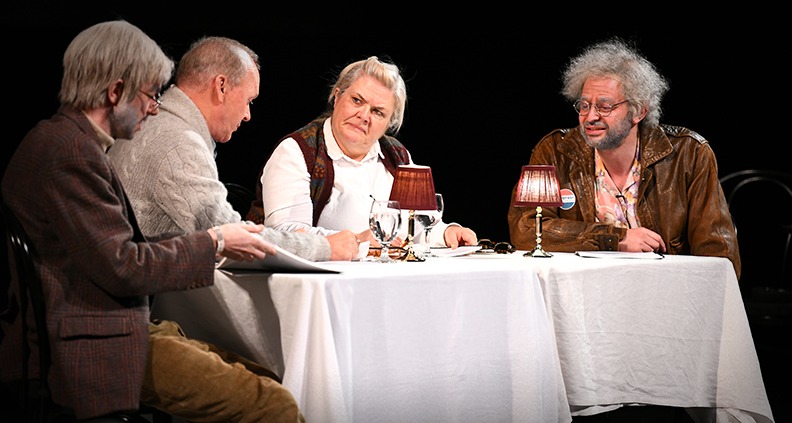 At the end, after Pell's Shawn had delivered the final monologue, Faizon and Geegland rose to take center stage, delivering their final thoughts. "When I think about that night," said Kroll's Faizon, "I think about how I picked my nose so long I got a bloody nose, and was in the bathroom for so long, trying to get it to stop."
"I'm totally floored by how many of those waiters are now dead," Said Mulaney-as-Geegland.
Charmed, I'm sure.
Upcoming Film Independent Presents events…
An Evening with… 'Deadwood' (Wallis Annenberg Center for the Performing Arts in Beverly Hills, conversation with producer Carolyn Strauss and actors Ian McShane and Timothy Olyphant) April 23
For more information about upcoming Film Independent events, click here. To learn more about Film Independent Presents, click here.