Detail Oriented: Creating the Graceful Soundscapes of 'Nomadland' (Part One of Two)
Continuing to rack up numerous wins and nominations across awards season, Chloé Zhao's Nomadland is entering the home stretch now with both the Film Independent Spirit Awards (where the film has been nominated in five categories including Best Feature) and Oscars mere weeks away. With a mesmerizing blend of scripted and pseudo-documentary elements, Nomadland is the ultimate road movie; an indispensable chronicle of the modern-day nomad subculture in the American West.
With a cast including real-life nomads Linda May, Swankie and Bob Wells–who all play themselves in the film–to accompany Best Female Lead nominee Frances McDormand's Fern, Zhao's melancholic narrative empathetically spotlights a large segment of older Americans, who have found themselves permanently displaced in the aftermath of the 2008 financial crisis. Fern's journey is a tale of loneliness, bereavement and self-discovery, as the 61-year-old widow works through her grief after losing her husband, their house and pretty much everything she owns after her mining town all but evaporated once the local gypsum plant is shut down.
For this project, Emmy-winning supervising sound editor and re-recording mixer Zach Seivers, MPSE teamed up with Mexico-based supervising sound editor Sergio Diaz, MPSE (an Oscar nominee for his work in Alfonso Cuarón's Roma two years ago.) To maximize the verité feel of the project, the duo's mantra was always to stay true to the soundscapes of the American West–from the Badlands of South Dakota to the Nevada desert to the Pacific Northwest–as the story follows Fern's long trek across the country.
We recently spoke to Diaz and Seivers about the three principals of sound that helped maintain their realistic, minimalist approach to Nomadland as well as what was done to match the aural design to nature's soundscape. Read Part One of our two-part conversation below:
SERGIO DIAZ & ZACH SEIVERS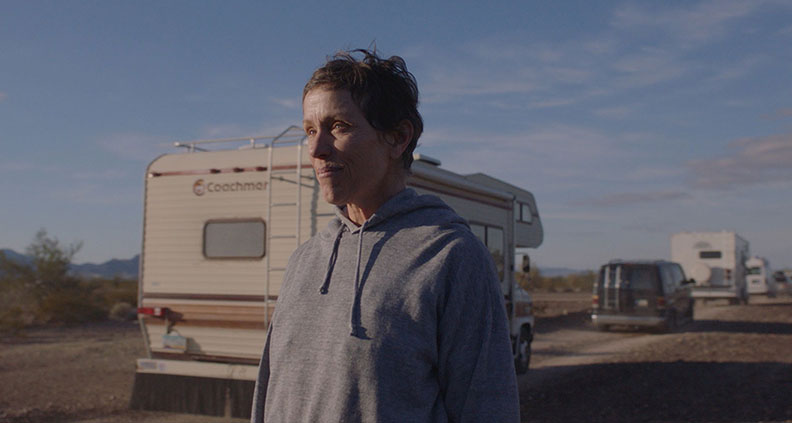 So much of this film was shot outdoors. What challenges came with that in terms of aligning the soundscapes with nature?
Diaz: We went beyond the conventions of sound design, because this project is very personal and unique. It walks a fine line between fiction and nonfiction because of Chloé's documentary cinematic style. Our biggest challenge was collecting the most accurate sounds to make you feel like you're right there with Fern. Much of the story was about compassion and fragility, so we incorporated those into the soundscapes by drilling down to the basics. Simplicity was key.
Seivers: We wanted the audience to understand Fern's emotional journey, so we mixed the sounds in a way that puts the audience in her shoes.
Yes, I think I got frostbite just from watching her scrape the ice off of her windshield outside that storage unit in the frigid winter!
Seivers: It's great that you really felt those moments, because they're deliberate choices to be as authentic and subtle as possible. In that scene we focused on the cold and the sound of footsteps trudging through the snow. Everything was to put you in Fern's shoes; if you understand how cold Nevada is, or how oppressive the Amazon fulfillment center is, you can understand why she makes the decisions that she makes. The same goes for when she arrives in Quartzsite, in Arizona. There's a distinct shift. We go from this very cold and miserable environment in Nevada to things starting to warm up and the wildlife starting to come out. You can feel the sound reacting to the environment in a way that helps you understand what that existential journey is like for Fern.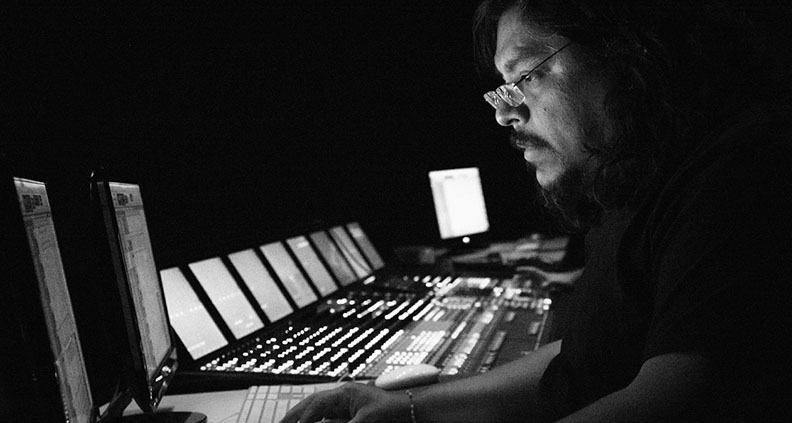 How do you make Nevada sound "frigid" in the snow and Arizona sound "warm"?
Diaz: We started with the amazing work on set from [late production Sound Mixer] Michael Wolf Snyder, and then I layered on original sounds from my database. We built three categories of sound treatment for this film: prominent, serenity and specific silence/emotional richness. Because this story hovers between fiction and reality, everything had to be authentic and organic, so we avoided artificial or dramatic sound treatments. With the extreme weather and outdoors scenes, the wind, the snow, the rain and the fire were "prominent" in that they were visceral and inherent in those scenes.
Seivers: Joshua Richards' cinematography, the way that Chloé frames the characters, the time of year and locations that she was shooting in–they all dictate what kinds of sound we contribute to the story. We wanted every scene to sound as organic as possible and based in practical reality, so that it feels like a documentary. But it all starts with Chloé's vision, her script, and the way that Joshua frames the subjects–the color and lighting choices all impact everything that we do.
Fern is going through a lot of loss in her life and trying to find her own way after losing her husband and home. How did you evoke that complex emotional scaffolding with the soundscapes? For example, the scene where she's cooking alone on a hotplate inside her van?
Diaz: We wanted to amplify the compassion and fragility of her journey with sound and make it more immersive to complement the camera language, the intimate human interactions, the long takes, the soft camera movements and the beauty of the landscapes. I think the "simplicity" approach to sound on this one really complemented Joshua's cinematography.
Seivers: I emphasized the presence of her breathing and humming to give the audience insight into the way she keeps her mind busy to deal with the loneliness. It was a balancing act of maintaining the immersive sounds of her environment, which are intended to convey the intensity of her physical journey.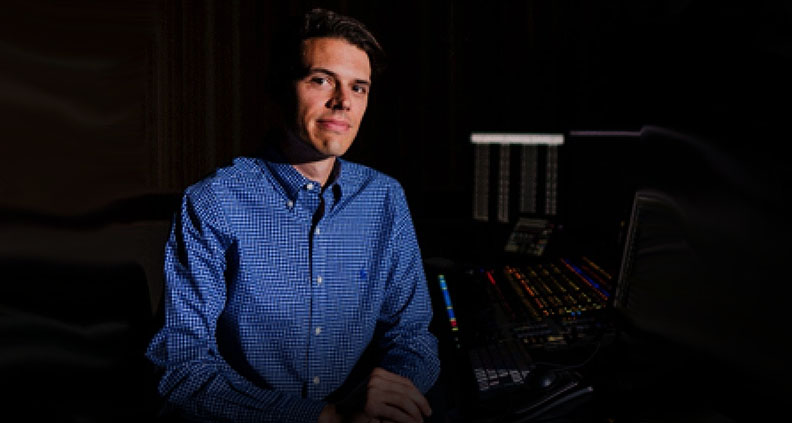 Towards the end, we see Fern in more traditional settings, like when she visits her sister's family. How did you make those scenes sound different with ambient sounds, as compared to the scenes in her van or out in nature?
Diaz: Coming back to the three categories of sound, these scenes utilized the "serenity" aspect to hone in on the authenticity of the moment and her surroundings. We used layers of sound with close, medium and long perspectives to create different sensations to match the camera angle and location. We wanted to create a tapestry of colors, texture and depth with each sequence.
Seivers: It starts with a director and his or her appreciation and understanding of what sound can do to help tell the story. Many incredible directors don't often think about sound until the picture is locked and treat it almost like an embellishment, or icing on the cake, rather than the filling of the cake–the fundamental component of how you're telling the story.
Icing versus the filling of the cake, I like that metaphor.
Seivers: Sound can be equally powerful as cinematography. You can use it to tell what's happening off-camera. It puts the audience into the shoes of these characters so they understand what the environments are actually like, what they feel, it sets the time and place, but it's all extremely subtle. Thankfully with Chloé, she was already thinking about sound as she wrote the script, while she's shooting and editing, and knew how all these pieces should come together. And then she puts Wolf, a really fantastic production Sound Mixer, into situations where he's able to record the best possible sound on set, which travels to us in post-production. So, we had this amazing soundtrack to use as an anchor and a reference point for how to take it even further. And when it all comes to me as the mixer, I looked at how the music is balanced against the sound effects and the dialogue.
For more on how the Amazon fulfillment center sequence was filmed in a live operational environment, check back tomorrow for Part Two of our conversation with Diaz and Seivers.
Film Independent promotes unique independent voices by helping filmmakers create and advance new work. To become a Member of Film Indepenent, just click here. To support us with a donation, click here.
More Film Independent…