Detail Oriented: Going Behind the Top Secret VFX of Amazon's 'Jack Ryan'
Movies are a mosaic of moving parts. But we don't always see which parts, or who's moving them. In Detail Oriented, Su Fang Tham explores some of the more specialized areas—and career paths—related to film production.
***
One of the most enduring film characters of the last 30 years, the latest iteration of Tom Clancy's Jack Ryan—the military author's iconic marine-turned-CIA-analyst- turned-reluctant-field-operative—can currently be seen on the small screen being played by actor and filmmaker John Krasinski. The show? Amazon's Jack Ryan, of course.
The original series premiered a year ago, to much fanfare (the show's U.S. premiere was a glitzy affair decked out on the aircraft carrier museum Battleship USS Iowa during LA's Fleet Week celebrations) and was a critical hit, garnering a 74% fresh on Rotten Tomatoes, with an audience approval score of 88%. A trailer for Season Two premiered online earlier this month, with Amazon promising new episodes "coming soon."
In Season One, Ryan's globetrotting exploits through the Middle East and Europe to thwart impending acts of terror were brought to life—with painstaking detail—by the team of Senior Visual Effects Supervisor Erik Henry. Already a winner of two Emmys for Black Sails (Starz) and John Adams (HBO), Henry is nominated for his sixth Emmy this year for his work in fully realizing Tom Clancy's vision of world espionage.
We recently caught up with Henry to learn about the Herculean task his team faced during the six months of post-production for the first season. Here's what he said:
ERIK HENRY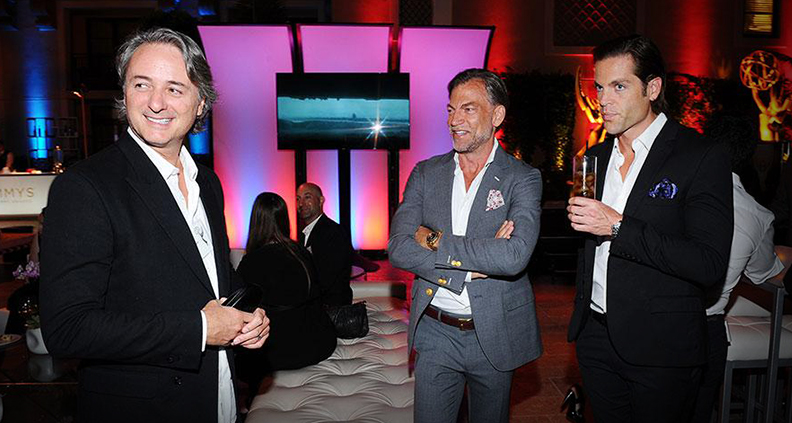 How'd you come to work in the special effects business? Have you always wanted to work in film and TV?
Henry: After watching Star Wars in 1977, I knew I wanted to be in the film/television industry. A good friend of mine who worked at an effects house in 1987 offered me a three-month gig, paying many times more than what I was making at the grocery store at the time. So I jumped at the chance, and was soon working on James Cameron's The Abyss. Before the three-month period was over, my friend moved on and I took his place in the department full time. The rest is history.
Jack Ryan Season One included 1,000+ special effects shots. Since all eight episodes were shot at the same time, did you have to wait until the final cut of the entire season was delivered to you to get to work?
Henry: While shot simultaneously, the edits did come out an episode at a time, so we were able to get started right away on the complicated bombing sequence of Episode One. While it's true there are a little over 1,000 effects in all, only a small number of them were so complex that they required multiple months to complete.
How involved is your team during principal photography?
Henry: We're always directly involved in principal photography. I design the shots with the director and stand by his side to ensure we shoot all that is necessary to build the shots in post. I help problem-solve with the director, adjusting to instances where our plans need to change by giving real-time advice or solutions.
You've talked about how your team's approach was often from the first-person POV. What does that mean in terms of visual effects?
Henry: We tried to avoid big crane moves and instead focused on hand-held cameras to put the audience in the scene with Jack and the other characters. At the end of Episode Three, Jack runs out of a building chasing a key adversary. As we run back with him out of focus in the background, an explosion rips the side of a building off. Jack spins around and we resolve in time to see the debris raining down. I think that sort of first-person reveal of VFX work—and the shock of it—is what makes Jack Ryan more believable and authentic.
Tell us about creating the pilot's carpet-bombing sequence with Pre-Viz [Previsualization]. Why was it important for the audience to see this scene from an aerial view as opposed to as it would be witnessed on the ground?
Henry: Pre-viz was essential to that bombing sequence, it enabled me to concentrate on just those shots that we knew we wanted, and therefore what resources we needed in Morocco. The fact is, only a drone would have been able to capture that bomb-bay door perspective. As the whole origin story of the Jihadis was integral to the season one arc, we felt it was necessary to show the ease with which the French aircraft devastated [the victims'] peaceful way of life, that so many lives were lost that day in 1983 and the cost we all bear for similar tragic acts. The fact that, from 25,000 feet above ground, all things look small and "insignificant" is not lost in the viewing of that key shot.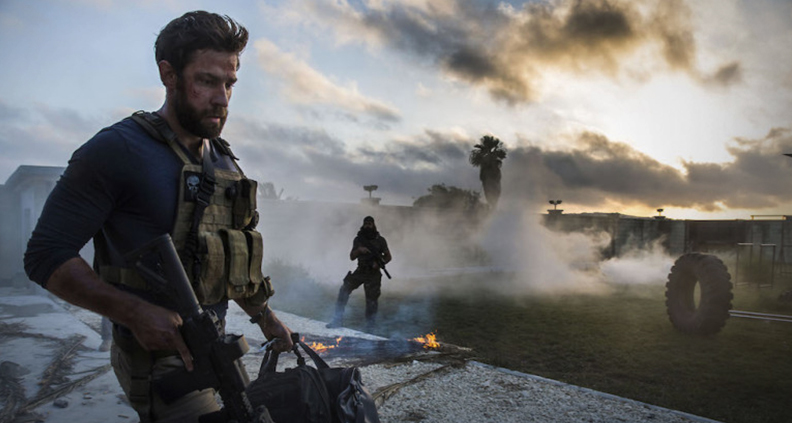 You brought in Montreal-based firm Hybride to work on some VFX shots. What were some of the bigger set extensions that they delivered?
Henry: Hybride was so essential to the success of "Black Site Cobalt"—the secret base attacked at the end of Episode One. They built out a third of the base that simply didn't exist, while also adding CG RPGs [rocket propelled grenades] to the guard tower explosion shots. They were also our team for the huge Andrews Air Force Base shots, adding the B-52 bombers as well as the POTUS hangar, both iconic fixtures at Andrews.
You had another VFX firm, Cinesite, work to transform the Vegas casino sequence—which was actually shot in a Montreal casino, which had a very different architectural style. What was that process like?
Henry: Cinesite's team was a pleasure to work with. It's true that the Montreal location was very low-key and didn't have the adornments of a Vegas casino. Cinesite created a CG ceiling with chandeliers, lights and cameras. The results transformed a mundane location into something very sophisticated to fit the look of the show.
In researching for this project, were there any prior works by others that served as inspiration?
Henry: We liked the Jason Bourne films for that first-person POV look, and crossed that with a little of Tom Clancy's Patriot Games for its charming Boy Scout qualities.
Jack Ryan Season One is currently streaming on Amazon Prime, with Season Two expected to arrive soon. Is there an aspect of filmmaking you'd like to see explored in Detail Oriented? Let us know in the comments.
Get More Involved…