Directors Close-Up Recap: Anomalisa's Charlie Kaufman and Duke Johnson Explore Heartbreak in Miniature
It's been a remarkable year for independent movies overall, but no film this awards season was quite as unusual as Anomalisa—Charlie Kaufman and Duke Johnson's adults-only, stop-motion animated exploration of loneliness and existential crisis.
Anomalisa's unique journey from stage play to multiple Film Independent Spirit Award nominated tour de force was the focus of Film Independent's second 2016 Directors Close-Up panel, held February 10 at the Landmark in Los Angeles.
Moderator Jason Segel returned to the stage for his second DCU panel in as many weeks, following his turn as panelist on February 3's discussion of The End of the Tour—read the full recap here. 
Anomalisa co-directors Duke Johnson and Charlie Kaufman joined Segel, who wasted no time expressing his admiration for the film and its directors, opening the conversation with a question about the movie's origins.
Kaufman, acclaimed screenwriter of Being John Malkovich and Eternal Sunshine of the Spotless Mind, explained that the script began in 2005 as a stage play featuring minimalist sets, real-time Foley work and live orchestral accompaniment from Carter Burwell at UCLA's Royce Hall.
The original stage version of Anomalisa was performed only twice, but it was enough to capture the attention of comedy writer and producer Dino Stamatopoulos (Mr. Show, Community), who would later launch the animation studio Starburns Industries, where AFI graduate Johnson worked as an animator and producer. Looking for projects, Stamatopoulos surfaced the idea of adapting Anomalisa for the big screen.
"[Dino and I] wanted to explore more adult stories with this medium," said Johnson, adding, "Animation is a medium, not a genre."
"Were you freaking out?" Segel asked Johnson, referring to the improbability of directing a script from one of Hollywood's most iconic screenwriters.
"It had literally been a dream of mine to direct a Charlie Kaufman movie," Johnson said, adding, "But it's not like there are just Charlie Kaufman scripts floating around…"
"Actually there are," interjected the soft-spoken Kaufman, to laughter. But even as the film began to take shape, Johnson confessed anxiety over his continued involved. "I was just hoping I wouldn't be cut out of the deal," he said.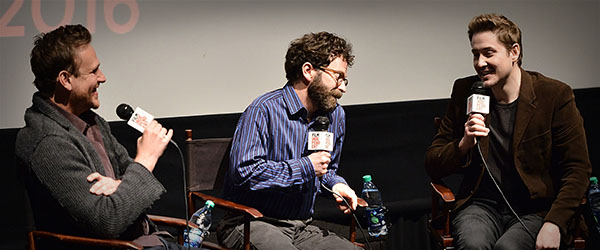 Kaufman explained his inspiration for Anomalisa's plot, beginning with his interest in the Fregoli Delusion, a psychological phenomenon in which the sufferer believes that different people are all actually the same.
"I wanted to figure out a way to use it [Fregoli] metaphorically," said Kaufman. "I also wanted to cast Tom Noonan, who has such a distinctive voice."
This idea led to the conceit of having veteran character actor Noonan play every part in the film save for David Thewlis's protagonist Michael and Jennifer Jason Leigh's titular Lisa. "Every character had to be their own being," Kaufman explained, even though "Tom was not allowed to change his tone or his accent."
"The script is so human," Segel observed, asking, "Why puppets, why not live action?"
Kaufman shifted uncomfortably in his chair. "You might as well ask, 'why did you make this live action?'" he said, implying that the artificiality of the animation process was an appropriate cinematic translation of the play's original Brechtian presentation.
"When we gave up [the play's] conceit, I wasn't sure what to replace it with," he said, adding, "Stop motion is my favorite form of animation."
Segel, whose own fondness for puppetry is no secret—see Forgetting Sarah Marshall or 2011's The Muppets, both of which he wrote—recalled how, as an aspiring actor and filmmaker, he would create his own projects with miniatures and quickly fell in love with puppetry's malleability.
"Do you even like puppets?" Segel asked Johnson, to laughter, when the latter hesitated after Segal inquired about the director's own fondness for felt performers.
"I didn't even remember I liked puppets until I started working in the industry," Johnson said, stating that he discovered his own affinity for the medium when he began working on Stamatopoulos's Claymation series Moral Orel.
Kaufman elaborated on his own fondness for stop-motion. "I really like fake things," he said. "I like miniatures and sets. Seeing the little tiny toilet [on Anomalisa's set] was thrilling."
Kaufman explained that this same attraction to artificiality was also partly the inspiration for his 2008 directorial debut, the surreal psychodrama Synecdoche, NY, about a depressed theater director (Phillip Seymour Hoffman) who recreates his own life—down to the tiniest detail—on a massive soundstage.
Kaufman explained how, when living in New York, he would take the train home to Brooklyn and imagine that the cityscape rushing by outside was actually a set that he had built.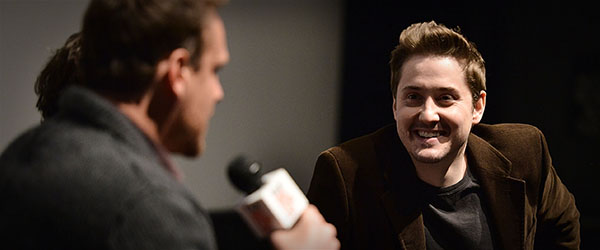 Eventually, the discussion shifted to Anomalisa's laborious production process, which took three years and resulted in an average of less than two seconds of useable footage shot per day.
"Three years is a long time to just sit there with the confidence that this is going to be good," Segel commented.
"Confidence or desperation," remarked Kaufman. "Once you start, you can't not finish," he said.
"Were there time you thought you might not finish?" Segel asked.
"There were times sometimes when the money ran out," said Johnson of the production, which was initially bankrolled by a successful (but still meager) Kickstarter campaign.
In fact, making crew payroll turned out to be a constant struggle. Johnson described a tense production environment where the crew's Friday paychecks would often be delayed until the following week, leading to near mutiny.
Luckily, morale was restored when Johnson finally showed the crew a cut of the movie's first full scene—the bittersweet morning-after breakfast between Leigh's Lisa and Thewlis's Michael.
"After [showing them the scene] the crew sighed and said 'Okay, I'll see you on Monday," laughed Johnson, who described his mindset during production by saying, "I was tired for two years."
Following the second of two video excerpts—a behind-the-scenes featurette deconstructing Anomalisa's centerpiece sex scene—Segel opened the panel up to audience Q&A, which provided additional insight into the stop-motion process.
"If you watch humans, they're moving constantly," observed Johnson. "If you did [those same movements] on a puppet, it'd be huge. So we had to pull it back."
He also noted that human movement is surprisingly symmetrical in ways that, when applied to a puppet, seems false. So in a seemingly paradoxical move, Johnson had to make the miniatures seem less human in order to appear more human.
But despite the stress and difficulty of bringing Anomalisa to screen, Kaufman and Johnson stressed that they're enthusiastic to continue their collaboration—great news for anyone who wants to spend more in time in Kaufman's remarkable imagination, no matter what the scale.
Anomalisa is currently nominated for four 2016 Film Independent Spirit Awards—including Best Feature, Best Director, Best Screenplay and Best Supporting Female.
Film Independent's Directors Close-Up returns to the Landmark this Wednesday, February 17 with The Storytellers—Writers and Directors, featuring Aaron Covington (Creed), Meg LeFauve (Inside Out, The Good Dinosaur), Donald Margulies (The End of the Tour), Josh Singer (Spotlight) and Kevin Willmott (Chi-Raq) and moderated by Howard A. Rodman (August, Savage Grace).
Passes for Wednesday's panel as well as future editions of the 2016 Directors Close-Up series can be purchased here. For the full slate of upcoming Directors Close-Up Panels, click here.
For more information about Film Independent, please visit our website or subscribe to our YouTube channel. Learn how to become a Member of Film Independent by clicking here.
Matt Warren / Film Independent Digital Content Manager