Directors Close-Up Recap: Writers Take the Stage to Discuss The Best Screenplays of 2016
A prodigal son putting on boxing gloves to reclaim his namesake. The adventure-filled inner life of a young girl. Two writers squaring off in an intellectual game of cat-and-mouse. A group of crusading Boston journalists working to uncover a massive sex abuse conspiracy. A farcical sex strike aimed at ending inner-city violence on the streets of Chicago.
On the surface, the scripts for Creed, Inside Out, The End of the Tour, Spotlight and Chi-Raq seem to have little in common. But despite the breadth of subject matter, each of these films—and their screenplays—demonstrates a firm and thoughtful commitment to exploring the emotional life of the characters being put on screen.
Writing and creative collaboration was the subject of Film Independent's February 10 Directors Close-Up panel Storytellers—Writers and Directors, which brought the scribes behind some of the biggest independent releases of the year (or, in Inside Out's case, one of the biggest films of the year in general) to the Landmark stage to discuss the art of writing and the process of collaborating with each film's director.
The panel—the third entry in Film Independent's 2016 DCU series (you can read previous panels recaps here and here)—was moderated by veteran screenwriter Howard A. Rodman (August, Savage Grace, Joe Gould's Secret) and included:
Aaron Covington, writer of Creed, director Ryan Coogler's reboot and reinvigoration of the Rocky franchise, starring the incomparable Michael B. Jordan.
Meg Le Fauve, writer of Pixar's Inside Out and The Good Dinosaur, two of the most stylistically and narratively imaginative animated films of 2016.
Donald Margulies, writer of The End of the Tour, James Ponsoldt's dramatization of the brief encounter between novelists David Lipsky and David Foster Wallace.
Josh Singer, writer of Spotlight, director/co-writer Todd McCarthy's procedural drama about The Boston Globe's investigation of sex abuse cover-ups within the Catholic Church.
And Kevin Willmott, writer of Chi-Raq, a reimagining of the ancient Greek farce Lysistrata, in which the women of Chicago go on sex strike to end inner city violence.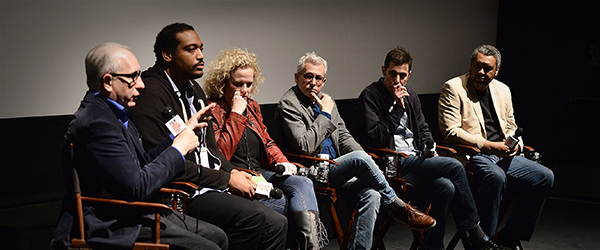 Rodman opened by saying, "I'm never happier than when I am in a room full or writers," and began the panel by asking each, "What was the very first thing you knew about [these projects] before you started?"
"Ryan came to me and said 'What if we told the story of Apollo Creed's son, and Rocky was the older trainer'" said Covington, "I thought it was a really cool idea."
For her part, Le Fauve joined the project after the film's director, Pete Docter, had already hatched the idea. But even though the film had already begun development, it was continually evolving.
"Initially, Pete had pitched me the idea that Joy was going to be teamed up with Fear, but he thought that was wrong," Le Fauve explained. "He said 'I think maybe we should change it to Sadness.' Once he said that, I was in. It's such a profound idea."
For Margulies, Tour began when he was sent David Lipsky's Wallace memoir Although Of Course You End Up Becoming Yourself. He initially struggled with adapting the material, and first considered adapting it as a stage play. But then he hit upon a more cinematic approach.
"I got very excited with the prospect of it being a road movie," said Margulies, "I brought the script to the director, James Ponsoldt, who just happened to have been a student of mine at Yale 20 years ago."
Singer explain Spotlight's origin: "My manager called me up and said 'There's this story about a Jewish editor who walks into The Boston Globe, in the most Catholic of cities, and on his first day decides to go after the Catholic Church—are you interested?' Of course I said yes," he said, complimenting his manager's hard sell, "It was a good opening line!"
"I was in Lysistrada in college," explained Willmott, "It stayed with me. I loved the language of the play, and I felt it really lent itself to African American traditions," he said, explaining the decision to write the film's dialogue almost entirely in rhyming verse. "[Director Spike Lee] had seen my previous film, The Confederate States of America, and asked if I had any other scripts."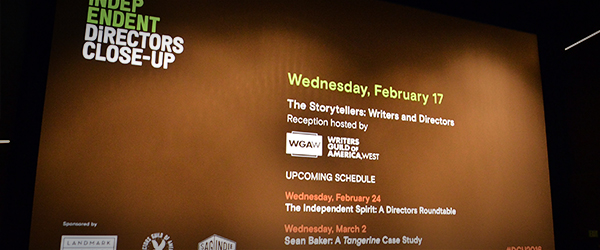 Rodman then introduced clips from each film: the pivotal first meeting between Rocky and Adonis Creed in Creed, Sadness's climatic heart-to-heart with "imaginary friend" Bing-Bong in Inside Out, a tense airplane ride between Lipsky and Wallace in Tour, Spotlight's opening police station scene and Chi-Raq's confrontational "No Peace, No Pussy" swag-off.
Following the clips, Rodman asked Willmott—himself an accomplished filmmaker—if his process at all changes when he's writing for someone else to direct.
"When [you're the director] you write based on what you know you can produce," Willmott explained, noting that he had written the initial draft of Chi-Raq long before Lee's involvement, saying, "I had no hopes that someone would get it and make it. It was really one of those miracles of God that Spike stumbled on it."
Turning to Singer, Rodman asked: "How did you feel your way into the relationship with Tom McCarthy?"
"Tom wasn't planning to write," Singer said of the director, who received co-screenwriting credit. "He was hiring me as the writer. After the first week of research, I had 55 pages of notes which was the backbone of the investigation," he added, "I knew we had a great detective story."
But even as Singer was ready to start writing, McCarthy pressed for additional joint research trips to Boston. "I was happy," said Singer, laughing. "After all, what better way to procrastinate than research?"
Describing how the relationship with McCarthy gradually evolved into a writing partnership, Singer said, "We started bouncing ideas off each other and then, three or four months in, Tom said 'You know, I think we wrote this together.'"
Rodman asked Margulies, who had not been on set, about seeing an early rough cut of Tour: "I was moved to tears because it looked like what I had wrote," he said, "[The film] looked the way I imagined it would look—it was such a gift."
Turning to Le Fauve, Rodman asked: "Could you explain to the rest of us what the Pixar process is like in general—how did you take the basic concept of five people living inside someone's head and make it these five very specific people?"
"Pixar is, of course, very far from an independent film," admitted Le Fauve, "But at the same time it's incredibly similar in that it's all director-vision oriented."
Due to the unique workflow of feature animation, Le Fauve was coming onboard a project already well under development. "When I was brought in to write we were already in production. They're starting to draw and create locations as you're going, so you immediately get to see 'Oh, this doesn't work.'"
"How did you create a simple emotional story when the weight of these already-established and very iconic characters has already been pretty built?" Rodman asked Covington, about creating a fresh take on the Rocky series.
"We would've been the first people who'd be mad if someone else was writing this," said Covington, of his and Coogler's Italian Stallion superfandom, "Stallone was onboard. He was very opinionated—in a good way."
Stallone, in fact, was instrumental in shaping the arc of his character. "'Rocky wouldn't do this, Rocky wouldn't do that" said Covington, adding, "You just think about it in collaboration for a second until you get to the right answer."
Curious, Rodman followed up with a question about Rocky's long—and often mocked—franchise history: "How did you and Ryan figure out how to get honest emotions out of a movie that's a sequel to a sequel to a sequel?" he asked.
"We just tracked Adonis's journey," said Covington, citing lead actor Michael B. Jordan's performance as a key component to bringing the character to life.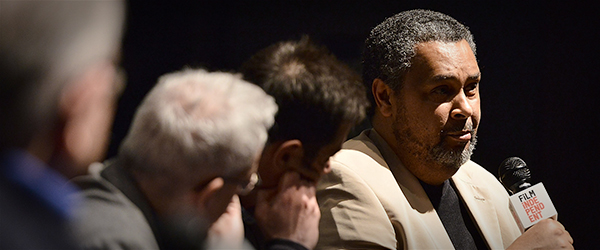 Rodman then opened up the panel to an audience Q&A. The writers continued to express themselves eloquently and comprehensively, illustrating five very different approaches to five very different movies. But while no two of the films being dissected on the panel seemed to share an identical path, as the discussion developed, unusual parallels began to emerge.
Spotlight and The End of the Tour both tackle real-life characters and situations tied to recent American history. Is that really so different from Rocky Balboa, who's been rendered so vividly—and so frequently—over the past 40 years that the character approaches a sort of quasi-realness that demands to be depicted with just as much fidelity and honesty as David Foster Wallace or The Boston Globe's Mike Rezendes?
Or take Chi-Raq's satirical, operatic deconstruction of feminism, masculinity and violence. Is the movie's theatrical externalization of social dynamics really so different from Inside Out's depiction of emotions as individual cartoon characters? In both, the focus is on female psychology, and both literalize abstract concepts—be they personal (Inside Out) or political (Chi-raq).
Wrapping up, the evening's takeaway seemed to be that there were many different recipes for creating great movie stories, but only one ingredient—a commitment to emotional honesty, spiced with a willingness to embrace creative collaboration.
---
Film Independent's Directors Close-Up returns to the Landmark tonight, Wednesday February 23 with The Independent Spirit—A Directors Roundtable, featuring an all-star panel of Spirit Award nominated panelists including Marielle Heller (writer/director, The Diary of a Teenage Girl), David Robert Mitchell (writer/director, It Follows), Trey Edward Shults (writer/director, Krisha) and Chloé Zhao (writer/director, Songs My Brothers Taught Me).
Passes for tonight's panel as well as next week's fifth (and final!) edition of the 2016 Directors Close-Up series can be purchased here beginning March 2.
For more information about Film Independent, please visit our website or subscribe to our YouTube channel. Learn how to become a Member of Film Independent by clicking here.
Matt Warren / Film Independent Digital Content Manager