'Downton Abbey' Hair and Makeup Designer on Recreating 1927 Royal Glamour
Movies are a mosaic of moving parts. But we don't always see which parts, or who's moving them. In Detail Oriented, Su Fang Tham explores some of the more specialized areas—and career paths—related to film production.
***
When the initial run of ITV's massively popular historical series Downtown Abbey bade adieu to American audiences in 2016 after six seasons on PBS, the Julian Fellowes-created drama was the public broadcaster's highest rated drama in 45 years—with 9.6 million viewers tuning in to the series finale. Back at home across the pond, Downton likewise broke British cable viewership records, matched in recent history only by the BBC One phenomenon Bodyguard. But despite its long run, audiences weren't quite ready to part ways with the aristocratic Crawleys, nor their ever-faithful household staff.
The idea of a feature was first conceived, according to interviews, around the middle of Downton's TV run, with the behind-the-scenes creative team always believing that the grandeur of the story and its setting had a cinematic feel that would translate to the big screen. And now that big screen sequel is finally here, with Lady Mary (Michelle Dockery) leading the Crawley family in their most challenging public engagement yet— hosting an overnight royal visit by their Majesties King George V and Queen Mary.
The franchise's hair and makeup designer from the very beginning, three-time Emmy winner Anne Oldham (Emma, Good Omens) was thrilled to be invited back to shape the familiar and beloved characters. Creating a unique look for each of the core 18 characters—and bringing them ahead to 1927—required kicking everything up a few notches to sharpen the look for the big screen. Here's how she did it:
ANNE OLDHAM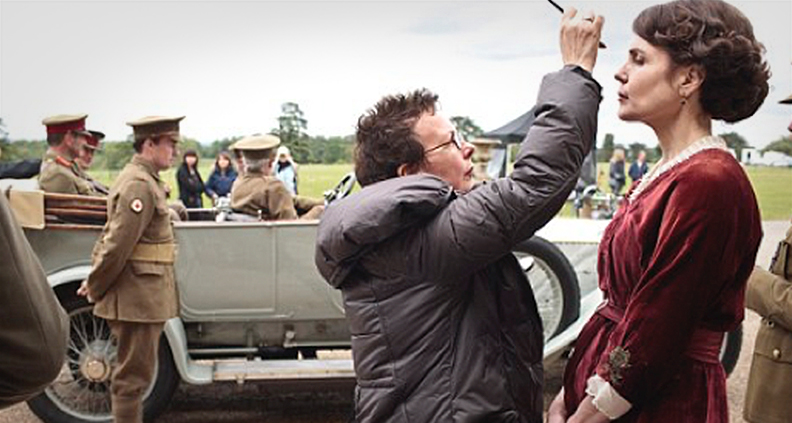 How did you get started in the film and television business, and hair and makeup specifically?
Oldham: It took me a while to realize I wanted to go into makeup and hair. My cousin was a BBC cameraman and recommended their training school. Nobody was more surprised than me when they took me on—it was like getting a golden ticket! Best training ever! Many of the amazing people I work with today, I had met while at the BBC all those years ago.
How big was your team on the TV series versus the film?
Oldham: It was lovely to have a larger team for the film to give us more time with each look for the big screen. I had an extra senior makeup and hair artist on the main truck, plus a supervisor with a trainee for the supporting artists. So for the film, I had myself, two supervisors, three senior makeup and hair artists—plus another for the massive days—and two trainees.
What did you have to do differently to maintain the Downton standard of elegance when translating things to the movie screen?
Oldham: Our aim was to create a polished and styled, yet natural, look for the big screen. With a [bigger] film budget, we were able to go to three of the best wig companies to have bespoke wigs made for all our leading ladies, and toupees for some male actors. We spent a lot of time making sure everyone had natural, glowing skin, while still staying true to 1927 time period.
How does your team coordinate with costume design and cinematography to make sure the look you had in mind comes across as planned onscreen?
Oldham: I was over the moon to be working with costumer designer Anna [Marie Scott Robbins]. Her team was fantastic to work with and their huge talents made our lives a joy. We had a similar eye, so our departments were a natural fit. A cinematographer can make or break our work, and we were so lucky with Ben Smithard. He was always very generous with his time and completely understanding of our department. Terrific guy!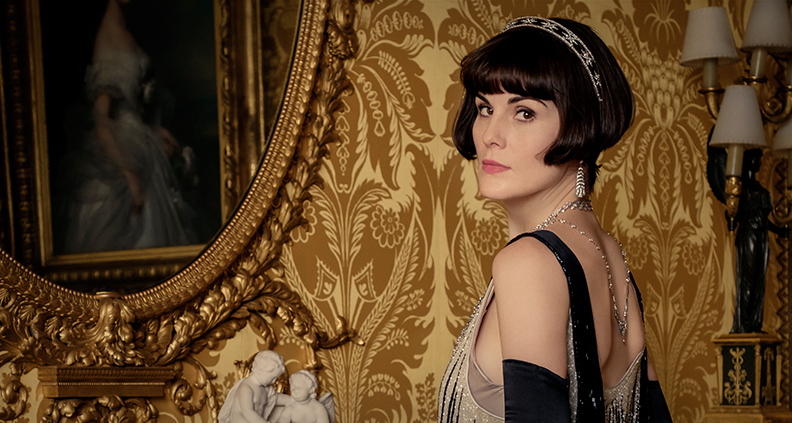 The final episode of the series takes place on New Year's Eve 1925 and the feature picks up with a royal visit to Downton in 1927. What were the stylistic changes between the two years that you wanted to highlight?
Oldham: The film brought us deeper into the 1920s, so we needed to reflect the mood and styles of 1927. Both Lady Mary and Lady Edith—now happily married, respectively –have gone for the shorter bob. This was followed to a simpler degree by [lady's maid] Anna and [assistant cook] Daisy [Sophie McShera]. Lady Mary's style was shorter and sharper with bangs, very on trend for the time. Because these characters are so well-known and loved by the fans, we were careful to bring them forward without altering them beyond recognition. When designing the original, I created a different look for the various generations reflecting the Edwardian era through to the modern day. We did the same for the film and just punched it up a notch.
What was your research process like for both the series and the film?
Oldham: I love research! It's one of my favorite parts of prep. By 1927 films and magazines were a huge influence, so we happily searched through back copies and film clips. I always look at paintings for a softer, less "high fashion" feel. The Crawley family was based in Yorkshire—more country than city—so it was essential to give them the right look. A stunning John Singer Sargent [portrait] hangs in Highclere Castle [Downton's primary shooting location], which was a very early influence.
How did you create the Crawley sisters' au naturel yet camera-ready look?
Oldham: Their characters have always been so different, so we echoed that in their looks. Lady Mary's dark hair lent it itself to the sharp 1920s bob, while Lady Edith suited the soft wave of the time. We spent time with good skin care, so that when it was time to make up faces we had the best canvas possible to work on. I hate heavy foundation, so where possible I would leave areas free, which added to a natural glow. I tend to use gentle flattering colors and the lightest touch of powder—it's all about the glow.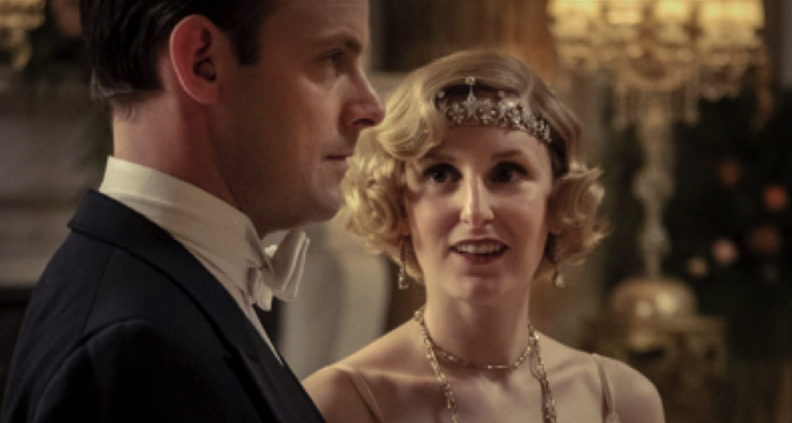 All the Crawley women including Cora (Elizabeth McGovern) have very distinct personalities and behavioral traits. How do you emphasize this onscreen through hair and makeup?
Oldham: Cora has always been a stunning, elegant creature of an older generation who knows her style, while the girls moved through fashion. As they matured and were now married, their looks also moved on. Together with costume design, they blossomed into their different looks.
How do you emphasize the difference between their stations? For example: the look for Lady Mary, versus her lady's maid Anna Bates, played by Joanne Froggatt?
Oldham: The looks adopted upstairs would be echoed downstairs in a discreet way. Anna has been Lady Mary's lady's maid for a long time, so she's up to date with all the changing hairstyles. Even though the bob was quite shocking when it arrived, some years later, Anna had her own hair cut short in the same fashion—she created the soft wave herself.
How long does it take to transform Laura Carmichael into Lady Edith every day? What inspired her look back in Season One? How has her look changed throughout the six seasons and now the film?
Oldham: Lady Edith was a 90-minute creation. There's wig dressing before call time and then resetting after the day's shoot has wrapped. In Season One, she was a young lady, so she had soft waves. As she matured over the years, the waves continued but took on the new shapes of the period. For the film, I wanted her to have a neat close bob but maintain her waves. By the time we see her in the film, Edith is happily married and sure of her place in the family. So I hope the look we gave her echoed that.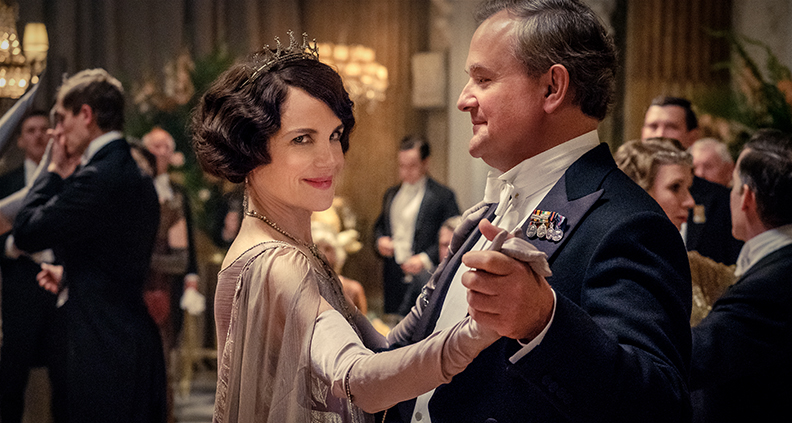 Now let's talk about the gentlemen—head butler Carson (Jim Carter) and Lord Grantham (Hugh Bonneville) have remained much the same, but what about the younger lads like Tom Branson, Barrow and Andy (Allen Leech, Robert James-Collier and Michael Fox, respectively)?
Oldham: Our lovely gentlemen… There wasn't much room for changes here. We dressed the men upstairs with a slightly longer and relaxed look, while downstairs they were shorter and impeccably neat at all times. All the men of the time used hair products like Brilliantine.
What was involved in creating the look of King George V and Queen Mary?
Oldham: Well, we had great reference material for them that didn't allow for much wiggle room. For the King, we were lucky to have an actor [Simon Jones] who could grow a fantastic beard, which was cut and styled into the shape of the period. The King had an odd change of hair color, which we created using his own hair and a toupee. The Queen had a monster hairdo with a mass of tight marcel waves, so our hands were somewhat tied into that look. I chose a gray wig that went well with [actor] Geraldine James' skin tone, then left it to the magic hands of [hair designer] Marc Pilcher to set and style.
Downton Abbey opens in theaters nationwide beginning today.
Get More Involved…