From the Archives: Explaining 'Immersive Entertainment' with VR Leaders Felix & Paul Studios
NOTE: The following post originally ran in May of this year. Felix & Paul's Space Explorers: "A New Dawn (Episode One)" and "Taking Flight (Episode Two)" directed by Félix Lajeunesse and Paul Raphaël will be featured as part of our new The Portal immersive storytelling showcase at the 2018 LA Film Festival. For more info on how to attend, click here. Enjoy!
***
Maybe you've noticed, but the unit of measurement we like to use here at Film Independent when discussing the artists we champion is visual storyteller. And more and more these days, there's a whole lot more to being a visual storyteller than just thinking in terms of a flat 1.85:1 picture frame. VR, AR, 360, mixed-reality immersive theater—these are just a few of the new technology-driven storytelling mediums still in their infancy. And even if you think of yourself as a dyed-in-the-wool old-school filmmaker, it still behooves you to understand how these new tools and experiences are remaking audience appetites.
At the forefront of what it calls "immersive entertainment" is Montreal-based new media studio Felix & Paul Studios—named for co-founders Félix Lajeunesse and Paul Raphaël, veterans of numerous short film, documentary and commercial shoots. Lajeunesse and Raphaël leveraged their interest in new video technologies to create the company, now at the forefront of the VR/AR/mixed-reality revolution.
Since its founding in 2014, F&P has worked to create VR experiences for films such as Jurassic World and Isle of Dogs, original documentary shorts and series (including the recent Space Explorers, narrated by Brie Larson), narrative shorts and VR collaborations with major figures such as LeBron James and Barack Obama. Their work has been featured in Sundance's New Frontier section and is widely available as part of the Oculus Store.
We recently caught up with Felix & Paul Studios Chief Content Officer Ryan Horrigan—a former studio exec whose credits include 12 Years a Slave among other films—to discuss the burgeoning business and creative opportunities of VR.
FELIX & PAUL STUDIOS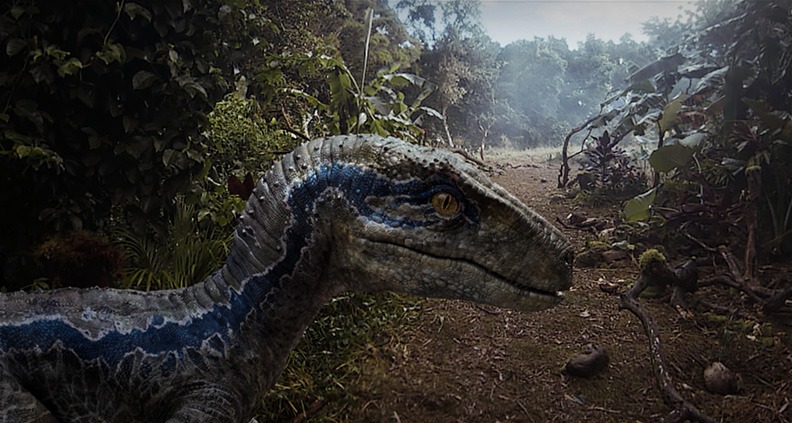 On your website you use the term "immersive entertainment" to describe yourselves. What does that term mean to you?
Horrigan: Basically the DNA of the company has been live action virtual reality. That was built off the back of a proprietary camera system that we're now on our fourth generation of. Actually it's not just a camera, but a post process and proprietary software and a distribution system. But as we've been going forward we've been interested in other things, which I believe qualify as immersive entertainment. That could be augmented reality on phones or on glasses, what you would call mixed reality. We're interested in immersive theater and combining it with location-based VR and location-based AR. There are a lot of applications for what we would call immersive entertainment, so for us that's the best way to describe it. Each project that we think of or that comes our way, we have a discussion about the best application of that project.
You've done projects with President Obama and Cirque du Soleil. How does that fit into the overall goals of the company? 
Horrigan: My first job was at CAA and then I went to Paramount and I was a studio executive at Fox and New Regency. So I came to this company with over a decade of experience. Really what I want to do is try to look at every possible project as an opportunity to find some key piece of talent. And because I think we were making some of the best 360 3D content, we're able to attract more and more talent. We were lucky enough to work with President Obama, not once but twice. That really set us off to the races. We were lucky enough to just work with Brie Larson, who narrated our NASA Space Explorers series that we just put out. So we've been fortunate that we've always looked to talent to be that thing that drives consumer engagement, just like you would for a film or TV show.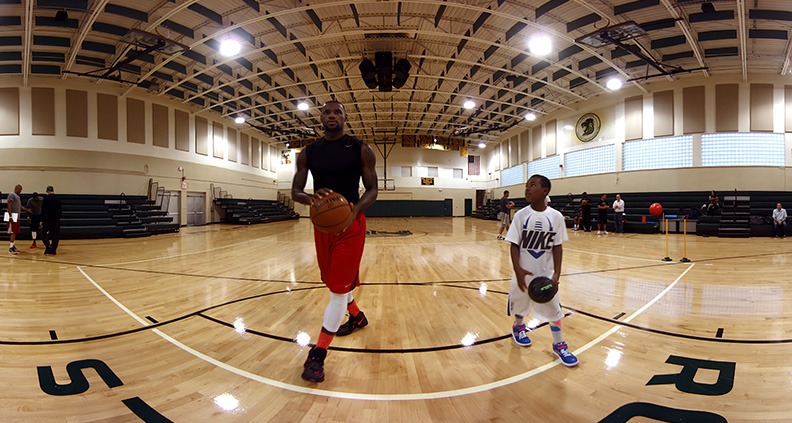 Do you see 360/VR as an extension of traditional cinema or do you see it as its own new medium? Is the audience the same or is this a new audience that you're inventing from the ground up?
Horrigan: I don't see it as an extension of cinema. For me, the only similarity is that it's a visual, recorded scene. It's a captured scene with photography. And I'm not even sure if that will persist forever. Will photography the way we know it always be part of something like VR and AR, or will game engine content be so photo real at some point that photography won't exist in the same way? I believe [360/VR] has a couple qualities of cinema, and couple qualities of maybe theater. I sometimes like to say it's more similar to literature, in the sense that when you read a good book, you're putting your subjectivity in the mind of a character. It's very internalized. For us, the defining quality of being in a narrative VR experience is that you are no longer on the outside of an experience; you're not outside the frame with space between you and the story. We believe in finding some sort of subjectivity. Not to say you couldn't be just some fly on the wall, but more and more we're looking to sort of find an organizing principal for your subjectivity.
Let's say someone's interested in getting into this field as a creator. What do they need to know, in terms of both storytelling and the hardware involved? 
Horrigan: Part of it, I think, is to know the strengths of the medium: interactivity, agency, subjectivity and intimacy. But to be more specific, if you're going down the path of live action capture 3D 360 or even volumetric capture it's really about getting your hands on some cameras, even if it's some more off-the-shelf cameras that are available today. Google has a great camera, their YI HALO—that's a really good camera. We also like these cameras called the Z-Cam. Although we've only been using our own camera, we like those ones. On the other side, I'd say learning Unity or Unreal. I believe that the future of VR and AR will be implemented on game engines, so today's film students should be learning to create with game engines.
To what extent did you have to develop your own technology and workflow in a way that someone working in traditional film wouldn't? 
Horrigan: On the live action side it's really been important. However, I do think that it's becoming a lot more democratized. We have our own proprietary system that I think functions at the highest level. At the same time, it's very possible that one of the next cameras—whether it's Facebook's or Google's or someone else's—could get pretty close. If so, we'll use it. We're camera agnostic. I would imagine for us, our postproduction system will be tightly configured for whatever camera we're using. The other thing I'll say is that it might start to function on more of the film model. Right now we have an internal team of people who are specialist, and they're all employed by us. But I think in the future when things become more democratized; you can just scale up on a project-by-project basis, like we do in cinema working with different service providers.
Who are some of your favorite content creators working in the 360/VR space right now? 
Horrigan: Oh, that's a good question. I would say Saschka Unseld, who created "Dear Angelica". He just started a company called Tomorrow Never Knows. There's a piece I really like the Here Be Dragons made last year called "Dispatch" made by Ed Robles and starring Martin Starr from Silicon Valley. Eliza McNitt made a project called "Spheres" that got a lot of attention at Sundance. There's a lot of great stuff. It got to be honest, I think this year at all the film festivals the level of work has really gone up a notch.
Watch the trailer for Felix & Paul Studio's Space Explorers below:
To learn more about Felix & Paul Studio's innovative work in immersive entertainment, please visit their website. The Portal–which runs from September 21 through September 23 at the brand-new LMU campuses in Playa Vista, CA and is free to the general public. Panels include:
Saturday, September 22 – 2pm, Women's Voices in VR
Saturday, September 22 – 4:30, Animation in VR
Sunday, September 23 – 2pm, Immersive Documentary
To see the full panel schedule and get your free ticket today, click here. Festival Passes are currently on sale to Film Independent Members as well as the general public.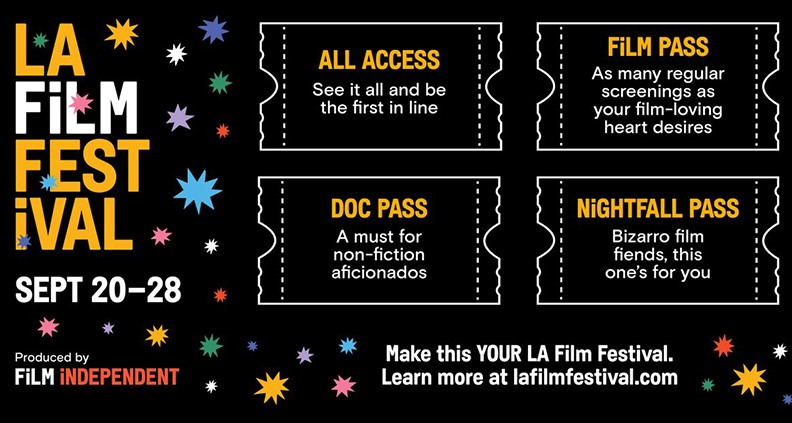 The 2018 LA Film Festival takes place September 20-28. Venues include the ArcLight Cinemas in Culver City, Hollywood and Santa Monica, as well as the new Loyola Marymount Playa Vista campus, the Wallis Annenberg Center for the Performing Arts and the Writers Guild Theater in Los Angeles.
Visit tickets.lafilmfestival.com and be sure to follow the 2018 LA Film Festival on Twitter, Facebook, Instagram and YouTube. Visit our official Festival Store by clicking here.
Presenting Media Sponsor is Los Angeles Times. Official Host Venue is ArcLight Cinemas. Platinum Sponsors are American Airlines, EFILM | Deluxe and HBO. The University Sponsor is Loyola Marymount University School of Film and Television. Venue Partner is Wallis Annenberg Center for the Performing Arts. Festival Supporters are Directors Guild of America, eTech Rentals, Kona Productions, TREETI and Visit Seattle. Festival Affiliates are 21st Century Fox Global Inclusion, ATK Audiotek, Konsonant Music, SAGindie and Writers Guild of America West. Additional support provided by National Endowment for the Arts. Stella Artois is the Official Beer. IMDbPro is the Official Industry Resource. CITI is the Official Credit Card. The LINE, NoMad Los Angeles and Freehand LA are the Official Hotel Partner. Essentia Water is the Official Water. Hillersden Estate Wines is the Official Wine. Getty Images is the Official Photographer.
(Header: Felix & Paul Studio's Space Explorers, playing at The Portal at the 2018 LA Film Festival)