Fare Thee Well: a Look Back at Our Favorite Film Independent at LACMA Moments
Saying goodbye is never easy, unless it's to unload an old piece of hand-me-down furniture on Craigslist (sorry Mom—that dressing table just doesn't go with anything.) Such is not the case today, however, as we bid adieu to our long-running screening series at LACMA. That's right: our seven-plus year partnership with the venerable art museum concludes tonight, June 28, with a Members-only screening of Boots Riley's buzzy indie Sorry to Bother You.
But don't worry. Film Independent's weekly film screening series isn't ending, nor is the imprimatur of program curator Elvis Mitchell. Film Independent will continue to offer Members an exciting slate of monthly screenings and unique cinematic events. But, like… where? We'll tell you: we're spending the summer at the WGA Theater, with a new permanent home to be announced in the fall.
So stay tuned, watch our Events page and keep those fingers poised above GPS! In the meantime, we thought it'd be fun to dust off the way-back machine and revisit some of our favorite highlights from our time on stage in the comfy wood-paneled confines of LACMA's Bing Theater—from Live Reads, to very special guests, to improbable classic rock reunions.
So wave a "so long, see ya later" to our friends at LACMA and check out these six awesome Film Independent at LACMA (RIP) moments…
LIVE READS, A BRIEF HISTORY (2011-2016)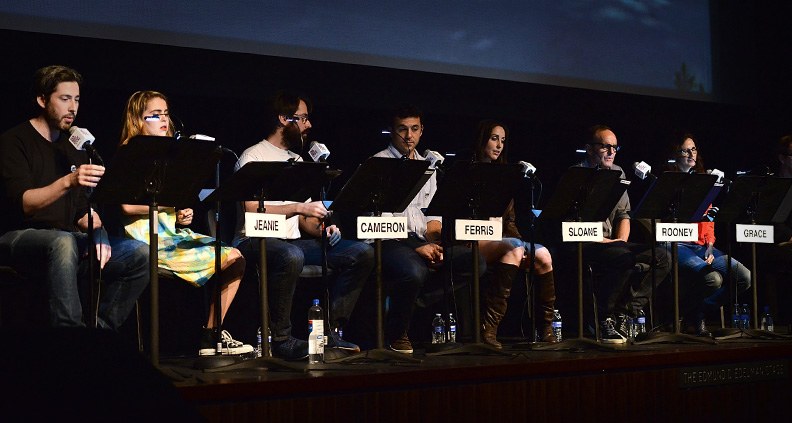 Definitely one of Film Independent at LACMA's most popular ongoing events, each Live Read (co-created and frequently directed by filmmaker Jason Reitman) featured an all-star cast of Hollywood stars performing a live staged reading of the screenplay of a classic film. Often, the casting was conceptual—such as all-female spins of Glengarry Glenn Ross and Stand By Me or an all African-American Reservoir Dogs. Other times the casting was merely inspired, like when Seth Rogan played The Dude in "The Big Lebowski." And it was a blast every time.
MOVIE STARS IN THE HOUSE (2011-2018)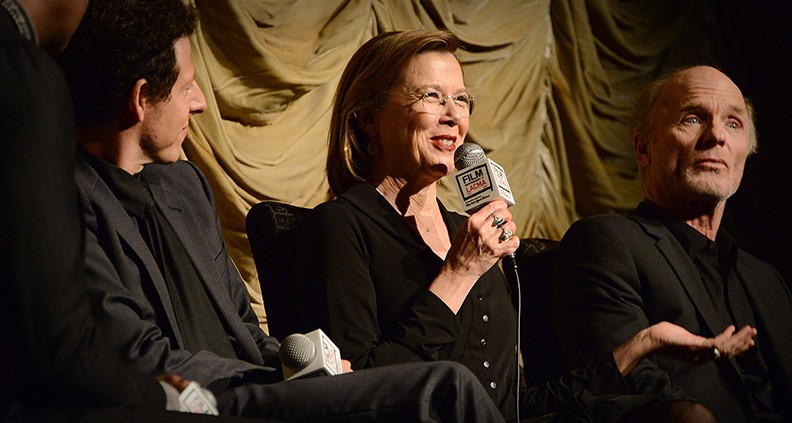 Over the years, there was no shortage of star wattage to brighten up the inside of LACMA's historic (and normally fairly dimly-lit) Bing Theater. There was the time Brad Pitt and Jonah Hill stopped by to talk Moneyball. Or when Amy Adams and Cristoph Waltz talked about Big Eyes. Not to mention Gary Oldman, Greta Gerwig, Jon Hamm, Michelle Williams, George Clooney and so on and so on, including plenty of behind-the-scenes A-listers—filmmakers like Quentin Tarantino, Xavier Dolan, Laura Poitras, Lynne Ramsay etc. etc. Phew!
SMALL SCREEN, BIG IDEAS (2011-2018)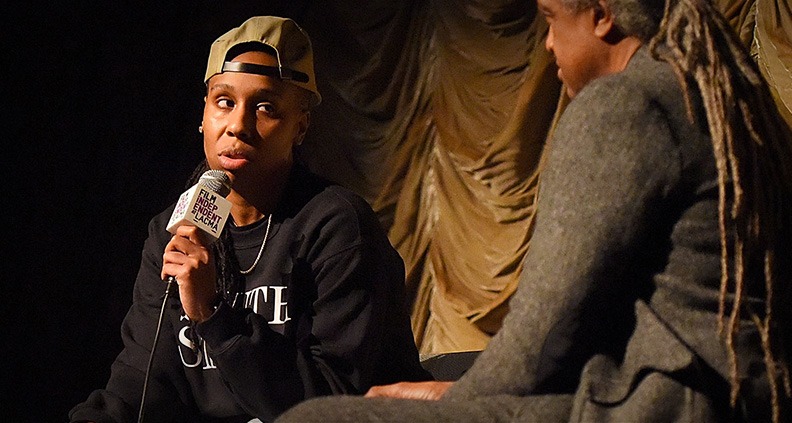 The Golden Age of prestige TV was already well in effect by the time Film Independent at LACMA began. But over the life of the program, we continued to watch as episodic storytelling—in all its forms and myriad platforms—continued to evolve and innovate. And we were there to watch it grow, talking to many of the medium's most cutting-edge creators: Mindy Kaling (The Mindy Project), Nick Kroll (The Kroll Show), W. Kamau Bell (United Shades of America) and many more. Luckily, we just barely had plenty of DVR space for it all.
THE DOORS MINI-REUNION (2014)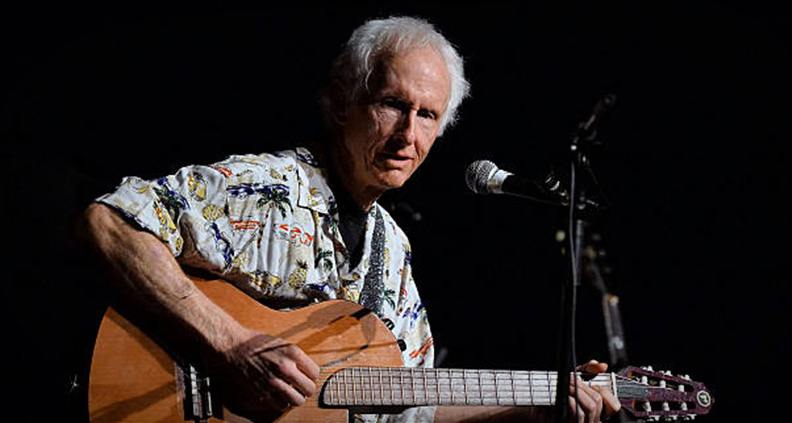 Classic rock fans all know Jim Morrison departed from this mortal coil way back in 1971. Ray Manzarek, Morrison's bandmate, passed away in May of 2013. But six months later, surviving Doors members Robby Krieger (guitar) and John Densmore (drums) reunited for a special screening of the 2012 documentary Mr. Mojo Risin': The Story of L.A. Woman and—more impressively—a five-song mini-set of Doors classics "People are Strange," "Love Me Two Times," "Spanish Caravan," "Riders on the Storm" and "Ghost Riders in the Sky." Rock 'n roll.
A DOUBLE-DOSE OF OPRAH (2016 & 2017)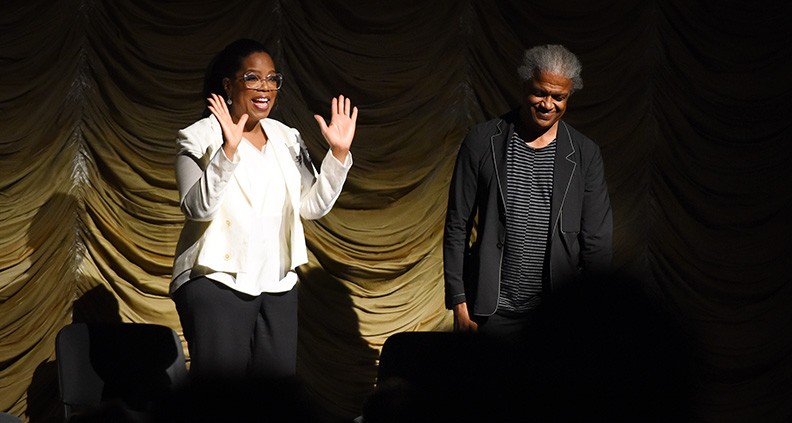 Not everyone has been lucky enough to share the same physical space as legendary multi-hyphenate-media-mogul billionaire Oprah Winfrey. But our Members have—twice. The first: a Q&A to discuss Season One of the original OWN network series Queen Sugar (a panel which also included executive producer Ava DuVernay.) The second: to discuss Winfrey's starring role in HBO's film adaptation of The Immortal Life of Henrietta Lacks. In both cases, the Queen of All Media was gracious, funny, insightful, honest and (duh) inspiring.
BRING THE NOISE (2016-2018)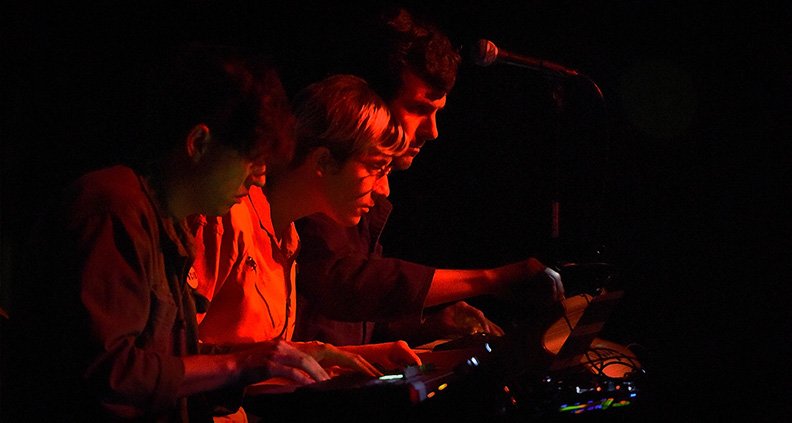 Filling the void left by Live Reads' 2016 hiatus, Bring the Noise was a novel (and technically daunting) project—taking six different classic films (Welcome to the Dollhouse, Alien, The Breakfast Club, Gulliver's Travels, Weird Science and Night of the Living Dead) and presenting them with all-new scores… performed live. Artists for the series included Seth Bogart, YACHT, Bleachers, Inc. No World, Kinky and The Paranoyds. And it was guaranteed that while you may have seen these movies before, you've never seen (or heard) them quite like this.
So after roughly 346 individual events attended by roughly 112,800 film lovers and Film Independent Members, that's a wrap!
Special thanks to our Premier Sponsor Audi, special events Lead Sponsor Hollywood Foreign Press Association, Principal Sponsor SHOWTIME® and Promotional Supporter KCRW who have generously contributed to the program.
What are some of your favorite Film Independent at LACMA moments? Let us know in the comments or share your picks with us Facebook or Twitter.
To learn more about Film Independent please subscribe to our YouTube channel. To learn how to become a Member of Film Independent, click here.
(Header, L-R: Ava DuVernay, Rutina Wesley, Oprah Winfrey, Kofi Siriboe, Dawn-Lyen Gardner and Elvis Mitchell at LACMA in 2016)