Festival Visions: GuadaLAjara Film Fest Bridges Film Communities of LA, Mexico
Since 1986 Mexico's Guadalajara International Film Festival (FICG) has been one of the premiere North American stops along the global festival circuit, showcasing some of the most exciting and innovative work emerging from Latin America and beyond. But we're not here today to talk about that festival, actually. No. Today we're here to talk about the GuadaLAjara Film Festival, FICG's satellite showcase in DTLA, which kicks off its 2023 edition November 1–the perfect cure for your post-Halloween hangover.
Having playfully rebranded as GuadaLAjara Film Fest four years ago, the three-day fall showcase has evolved to establish its own identity as a cultural hub between the film communities of Latin America and Los Angeles, providing a safe space for Latinx and BIPOC creators to connect and share their work–with style!–in Hollywood's own backyard. This year offers not just a great film program but special conversations (Rodrigo Prieto! Spider-Man: Across the Spiderverse!), networking events, outdoor screenings and more.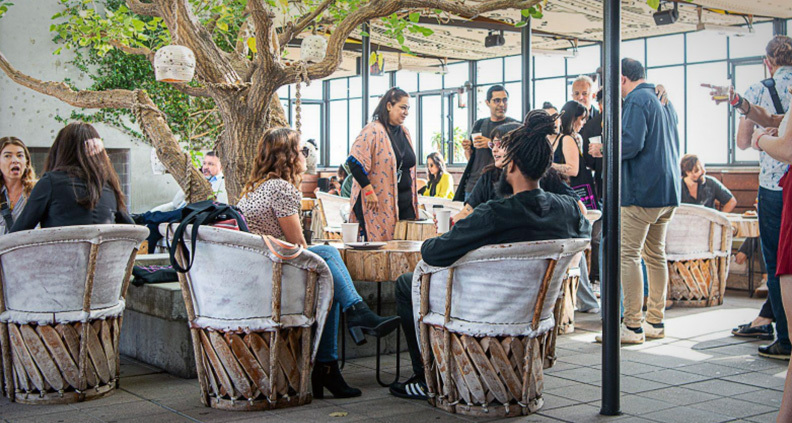 To learn a little bit more about the festival and its diverse community of special events, films and honorees we spoke to filmmaker and GuadaLAjara programmer and publicity liaison Alfredo Achar about what to expect. Here's the conversation:
GUADA
LA

JARA FILM FESTIVAL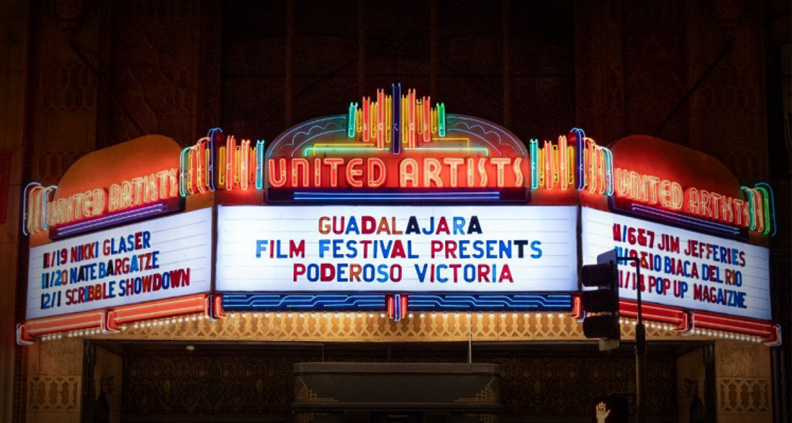 Let's start with a little background. What is the history of the GuadaLAjara Film Festival? What's important for people to know?
Achar: Sure. The festival has been around for 13 years. It used to be called FICG in LA–the same letters from the [parent] festival in Guadalajara–and it used to just be a small sample of the films that played the festival there [in Mexico]. But this is the fourth year as GuadaLAjara Film Festival. The mission shifted to now highlight films made by Latin people, people of color and LGBTQ+ people based in both the US and Latin America, to build that bridge between LA and Latin America. And each year, we donate all of our box office to a different nonprofit. For example, one of last years honorees was Bamby Salcedo, who's a social worker who runs an organization called TransLatina Coallition.
That's so cool. What's this year's charity?
Achar: This year we're donating all of our box office proceeds to the Dolores Huerta Foundation and Dolores herself is going to be there as one of our honorees. She's been a fighter for equal rights for women and LGBTQ+ folks and Latin people.
What are some really great examples of a GuadaLAjara type film? What work have you been really proud to showcase?
Achar: We announced our programming last week. Our opening movie is going to be No Voy a Pedirle a Nadie que Me Crea (I'm Don't Anyone to Believe Me), by Fernando Frías De la Parra. It's a Netflix-acquired film, a very cool dark comedy. That's going to be our Opening Night Screening at The Theater at Ace Hotel. Our closing night gala will screen Maestra a documentary directed by Maggie Contreras which follows women from around the world who are boldly breaking glass ceilings in the male-dominated world of orchestral conducting. Barbie and Killers of the Flower Moon cinematographer Rodrigo Prieto will be honored that night. We also have Peru's entry for this year's foreign-language Oscar, The Erection of Toribio Bardelli, which is also a dark comedy-drama film. We have a film called Lost Souls, which is very cool, sort of a cross between Mid90s and American Honey. And then we have a special outdoor screening of 1960's Macario, the first Mexican film nominated for an Academy Award. We timed it so it falls on Day of the Dead at Grand Park downtown, where they're going to organize all of the Day of the Dead Altars and celebrations.
We also have a great industry program, a master class with Rodrigo Prieto and Eugenio Caballero (Oscar winning production designer of Pan's Labirynth), as well as a master class with Cruz Contreras, one of the animators of Spider-Man Into the Spider-Verse, and another one about documentary filmmaking.
At what point did FICG decide that it wanted to have this presence in LA?
Achar: Well, when it became the GuadaLAjara Film Festival, the director of the festival, Ximena Urrutia, and our team started to find that to properly build a bridge to connect both sides [Mexico and the US] we needed to celebrate the work being done here [in LA] and make create a dialogue between one the diverse cultures in Latin America with the US.
In what ways has the festival grown or evolved since its inception?
Achar: It's grown, definitely. But what's interesting is that this year's edition compared to the past three years, is that we kind of understand who we are now and how to bring all the elements that have worked for us in past together and contain them. When you're organizing something like a festival it's easy to have so many ideas–it's a lot of opinions and conversations. But I think this year is the most successful so far in terms of lineup. This is the lineup of films that best represents us.
As far as attendee experience at the festival, what are your goals?
Achar: In terms of our program and our festival experience, what we want first of all is a safe environment–a safe atmosphere where there's going to be great work showcased; films that talk about important social issues, films that highlight the work of promising young directors. This year all of our venues are downtown. It's very in line with what the identity of the festival is right now: very urban, very culture-driven. A lot of events. For our afterparties, for example, we bring local musicians and mix the industry side of LA with the Latino side, with panels and the industry breakfasts and the work-in-progress screenings combined with our program of films. We've seen collaborations come out of our festival, and that's very exciting.
Film Independent promotes unique independent voices, providing a wide variety of resources to help filmmakers create and advance new work. Learn more online and become a Member of Film Independent today.
Keep up with Film Independent…