Film Independent Presents… Eight Great Films from Up-and-Coming Asian American Filmmakers
Along with our new virtual screening room, Film Independent Presents continues to recommend great stuff to watch, with weekly streaming video playlists curated by Film Independent Senior Programmer Jenn Wilson.
***
For this week's Film Independent Presents streaming video playlist and in honor of Asian and Pacific Islander American Heritage month, we're excited to highlight eight wonderful films by Asian American filmmakers Enjoy!
We're kicking off with Columbus—a three-time Film Independent Spirit Award nominee for Best Cinematography, Best First Feature, and Best First Screenplay. Celebrated video essayist Koganada's extremely accomplished feature debut stars Haley Lu Richardson and John Cho as two young people stuck in Columbus, IN for different reasons. In another movie, the two would be a quirky couple, but Cho's real mission turns out to be as a surrogate mentor for Richardson, whose real growth can only start by leaving Columbus and her co-dependent mother.
Oh Lucy! (a Spirit Award nominee for Best Female Lead and Best First Feature) is one of the most surprising dark comedies to emerge from the indie film scene in years. It stars Japanese actress Shinobu Terajima in an amazing performance as Setsuko, a bored Japanese woman who gets tricked into taking an English class and ends up falling for the instructor (Josh Hartnett, also wonderful in this film.) When Setsuko's niece ends up running off to the US with Hartnett, she and her sister fly to the US to find the couple.
Winner of the Berlin Film Festival Panorama Audience Award, 37 Seconds—by Film Independent Directing Lab and Screenwriting Lab Fellow Hikari—stars Mei Kayama in a winning performance as Yuma, a young graphic artist with cerebral palsy who lives with her mother. Tired of the sheltered life she's been living, she applies for a job drawing for an erotic magazine. But when the manager finds out she's never actually had sex, she recommends that Yuma should go out and get some real-life experience first. Undeterred, Yuma sets out to do just that.
A winner of the 2017 John Cassavetes Award, Andrew Ahn's terrific debut feature Spa Night tells the story of a young Korean-American man who takes a job working in one of the LA's Korean bath houses to help out his family who is struggling with money. When he starts spending more time at the spa, he discovers a hidden world of gay sex and unexpressed desire. Ahn is a multiple-time Film Independent Fellow, having participated in the Directing Lab, Screenwriting Lab and Project Involve.
When filmmaker Grace Lee discovered how common her own name was among Asian American women, she also discovered the name's association with the stereotype of the "good" Asian. As an experiment, she decided to document her investigation into this phenomenon in the film The Grace Lee Project, searching for other Grace Lees across the country to see whether or not all the other Grace's fit into this mode. The result is a fascinating journey into Asian American female identity.
James Sweeney's Straight Up tells the story of a male/female couple, Rory and Todd, who meet and discover they're soulmates. Everything's great except… Todd is gay. Hard as they try to defy sexuality and have a love affair of the brain and heart instead of one that's physical, the two struggle to make things work. Sweeney's incredibly smart dialogue will make you root for this odd but extremely engaging couple.
Ash Mayfair's The Third Wife, a 2020 Spirit Awards nominee for Best Cinematography, Best Editing and the Someone To Watch Award, tells the story of a 19th century Vietnamese girl, May, who becomes the third wife of a wealthy landowner. May's only job is to be obedient and produce a male heir for her husband's estate, but life becomes complicated for her when she delivers a daughter instead of a son—and finds herself attracted to one of her sister-wives. The Third Wife is an assured debut with lush cinematography and top-notch performances.
Rahul Jain's 2016 documentary Machines announced him as a major new filmmaking voice to follow. Set in a gigantic textile factory in Gujarat, India, the camera documents the rhythmic and relentlessly dehumanizing physical labor and intense hardship faced by the people who work here. The film is so visually stunning, that its often easy to forget that what we're watching is the very hard to reconcile existence of the pre-industrial working conditions of humans being treated like machines.
Here's where to find each of this week's films online…
Columbus (2017) – Koganada –Kanopy
Oh Lucy! (2017) – Atsuko Hirayanagi –Hulu
37 Seconds (2019) – Hikari –Netflix
Spa Night (2016) – Andrew Ahn –Kanopy
The Grace Lee Project (2005) – Grace Lee –Kanopy
Straight Up (2019) – James Sweeney – Pre-order on iTunes
The Third Wife (2018) – Ash Mayfair –Hoopla, Kanopy
Machines (2016) – Rahul Jain – Amazon Prime
Film Independent Artist Development promotes unique independent voices by helping filmmakers create and advance new work. More Film Independent Presents here.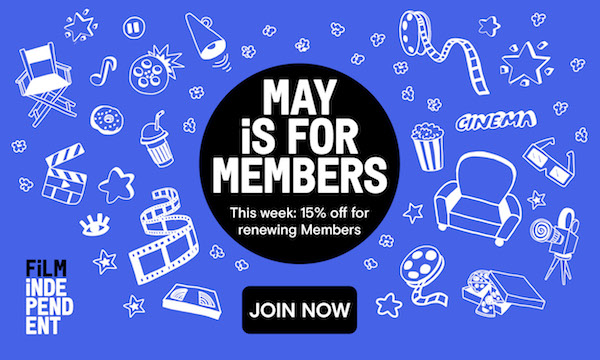 To become a Member of Film Independent, just click here. New Members who join this week will receive 15% off the cost to join or renew. To support us with a donation, click here.
More Film Independent…
(Header: Spa Night)