Fiscal Spotlight: Three Docs About Asserting Personal and Professional Identities
Welcome to Fiscal Spotlight, a special monthly round up of projects—at all stages of production—working their way through Film Independent's Fiscal Sponsorship pipeline.
***
Somehow, we're closing in on one full year of pandemic quarantine. And while rules, regulations and public adherence have vacillated wildly from region-to-region (picture here the CDC Outbreak Van as one of the buggies from Mr. Toad's Wild Ride), it's probably safe to assume that whoever and wherever you are, you've probably experienced some degree of personal introspection these past 12 months as a function of extended social isolation. Who am I? What am I doing? The answers can be surprising—prompting big internal and external changes.
In this month's Fiscal Spotlight, we're taking a look at three documentaries featuring themes of determination and courageously asserting one's place in the world—personally, professionally or both—despite heavy opposition from outside forces. The stories of the trans youth revolution, an immigrant architect and a legal battle over firefighter unions might not seem to have a lot in common. But dig a little deeper and you'll how all three of this month's projects relate to ideas of personal agency, self-determination and freedom of expression.
Once again, this month's projects are taking advantage of Film Independent's 501(c)3 nonprofit status to obtain institutional grants and tax-deductible donations via Fiscal Sponsorship:
This month's projects include We Just Want to Be, Reaching New Heights and Fire Department Inc. Keep reading to learn more, as well as how you can help lend them your support.
WE JUST WANT TO BE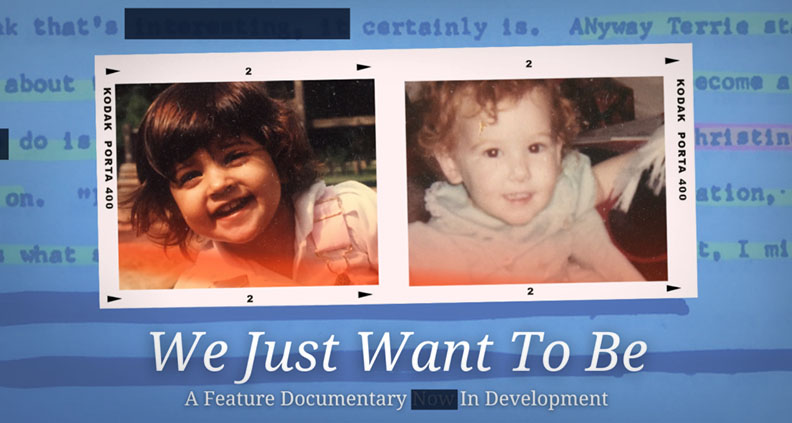 Project type: Documentary Feature
Project status: Development
Directors/Producers: Sé Sullivan & Mauro Sifuentes
Consulting Producer: Marc Smolowitz
About the project: In 1960s California, an LA clinic opened its doors to offer conversion therapy to worried parents of LGBTQ children. Doctors wondered if identity was flexible, and designed a project to see if gender and sexuality were the results of nature or nurture. While seeking the truth in this story behind their own identities, two unlikely friends come together to investigate the ongoing harm of conversion therapy shapes the lives of trans youth today. One friend, Sé Sullivan (they/them), was a child research subject at UCLA's GIRC. Sé is Irish-American, an elder, and a queer and non-binary survivor of clinical violence. Sé meets Mauro Sifuentes (all pronouns), a queer, Latinx, non-binary millennial who has a family history of eugenic experimentation in Los Angeles. These two activist-educators immerse themselves in their interwoven legacies in Los Angeles to explore how has conversion therapy has shaped possibilities for trans youth today–especially for trans youth of color who carry wounds of medical and psychiatric violence against their communities across multiple generations.
Meet the filmmaker: To learn more about We Just Want to Be and how to support the project, click here. Dr. Mauro Sifuentes is an accomplished educator and scholar whose activist research and writing support the leadership and healing of queer, trans, and questioning BIPOC communities. Their collaborative endeavors with artists, writers, healers and other filmmakers create engaging opportunities for innovative approaches to history and storytelling. Dr. Sé Sullivan is a scholar-educator born and raised in Santa Monica, California and a survivor of conversion therapy who has taught in the discipline of gender and women's studies across public and private universities in California. Sé has been on the frontlines of LGBTQ+ activism since the 1980s, surviving and organizing through the HIV/AIDS pandemic, the lesbian sex wars, and our current era of trans awareness.
REACHING NEW HEIGHTS: FAZLUR RAHMAN AND THE SKYSCRAPER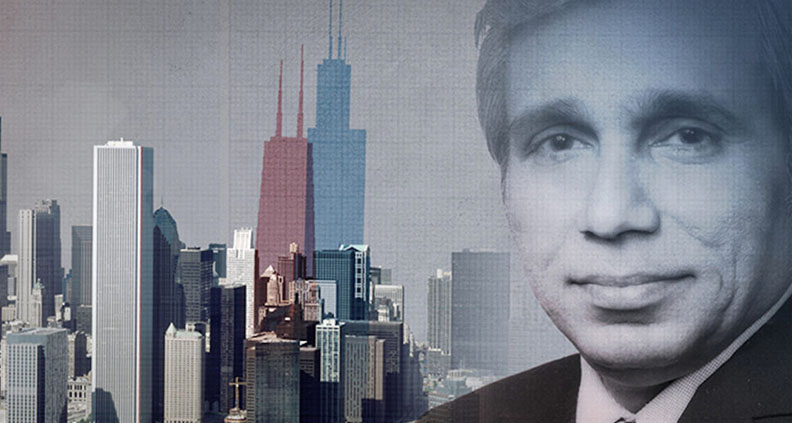 Project type: Documentary Feature
Project status: Development
Director/Writer/Producer: Laila Kazmi
About the project:  In 1955, America was experiencing a post-World War II economic boom. There was a flurry of new construction. In Chicago, known as the birthplace of the high-rise, Mies van der Rohe was teaching at IIT, and his modernist ideas had led to the emergence of the Second Chicago School of architecture. A young engineering graduate, Fazlur Rahman Khan, a Muslim immigrant from Bangladesh (then East Pakistan), arrived in Chicago after earning two Master's degrees and a PhD in just three years as a Fulbright Scholar at the University of Illinois at Urbana-Champaign. He soon found himself employed at one of the world's top architecture firms, Skidmore, Owings & Merrill (SOM). He had simply walked into the firm's office off the street, requested an interview and left with a job offer in hand. There, he would go on to design America's tallest building at the time—the Sears Tower (now Willis Tower)—and develop a series of structural systems that would change the course of the skyscraper, allowing builders to go higher than ever before possible. This is an untold story of pioneering technical achievements by a man who was curious about the world and loved people, music, and poetry as much as he loved science and engineering.
Meet the filmmaker: To learn more about Reaching New Heights and how to support the project, click here. Filmmaker Laila Kazmi is a two-time Emmy -winning producer, director and editor, and a six-time nominee. Her documentary shorts have aired on PBS television stations, Seattle Channel, streamed on PBS NewsHour, and screened at film festivals. Kazmi launched and produced multiple digital and broadcast series, including the award-winning immigrants' stories series Borders & Heritage, streaming on PBS.org. She is a two-time SCETV Fellow of the International Public Television (INPUT) Conference in Tokyo and Brooklyn. Laila grew up in Karachi, Bahrain and Chicago, where she first learned about Fazlur Rahman Khan on a visit to the Sears Tower.
FIRE DEPARTMENT INC.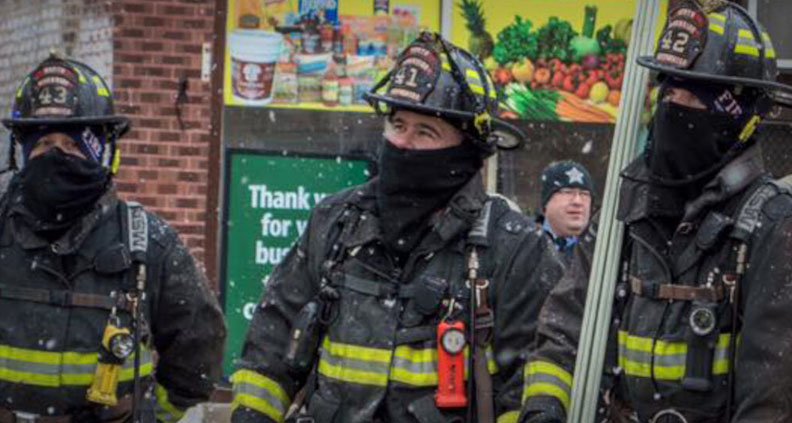 Project type: Documentary Feature
Project status: Production
Director/Producer: Colin C. Hughes
Producer: Caley Shannon
About the project: A suburban firefighter's labor union finds itself under a different kind of fire when the Village Mayor announces he's privatizing their department to save money. North Riverside, Illinois is a village just west of Chicago with a thriving mall that has provided outsized revenue to its population of less than 7,000 residents since its opening in 1974. This picture of suburban affluence was shattered in 2008, with the housing crash, the resulting economic recession, and the concurrent rise of e-commerce decimated brick and mortar store profits, and thus the village's sales tax revenue. The Village finds itself more deeply entrenched in financial woes each year, and by 2013 is massively in debt to their firefighters' pension fund. Chris Kribales, President of the North Riverside Firefighters Union Local 2714, was completely unprepared for the Mayor's ultimatum: join a private fire fighting company, give up your pensions and disband your union, or get fired. And so begins a five year long court battle that goes all the way up to the Illinois Supreme Court.
Meet the filmmaker: To learn more about Fire Department Inc. and how to support the project, click here. Filmmaker Colin C. Hughes, born a Chicagoan, has worked on multiple internationally recognized films over the course of the last few years. Most recently, he was the editor of Hominidae (2020), a short film that premiered at Sundance Film Festival. As a director Colin has had critical success with his short film Clarity, which took home an honorable mention at the 2015 After Hours Film Festival. After finishing up a degree in Film & Television Production at DePaul University, Colin went on to work for Light Iron, a Panavision Company. There he works as a dailies colorist for many of today's most talked about shows, including Emily In Paris.
To learn more about Fiscal Sponsorship, including its benefits and eligibility requirements by visiting our website. See which projects are currently being supported via our Sponsored Projects page.
Film Independent Artist Development promotes unique independent voices by helping filmmakers create and advance new work. To support our work with a donation, please click here. Become a Member of Film Independent here.
Keep up with Film Independent…
(Header: We Just Want to Be)