Fiscal Spotlight: Three Petrifying Projects in Need of Super Spooky Support
Welcome to Fiscal Spotlight, a special monthly round up of projects—at all stages of production—working their way through Film Independent's Fiscal Sponsorship pipeline.
***
Look: no seasonal Halloween activity will ever compare to the pure, primal, bone-shatteringly visceral brutality of Shaquille O'Neal's Shaqtoberfest, coming soon to a dry-docked Queen Mary near you. But absent the wherewithal to immerse yourself in a family-friendly Shaq Diesel-themed carnival outing, there are always plenty of horror movies to watch—or in this case, to support. Like cilantro, some people are predisposed to reject horror cinema outright. Others (like us) can't get enough of the stuff, liberally sprinkling it on every taco and streaming queue in sight, particularly as fall descends and the witching season draws neigh.
That's right: this month's Fiscal Spotlight column is devoted to three incredible horror (or at least horror-ish) projects united by unique concepts and fresh takes on one of film's longest and most storied subgenres (Nosferatu, anyone?). Here you'll find kinky werewolves, bad drug trips, desert dread, a demonic embodiment of racial prejudice and—most terrifyingly of all — high school. All crammed into two features and a short, coming soon to a nightmare near you.
As always, this month's projects are supported by Film Independent's Fiscal Sponsorship program, which enables filmmakers to solicit tax-deductible donations and seek organizational grants in partnership with Film Independent.
October's spotlight features Safe Word, Delicate Arch and Manic Beauty below. Learn more about the films — and how to support them — below:
SAFE WORD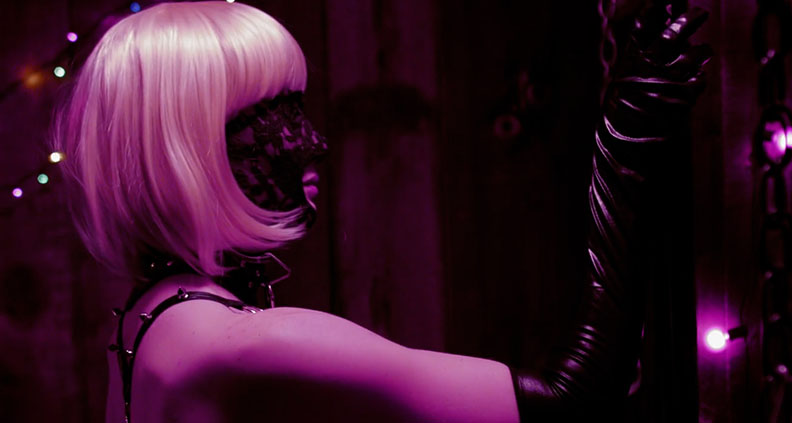 Project type: Narrative Feature
Project status: Development
Producers: Dani Parker, Mat Miller
Cinematographer: Brandon Woodard
About the project: Annabelle blames herself for her husband's suicide. Rand is well over 40 and has never had sex. They put their cards right on the table the first night they met and liked what they saw. But of course, they didn't see everything. They rush to marry and spend their wedding night in a very isolated ranch house on Christmas Eve. There, she plays a game with him. Slowly coming out with her many kinks—which are not well received by Rand. The two fight. In the climax of their argument, she tells him she loves him… but doesn't know if she can be monogamous. After waiting his entire life to be with his wife, Rand is so hurt and frustrated he breaks a vial of medicine—used to treat the "mood disorder" he's never mentioned. But it's not medication, it's an elixir he uses to stave off transforming into a werewolf, the way his father did in this house all those years ago when Rand was a small boy. Their wedding night plays out like a blend of Who's Afraid of Virginia Woolf? and The Shining… if Jack Torrance were a wolf-man. Mixing real, honest, conversation with a fun-but-twisted horror ride, this wild story culminates in a surprisingly heartfelt climax (no pun intended) once they stop trying to kill each other. The truth is that their beliefs about themselves stem from trauma. Rand saw his father perform some very evil acts as "the Wolf" and believes he can't escape the fate of becoming like him. The two will have to love themselves before they can really love each other. With parallels for Bipolar Disorder and PTSD – both experienced by the film's writer – there's more depth to Safe Word than meets the eye.
Meet the filmmakers: To learn more about Safe Word including how to support the project, click here. Producer Dani Parker is a WGA Award nominated writer/director/producer/editor from Missoula, Montana. She was a writer for the hit limited series Midnight Mass on Netflix, and most recently, The Fall of the House of Usher, to be released at a later date on Netflix. In 2017, she was a top-5 finalist for Project Greenlight's Reel Fear horror competition and is an alum from Shudder's horror film lab. Producer Mat Miller is a director/producer/editor from Montana best known for his award-winning feature film Subterranea, available on Amazon Prime. Mat has built several long-lasting professional relationships as he's continued to work steadily in production, and has a keen eye for both budget and story.
DELICATE ARCH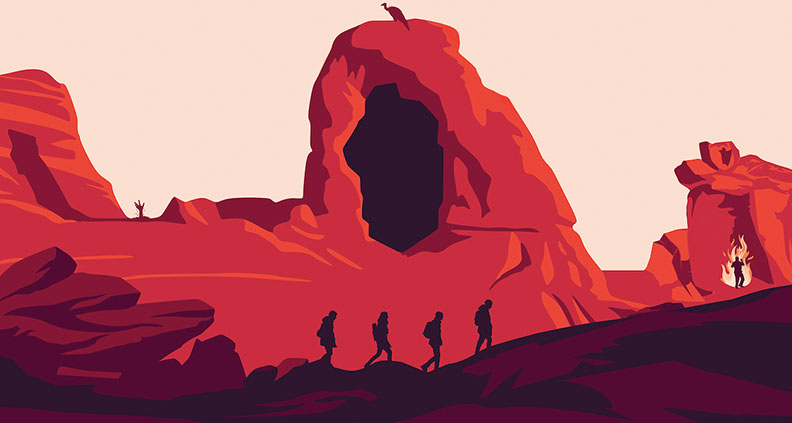 Project type: Narrative Feature
Project status: Pre-production
Writer/Director/Producer: Matt Warren
Executive Producer: Rodney Ascher
Cinematographer: Antonio Cisneros
About the project: Four college kids with fracturing relationships take a camping trip to Southern Utah to escape an ecological disaster in Salt Lake City. Alone in the desert, they begin to suspect that their reality might not be as it seems, and soon realize they're being watched. Grant, Wild, Cody and Ferg are all college students in Salt Lake. Grant and Cody are supposed to be best friends, but Grant — a paranoid and spoiled film student — suspects that Cody is secretly hooking up with Wilda, an ex-girlfriend with whom Grant is struggling to remain amicable. Their friend is Ferg, Wilda's nonbinary stoner cousin and an amateur student of Theosophy and Ritual Majick. Fleeing an atmospheric disaster known as "The Inversion" in the Salt Lake Valley, the group decides to go camping in Southern Utah's Arches National Park. As Grant's obsessive voyeurism escalates on-site, he begins to sense a malevolent-yet-imperceptible force encroaching on them. What could it be? An ancient Lovecraftian Evil? An extraterrestrial manipulation? A nuclear experiment gone wrong? Or something even weirder?
Meet the filmmaker: To learn more about Delicate Arch, including how to support the project, click here. Filmmaker Matt Warren is a Utah-raised, LA-based writer, director and producer with 10+ years of professional experience creating narrative video content for the web. He has made numerous scripted and unscripted shorts and web series, and has worked as a screenwriter, film critic, entertainment journalist, humorist, blogger, editor, graphic designer and videographer. Delicate Arch is his feature debut as writer/director.
MANIC BEAUTY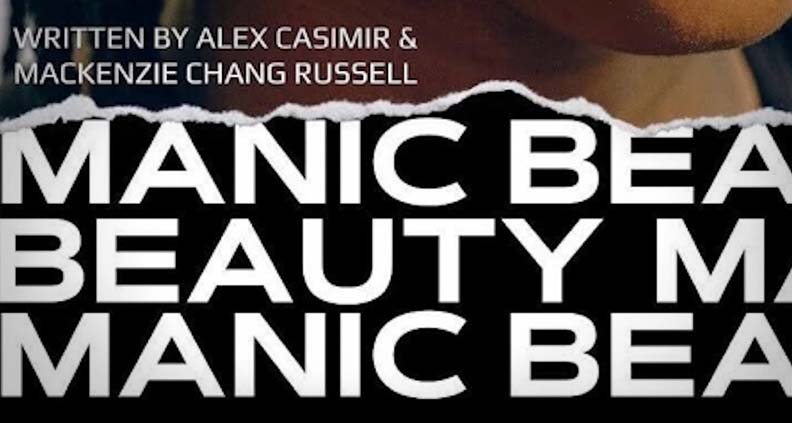 Project type: Narrative Short
Project status: Development
Writer/Director/Producer: Alexander Casimir
Writer: Mackenzie Chang Russell
About the project: A Black high schooler prepares for senior picture day, but insecurities and a tense friendship start to transform her into something abnormal. An all-star student and fun loving kid, Simone just wants to fit in. But being the only Black girl at a predominately white school makes things a bit tricky. We meet Simone while she chats with her best friend, Emma, on the morning of their senior photo day. Simone wants her portrait to be perfect: this one photo will be her high school legacy. The school day starts with a seemingly uneventful group photo. But as the photographer counts down, one of Simone's classmates makes an offhand remark about her blackness. Before she can respond, a FLASH catches her by surprise. She rushes over to the photographer to see her skin is completely underexposed, her features hidden in pitch black, and with a bad case of red eye. To everyone else, it's just a bad picture but to Simone, it's a ghoulish creature that starts to plague her thoughts ….
Meet the filmmaker: To learn more about Manic Beauty including how to support the project, click here. Director Alex Casimir is a half Black/half Chinese filmmaker (he/him), born and raised in Brooklyn and a recent graduate of the University of Southern California with a BFA in Film & Television Production. His short films have screened at international festivals such as LA Shorts, Indie Short Fest, Filmquest, Austin Film Festival, .MOV Film Festival and USC First Look. Writer Mackenzie Chang Russell is a Scottish/Chinese-American filmmaker born and raised in New York. She graduated from Hunter College with a major in Film Production and a minor in Theater. Her senior thesis film, Open House, gained recognition from the National Board of Review, as well as other domestic film festivals.
You can learn more about Fiscal Sponsorship, including its benefits and eligibility requirements, by visiting our website. See which projects are currently being supported via our Sponsored Projects page.
Keep up with Film Independent…
(Header: Safe Word)