How 'Mr. Robot' Creator Hacked the TV Model
Sam Esmail never thought he'd work in TV. It was a theme the Mr. Robot creator touched on repeatedly during his keynote conversation Saturday morning at the 2016 Film Independent Forum. Speaking to moderator Mark Olsen of The LA Times, Esmail was emphatic that he viewed himself first and foremost as a filmmaker—not a traditional television showrunner.
But ironically, it was the difficulties Esmail encountered when making his debut feature Comet (which premiered at the 2014 LA Film Festival) that ultimately pushed the 38-year-old writer and director in the direction of TV.
"I feel like indie filmmaking is really struggling," Esmail told the audience in Theater One at the DGA building in Los Angeles, kicking off Day Two of the Forum in a panel sponsored by Robot's TV home, USA Network. See the keynote in its entirety below:
Esmail originally conceived Robot as Comet's feature-length follow-up, but was daunted by the process of once again attempting to finance and distribute yet another low-budget indie with an uncertain future.
"With TV, [networks] don't care if it works in China," said Esmail, citing the current FX hit Atlanta as an example of the sort of bold storytelling and formal experimentation he feels is increasingly absent from feature films, adding, "it's great that TV can make something that specific."
Olsen asked how Mr. Robot evolved from Esmail's initial feature idea into an ongoing series. "The story was really about a guy who has this realization about himself," said Esmail, referring to Robot's protagonist—the brilliant-but-psychologically-dissociative Elliot, played by recent Emmy-winner Rami Malek. He explained, "That [realization] was going to be at the end of Act One, at the 30-minute mark. It ended up being all of Season One." The crowd chuckled as Esmail continued: "I always do what I call a 'vomit draft'—terrible dialogue, terrible exposition. Sometimes I don't even look at the page count."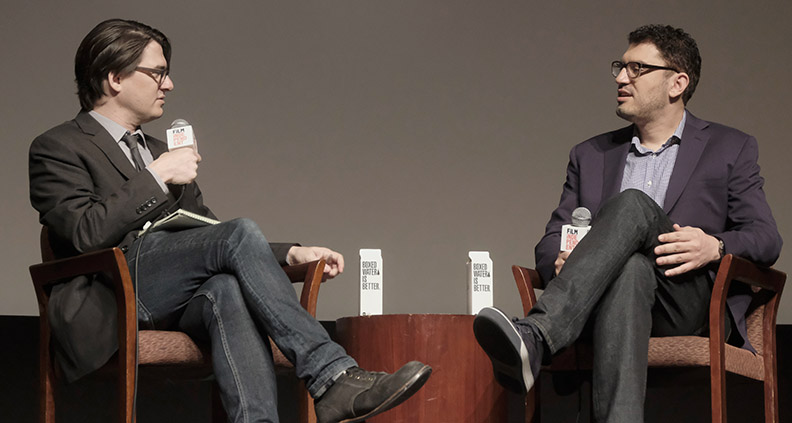 When contemplating the mammoth length his seemingly compact story of one rogue hacker had ballooned to, Esmail was inspired by yet another recent TV phenomenon to reconsider the small screen.
"I saw True Detective Season One. I thought [Mr. Robot] could be a limited series, but then I couldn't even do that." According to Esmail, even though Elliot's arc had already been carefully sketched out, it was finally fleshing out the show's secondary characters that eventually provided him with enough material to justify an ongoing series.
Esmail also discussed the differences between Mr. Robot's first and second seasons. "The first season was rough," he admitted. "Especially when you're the showrunner, you're not supposed to be on set every day. In TV, the writer is king."
"But," he said, "I had a very specific vision for the show."
It was this "specific vision" that led Esmail to assume more responsibility in Season Two, directing every episode himself. "Taking on more was actually easier," he said of this hands-on approach, which was only made possible by Robot's atypical-for-TV production workflow, in which all episode scripts were completed before filming and all filming (more or less) before editing.
Olsen asked Esmail about his dense, multi-layered approach to storytelling. "To me the thing I love is not just asking what happens next? but also what happened before?" he said, citing The Twilight Zone as one early influence on his narrative aesthetic, before referencing another: "It's like what Hitchcock does—circular storytelling. For some reason that really resonates with me."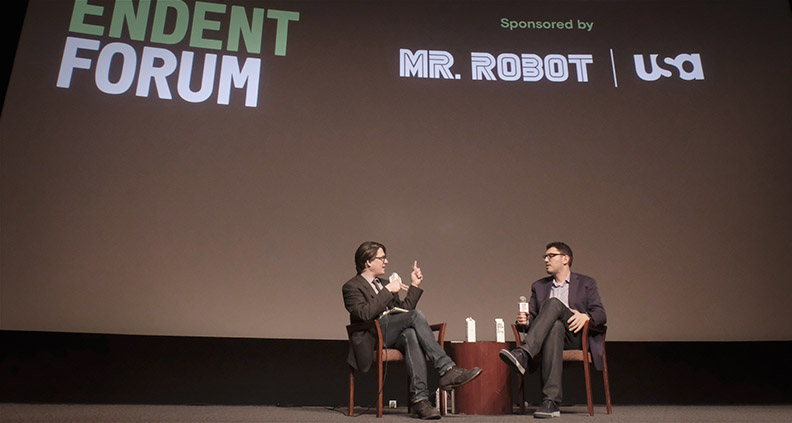 "Do you feel like you're always trying to stay two steps ahead [of the audience]?" Olsen asked.
"To me that's just classic storytelling," said Esmail, who also predicted that will continue to move away from procedural storytelling to focus on more long-form, serialized narratives.
After answering a few questions from the audience, Olsen wrapped up by asking Esmail if he saw himself eventually returning to features. "The story will tell you what it wants to be," said Esmail. But when asked point-blank if he felt Comet had had "a proper life" in theatrical release and beyond, he said bluntly, "No, not at all" and concluded: "the networks and the streaming services are the ones willing to spend money on something a little off-kilter."
The 2016 Film Independent Forum is currently underway, happening October 21-23 at the Directors Guild of America in Los Angeles. For a complete schedule of events, click here.
To catch more from this year's panels and events, be sure to subscribe to our YouTube channel and follow us on Twitter and Facebook. Not a Member of Film Independent yet? Become one today.
The 2016 Film Independent Forum is supported by Premier Sponsors Directors Guild of America, Loyola Marymount University School of Film and Television and SAGindie, with Principal Sponsors Brandwood Global, Montana Film Office, and The Virginia Film Office.