Case Study: I Am a Sex Addict
Director: Caveh Zahedi
Producers: Caveh Zahedi, Greg Watkins
Budget: $450,000
Production Companies: Reinventing The Wheel
Financing: One investor (an aquaintenance of Caveh's); Grants: Creative Capital, San Francisco Arts Council, Guggenheim
Production Date: 2001 – 2005
Shooting Format: Mini DV
Screening Format: Digital
World Premiere: Rotterdam 2005
Awards and Nominations: 2005 Gotham Awards, Winner of Best Film Not Playing at a Theater Near You
Production
I Am A Sex Addict was shot over the course of four years.  The original plan was to complete the film in six months, but its organic style (shooting for a week, editing for a month) allowed the filmmakers to experiment, and ultimately the film took four years to complete.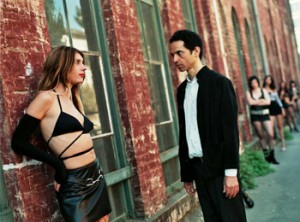 Lessons Learned
Don't shoot a film over the course of four years.  Continuity was a nightmare, with cast members gaining weight, changing their hairstyles, being deported, etc.
World Premiere and Festival Prep
I Am a Sex Addict premiered at the 2005 Rotterdam Film Festival.  After it was accepted into the festival, the filmmakers contacted Cinetic Media for representation.  John Sloss liked the film and agreed to rep it for a year, for 15% of all sales.
The film was then accepted into the 2005 Tribeca Film Festival.  Cinetic told Caveh not to show the film to anyone prior to the US premiere at Tribeca.  In addition, Cinetic had him pull the film from the tape library at Rotterdam.
At Tribeca, Caveh hired a publicist, Susan Norget, recommended by John Sloss.  She assembled press kits for Tribeca but didn't secure any interviews.
Prior to Tribeca, a review of the film appeared in The New York Times.  Caveh found out later that the festival had made a copy of the film's rough cut and had circulated it to the NY Times critic, because he was unable to attend the screening due to a case of shingles.  The NY Times critic watched only part of it, as HE WAS in pain from the shingles.  His review attacked the filmmaker but praised the film.
At Tribeca, the Cinetic team spread buzz among distributors, and used a database to track interest in the film; who'd seen it, who hadn't, etc.  Following the festival, Cinetic sent out copies of the film to buyers and distributors.  Everyone passed.
At that point, Caveh started calling theaters and booking the film into theaters himself.
Then in the Fall of 2005, the film won the Gotham Award for "Best Film Not Playing at a Theater Near You."
The Deal
After the Gotham awards ceremony – Cinetic asked for two more weeks to try to get some traction from the award. Two weeks later IFC bought all North American rights, including TV and DVD.  Caveh didn't receive any advance, but a 50% share of IFC's net profits.  IFC said it would spend approximately $100, 000 on P&A, depending on how well the film performed, and release the film in 10 cities, although nothing was confirmed in writing.
The Release
At this time IFC was also developing a new day & date release pattern.  Under the banner IFC First Take, they would release a film in theaters, and the film would be available simultaneously via Video on Demand (VOD), through IFC's cable partners, Comcast and cablevision.  For six dollars, cable subscribers could watch the film for a 24 hour period via technology that enables the viewer to stop, start, pause, rewind, resume, etc. Profits would be split 50:50 between Comcast and IFC.  This deal was agreed to at Sundance 2006.
Caveh was consulted during the marketing of the film.  IFC cut a new trailer, which Caveh agreed was much better than his own. They also took out full-page newspaper ads, but for budgetary reasons, could only fly him to NY and LA to promote the movie locally.
I am a Sex Addict was released by IFC First Take on April 5th 2006.  Caveh felt the release was somewhat rushed to satisfy ifc first take's release schedule of a new film every two weeks.  However, as the film was being released throughout the country, Mark Cuban pulled the film from his Landmark Theater chain, because Comcast had refused to run his TV station HD Net.  Landmark is the nation's largest art house chain, and after it was pulled, it was harder for IFC to book the optimal theaters for the film.
Caveh started writing about this on his blog, and an online dialogue with Mark Cuban developed.  These exchanges can be accessed in the April 2006 archives of Caveh's blog at www.cavehzahedi.com
The final theatrical Box Office gross was $115,000
DVD Release
IFC released the film through the Weinstein Company's Genius DVD label in September 2006.  Genius pays for all costs (DVD production and promotional costs), and after they recoup their costs, they take 15% of all profits.  The remaining 85% goes back to IFC.
Foreign Sales
Through filmmaker Doug Pray, Caveh found a sales agent (Kirt Eftekhar of Ocule) to rep the film internationally.  But unsure of whether he would be signing a sensible deal, Caveh went back to Cinetic to broker the deal with the agent.  Ocule gets 15% of all sales, after recouping expenses, but Cinetic still takes their 15%.
The Filmmaker's Experience
Overall, Caveh was pleased with the way IFC handled the release of the film. "They did a good job."  But it was a huge learning experience.  He naively thought that his movie was so commercial that, given its title and subject matter, people would flock to it. He realized how hard it is to get people to go to a movie.