LA Film Festival: Ava DuVernay and Female Directors of 'Queen Sugar'—Yes, We Exist
On June 19 at the 2017 LA Film Festival, acclaimed filmmaker Ava DuVernay treated festivalgoers to a fascinating master class in directing for the camera. The event was Yes, We Exist: Ava DuVernay and the Female Directors of 'Queen Sugar'—a panel that featured DuVernay sharing insights alongside fellow Queen Sugar directors Kat Candler, Cheryl Dunye, Amanda Marsalis and DeMane Davis.
As the OWN Network drama's creator and executive producer, DuVernay made big strides for equality during Queen Sugar's first season by only hiring female directors to work on the show, a multi-generational family drama centered around the operation of large Louisiana sugar plantation. Acting as moderator for the evening, DuVernay kicked things off by saying, "I hardly ever get the chance to talk about craft [so] I want to throw out some craft questions to you." The crowd responded by applauding as she asked Dunye about her approach on blocking.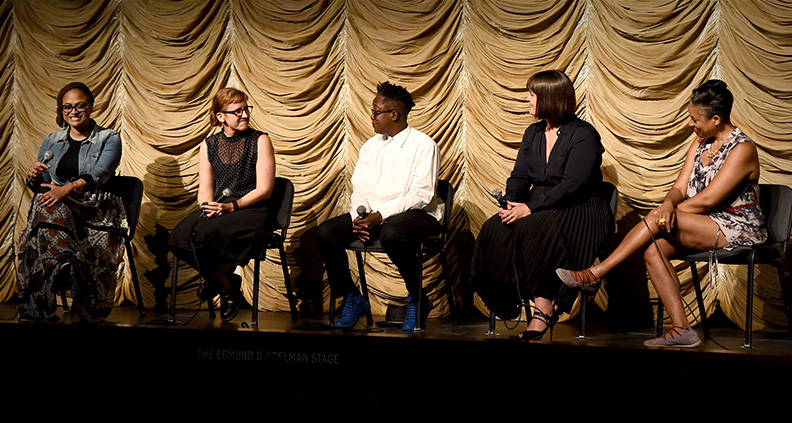 Before replying, Dunye greeted the crowd by shouting "Happy Juneteenth!"—the day marking the end of slavery in the United States (Juneteenth was also was the subject of the show's Season Two opener, shown before the panel took the stage.) "Part of the magic of blocking is spirit," she said. "Digging into the spirit of the story. Digging into the spirit of the talent you are working with."
She continued to talk about how, at its heart, blocking is so much more than just placing actors in specific spots and calling action. "Every movement is a different movement to each other. I really want to work with my actors in my blocking and I think all of my actors and actress can attest: that relationship is primal." By having that visceral relationship with her actors (and cinematographer) Dunye is able to capture the essence the story. "Story is everything," she said.
DuVernay moved on to Marsalis, a photographer-turned-filmmaker, to talk about her approach to cinematography. "I work with Antonio [Calvache, a cinematographer on the show] on both of my episodes," Marsalis said. "We spoke a lot about photography ahead of shooting. I was sending Antonio references of photographers I really love." She went on to talk about creating her shot list. It was important to her to make sure the moments that mattered were captured. "It is a cadence, through the scene, of hitting those points—and I know how I want those to look," she said.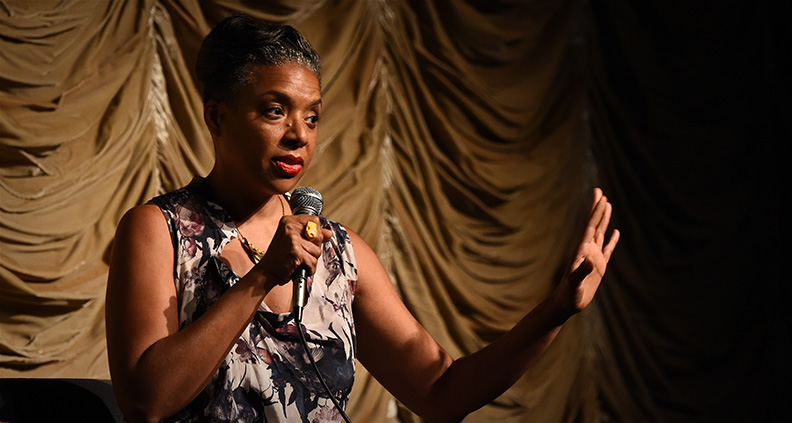 Davis talked about two of the most critical parts of the directorial process: editing and sound, divulging that as with the show's director, all of the editors on Queen Sugar Season Two were women. She went on to say, "It is a chance to reinvent everything. The trick is not to treat everything extremely precious. Everything I do is in service to the story."
Candler gave insight on collaborating with the actors. "We are so gifted to have [a] cast that's just phenomenal," she said. "They [the cast] are not only gifted on screen, but they have big, beautiful hearts." She talked about the importance of fostering a relationship with her actors so that they'll trust her and take risks. "It's about creating a protected space for them to explore and discover," she said. (In addition to directing two episodes this season, Candler is also the producing director for the show.)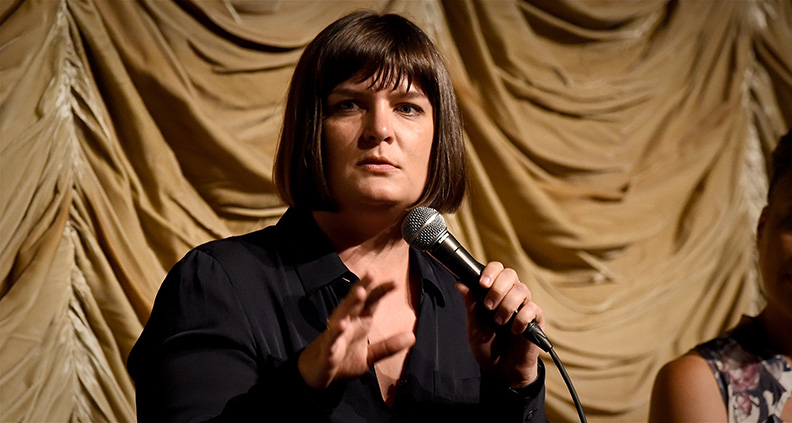 The conversation transitioned as DuVernay asked each of the directors about the show's characters. Dunye spoke about Casting Director Sharon Lawrence. "It was a blessing to work with Sharon. I actually said to Sharon at the end of the last scene that we shot together 'I've learned so much from you.'"
Davis similarly celebrated working with Tina Lifford, who plays matriarch Aunt Vi on the show. "Tina Lifford is the sun. She is up in the sky and warms us all with her energy," Davis said.
Marsalis spoke about Rutina Wesley, who plays Nova Bordelon. "She comes to the character in a way that I don't understand. She is so far above me that I just witness it. She is so good at what she does, I'm constantly in awe of her."
Dunye gleamed with joy as she talked about Dawn-Lyen Gardner, who plays Charley Bordelon West. "Now that's my boo!" she laughed. "What a blooming flower all of the time. She is just the flower that smells and speaks and just graces you."
Candler finished off the lovefest by praising Kofi Siriboe, who plays Ralph Angel Bordelon. "It is just one of those things where it is not trained, it's not studied. It just is, and he just is."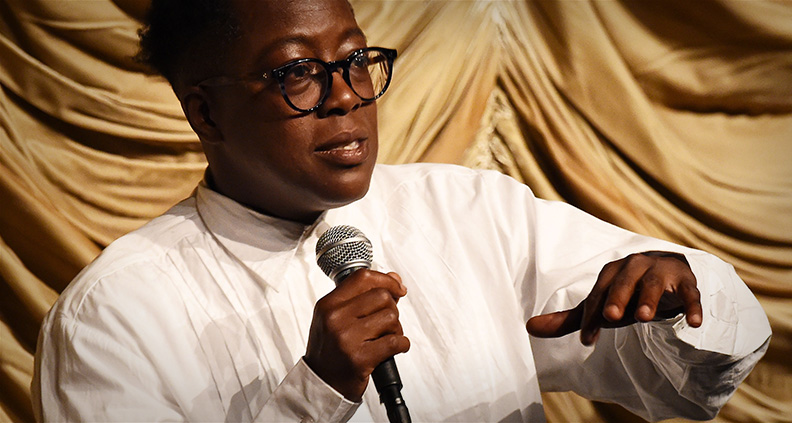 DuVernay capped off the evening by giving a final shout out to "to our network, OWN, which is owned by an artist, a friend, an actress and an activist, who allows us to have shows like this—Oprah Winfrey." The crowd, of course, applauded. Season Two of Queen Sugar can currently be seen own the OWN Network—check your local listings!
The 2017 LA Film Festival is currently underway, June 14—22, headquartered at the ArcLight Cinemas Culver City, with additional screenings at ArcLight Hollywood ArcLight Santa Monica, LACMA and The Theatre at Ace Hotel. Check out the Festival Guide here.
Stay tuned to our Twitter, Facebook and Instagram for the latest new additions and updates. And don't forget to subscribe to our YouTube channel for more exciting announcements. Tickets and passes are on sale now.
Sold out screenings? Get in with a Festival pass. In addition to screenings and special events (even when sold out) Festival passes provide entry to our super-fun Festival Lounge, featuring a 21+ hosted bar and the opportunity to rub shoulders with Festival filmmakers and other film industry professionals. Buy yours. Film Independent Members save up to 25%
(Header, L-R: Demane Davis, Amanda Marsalis, Ava DuVernay, Cheryl Dunye and Kat Candler)