LA Film Festival: Opening Night, Music Videos and Indie Pilots Announced!
Today we're beyond thrilled to announce the Opening Night film of the 2018 LA Film Festival: Andrew Slater's new documentary Echo in the Canyon—an in-depth chronicle of how groups like The Byrds, Beach Boys, Buffalo Springfield, The Mamas & the Papas and more gave birth to a musical movement that still endures to this day.
"We're committed to showcasing documentaries," said LA Film Festival Director Jennifer Cochis. "I'm so proud to be opening the Festival with a love song to Los Angeles." She further described the evening as "a once-in-a-lifetime experience."
Also announced was the Festival's Premieres slate, Music Video program, Future Filmmakers showcase and Indie Pilots. We'll be talking more about our Future Filmmakers in a future blog post, so for now let's get to meet our Premieres, Music Videos and Indie Pilots. Rock on!
PREMIERES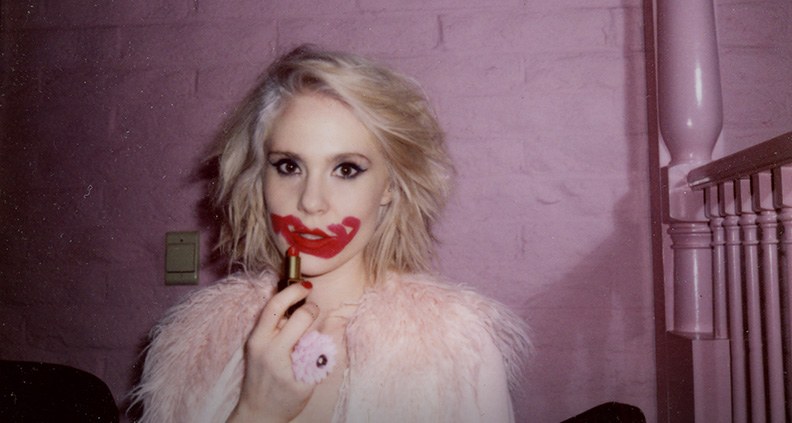 New movies that you've never seen before, some with familiar faces—from the icy floes of upper Siberia, to high school hallways, to the backseat of an unlikely rideshare adventure, these tales are sure to thrill, inspire and mystify.
American Dreamer – USA (DIRECTOR Derrick Borte WRITERS Derrick Borte, Daniel Forte PRODUCERS Scott Floyd Lochmus CAST Jim Gaffigan, Robbie Jones, Isabel Arraiza, Tammy Blanchard) – A down-on-his-luck rideshare driver, who makes extra cash chauffeuring a low-level drug dealer, finds himself in a serious bind and decides to kidnap the dealer's child. World Premiere. Buy tickets 
Ashes in the Snow – USA (DIRECTOR Marius Markevicius WRITERS Ben York Jones, Ruta Sepetys (novel) PRODUCERS Marius Markevicius, Zilvinas Naujokas, Chris Coen, Prithvi Chavan, Ruta Sepetys, Jonathan Schwartz CAST Bel Powley, Martin Wallstrom, Lisa Loven-Kongsli, Jonah Hauer-King, Peter Franzen, Sophie Cookson) – In 1941, a teenage aspiring artist and her family are deported to Siberia amidst Stalin's brutal dismantling of the Baltic region. World Premiere. Buy tickets
Brian Banks – USA (DIRECTOR Tom Shadyac WRITER Doug Atchison PRODUCERS Amy Baer, Monica Levinson, Shivani Rawat CAST Aldis Hodge, Greg Kinnear, Sherri Shepherd, Tiffany Dupont, Xosha Roquemore) – Based on a true story, a young football player's dreams to play in the NFL are halted when he is falsely accused of rape and sent to prison. World Premiere. Buy tickets
The Chaperone – USA (DIRECTOR Michael Engler WRITER Julian Fellowes, Laura Moriarty (novel) PRODUCERS Kelly Carmichael, Greg Clark, Rose Ganguzza, Victoria Hill, Elizabeth McGovern, Luca Scalisi CAST Haley Lu Richardson, Elizabeth McGovern, Miranda Otto, Blythe Danner, Campbell Scott, Géza Röhrig) – In the early 1920s, a Kansas woman finds her life forever changed when she accompanies a young Louise Brooks to New York City for the summer. World Premiere. Buy tickets
The Clovehitch Killer – USA (DIRECTOR Duncan Skiles WRITER Christopher Ford PRODUCERS Andrew Kortschak, Walter Kortschak, Cody Ryder CAST Charlie Plummer, Dylan McDermott, Samantha Mathis, Madisen Beaty) – A teenage boy starts to suspect that his wholesome, all-American dad is actually the serial killer terrorizing their small town. World Premiere. Buy tickets
Kate Nash: Underestimate the Girl – USA (DIRECTOR Amy Goldstein PRODUCERS Anounchka van Riel, Amy Goldstein) – Unfiltered access to musician/actress Kate Nash as she navigates the finer points of going on tour, setting up house, songwriting, coping with betrayal, being a woman in the industry and owning her voice. World Premiere. Buy tickets
Good Girls Get High – USA (DIRECTOR Laura Terruso WRITERS Laura Terruso, Jennifer Nashorn Blankenship PRODUCERS Elysa Koplovitz Dutton, Leslie Morgenstein CAST Stefanie Scott, Abby Quinn, Isabelle Fuhrman, Lauren Lapkus, Matt Besser) – Two overachieving good girls become frustrated with their social standing in the high school hierarchy and get stoned on their last night of senior year. World Premiere. Buy tickets
Ride – USA (DIRECTOR/WRITER Jeremy Ungar PRODUCERS Sefton Fincham, Tyler Jackson, Keith Kjarval CAST Bella Thorne, Jessie T. Usher, Will Brill) – A charming rideshare driver and his flirtatious passenger pick up a charismatic but manipulative new fare, turning a normal night out into a psychological war for survival. World Premiere. Buy tickets
Tea With the Dames – United Kingdom (DIRECTOR Roger Michell PRODUCER Karen Steyn) – Friends for more than half a century with the inside jokes to prove it, four acting greats discuss their careers and recollect their humble beginnings in the theater. US Premiere. Buy tickets
We Have Always Lived in the Castle – USA (DIRECTOR Stacie Passon WRITERS Mark Kruger, Shirley Jackson (novel) PRODUCERS Jared Ian Goldman, Robert Mitas, Kieran Corrigan CAST Taissa Farmiga, Alexandra Daddario, Sebastian Stan, Crispin Glover) – Three members of the Blackwood family live in isolation after experiencing a tragedy six years earlier. Cousin Charles arrives to steal the family fortune and threatens a dark secret they've been hiding. World Premiere. Buy tickets
MUSIC VIDEOS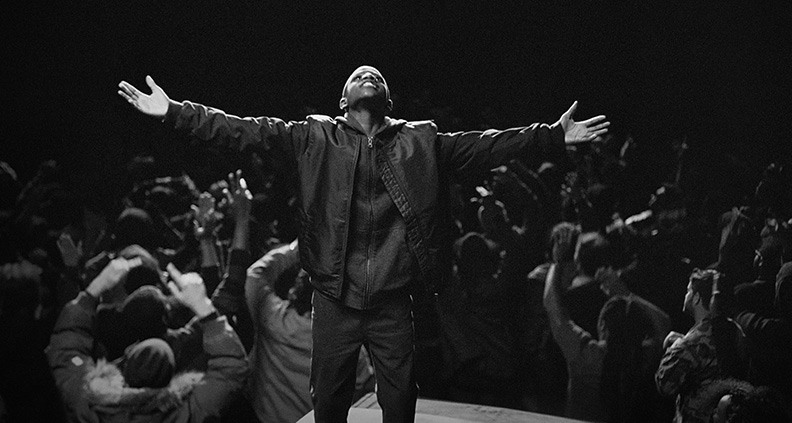 I want my… LA Film Festival? That's right! This is the section's debut, celebrating the marriage of music and visuals with 21 new, groundbreaking works.
Apartment – USA (DIRECTOR Ellis Bahl) – A sultry performance inside an infinity tunnel composed of black and white televisions.
Art in Motion – USA (DIRECTOR Hayk Matevosyan) – Six paintings are recreated in this visually stunning work. World Premiere
Bones – USA (DIRECTOR Hunter Brumfield) – In a health spa for the older crowd, two women leave their "sitzercise" group to be with one another.
Camisa Al Reves – USA (DIRECTOR Andrew Vasquez) – A VHS tape, an early '90s quinceañera, a wrestling match and a Mexican Banda music video equal a lot of nostalgia.
Clutch – USA (DIRECTOR Christopher Ripley) – A professional athlete's rise and fall from grace.
Dis Generation – USA (DIRECTOR Hiro Murai) – Black and white visuals set the scene for this A Tribe Called Quest tune.
Dreams – USA (DIRECTORS Elliott Sellers and Erik Ferguson) – Naked bodies gyrate and collide in a rave-like setting.
Found – USA (DIRECTOR rubber.band) – On the verge of death, a man goes back to see the woman he loves.
Half a Million – USA (DIRECTORS Lamar + Nik) – Created with 5,566 stickers and hand cut from the 4,868 frames, The Shins turn up in the most unexpected places all over the city.
Hard World – USA (DIRECTOR Mike Hollingsworth) – Happy Foot/Sad Foot, the iconic Silverlake duo, get the movie treatment as we follow them through a day in their lives.
Heart Attack – USA (DIRECTOR Mimi Cave) – With paper bags over their heads, a group of people move almost uncontrollably through various locations.
Indie – USA (DIRECTOR Angel Kristi Williams) – Baltimore sets the scene for this ode to black women and black men.
I Want You – USA (DIRECTOR NORTON) – As a coroner works the night shift at a morgue, the beat of the music makes dead bodies erupt in dance.
Land of the Fairies – Israel (DIRECTOR Amiel Kestenbaum) – In a magical handcrafted world, we follow a young boy's enchanted journey after a fairy who leads him from one extraordinary world to the next.
Lost Angeles – USA (DIRECTOR Evanston Moore) – A man is transported all over Los Angeles while singing about trying to find his place in the big city.
Loving Is Easy – United Kingdom (DIRECTOR Chris Ullens) – Miniature Rex and Benny chill and perform together in stop-motion in their dreamy living room that comes to life to the sound of their lovely tune.
My Way – USA (DIRECTOR WATTS) – A battle between the pink posse and the gang of blue happens at a dinner party.
Pleader – United Kingdom (DIRECTOR Isaiah Seret) – Doom is on the horizon in this Welsh mining village but the birth of a child could save their valley from destruction.
Side by Side – Czech Republic (DIRECTOR Bohdan Zajcenko) – A man drives into the forest and pulls his bride out of the trunk. What happens next is anyone's guess.
Terraform – Spain (DIRECTORS Sil van der Woerd and Jorik Dozy) – The true story of the hardships and sacrifices that sulphur miners make in order to provide for their families in Kawah Ijen, Indonesia.
True Love Waits – Israel (DIRECTOR Adi Halfin) – A poignant tale of loss and loneliness through dance.
INDIE PILOTS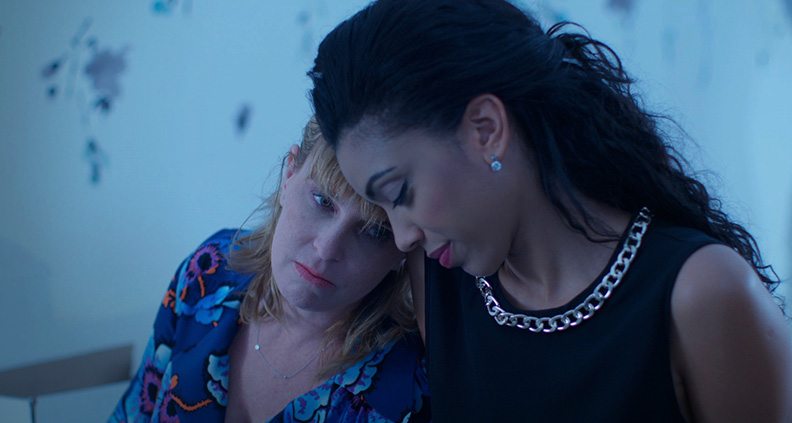 Each of these three pilots stand on their own and navigate a full hour of an episodic show, showcasing the talents of Storytellers who bring an independent sensibility to their original series.
2 Kawaii 4 Comfort – USA (DIRECTORS/PRODUCERS Luke Palmer, John Bickerstaff WRITER Luke Palmer) – A near-fatal car crash on a trip to an anime convention causes four hyper-dysfunctional fans to confront everything they were hiding from at the one place they go to escape reality. West Coast Premiere
40 and Single – USA/Ghana (DIRECTOR/WRITER Leila Djansi PRODUCER Nathalie Anang, Akofa Djankui, Laurene Addy) – A single, bisexual, mixed-race bridal fashion designer maneuvers life and business in post-colonial Africa. World Premiere
Mulligan – USA (DIRECTOR Steve Parys CREATOR/WRITER Patrick Cannon PRODUCERS Ashley Kate Adams, Patrick Cannon, Jim Kierstead, Caroline Collins) – Upon release from prison, a former US Amateur Champion golfer returns home to work at his brother's driving range and miniature golf course. World Premiere
Also announced were the 15 shorts consisting of this year's Future Filmmakers program, made by an accomplished group of high school filmmakers from all across the country—even internationally! Of the films, 43% were directed by young women and 47% directed by filmmakers from diverse backgrounds.
Feeling overwhelmed yet? Don't worry—you have eight whole days to work your schedule-making jujitsu to try and catch as much as possible. And as of yesterday, you have even more ways to do so. For Film Independent Members, sales of general admission tickets to individual film screenings began Tuesday, August 14. Individual tickets will be made available to the general public starting August 21.
Festival Passes are currently on sale to both Film Independent Members (join today for special discounts and Festival perks) as well as the general public. Wondering what sort of pass might be best for you? See below: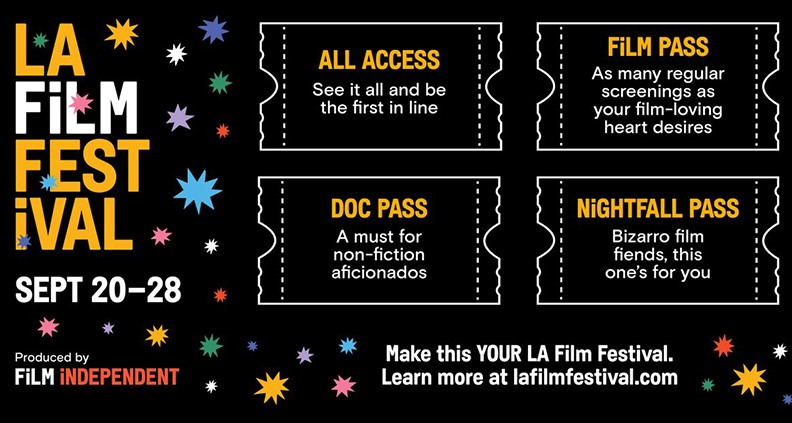 The 2018 LA Film Festival takes place September 20-28. Venues include the ArcLight Cinemas in Culver City, Hollywood and Santa Monica, as well as the new Loyola Marymount Playa Vista campus, the Wallis Annenberg Center for the Performing Arts and the Writers Guild Theater in Los Angeles.
Visit tickets.lafilmfestival.com and be sure to follow the 2018 LA Film Festival on Twitter, Facebook, Instagram and YouTube.
Presenting Media Sponsor is Los Angeles Times. Official Host Venue is ArcLight Cinemas. Platinum Sponsors are American Airlines, EFILM | Deluxe and HBO. The University Sponsor is Loyola Marymount University School of Film and Television. Venue Partner is Wallis Annenberg Theater for Performing Arts. Festival Supporters are Directors Guild of America, eTech Rentals, Kona Productions, TREETI and Visit Seattle. Festival Affiliates are 21st Century Fox Global Inclusion, ATK Audiotek, Konsonant Music, SAGindie and Writers Guild of America West. Additional support provided by National Endowment for the Arts. Stella Artois is the Official Beer. IMDbPro is the Official Industry Resource. CITI is the Official Credit Card. The LINE, NoMad Los Angeles and Freehand LA are the Official Hotel Partner. Essentia Water is the Official Water. Hillersden Estate Wines is the Official Wine. Getty Images is the Official Photographer.