Fiscal Updates: Catching Up with PTerry, Pedacito De Carne and Three Extraordinary Women
Ever since its launch, Film Independent's Fiscal Sponsorship program has supported a wide variety of projects: shorts, features, both narrative and nonfiction—even the occasional new media project, special event or advocacy initiative. Each month's Fiscal Spotlight column announces three new projects taking part in the program.
But maybe you're curious how some of those prior subjects have turned out. Well, you're in luck! Once again it's time for another FiSpo Update highlighting the recent achievements of previous subjects of our Fiscal Spotlight hosannas.
For the uninitiated, Fi's Fiscal Sponsorship program opens the door to nonprofit funding for independent filmmakers and media artists. The projects and makers participating in the program express a uniqueness of vision, celebrate diversity and advance the craft of filmmaking through the creation of these special works. To see the full range of projects that are part of our program, visit our Sponsored Projects page.
For more, watch our full discussion with Film Independent's Artist Development team at the bottom of this article. If you're already part of our Fiscal Sponsorship program and you have a production milestone you'd like to see here, please email us.
PTERRY
Project Type: Narrative Short
Project Status: Exhibition/Distribution
Filmmaker: John Michael Riva Jr.
Cast: Romy Reiner, Adam Riva, Sam Roach, Newman Wolf, Breanna Wing, TJ Jefferson
Synopsis: "Pterry" is a bullied 18-year-old boy with extremely long arms. He's trying to find his North star in the world, having just lost his father. Pterry's world flips upside down when he is assigned a partner for a school assignment with Claire, an equally bullied student. When a notorious school bully sabotages their project, Pterry and Claire devise a plan to navigate to a new world, one of independent happiness.
Updates: Pterry completed a successful crowdfunding campaign in July and wrapped principal photography in August. Post-production began in September and ran through November. New collaborator Zach Robinson (Cobra Kai, Weird: The Al Yankovic Story, Good Sam, Tapin) created a personal and intimate score. In December, Pterry was selected for the Berlin Independent Film Festival, where it won Best Actor (Adam Riva) for his debut performance. In January, PTerry had a successful donor screening at The Landmark in Los Angeles, honoring and celebrating all who brought this film to life. Check out the film's website for upcoming screening dates and festival announcements: rivaworks.com.
THREE (EXTRA)ORDINARY WOMEN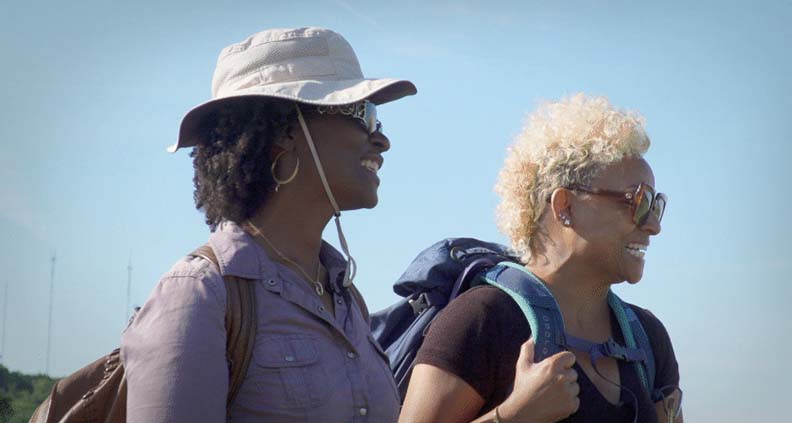 Project type: Documentary Feature
Project status: Post-Production
Filmmakers: Cionín Lorenzo, Pearlette J. Ramos
Logline: Pearlette, Tammy and Terry are three (extra)ordinary women of color who collectively have overcome poverty, abuse, systemic racism and political occupation. This nonfiction film explores their life stories and how the parallels between the Palestinian occupation and Jim Crow in the United States have equally disenfranchised people of color. In braving their biggest physical obstacle yet—climbing to the summit of Mount Kilimanjaro—we'll see how women of color can accomplish anything.
Updates: Three (Extra) Ordinary Women wrapped principal photography in Tanzania where three brave and self-determined women took on the challenge of hiking Mt. Kilimanjaro. A final shoot was added—one year post-hike—to capture and unpack the lessons learned, the transformation made and how each subject has made meaning of her spiritual quest. The filmmakers were honored to have recently received a sponsorship from the United Nations Federal Credit Union Foundation, which will provide editing support. Now in post-production, Assistant Editor, Savonne Pearson is preparing an assembly cut for the Editor, Sonia Gonzalez-Martinez, who will complete a rough draft by April 1, 2023. The film was acknowledged as a "Hot Films in the Making" by the Roy W. Dean Grant. More than 30 organizations across the United States have agreed to a public screening and community program once the film is produced, and the filmmakers continue to evolve the social impact campaign. Visit the film's website for more information: threeextraordinarywomen.com.
PEDACITO DE CARNE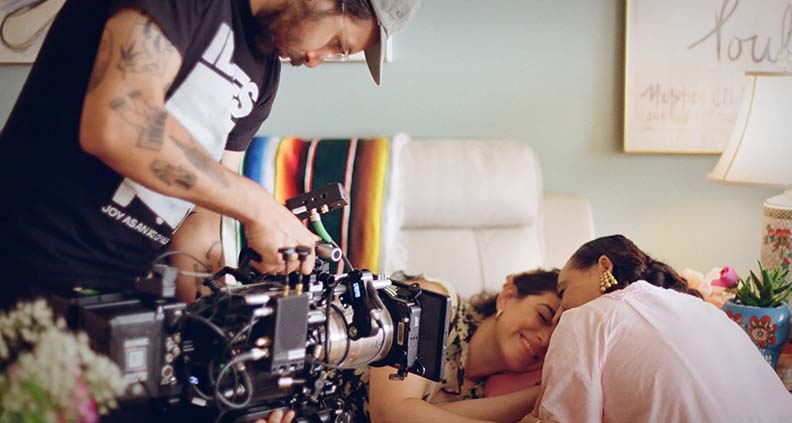 Project type: Narrative Short
Project status: Post-Production
Filmmakers: Diana Gonzalez-Morett, Akilah 'AK' Walker
Cast: Ingrid Oliu, Diana Gonzalez-Morett, Jason Armani Martinez, Yvette Mercedes, Yoko Hyun
Synopsis: Pedacito de Carne is a drama that follows Sandra, a young millennial caregiver for her mother, Antonia, who is living with Frontotemporal Degeneration, a rare form of dementia. The disease is quickly progressing and both women must adjust, grieve and cope with the awkwardness and helplessness of their new roles. Both women are haunted by Antonia's delusions—most viscerally of crocodiles stalking by. The pair embark on a journey to get answers on why they are not receiving vital benefits from social security. At the office they are met with the most complex system and rude burnt-out workers, who drive Sandra to make a bold statement. A moment of lighthearted revenge ensues and gives Sandra a sensation of levity and connection with her Mom. High off their stint, Sandra runs into an old flame, who asks her out and ignites a desire that her instincts tell her to squelch. Ignoring her duties, she takes the night off. The next morning, after her night of respite, to Sandra's surprise she is met by her mother, who is fondly unrecognizable.
Updates: Pedacito de Carne is an official selection of the NALIP/Netflix Latino Lens Narrative Short Film Incubator for Women of Color. Currently, the film is in post-production with editor Chelsea Hicks and composer Nomi Abadi. As part of Pedacito de Carne's social impact campaign, we have partnered with the Association of Frontotemporal Degeneration (AFTD) to support #endFTD and to raise awareness for millennial caregivers. The team is raising an additional $30K for post-production, to aid cost recovery, and to support a successful festival run.
Film Independent promotes unique independent voices by helping filmmakers create and advance new work. To become a Member of Film Independent, just click here. To support us with a donation, click here.
Keep up with Film Independent…
(Header: Pedacito de Carne)