Live Read Returns to NYC with John Krasinski and 'Good Will Hunting'
Hard to believe, but it's been 19 whole years since Matt Damon's blue collar Bostonian polymath (and fitted t-shirt enthusiast) Will Hunting first brooded his way onto movie screens, slapping a napkin scrawled through with landline digits onto the frosted college pub window of our hearts and sneering, in his iconic Southie brogue: howduhyaleyedemapples?
Directed by indie stalwart Gus Van Sant and released in the (both literal and figurative) titanic film year of 1997, Good Will Hunting was one of the shining case studies of the entire Miramax era, elevating stars Damon and Ben Affleck to A-list superstar status and landing the duo an honest-to-God Academy Award for Best Original Screenplay. Fast-forward two decades: Affleck is a highly regarded filmmaker and actor with Batman's cowl in his closet and a Best Picture Oscar for Argo while Damon remains one of the biggest movie stars on the planet, continuing to pump out critical and commercial hits like Bourne and The Martian. Not bad for a couple of Masshole BFFs armed only with a dream and a typewriter.
Will Hunting's enduring place in the modern film canon will be honored in grand fashion on October 7, when Film Independent's Live Reads series returns to New York City for an exclusive one-night-only read-through of Affleck and Damon's award-winning screenplay by an all-star cast of famous faces, all taking place under the watchful side-eye of Halpertine side-eye virtuoso John Krasinski, who will act as the evening's guest director.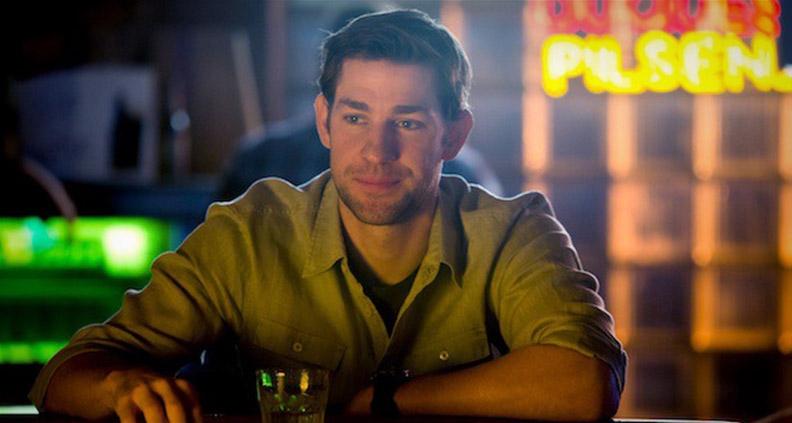 "Good Will Hunting is so good, you've watched it more than 10 times," observed native Bay Stater Krasinski, joking that for his fellow Bostonians "we've now made it mandatory to get the poster tattooed on our backs."
Himself no stranger to pulling double-duty as both screenwriter and onscreen lead (see The Hollars, Krasinski's sophomore directorial effort, which played at our very own 2016 LA Film Festival), the 13 Hours star is in a unique position to appreciate Good Will's remarkable place in film history.
"As a director, I'm more than excited to be part of this Live Read," Krasinski continued. "As the president of the Matt Damon fan club, I'm just straight fan-girling."
Past Live Reads guest directors have included Olivia Wilde, Laurence Fishburne, Seth Rogan, Mark Romanek and Quentin Tarantino, among others. Past Live Reads have included American Pie, Stand By Me, Boogie Nights, Glengarry Glen Ross, Pulp Fiction and many more. (To learn more about past Live Read events check out our blog archives.)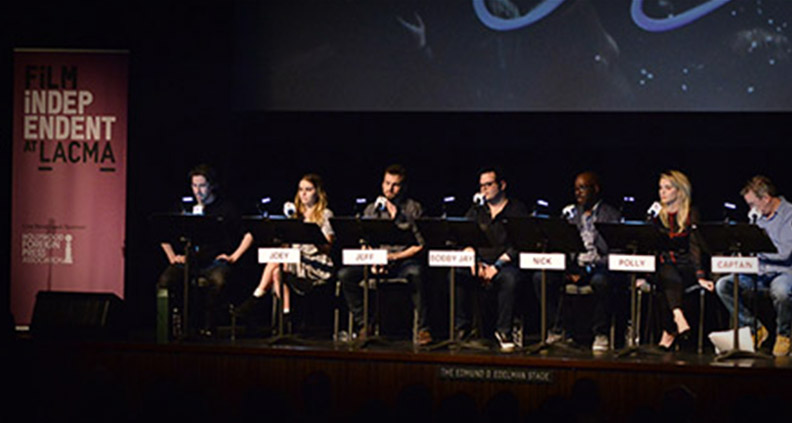 But unfortunately, diehard Beantown boosters will have to pinch their nostrils and trek deep into the stink of Yankee country to catch the event, to be held at the NYU Skirball Center for the Performing Arts in Lower Manhattan. But trust us: the sacrifice is worth it. Per tradition, the October 7 Live Read will be performed only once, never to be repeated. Nor will it be recorded in any way. As conceived by series creator Jason Reitman, Live Reads are an ephemeral, once-in-a-lifetime event. So if you're thinking eh, I'll wait for the podcast—don't.
Krasinski will reveal the full cast on Twitter in the lead up to the show, so keep an eye on those timelines and bookmark livereadny.com for this Friday, September 23 when tickets officially go on sale. Unless you're a Film Independent Member, in which case you can purchase your tickets today. You've been warned: start flexing those dexterous "add-to-cart" fingers now.
And while we're at it, check out the poster, once again designed by crack Live Reads poster maestro Matt Owen, available to buy at the show: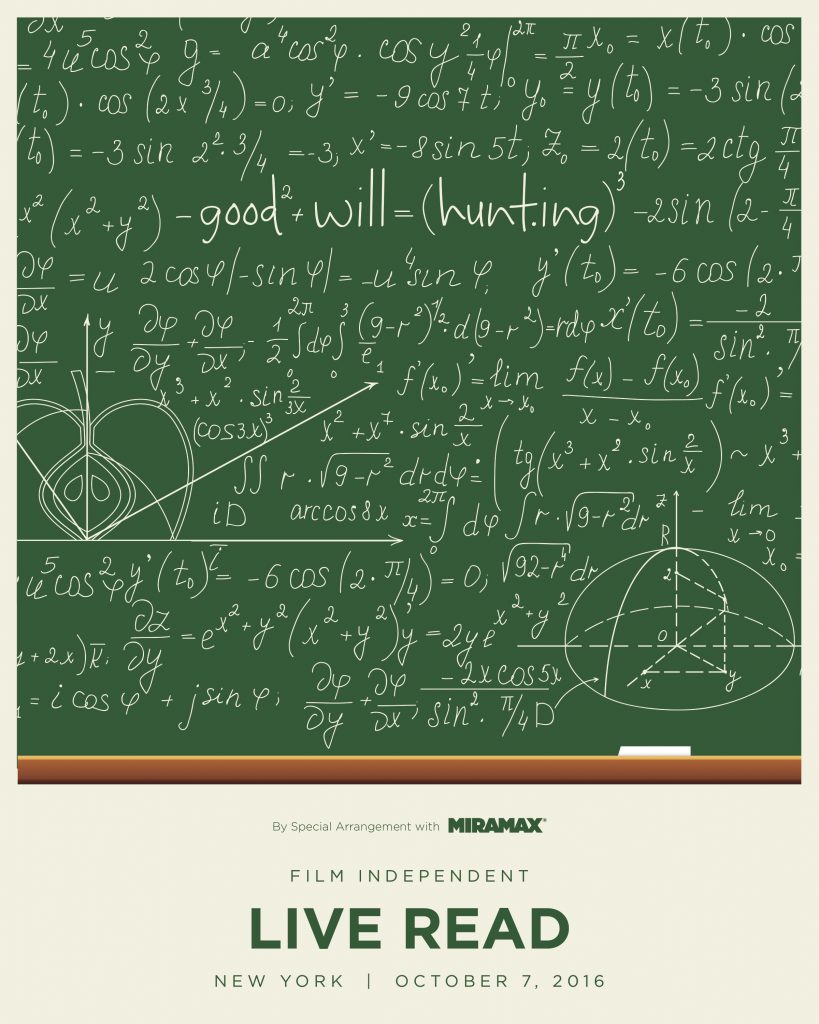 But seriously, how do you like them apples? (In this case, apples = opportunity to experience a once-in-a-lifetime live event.) So put down that mop, shovel or nub of proof-worn chalk and treat yourself to a night out with John Krasinski and Good Will Hunting. After all, Harvard is just a quick train ride away. Go Sox.
Live Reads New York is presented by Film Independent and The New York Times. To learn more and get tickets, please visit livereadny.com. Tickets are available to Film Independent Members today, so become a member now to take advantage of the one-day pre-sale!
---
To learn more about Film Independent, subscribe to our YouTube channel or follow us on Twitter and Facebook. To learn how to become a Member of Film Independent, just click here.