Lunch TODAY with Lee Isaac Chung, Emerald Fennell, Eliza Hittman, Kelly Reichardt and Chloé Zhao
What were you planning for lunch today? To unceremoniously scarf down a peas-and-carrots Hot Pocket while maniacally refreshing the news? Chug down some flavor-neutral Soylent while cleaning out old episodes of Bar Rescue on the DVR? Overpaying for Burger King delivery while shuffling loads of laundry in and out of the accursed dryer? Why not treat yourself to something different today and hang out with us—plus our BFFs Lee Issac Chung, Emerald Fennell, Eliza Hittman, Kelly Reichardt and Chloé Zhao—at the 2021 Directors Close-Up?
That's right: this year's 20th anniversary edition of Film Independent's signature panel series kicks off today at 12pm with the "Spirit of Independence" Directors Roundtable—typically one of the most raucous and fascinating sessions of the entire program (for proof, see our wild 2020 and 2019 sessions.) Of course, as previously touted all panels at this year's online DCU will be made up entirely of 2021 Film Independent Spirit Award nominees.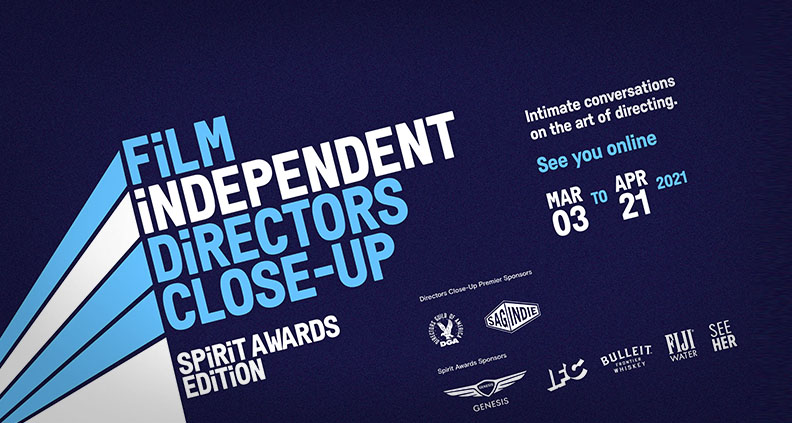 The fun starts at noon, but don't worry! You still have plenty of time to pick up a series pass, which will grant access to all nine sessions of this year's DCU, either to watch live on Wednesdays or On Demand at any time.
So even if you can't shirk your Hot-Pocket-and-Bar-Rescue obligations today, you can still see what happened when our group of 2021 Best Director and Best Feature nominees—the highly-acclaimed auteurs behind Minari, Promising Young Woman, Never Rarely Sometimes Always, First Cow and Nomadland (watch the film's trailers here)—collided today at your earliest convenience.
Stay tuned for continuing updates—new panelists for future sessions are being added throughout. Here's what else is coming up…
Small Screen, Big Picture: TV Creators (March 10)
Featuring TV creators Lee Eisenberg (Little America), Emily V. Gordon (Little America), Steve McQueen (Small Axe), Kumail Nanjiani (Little America) and Anna Winger (Unorthodox) and moderated by Wendy Calhoun (producer/writer; Prodigal Son, Empire.) Future and aspiring showrunners, this is the session for you! Trailers here.
A Different Type of Narrative: Feature Documentaries (March 17)
Featuring directors Maite Alberdi (The Mole Agent), Garrett Bradley (Time), Kirsten Johnson (Dick Johnson is Dead), James LeBrecht (Crip Camp), Alexander Nanau (Collective) and Nicole Newnham (Crip Camp.) Feature-length documentaries are thriving like never before—figure out how and why from some of the best nonfiction filmmakers in the business. Trailers here.
A Different Type of Narrative: Docuseries (March 17)
Featuring filmmakers Christine Clusiau (Immigration Nation), Heidi Ewing (Love Fraud), Rachel Grady (Love Fraud), Steve James (City So Real), Peter LoGreco (We're Here) and Shaul Schwarz (Immigration Nation.) No TV diet is complete without a heaping helping of serialized nonfiction storytelling. Find how they all come together. Trailers here.
Your First Time: The Director's Debut (March 24)
Featuring debut feature directors Radha Blank (The Forty-Year-Old Version), Heidi Ewing (I Carry You With Me), Darius Marder (Sound of Metal), Edson Oda (Nine Days) and Channing Godfrey Peoples (Miss Juneteenth)—all nominated for either Best First Feature or Best First Screenplay at this year's Spirit Awards. Watch trailers here.
On the Global Screen: International Filmmakers (March 31)
Featuring Best International Film nominees Juliano Dornelles (Bacurau), Lili Horvát (Preparations to Be Together for an Unknown Period of Time), Kleber Mendonça Filho (Bacurau), Chaitanya Tamhane (The Disciple) and Jasmila Žbanić (Quo Vadis, Aida?)—all united from their respective international locales through the magic of the Directors Close-Up (and Zoom.) Watch trailers here.
From Page to Screen: Writing and Directing (April 7)
With Best Screenplay and Best First Screenplay nominees Kitty Green (The Assistant), Noah Hutton (Lapsis), Mike Makowsky (Bad Education), Andy Siara (Palm Springs), James Sweeney (Straight Up) and Alice Wu (The Half of It.) Every good movie starts on the page and these writer-directors are here to discuss the first—and arguably most important—step in the filmmaking process. Trailers here.
The Spirit of Cassavetes: Making a Low-Budget Movie (April 21)
Featuring John Cassavetes Award (for the Best Feature made for under $500,000) nominees Merawi Gerima (Residue), Robert Machoian (The Killing of Two Lovers), Kelly O'Sullivan (Saint Frances), Isabel Sandoval (Lingua Franca), Alex Thompson (Saint Frances) and Patricia Vidal Delgado (La Leyenda Negra.) Find out how to stretch that production dollar! Trailers here.
All this, plus an additional panel set to occur on April 14, details TBA. And of course, all roads lead to the 2021 Spirit Awards ceremony on April 22, hosted by SNL's Melissa Villaseñor and airing exclusively on IFC.
Closed captioning will be available for the Directors Close-Up series, and the sessions will be available on demand, exclusively to passholders, after the series concludes on April 21.
The 2021 Directors Close-Up is sponsored by Premier Sponsors Directors Guild of America (DGA) and SAGindie, and Film Independent Spirit Awards Premier Sponsors Genesis and IFC. Bulleit Frontier Whiskey is the Official Spirit. FIJI Water is the Official Water. Getty Images is the Official Photographer.
We're also honored to be partnering with the Association of National Advertisers' (ANA) SeeHer, the leading global movement for gender equality in media, advertising, marketing and entertainment and AMC Networks to further celebrate and act as a catalyst for accurate and meaningful representation in storytelling.
More Film Independent…