Meet the 12 Film Independent Fellows Joining the Academy
Earlier this summer, the Academy of Motion Picture Arts and Sciences (aka the folks who hand out the Oscars each year) took the unprecedented step of adding 683 new members to its ranks. And many of these new inductees are women and/or people of color—a commendable move on the part of outgoing Academy President Cheryl Boone Issacs, whose stated (and hugely ambitious) goal is to double the number of female and minority Academy members with the ability to vote for Academy Award winners. And many of these new inductees—12—are also Film Independent Fellows: alumni of our Artist Development and grants programs.
Now I know what you're thinking: it seems a little premature to start thinking about Oscar, with literally six months to go before the Dolby Theater grounds crew even starts to think about unearthing that ginormous role of red carpet from its subterranean storage dungeon below Hollywood Boulevard. But you'd be wrong. Right now is the perfect time to start contemplating the chores looming before these 600-odd freshmen Academy members.
For most of us, Labor Day marks the unofficial end of summer and with it, summer movie season. So after the last of this weekend's holiday barbecue is finally swallowed, Hollywood will arrive back at work on Tuesday—a few pounds heavier but generally refreshed—ready to attack the fall. And for studios, this long autumn stretch means prestige releases and awards campaigns, a fervor which inevitably grows more and more frantic the closer we get to January.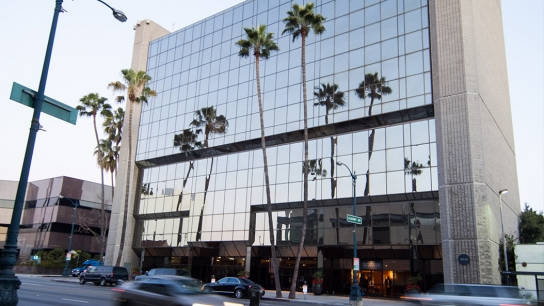 So really, the work of a typical Academy member will kick into high gear sooner than you think. And to any of this illustrious body who might be reading this and thinking "Pfft. I've got all the time in the word"—take our advice: the last thing you want is paramedics breaking down your door in January to find your lifeless body crushed underneath a pile of unwatched screeners. Rub that dry summer crud out of your eyes and get ready.
So let's bid the summer of 2016 a fond adieu and raise one last red solo cup to toast our talented 12 Film Independent Fellows whose lives are about to get a whole lot busier. They are:
Ana Lily Amirpour – critically acclaimed for her Film Independent Spirit Award nominated atmospheric vampire romance A Girl Walks Home Alone at Night, the Iranian-American filmmaker is a veteran of several Film Independent Labs and programs, including the Screenwriting Lab, Directing Lab and the Fast Track finance market. She will be joining the Academy Directors branch.
Kathryn Bostic – known for her work in TV, theater and in films including Dear White People, composer Kathryn Bostic is a veteran of Film Independent's Project Involve Class of 2005. Bostic will be joining the Academy's Music branch.
Margaret Brown – a Film Independent Spirit Award Truer than Fiction grant winner from 2009, nonfiction filmmaker Margaret Brown (The Great Invisible, The Order of Myths) will be joining the Academy's Documentary branch.
Amy Hobby – as the producer of several high profile nonfiction features (including the recent Academy Award nominee What Happened, Miss Simone?) Hobby will join as a member of the Academy Documentary branch—she was a participant in our 2013 Fast Track finance market program.
So Yong Kim – an award-winning indie filmmaker (In Between Days, Treeless Mountain, For Ellen), So Yong Kim is an alumnus of the 2004 Producing Lab and will be joining the Directors branch.
Neil Kopp – Recipient of the 2008 Piaget Producers Award at the Film Independent Spirit Awards, producer Neil Kopp (Green Room, Meek's Cutoff) will be joining the Academy Producers branch.
Julia Loktev – Recipient of the 2007 Someone to Watch Award at the Film Independent Spirit Awards, the Russian-American Loktev (The Loneliest Planet, Moment of Impact) will be joining the Academy Directors branch.
Mynette Louie – the president of financing company Gamechanger Films, Louie (whose filmmaking credits include Land Ho!, Mutual Appreciation and California Solo) received the 2013 Piaget Producers Awards at the Film Independent Spirit Awards, and participated in Fast Track twice, in 2009 and 2010. She joins the Academy Producers branch.
Jessica Sanders – documentary producer Jessica Sanders (After Innocence, Sing Opera!) is a veteran of multiple Film Independent programs, including the Project Involve Class of 2000, the 2003 Producing Lab, 2004's Fast Track finance market and the 2007 Screenwriting Lab. She joins the Documentary branch.
Heather Rae – a 2009 recipient of the Piaget Producers award at the Film Independent Spirit Awards, filmmaker Heather Rae joins the Academy as a member of the Producers branch.
Anish Savjani – a producer whose credits include Green Room, Blue Ruin and Wendy and Lucy, Savjani is also the recipient of the Piaget Producers Award at the Film Independent Spirit Awards. He joins the Academy Producers branch.
Elizabeth Vasarhelyi – Winner of the 2015 Film Independent Spirit Awards Truer Than Fiction award for Meru, nonfiction filmmaker Vasarhelyi joins the Academy Documentary branch.
---
For more information about any of the programs listed above, please check out the Programs section of our website. To watch acceptance speeches from this year's grant winners, please visit our YouTube channel.
To learn how to become a Member of Film Independent, just click here and follow Film Independent on Facebook and Twitter.