Member Lens: Filmmaker and TV Showrunner Ali LeRoi
In our Member Lens series, we're spotlighting a cross-section of current Film Independent Members to see how they got where they are now, what they hope to do next and what being a part of Film Independent means to them. Editor's note: the below piece originally ran in 2020, as our very first entry in the series.
***
As an organization, Film Independent is made meaningful by our community of filmmakers and film lovers who are not just the beneficiaries but, through their support and enthusiasm, the patrons who make our events, educational opportunities and awards-show merrymaking possible. And while we've always been thankful for such an incredible Membership community, it's time we used our platform to turn the spotlight around on you—to learn how you got here, what you're working on and just how, exactly, Film Independent has either helped or can help.
In thinking who might be an ideal subject for our debut "Member Lens" series, one name quickly shot to the top: Ali LeRoi. A writer, producer, director and TV creator whose credits include Everybody Hates Chris, Survivor's Remorse, Head of State, Pootie Tang and others, LeRoi has recently shifted his focus to the world of independent features, as writer and director of the TIFF 2019-minted drama The Obituary of Tunde Johnson, soon to be released.
With the ever-present realities of COVID-19 and racial inequality on our minds, we recently spoke to LeRoi about creating art during times of incredible cultural shifts, moving from comedy into drama, The Wizard of Oz and more.
ALI LEROI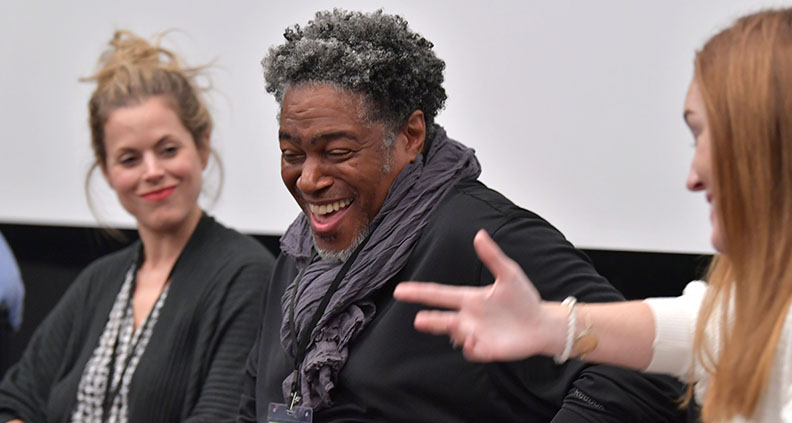 To start, could you give us a little bit of background on yourself and your career so far?
LeRoi: I'm from Chicago originally. I've been in the business now for a long time, but I started out in entertainment as a performer for sketch comedy, then transitioned into standup. Along the way I started writing, and eventually shifted focus and went behind the scenes. Early television gigs were The Chris Rock Show on HBO, and I did a couple of movies with Chris as a writer. I actually got my first directing gig as a second unit director on Head of State. My television career really started to take off, so in-between show-running and writing work, when I could I would direct more. I completed my first feature as director, and we're in the process of trying to sell it—it's a tough marketplace right now.
What films or television shows inspired you as a young person, that made you think, "Hey, I could do this"?
LeRoi: I've been a huge fan of film and television since I was a kid. When I was a kid, I don't know why, but The Wizard of Oz used to come on every year around my birthday. I was just fascinated by it as a film. I think that was the first movie that ever cemented itself in my mind.
Is that where you feel your career is headed, this more "auteur-style" direction, where you're writing and directing your own material? 
LeRoi: I've done some good work in my career that I'm really proud of, but I guess in a way I didn't necessarily believe that my actual personal stories were the ones that needed to be told. But I'm really making a shift. I actually feel like I've had enough experiences that I do have something to say—not just something that's reactionary. I've been married; I got kids and have had good and bad relationships and ups and downs in my career. And now we find ourselves, in my lifetime, at the second major turning point in what could be our society. So yes, my intention is to do more work in film.
You mention this big turning point that society is in the middle of, and that certainly filters down to the industry. What is something you'd like to see change about the way Hollywood does business?
LeRoi: This unequivocally is the number one thing I believe has to occur: I believe that more Black people have to be in decision-making positions in the business with major or mainstream corporations, not just BET or Tyler Perry. Somebody at Sony, somebody at Warner Brothers, somebody at Paramount should be able to say yes, and not be afraid to say "yes" because the content is created by or speaks to Black people and the Black experience. A lot of times the way we're engaged with, I don't think it's as smart as it should be. Black successes have got to stop being treated as anomalies. If Black Panther was called "White Panther," they'd have green-lit White Panther 2, 3 and 4 way before [right now]—it'd be shooting simultaneously around the globe. Black success and white mass murderers get the same treatment: if a white guy pulls out a gun and kills 80 people, it's like, "Oh, that's just that guy—they're not all like that." When a black movie makes $100 billion dollars, they say, "Oh, it was just that movie."
It's a lesson it seems like the studios are dead-set against learning. Even when there are female-driven movies that are hits every year, you think it'd be a bigger part of the Hollywood business model.
LeRoi: Honestly right now my favorite program I'm watching is called Dark, which is a German sci-fi time-travel thriller—there couldn't be less stuff that speaks to me in terms of my superficial identification, as a Black man of a certain age. And yet I'm totally enjoying it. So the suggestion, somehow, that while I have the capacity to appreciate German sci-fi, that no white person can appreciate a simple Black family drama? Why? No. Is it well crafted? Are we engaged around it? I've been relating to white people for 50 years.
When did you first become aware of Film Independent? What did you see us doing here that interested you?
LeRoi: One of the first times I really became aware, I came to speak at one of the functions. I was aware of Film Independent as an entity, but I hadn't had a lot of focus on what they were doing. But then I came and talked to some of the young creatives, and I realized how much of a hand it had in promoting and supporting young filmmakers. That was really exciting to me. Early in my career, those certainly weren't the sorts of things I was aware of. So I was excited to, A) know that it exists, and B) be a part of it, so C) through my efforts and contributions, I could help other young filmmakers trying to get their voices heard.
What's been your favorite thing about being a Film Independent Member?
LeRoi: There seems to be very active engagement. If there's a ground floor at Film Independent, I don't feel like it's materially separated from its top tiers. So that's exciting. If you're a young creative and you're coming into this space, the support that you need—even the conversations you might want to have—you're not so far removed from the upper echelons of what happed at Film Independent.
Film Independent promotes unique independent voices by helping filmmakers create and advance new work. To become a Member of Film Independent, just click here. To support us with a donation, click here.
Keep up with Film Independent…
(Header: Ali LeRoi at the 2019 Film Independent Forum)