Member Lens: Thembi Banks, from Center Stage to Directors Chair
Our ongoing Member Lens feature spotlights current Film Independent Members to see how they got started, where they are now and what being part of Film Independent means to them. To celebrate the 30th anniversary of Film Independent's Artist Development department, our summer 2023 series focuses on our incredible roster of Film Independent Fellows.
Film Independent is currently in the middle of a Matching Campaign to raise support for the next 30 years of filmmaker support. All donations make before or on September 15 will be doubled—dollar-for-dollar up to $100,000.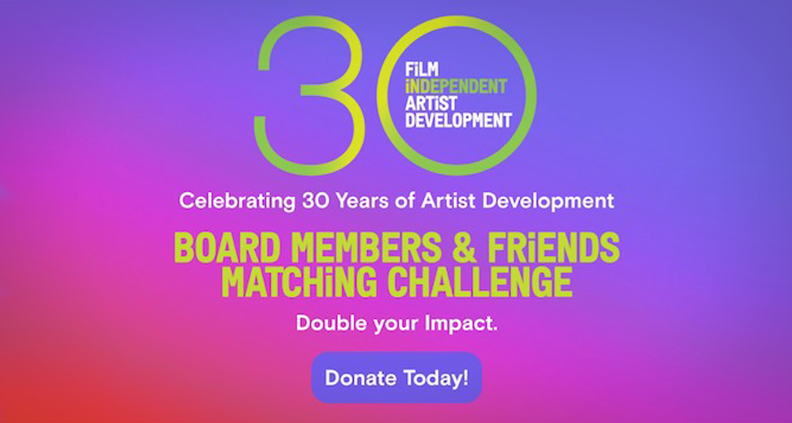 Growing up in New York's historic Harlem neighborhood, filmmaker Thembi Banks considers herself fortunate to have been immersed in such an eclectic cultural environment during her formative years. With the support of family and an abundance of creative mentorship afforded to her by the Big Apple's best and brightest, she chased her creative passions onto the stage as a dancer and actor before finally landing in the film world, with ambitions on both sides of the camera. Film school brought her to the West Coast and Film Independent, which selected Banks to be part of the 2017 Project Involve directing track.
Now repped by Hollywood power players UTA, Banks has padded her CV with additional fellowships, awards and other distinctions, earning the attention of industry figures including Paul Feig, Ryan Murphy and HBO.
We recently caught up with Banks to talk about her journey through the creative arts, earliest inspirations and role models and—of course!—how being a Member and Fellow continues to inform her work and career. Here's the conversation:
THEMBI BANKS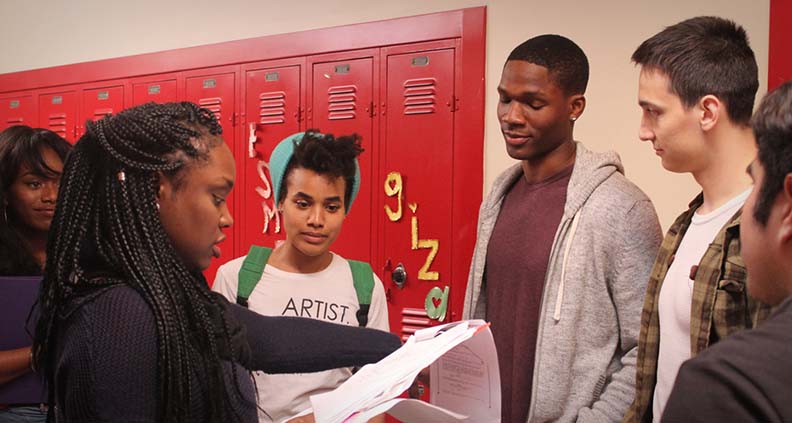 To start out, could you tell us where you're from?
Banks: Yeah, where I grew up is a huge part of my story. Being from Harlem, New York, there's just so much greatness attached to that particular historically Black neighborhood. Being raised there during the '80s and '90s, you of course have the backdrop of New York City right there. And even though I grew up poor, my mom worked really hard to make sure I still had the ability to take advantage of everything New York had to offer. When I was coming up, there were so many free programs—if you wanted to dance or sing or act, there was so much in the city that underprivileged youth could participate in at a high level. You could hone your skills with professionals who could really take you places.
What would you consider your first real entrée into show business?
Banks: [When I was a kid] I joined a professional dance company, which took me around the world; I toured France, it was an amazing experience. By high school, that shifted to acting. I had a teacher in Jr. High and she told us, If you're really serious about pursuing this, your next step from here would be to get into the LaGuardia Performing Arts High School. And I got in! LaGuardia is probably one of the most prestigious performing arts schools in the world, so I was getting an amazing education. From there, I chose to have a more traditional college experience. But after college I came back to the city and was shooting things on the weekend and the evenings with my friends and writing [scripts] on Microsoft Word—not even Final Draft! [laughs]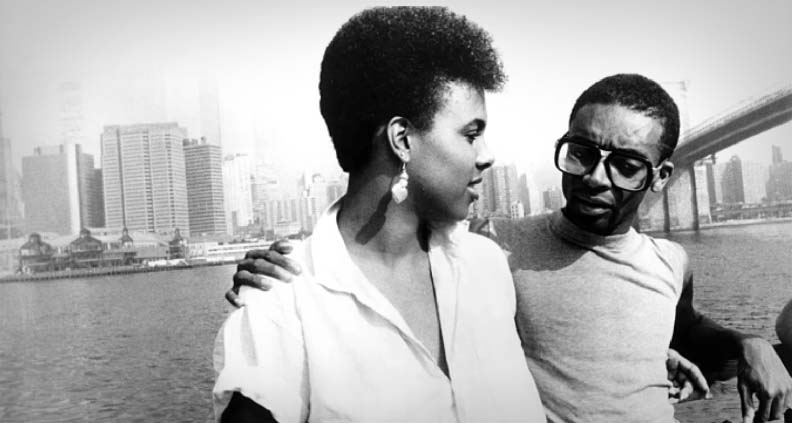 Was there a particular film or filmmaker who really sparked your interest in cinema?
Banks: I'd say Spike Lee. He's someone I grew up watching and subconsciously modeling an approach after. I always credit Spike Lee with being someone who instilled my love of Blackness. As a Black person you're taught that who you are and your stories aren't worthy of being celebrated or shown on a big screen, or any screen… But I just loved how the depiction of Blackness [in Spike Lee's films] felt so beautiful and rich and something you could be proud to be a part of. I watched all his films and was amazed at how he was able to show us in such nuanced and honest ways, while also making pictures of us that were presented in such a beautiful way.
Did you start working in film right away after college?
Banks: Not right away. I began working in marketing and I was being creative, but that wasn't enough for me. I still had this bug to get back to performance, to the stage, the way that I had been immersed in it as a kid. I thought about it and said, "Well, how can I truly take that leap?" And film school became something that seemed like a great idea at the time. So I got into this mindset that I was going to give myself three years just to invest in me. I got into USC for the MFA program for TV and film production. That got me out to LA and got me started.
Why was film the thing you were specifically interested in pursuing?
Banks: You know, when I first came up with the idea of filmmaking it was truly so that I could write parts for myself to act. [laughs] People still ask me, Oh, are you going to get back into acting? And I'm like, "Yeah, I just need to write myself into the right role!" That was always the plan. But I knew I wanted to have a bigger understanding of the scope of work and more control, right down to the business aspect of it. And at the time I was very aware that roles for Black actresses were limited. So I just wanted to come into Hollywood with a stronger footing and I felt like if I understood the filmmaking process that would put me ahead and give me the tools I thought I needed to have a better experience.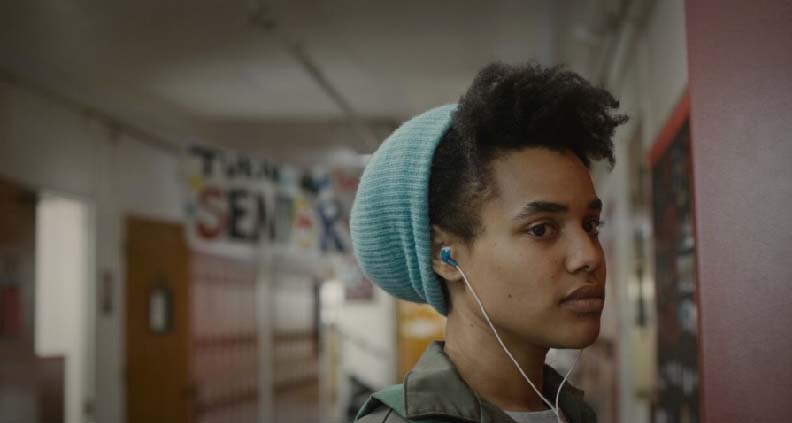 And within that, when did you first learn about Film Independent?
Banks: I moved out to LA and I had a few friends where like, Talk to this person, talk to that person. One of the people who I met through a mutual friend was working at Film Independent—that was the first introduction. She would invite me to a lot of Film Independent short film showcases, parties, get-togethers. So that's how I truly first became aware.
And shortly thereafter you were in Project Involve as part of the directing track. What led you to that opportunity?
Banks: I was aware of Project Involve because I'd been invited to a screening of some Project Involve shorts, where I was introduced to Angel Kristi Williams and Mel Jones, who had both been in Project Involve previously and were my contemporaries. So I 100% knew and understood what [the program] was and the benefit of it—how it can help you as a filmmaker, how much fun you get to have being in this program and meeting all these new people. I hadd graduated and had a directing sample, a short that had made the film festival circuit, and I decided to submit it to Project Involve. That's how I got into the Directing track.
And you've remained a Member ever since. What do you feel like you get out of being a Film Independent Member?
Banks: I'm blessed in that I've been able to keep going and grow my career. But things get busy. A big part of being a filmmaker, I think, is still living life and getting to experience projects and people that are inspiring you. So what I love about Film Independent is that there's just the instant ability to immerse yourself in the independent film community. If I wasn't paying attention to Film Independent I'd lose touch and wouldn't even begin to know what films and filmmakers are out there. And that's so important to me. It basically helps me stay grounded to the kind of work that I enjoy engaging with.
Film Independent promotes unique independent voices by helping filmmakers create and advance new work. To become a Member of Film Independent, just click here. To support us with a donation, click here.
More Film Independent…