For Memorial Day: Five Insightful Films about Real-Life Soldiers
Despite what you may think, Memorial Day isn't just a day off work or an occasion for a good storewide mattress sale. The ostensible purpose of this federal holiday, of course, is to remember the sacrifice of those who have died while serving in our country's five armed services branches: the Air Force, Army, Coast Guard, Marine Corps and Navy—all of which continue to suffer great losses performing their duties around the globe.
The experiences of servicemen and servicewomen have served as the basis of countless movies and TV shows over the years, in all sorts of different forms. But the most powerful of these are the ones based upon actual journalistic accounts from real-life soldiers. So in advance of Memorial Day, here are five military-themed Indies We Love.
RESTREPO (2010)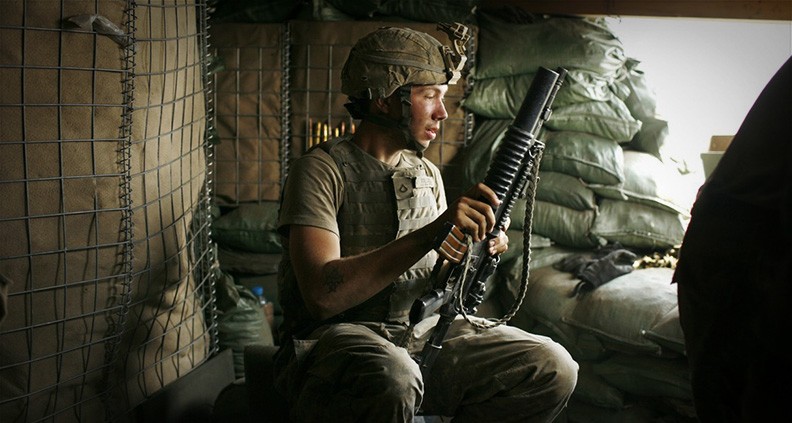 Director: Tim Hetherington & Sebastian Junger
Where You Can Watch: iTunes, DVD/Blu-ray
Why We Love It: Dubbed "The Valley of Death," Afghanistan's Korengal Valley has been occupied by American military forces in one form or another ever since "Operation Red Wings," when 19 Navy Seals were killed in the area during June of 2005—the deadliest single mission in recent special ops history. Restrepo is set primarily at the titular U.S. outpost, located along a key Taliban transport route and so named after a platoon medic killed in the same area in 2007, PFC Juan S. Restrepo. Winner of the Best Documentary prize at Sundance in 2010, this intense doc was directed by British war photographer Tim Hetherington and American journalist Sebastian Junger, who were embedded with the Army's Second Platoon, B Company, 173rd Airborne Brigade Combat Team between 2007 and 2008. They were there when, in May 2007, U.S. soldiers began a punishing 15-month deployment. The filmmakers followed the day-to-day lives of the soldiers, struggling for their mission's success in an area notorious for its desolate and unforgiving terrain. The men faced heavy artillery fire from the Taliban on a daily basis: Captain Kearney, the 27-year-old commanding officer of Battle Company at the time, recalls 13 firefights in a 24-hour period. Says staff Sergeant Joshua McDonough of the stint: "There's no research on how to treat us. They haven't had to deal with guys like us since WWII and Vietnam; guys who are coming back from 51 deployments with as much fighting as we went through." Years later, in April 2010 after almost 50 soldiers had fallen, the U.S. Army withdrew from the outpost. An unfortunate post-script: co-director Hetherington died while on assignment in Libya in 2011.
GENERATION KILL (2008)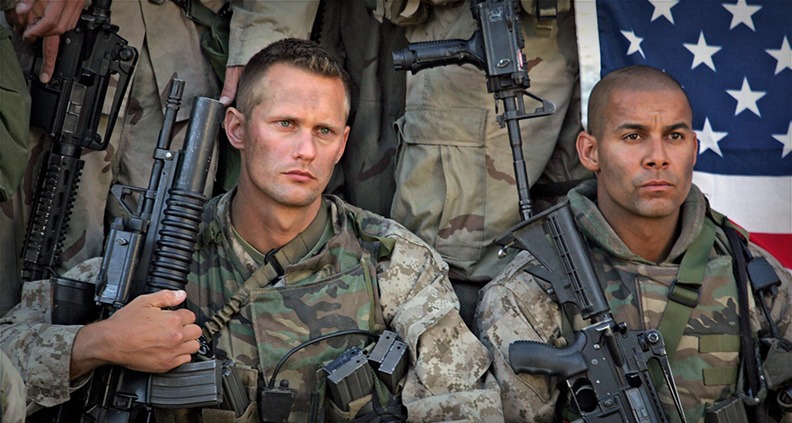 Director: Susanna White & Simon Cellan Jones
Starring: Alexander Skarsgård, James Ransone, Lee Tergesen, Jon Juertas
Where You Can Watch: Amazon Prime, iTunes, Google Play, DVD/Blu-ray
Why We Love It: Nominated for 11 awards—and winning three!—at the 2009 Emmys, this seven-part HBO mini-series (based on Evan Wright's 2004 book of the same name) gives an unvarnished account of the first 40 days of the Iraq war in 2003, as seen through the eyes of the Marines in 2nd Platoon, Bravo Company, 1st Reconnaissance Battalion, who occupied the lead vehicle as American forces pushed towards Baghdad. One thing you won't see here: the sort of agenda-driven narrative frequently seen in military dramas. The filmmakers simply tell it like it is, leaving viewers to make up their own mind about the politics of the situation. On the ground, there aren't enough batteries for the Marines' night-vision goggles and the air is filled with radio chatter brimming with authentic military jargon: "Oscar Mike," AO, CAS, "footmobiles," etc. Adapted for TV by The Wire creators David Simon and Ed Burns, the series owes much of its realism and authenticity to Wright's impressions while embedded with them for the first two months of this (still ongoing) 21st-century war.
LONE SURVIVOR (2013)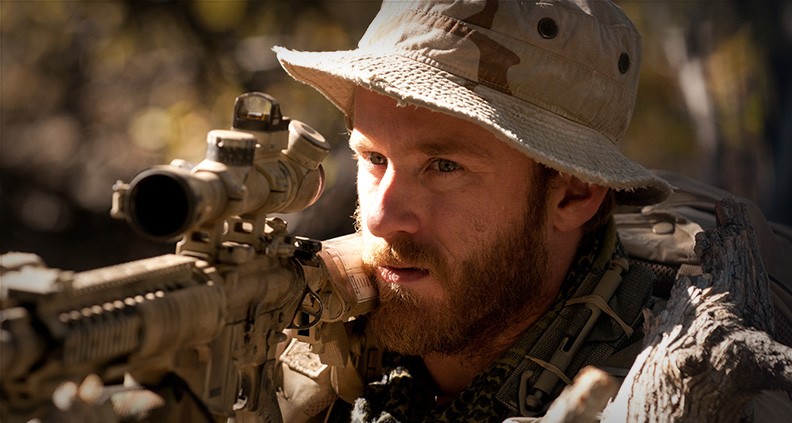 Director: Peter Berg
Starring: Mark Wahlberg, Taylor Kitsch, Emile Hirsch, Ben Foster
Where You Can Watch: Amazon, iTunes, Google Play, DVD/Blu-ray
Why We Love It: Nominated for two Academy Awards (for Sound Mixing and Sound Editing), Lone Survivor is an intense and painstaking reconstruction of "Operation Red Wings"—a doomed mission that claimed the lives of 19 U.S. Navy SEALs in Afghanistan in June 2005 (see Restrepo, above.) Adapted from HM1 (RET) Marcus Luttrel's best-selling memoir of the same title co-written with Patrick Robinson, the pulse-pounding combat action follows Luttrel's four-man reconnaissance and surveillance team as they're dropped into the Hindu Kush in Korangal Valley to locate an Afghani militia leader responsible for killing more than 20 U.S. Marines. But the mission goes haywire when they come across three goat herders. The dilemma: do the soldiers ensure their own safety by killing the civilians, or set them free according to the rules of engagement? The SEALs do the honorable thing, and what follows is a 40-minute sequence of unflinchingly ferocious combat vérité as the men are engaged by 100+ resistance fighters with RPGs, AK-47s, mortars and machine guns. As Ben Foster's Matt "Axe" Axelson says: "You can die for your country, but I'm gonna live for mine."
THE FINEST HOURS (2016)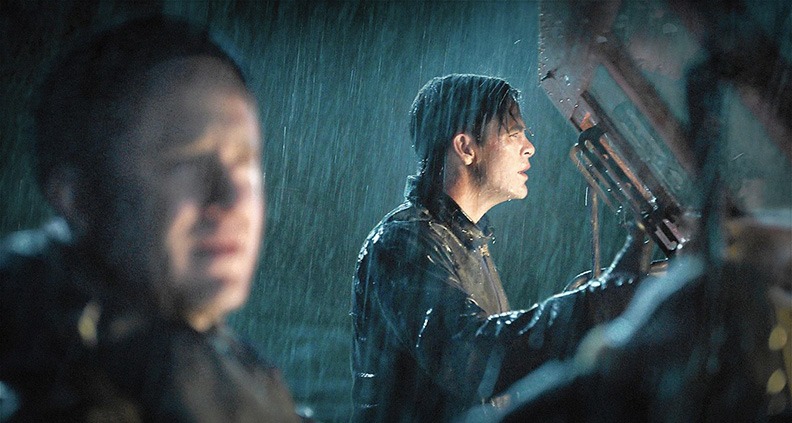 Director: Craig Gillespie
Starring: Chris Pine, Casey Affleck, Ben Foster, Holliday Grainger
Where You Can Watch: Amazon, iTunes, Google Play, DVD/Blu-ray
Why We Love It: "Station Chatham, you copy? I repeat: condition hazardous. We've got an 18-foot fracture in our hull. How do you want us to proceed? Over." That's the distress call Chief Engineer Ray Sybert (Casey Affleck) attempts to make, moments after the oil tanker SS Pendleton is sheared in two after a monster blizzard descends on the coast of New England on February 18, 1952. Based on the nonfiction book of the same name by Michael J. Tougias and Casey Sherman, this historical drama—directed by I, Tonya's Craig Gillespie—brings to life one of the most daring sea rescue missions ever conducted by the U.S. Coast Guard. Boatswain's Mate First Class Bernard "Bernie" Webber (Chris Pine) leads a four-man team in the 36-foot motor lifeboat CG-36500 (with only a single 90-horsepower gasoline engine) to brave hurricane-force winds and 40-to-60-foot seas to rescue the surviving 32 crew members of the Pendleton. Principal photography took place in several coastal towns in Massachusetts, including the Quincy shipyard where a large tank and a mock-up of the Pendleton were reconstructed for the sea rescue scenes.
JARHEAD (2005)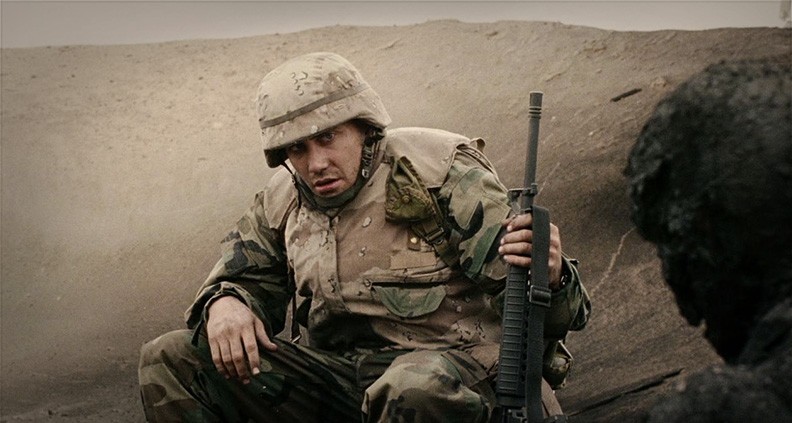 Director: Sam Mendes
Starring: Jake Gyllenhaal, Peter Sarsgaard, Chris Cooper, Jamie Foxx
Where You Can Watch: Amazon, iTunes, Google Play, DVD/Blu-ray
Why We Love It: One of the few war movies to focus more explicitly on military culture rather than actual combat, Jarhead is based on retired Marine scout sniper Anthony "Swoff" Swofford's memoir of the same name. A good portion of the first act is devoted to the rigors of boot camp and scout sniper course, after which Swoff's unit is deployed to Riyadh, Saudi Arabia in the lead up to the 1991 Persian Gulf War. Most of us tend to think of war as non-stop fighting, but the men in the Surveillance and Target Acquisition (STA) Platoon of 2nd Battalion, 7th Marines show us quite the contrary: there's a lot of anxious waiting and boredom in the lead-up to any combat action, when the only things to do are to clean your rifle and read in 110-degree weather. As his own Marine journey comes to an end, Swoff laments: "A story. A man fires a rifle for many years and he goes to war. Afterwards, he comes home and sees that whatever else he might do with his life—build a house, love a woman, change his son's diaper—he will always remain a jarhead."
---
To learn more about Film Independent please subscribe to our YouTube channel. To learn how to become a Member of Film Independent, click here. And don't forget to follow us on Facebook, Twitter and Instagram.
(Header: Restrepo)