Most Challenging Shoot Ever? Global Media Makers Team Up to Take on 'Valley of Exile'
EDITOR'S NOTE: The below interview originally ran in October of last year. We're re-posting it here with minor edits to the original text. To learn more about Valley of Exile please check out the film's website.
***
The important thing to realize is that in the film industry "who you know" doesn't just mean some distant figure of importance who you just happen to come across. Who you know means who you actually know: the people you share history with, who trust you and are eager to engage with and empower your talent.
The growth of this sort of shared community is one of the primary objectives across Film Independent's artists development programs and, in particular, its flagship international program Global Media Makers (GMM). Gathering filmmakers from across the world to learn from Hollywood's top industry experts, GMM is designed to forge artistic partnerships that will continue to flourish abroad.
One such success story is Film Independent Fellow Anna Fahr's debut narrative feature Valley of Exile, which finds her collaborating with two key GMM alums: producer Lara Abou Saifan and line producer Zeina Badran.
Shooting on location this past summer in a Syrian refugee camp outside of Beirut, the Valley trio found themselves coping with a variety of production challenges—not least of all Lebanon's collapsing economy and the COVID-19 pandemic.
We recently spoke to Fahr, Saifan and Badran about their collaboration and how their three-way partnership mirrors Valley's themes of female fellowship and endurance, as well and the projects connective Film Independent DNA.
'VALLEY OF EXILE'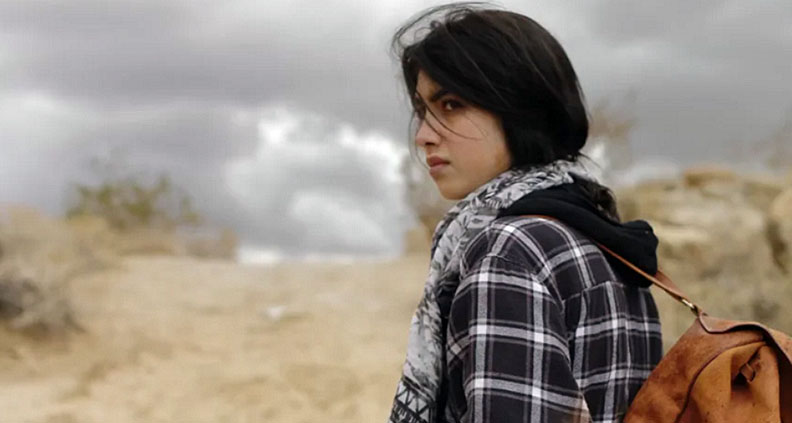 To start, Anna can you tell us when you first met your collaborators Lara and Zeina here?
Fahr: Actually, we go way back. Zeina was one of my former students when I was teaching in Lebanon, in maybe 2014. So she was one my most promising students at the Lebanese American University. I was sort of keeping tabs on her and seeing how successful she was, getting accepted into these really competitive programs like Global Media Makers. So when it came time to put Valley of Exile together, Lara and I were discussing potential line producers and other people we wanted to work with, and Zeina's name came up, not just for me, but for Lara also. Lara and I also have a history from my short film, Transit Game, which was also shot in Lebanon. I knew that both Lara and Zeina had done Global Media Makers, and I had done the Film Independent Screenwriting and Directing Labs in 2017 and 2018. So, we were all in and out of LA doing these Labs around the same time, and it just made sense for us to sort of join forces.
Lara, Zeina, what drew you each to work on Valley? What sort of feelings did you have about the material?
Saifan: I read a draft of the script a couple of years back, maybe 2018. It was so in line with what I want to do as a producer and as a filmmaker, talking about the journey of two refugees. I'm not a refugee, but I'm an immigrant—I'm Palestinian originally and then came to Lebanon. As a producer I try to focus on making films about humanitarian issues and topics that have social relevance. The very first thing that caught me in the script was [the idea of] what war does to people.
Badran: I related to [the script] in a way that was not very obvious. I'm not Syrian, I'm not an immigrant. I'm Lebanese, fully born and bred there. But what I like about the script is the way Anna portrays female bonds, showing women in an unusual environment and what they needed to do to survive. I related the story to my work with Anna and Lara, in a way, because I always like to work with women. Aside from talking about human stories, I love to talk about women and strengthen women's voices within the film industry in Lebanon.
Anna, tell us what Valley of Exile is about.
Fahr: As Zeina says, the story is really about the bonds that are formed between this group of four women in the absence of men—because men are either off fighting in the war or caught up in some other element of the war. The protagonists are two [Syrian refugee] sisters and the women who take them in and give them a home, becoming a sort of surrogate family to them. What was interesting to me was that it was set against the backdrop of the Syrian conflict, in the early years of the war in 2015 when many Syrians still had hope of returning home. And here we are, a decade later, and they're still there. It was important for me to explore this time and this place and to show it through the lens of these two sisters. It's a story that people don't often want to hear. They feel like [the Syrian conflict] is old news. But here it is in 2021, and we filmed [the movie] in a real-life refugee camp. They haven't left, and in Lebanon now we see the repercussions of taking on a 25% increase in your population without the support of the global community.
You shot the film in a real-life refugee camp during a pandemic. What were some of the most daunting challenges?
Saifan: To the rest of the world, it's only the pandemic, but to Lebanon it's a million different things. It's a collapsing country—really collapsing. There's a lack of necessities: a lack of electricity, a lack of fuel, a lack of money for people to eat. It was very hard to ignore all of that and jump into producing, making a film and saying to yourself, "You know what? I'm going to ignore all of these daily troubles."
Fahr: For very little money, I will add!
Saifan: [laughs] Low to no money—that was our motto! Zeina did a great job of gathering crew members who were interested and who accepted to work for little. Everything was very difficult, but the team was really, really passionate, and I think it gave us all a push.
Badran: One of the challenges—aside from a collapsing economy and everything else—was all of the uncertainty we were living in. For example, every day we were buying food from a caterer, and every week the prices would be different. One week the prices would be soaring through the roof, another week we'd have it at a reduced cost. And we'd have trouble finding public transportation. We were shooting two hours away from Beirut and on days off, people wanted to see their families, but they couldn't. There was COVID and a lot of stuff.
Fahr: The greater forces beyond our control were very challenging. I think for me, as director, the schedule was very challenging. We had a 95-page script that we shot in 24 days. That was the biggest challenge for me, trying to get every scene in the can. And thanks to our team, Lara and Zeina, there was very little compromise, generally speaking. We got the film as I envisioned it.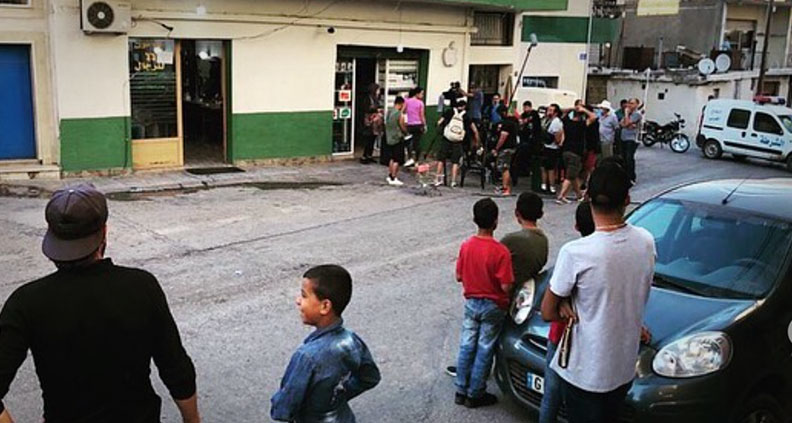 What are the ways in which Film Independent or Global Media Makers supported this project, either directly or indirectly?
Fahr: The Writing and Directing Labs were so crucial for my development process, working with so many incredible mentors in that sort of close-knit environment. Some of the key script changes came as a result of the feedback I got in the Labs. Even in the late stages of the script, I would go back to some of my notes from the Lab. So artistically speaking, that experience was essential, just to sort of have that sort of base to launch the project.
Badran: Since my job on this was a bit more technical as the line producer, Global Media Makers helped me figure out how to properly budget a feature and how to get my first collaborators on board. That, and meeting other producers in LA that Film Independent helped put me in contact with really helped me with the technical part, to think about all the aspects of the set.
Saifan: I would say it helped me indirectly. All of these meetings we did with producers and the case studies we had to listen to, it gave me motivation, actually. I got confidence and certainty that I could do it since other people did it. So I was exposed to all these experiences that were there in the back of my mind, and it gave me a push that it [the film] was doable.
To learn more about Global Media Makers, click here. Global Media Makers is supported through a partnership between Film Independent and the U.S. Department of State's Bureau of Educational and Cultural Affairs.
Film Independent Artist Development promotes unique independent voices by helping filmmakers create and advance new work. To become a Member of Film Independent, just click here. To support us with a donation, click here.
More Film Independent…
(Header: Valley of Exile proof-of-concept video)