Nate Parker Shares His Labor of Love: Reclaiming the 'Birth of a Nation'
A quick prologue: the biggest story out of this year's Sundance Film Festival was The Birth of a Nation. Not only did the slave-revolt drama win both the Grand Jury and Audience award, it also landed a record breaking $17.5 million distribution deal with Fox Searchlight—a stunning feat by any measure, but add to it the fact that the star of the film is also credited as its writer, director and producer and you begin to understand just how big a moment this was for multi-hyphenate auteur Nate Parker. A moment, as we would soon hear, that was more than seven years in the making.
The evening began inside the ArcLight Cinemas Culver City with the screening of the visually rich and emotionally powerful Birth of a Nation teaser trailer. As the audience applause slowly died down, the panel's moderator, LA Film Festival Director Stephanie Allain, introduced cast members Gabrielle Union and Aja Naomi King, followed by Nation's writer, producer, director and lead, Nate Parker.
We quickly learned that Parker grew up in Virginia just 42 miles East of where Nat Turner staged his historic 1831 slave rebellion. But somehow, Parker didn't actually learn about Turner until many years later in college. Parker subsequently saw Turner as a symbol of freedom, excellence and sacrifice, and as a young African American with few heroes with which to identify, Parker grew to regard Turner as a figure of inspiration. Later as an actor in Hollywood, Parker quickly perceived a lack of available strong black roles, so he decided to turn his hero into a film subject.
Research was a critical component to developing the project, and Nate spent years reading everything he could find on Turner and the revolt. He spent time in Virginia looking at actual records and death certificates from the uprising and speaking with its descendants. During the course of all his efforts, Parker saw that, "It's not a film about endurance. It's not a film about slavery. It's a film about freedom."
Knowing what the story needed to be, Parker approached the project "from the standpoint of need and service rather than from exaltation and ego." One of the things this meant for the cast was shooting without makeup, which earned Parker some "excuse me?" type comments from the cast. But he stuck to his guns. "They didn't have makeup back then, so neither will we."
Taking the idea of serving the project even further, Union and Parker decided that they should take away all of Union's character's lines in the movie. In the script, Union's "Ester" is a rape survivor—something she and Union have in common. Parker and Union decided to take away all her lines partly because, as Union said of the victimization, "You are stripped not only of your dignity and power over your body, but of your actual voice. Not just to object, but to seek justice."
Parker said that at the center of making his film is a tireless pursuit of preparedness. The director was given a valuable piece of advice that "prep will make or break your movie," and said, "don't be afraid to ask for help." Parker wrote letters to several directors he admired, seeking advice and received invaluable guidance from Mel Gibson, director of Apocalypto and Braveheart, Ed Zwick, director of Glory, and Steven Soderbergh. From these conversations, the first-time filmmaker gained some much-needed skill to tackle the huge undertaking.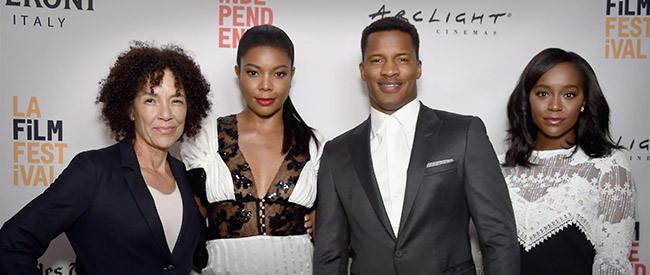 Parker and his team shot the entire film in 27 days, so director, cast and crew had to figure out how to be extremely economical. To this end, Parker was meticulous, scheduling every element down to the minute. Everyone knew where he or she had to be and what he or she had to do. There were no egos, no pissing contests. It was all about the work. Everyone was focused and committed to the job.
One of Parker's secrets as a director was that he took everything that he had learned as a high school wrestling coach and applied it to directing. He figured that if he could coach kids from the ages 14-18 and get them to operate at their full capacity, encourage and inspire them, then he should be able to do it with people who were actually being paid. For instance, every Saturday morning without fail, he would write a long email to his crew about the job they were doing, specifically where they were excelling and how proud he was of what was being done. For him it was about letting everyone know that their unique skill set was invaluable, and that the production could not operate without them.
And now, the stakes are high—at least as far as Parker sees it. "This has to be more than a movie. For me it was about how can I use this film to be clear about where we come from so that when people leave [the theater] they can be clear about where we're going. So in taking that title [The Birth of a Nation] I wanted to reclaim it and repurpose it and represent it and give it to Nat Turner. Now and forevermore when you think of Birth of a Nation you have another option, one that is steeped in truth rather than lies."
The Birth of a Nation is scheduled be released by Fox Searchlight later this year and is sure to earn much attention and praise from the industry.
---
This year's 2016 LA Film Festival is currently happening at the ArcLight Cinemas in Culver City as additional venues citywide through June 9. Buy your tickets to all of our great screenings and special events today. Click here for more information.
To see our full lineup and Festival Guide, please visit our website, stay tuned to this blog and subscribe to our YouTube channel. Learn how to become a Member of Film Independent by clicking here.