Nick Kroll and John Mulaney Return as Hosts of the 2018 Spirit Awards
Though Merriam-Webster hasn't yet made it official, anyone searching for the dictionary definition for the phrase "crushing it" need look no further than hosts Nick Kroll and John Mulaney's opening monologue from the 2017 Film Independent Spirit Awards earlier this year.
In just 11 short minutes, the ace comedy duo (and IRL besties) unleashed a hilarious, finely tuned deconstruction of Hollywood pomposity and indie film peccadillos—not to mention a few not-so-lighthearted jabs at the then-new Trump Administration ("Steve Bannon looks like if Nick Offerman drowned," observed Kroll.)
By any comedic measure the Oh, Hello duo's turn as Spirit Awards emcees deserves its own modestly budgeted alcove in the Awards Show Hall of Fame. And really, who could possibly top it? It's a daunting proposition. But we know two folks who are at least willing to try: Nick Kroll and John Mulaney.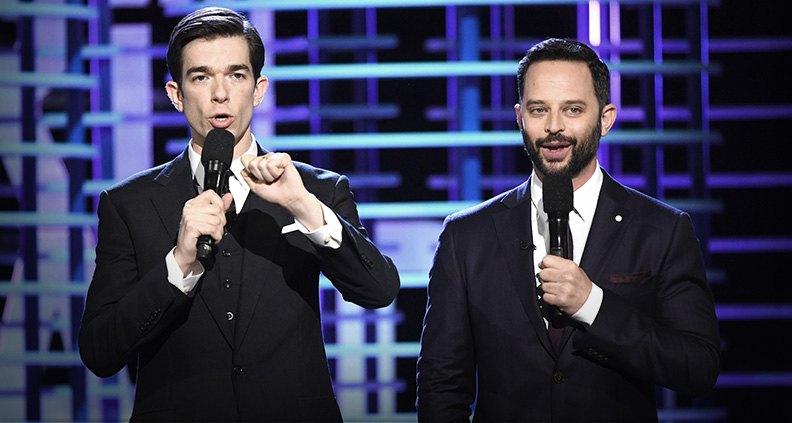 That's right—Nick Kroll and John Mulaney are returning as Spirit Awards hosts for the second year in a row. That alone would be reason enough to tune in (to IFC on Saturday, March 3 at 2:00 pm PT/5:00 pm ET—never too early to set your DVR!) But add to the pair's naturally acerbic chemistry the chaotic world-and-entertainment-industry events of the past 12 months and you have a recipe for some highly combustible televisual satire.
The only real question is not whether or not the jokes will be good, but how they could all possibly fit within one three-hour show or a single 10-minute monologue. But something tells us these two crazy kids will find a way to make it all work.
Said Film Independent President Josh Welsh: "The only thing better than having Nick Kroll and John Mulaney host the Spirit Awards is having them host the Spirit Awards twice. They did such an amazing job last year and we're thrilled to have them back in 2018." (The Spirit Awards are Film Independent's primary fundraiser for year-round programs cultivating the careers of emerging filmmakers and promoting diversity in the film industry.)
"From the minute Nick and John opened last year's show, we knew we wanted them back to host this year," said IFC President Jennifer Caserta, noting that the two talented multi-hyphenates "knocked it out of the park last year and we can't wait to see what they have planned for this year."
Watch last year's opening monologue below and catch up with the rest of last year's Spirit Awards highlights on our YouTube channel:
While Kroll and Mulaney's return to the Spirit Award tent's clear-Lucite lectern is undoubtedly a big deal, it's by no means unprecedented. Most recently, Sarah Silverman turned in stellar repeat hosting performances in 2006 and 2007. Prior to that, indie iconoclast John Waters was practically the Spirit Awards mustachioed answer to Bob Hope, hosting the ceremony four consecutive times, 2000-2003.
Samuel L. Jackson hosted back-to-back years in 1995 and 1996 (as well as a return one-off in 2004) but the record for most appearances as Spirit Awards host goes to—drumroll, please—Buck Henry. The legendary screenwriter, filmmaker and comedian held it down as the show's de facto emcee during its primordial stages, hosting a whopping seven times, from 1986 (Best Feature winner, After Hours) through 1991 (Best Feature winner, Rambling Rose.)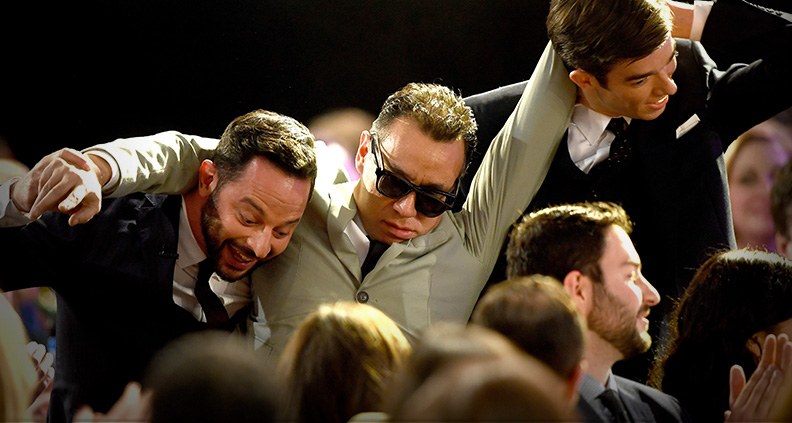 Starting with a Spirit Awards band, 2017 has been a busy year for Kroll and Mulaney. Together, they appeared in Netflix's Oh, Hello on Broadway, the official video document of the duo's hit 15-week run of the pair's hit idiosyncratic theater project, released on the streaming service in June.
Speaking of Netflix, Kroll debuted the animated series Big Mouth on the service just last month that he co-created with Andrew Goldberg, Mark Levin and Jennifer Flackett. Meanwhile, Mulaney spent much of 2017 touring his fourth stand-up special, Kid Gorgeous, in addition to serving as a regular voice performer and consulting producer on (you guessed it) Big Mouth.
So welcome back, Nick and John! Stay tuned to this blog as well as Film Independent's Facebook and Twitter to learn the nominees of this year's 2018 Film Independent Spirit Awards, due to be announced next week on November 21 in a press conference hosted by Lily Collins and Tessa Thompson—click here for more info.
The 2018 Film Independent Spirit Awards will be broadcast exclusive on IFC Saturday, March 3 at 2:00 pm PT/5:00 pm ET. To vote for this this year's winners, become a Member of Film Independent today.