'Operator' Filmmaker Logan Kibens on Fast Track and Film Independent's Alfred P. Sloan Foundation Grants
Let's try a visualization exercise. Imagine you're a budding filmmaker. You have a great idea for a movie, but no tangible access to production companies, financiers, agents or any of the other powerful industry types whose help you need to wrest your vision into being. What are your options?
Sure, you could hire a skywriter to splash your entire screenplay on the skies above Los Angeles—but skywriters don't come cheap. A far more sensible, earthbound strategy is to apply to Film Independent's Fast Track program.
Held each year during the LA Film Festival, Fast Track provides a three-day film financing market for selected director-producer teams to meet with 60 different top film executives, financiers, agents, distributors, granting organizations and production companies—it's sort of like speed dating, but for indie movies.
So polish those pitches and start practicing your pitch, because applications for Fast Track 2016 are now open—click here to apply.
Don't delay! The general deadline for applications is February 22, and the Members-only deadline is March 7.
Fast Track is a remarkable opportunity for participants to gain valuable exposure for their projects and build their professional network, all with the goal of nudging participants' films to completion.
But don't take our word for it. We reached out to Fast Track veteran Logan Kibens to learn about her experience with the program, and how it directly led to the making of her new feature Operator, which premieres next month at SXSW.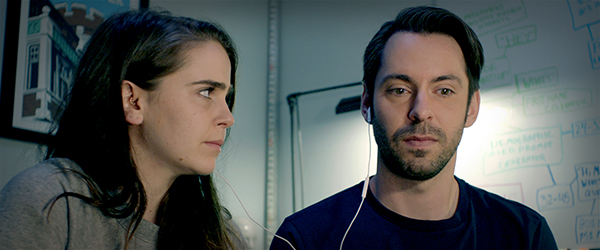 In addition to participating in 2014's Fast Track, Kibens—who directed Operator and co-wrote the screenplay with wife Sharon Greene—received Film Independent's Alfred P. Sloan Foundation grant for a filmmaker participating in Fast Track.
These annual grants are awarded to deserving filmmakers with projects featuring realistic and compelling stories about science and technology. Each year, Film Independent offers three Alfred P. Sloan Foundation Grants, including the Fast Track grant. You can learn more here.
Kibens, an alumnus of Film Independent's Project Involve, spoke to Film Independent Digital Content Manager Matt Warren about the Alfred P. Sloan Foundation Grant, Fast Track and her new film.
---
Could you tell us a little bit about Operator?
Sure. Basically, Joe (Martin Starr) and Emily (Mae Whitman) are a young married couple in Chicago. Joe is an avid self-quantifier—which, at the time when we were writing was a pretty recent thing that we had to explain a lot. Now, we really don't have to explain anything beyond just that phrase. He wears fitness trackers; he monitors his sleep and his sex and his food. The idea is he's trying to balance his anxiety, because he suffers from panic attacks. His job is to design the personalities of digital customer service agents. He's under a time constraint to design a new personality that's caring, so he looks to Emily—who's naturally the most caring and empathetic personality he knows. So he partners with her to create this voice and ends up stealing her language and programming it into what he believes is a pretty accurate replica of his wife.
I'm curious to know how the collaboration with your wife worked, and if the idea you had for the movie at the end was the same as when you began.
I first had the idea for Operator in the middle of 2010, so right after Project Involve. I don't think the plot idea was different [from when we started], but the characters and the themes definitely developed as I wrote with my wife. That's probably when it became more directly tied to our lives. For example, [in the film] Emily is in a theater company called the Neo-Futurists. That's something we added in the second draft. [My wife] was the director of that theater for years, it was true to her life and fit in and allowed there to be more chaos on Emily's side of the relationship.
Was Operator an outgrowth of your Project Involve short, Recessive, which also tackles themes of biology, technology and nature vs. nurture? 
That's a really great question. I think it definitely is, but it's just not real explicit about continuing those themes. Recessive was a pretty overt exploration of my relationship with my wife when we were just starting the conversation about having kids. And I would say that in terms of genetics and relationships those themes definitely continue on to Operator.
When did you decide to apply for the Alfred P. Sloan Grant? Have you always been interested in exploring science and technology in your filmmaking?
My misperception of the Sloan Grant was that it was more of something for an overt biopic or something that was more quote-unquote educational about science. But I'm glad I was reeducated about what they're looking for, and thankfully this film fit in well with their program, which is they want to educate people about science and make sure that the science depicted in films is accurate, but also encourage films that are entertaining and have broader accessibility. [Getting the Sloan Grant] definitely allowed us to focus on making sure that the research in the film was accurate, that the scenarios and terminology were accurate, which has always been important to me. It gave us the opportunity to work with a number of advisors and make sure we weren't being too fantastical.
I'm curious—do you have any sort of science background yourself?
I don't, but my father is actually one of the early pioneers of artificial intelligence. He was one of the original group of five scientists [who first developed AI] and his mentors are two of the people credited with beginning the field. He was specifically involved in language understanding, so he would use artificial intelligence to better understand human psychology—and that's kind of what I do in this film as well. The conceit ended up being a lot timelier than we thought it was going to be. A year into writing the film Siri came out, so [this sort of thing] ended up being a lot more prevalent than what we thought. It seemed like a really interesting place to talk about human psychology. And I've always been intrigued by language in general.
When you got the grant, what did it enable you to do?
Everything with Fast Track was really well timed and helpful, and really moved [the film] forward. The grant specifically allowed us to get a casting director, which was what pushed us into production and is also what allowed us to produce the film's graphics, which had been a long process that's taken a lot of development to get right. So being in Fast Track and getting the grant, aside from also getting us real physical, valuable things, made us feel like, Oh, there's even more reason to do this!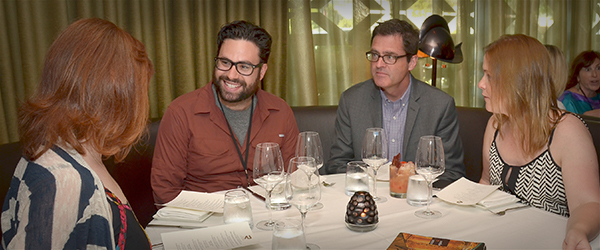 What was the experience of being at Fast Track like?
I was really nervous about it beforehand. I had never really done a lot of pitching, so I was definitely nervous for what was to come, but it ended up being really fun. We prepared, we practiced, we had our pitch, we talked about who we wanted to speak with, but when you're there you just have to be present and engage with the people across from you. When you're there, it's a chance to connect with 60 different people who are all really interested in what you're interested in. Everyone there is genuinely interested in being there and are looking for projects, so we connected with a lot of people who were really crucial in making the film exist—we connected with our producer, our financier and the agent who eventually brought us our cast. Every piece came together at Fast Track.
Finally, do you have any favorite films about artificial intelligence, or that touch on any of the other themes in your film?
To this day, one of my all-time favorite films is Defending Your Life by Albert Brooks, which is definitely a philosophical film. I guess we could dig into whether or not it was a scientific film. But it was a psychological film using a kind of crass metaphor to talk about something we all experience on a daily basis. What else? The Truman Show, Gattaca, the first Matrix movie—not any of the other Matrix movies. I also just love when you have a film that's philosophical or has a certain dark tone like that, but is also comedic. Again, it just helps people dig into the characters.
---
Learn more about Logan and her work by visiting her website. Operator premieres at the SXSW Film Festival in March. Watch an excerpt from her Project Involve short Recessive here.
To learn more about Fast Track or Film Independent's Alfred P. Sloan Grants, please click here. To learn more about Project Involve, click here.
For more information about Film Independent, please visit our website or subscribe to our YouTube channel. Learn how to become a Member of Film Independent by clicking here.
Matt Warren / Film Independent Digital Content Manager