How 'Top Gun: Maverick' Helped Turn the Tide on Theatrical with a True Cinematic Experience, Part Two
The views and opinions expressed here are those of the author's and do not purport to reflect the opinions of Film Independent, its Members, affiliates or partners. 
***
In Part One of this double-feature, we examined how this year's resurgent summer box office demonstrates what was once conventional wisdom: that the theatrical window is still extremely relevant to Hollywood's bottom line. We also looked at Warner Bros. Discovery CEO David Zaslav's critical about-face attempt to put the studio's emphasis back on theatrical releases. These reinforcements have come not a minute too soon, if indeed it's not already too late. Cineworld, the world's second largest theater chain – with 9,139 screens globally – just filed for Chapter 11 bankruptcy a week ago, when it was reported that the company had only $4 million cash on hand.
Now, we'll look at some of the reasons why Maverick's seemingly old-fashioned blockbuster model still works in today's market, and what ingredients are necessary to make the elusive four-quadrant hit. Co-written by Ehren Kruger, Eric Warren Singer and Mission Impossible franchise director Christopher McQuarrie, Maverick is a rare amalgamation of nostalgia and innovation that not only lives up to the original, but – according to critics and audiences – surpasses it.
DOMESTIC DOLLARS AND P.O.V.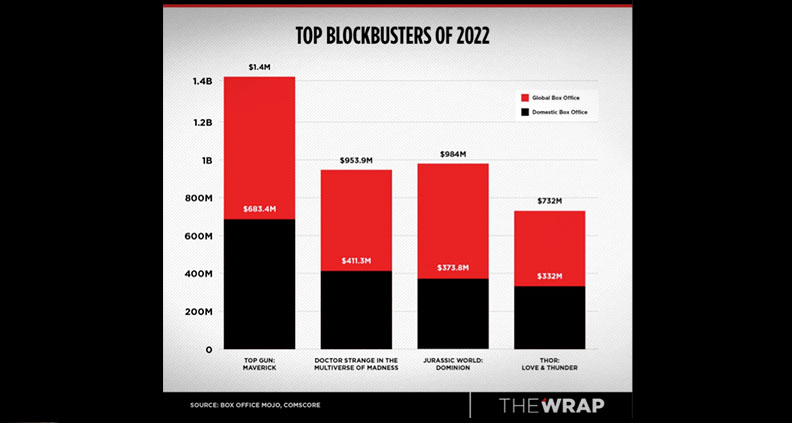 Only the sixth film to ever reach $1 billion in global box office without a release in China, Maverick's success might remind Hollywood that international sales are not always the panacea they're touted to be. Considering the fact that studios take a bigger cut of theatrical sales in North America – roughly 50/50 for domestic, versus 25%-40% in foreign markets – Maverick's box office profile (48% domestic, 52% international) makes it potentially more profitable to the studio compared to other higher grossing films with a larger chunk of international sales.
With potentially problematic jingoistic overtones, global box office success for Maverick was far from a guarantee. But audiences from around the world seem to have embraced the film with open arms. The film's top-earning territories include the United Kingdom ($94.6 million), Japan ($85.7 million), Korea ($63.4 million), Australia ($62.9 million) and France ($56.1 million), proving that a well-executed and engaging story – even one with patriotic sensibilities rooted in the Reagan era – can still resonate profoundly with the global audience of today.
FOUR-QUADRANT FILMS FOR THE WIN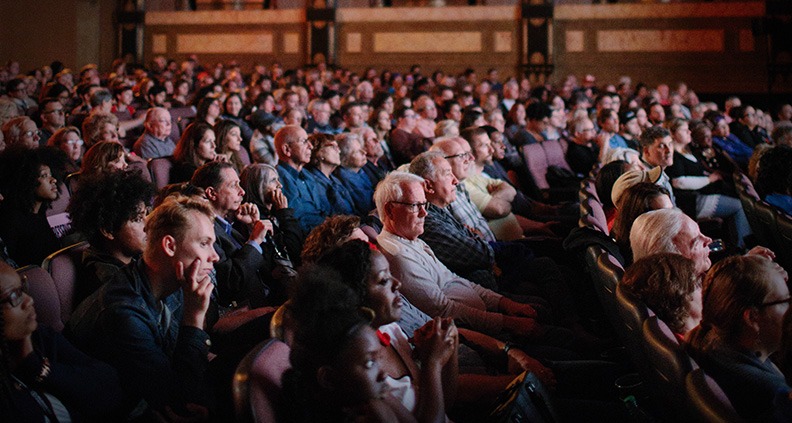 As has been proven over and over again across Hollywood history, four-quadrant films are still the best bet for studios seeking commercial success. According to BoxOffice Pro and Deadline, Maverick's opening weekend audience gave the industry its first four-quadrant film in quite a while. Just look at these audience demographics:
55% >35 years old
37% 18-34 years old
58% male
42% female
34% non-white
Unsurprisingly, those old enough to be alive when the first Top Gun exploded onto the '80s zeitgeist make up the bulk of the sequel's audience – a group that has proven difficult to entice back into the theaters since the pandemic. Maverick also did extremely well in Middle America, over-performing in cities ranging from Salt Lake City to Nashville to Tampa Bay. Paying more attention to the types of adult stories (or at least adult-ish) that appeal to audiences in the so-called "flyover states" really, well… pays.
Not only is this cinematic love letter to aviation still playing in theaters an astonishing 16 weeks after it's Memorial Day debut, Maverick was back in the #1 spot this past Labor Day weekend, beating the re-release of Spider-Man: No Way Home with 11 minutes of additional footage. Its longevity stems from fantastic word-of-mouth, a rare 96% Tomatometer score (with a 99% audience score!) and repeat customers. According to Paramount, 16% of its audience has seen Maverick at least once, and 4% have seen it 4x or more.
So! Why are moviegoers flocking to this one film, over and over again?
ENTERTAINMENT AS THE NUMBER ONE GOAL
One prominent critic chided Maverick's fairly straightforward plot, positing that you can only enjoy the film if you're ready to divorce yourself from reality and submit to two hours of movie magic. Which, erm… exactly! That's precisely why most of us go to the movies! Herein lies the gulf between tastemakers and the majority of moviegoers. Sometimes, and especially after what we've all gone through over the past two years, all we want in a movie is some enthralling escapism. To take a mental break from the stresses of everyday life. To be transported into an aspirational world where things happen as we feel they should. Hard work always pays off. Love conquers all. Good triumphs over evil.
Maverick succeeds by prioritizing entertainment above all else. It makes no pretense of being anything more than what it is: a 131-minute thrill ride that grips your attention from fade-in to fade-out with its physics-defying aerial combat and the tale of a broken man on a path to redemption – not to mention a tasteful love story featuring two charismatic actors. That's pretty much it, and sometimes, that is all we need: to feel great when the lights come up and the credits roll.
In this way, the film's brilliance lies in this very simplicity. And moviegoers around the world apparently agree.
THE REVIVAL OF PRACTICAL ACTION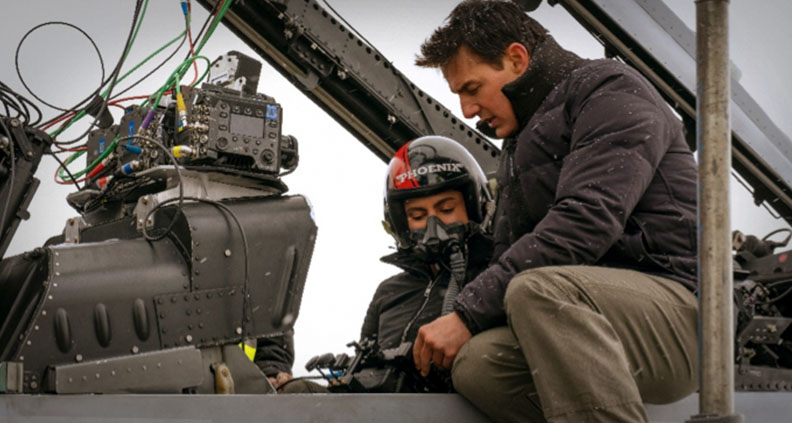 With its "Real F-18s! Real Gs! Real speed!" (as Cruise proudly declares in a recorded introduction that precedes every screening of the film), Maverick is ambrosia for audiences weary of caped superheroes and pre-vis CGI stunt sequences. With six 6K Sony Venice cinema cameras mounted inside the cockpit of each of the F/A-18 Super Hornets, the death-defying aerial combat cinematography was captured in-camera to put the focus on practical effects, with actors operating camera and sound equipment themselves inside the cockpit, all while enduring real G-forces on each take.
The film's explosive box office yield reminds us that there is still a (very profitable) place for well-executed action films shot in-camera without an over-reliance on digital compositing. As Washington Post movie critic Ann Hornaday writes, "This is what movies looked like, once. And this is what they can look like again."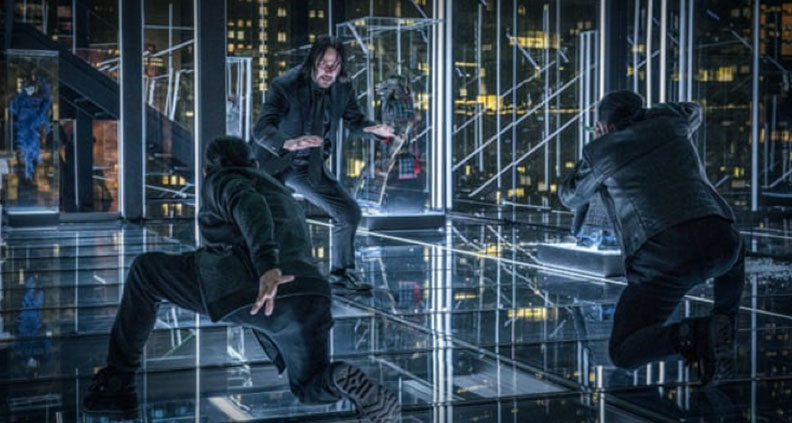 A return to "old-school" character-driven action cinematography has been making a quiet comeback over the past eight years, ever since the first John Wick film became a surprise hit for Lionsgate in 2014. The $20 million assassin saga impressed audiences with Keanu Reeves – as the titular Wick – charging through every frame in blunt, fluid and intense action choreography, with stuntman-turned-director Chad Stahelski capturing it all in-camera with wide shots and long takes. The end result allows the audience to hop on for the wild ride as we follow Wick pummeling, stabbing, choking and shooting his way through endless shootouts, Judo throws, and Sambo takedowns.
With Top Gun: Maverick's lucrative summer box office, the theater industry was thrown a lifeline. But it's not out of the woods yet. With audiences returning to cinemas, will the momentum keep going through the next crop of fall releases? Only time will tell. But if we truly want the art form to be around for another hundred years, more of us are going to have to choose art over the convenience of streaming. Will there come a time when theaters will be a mere relic from the past? Maybe so… but not today.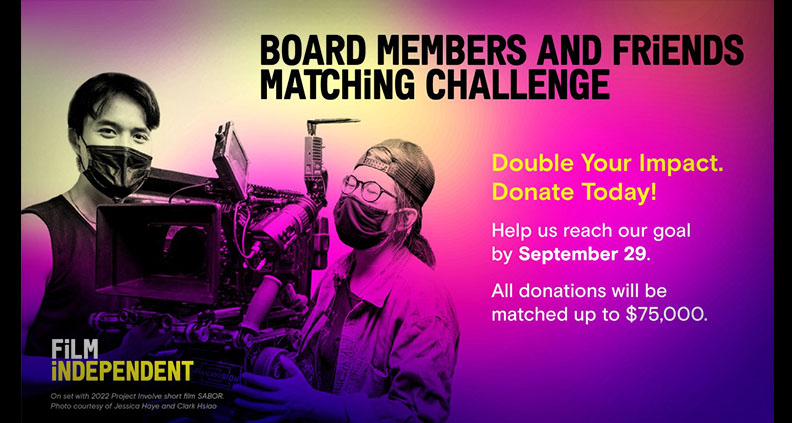 Film Independent promotes unique independent voices by helping filmmakers create and advance new work. To become a Member of Film Independent, just click here. To support us with a donation, click here. Your donation – and impact – will be doubled through our Board Members and Friends Matching Challenge, available through September 29.
Keep up with Film Independent…