Pitch Me: Fast Track Announces Which Projects are Headed to the 2017 LA Film Festival
As a young filmmaker (or team of filmmakers) there are several strategies for getting your project in front of the types of people who might be able to make your dreams a reality. You could buy billboard space along a busy Los Angeles intersection touting your primo IP. You could bake your groundbreaking spec script inside a gluten-free pound cake to have hand-delivered to the offices of of a top talent agency. Or! You could leave a thumb drive with your film's teaser trailer delicately taped to the flushing mechanism of Hollywood's most trafficked executive urinals.
Of course, those are just some of the more fanciful suggestions. An easier, more conventional and ultimately more proven method of bending the ears of power-wielding industry types: Film Independent's 14th annual Fast Track program, which returns once again to the LA Film Festival this month, June 19-22, in Culver City.
This year 24 filmmakers representing 10 different projects will descend on the 2017 LA Film Festival for three days of intensive meetings with top industry financiers, agents, managers, distributors, production companies and granting organizations with the goal of forging ongoing business and creative relationships and gain invaluable exposure. No subterfuge, outdoor advertising budget or baking skills required!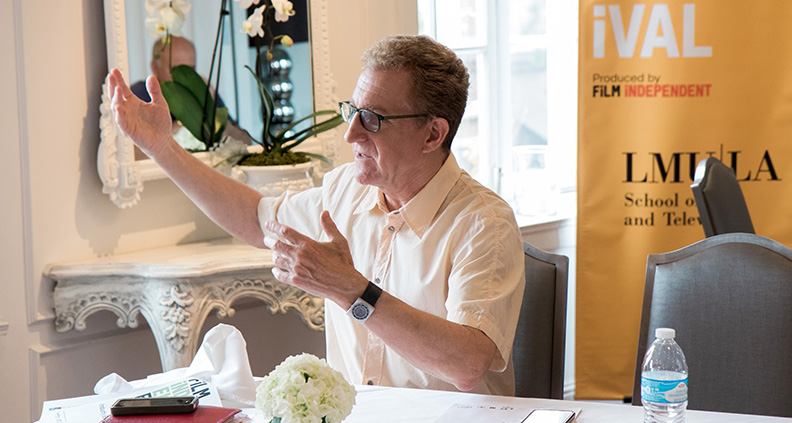 The 2017 Fast Track projects include everything from sultry neo-noirs to thoughtful immigrant dramas to faith-based stories about aqua-aerobics. Among this year's Industry participants are Bunim-Murray, CAA, Color Force, Electric City Entertainment, Fox Searchlight, Imperative Entertainment, June Pictures, LA Media Fund, Mandalay Pictures, Participant Media, Pilgrim Media Group, Preferred Content, ShivHans Pictures, Sight Unseen Pictures, Sony Pictures Worldwide Acquisitions, Sycamore Pictures, Symbolic Exchange and UTA.
"The Fast Track finance market helps spark critical relationships for filmmakers to support the development of their feature films," said Jennifer Kushner, Film Independent's Director of Artist Development. "[Fast Track] offers high level executives the opportunity to discover some of the talent that Film Independent fosters through our Artist Development initiatives."
If you'd like to apply to be a part of next year's Fast Track fun, you can learn how to apply here. Recent Fast Track projects have included Lana Wilson's The Departure, Lou Pepe and Keith Fulton's Bad Kids, Maris Curran's Five Nights in Maine Chloe Zhao's Songs My Brothers Taught Me, Kyle Patrick Alvarez's C.O.G., Robbie Pickering's Natural Selection and Courtney Hunt's Frozen River. Not too shabby of a group, eh? Well, find out which 2017 projects might be joining this illustrious fraternity below:
2017 FAST TRACK
Blow the Man Down (fiction feature; Bridget Savage Cole and Danielle Krudy, co-writers/co-directors; Drew Houpt, Producer.) An accidental murder. An established Madam who does her dirtiest business while the town willingly looks the other way. Fifty grand of cash up for grabs and the local men out to sea… enter two sisters with nothing and everything to lose.
Cantering (fiction feature, HIKARI; writer/director/producer; Peter Maestrey, Producer.) In order to escape her oppressive home life, a naïve paraplegic artist begins to illustrate for an erotic manga, putting her on an unexpected journey of self-discovery.
Farewell Tour (fiction feature; Sean Hackett, writer/director; Frederick Thornton, producer.) When three Christian fundamentalist teenagers with the dynamic of The Golden Girls help a local agnostic search Kansas City for his AWOL, terminally ill mother, they are forced to re-evaluate their true intentions and discover what truly binds their friendship.
Followers (fiction feature; Tim Marshall, writer/director; Christina Radburn, producer.) A lonely woman who has lost all faith in God becomes obsessed with her aqua-aerobics instructor after seeing the face of Jesus on his swimming shorts.
Maybe Tomorrow (fiction feature; Eliza Lee, writer/director; Michelle Sy, producer; Sophia Chang, executive producer.) In 1978 London, with only 24 hours left on her visa, a young American musician—Chrissie Hynde—takes one last stab at keeping her rock 'n roll dream alive.
Radiant (fiction feature; Annika Glac, writer/director; Robyn Kershaw, producer.) Paris 1900, a physics prodigy glimpses a future world of unseen energy. Now she must battle the male scientific academy. The closer she gets to recognition, the more she realizes the battle is not with the male establishment but with the unleashed power of her own radioactive discovery.
Son of A Very Important Man (fiction feature; Najwa Najjar , writer/director; Hani Kort, producer.) A Palestinian couple must travel to Israel in order to get a divorce and discover that sometimes the most unexpected roads in life are in the detours you didn't mean to take.
Minding the Gap (documentary feature; Bing Liu, producer/director; Diane Quon, producer.) A group of skateboarders confront domestic violence as they come of age in a rust-belt Midwestern town.
Missing in Brooks Country (documentary feature; Jeff Bemiss and Lisa Molomot, producers/co-directors/cinematographers; Jacob Bricca, producer/editor.) In a small town in Texas, the border wall has already arrived.
Untitled Claudia Sparrow Documentary (documentary feature; Claudia Sparrow, director; Steven J. Berger and Ryan Schwartz, producers.) A woman farmer from the beautiful highlands of South America stands up to a massive international mining conglomerate, defending the land, water, and people from devastating corporate greed.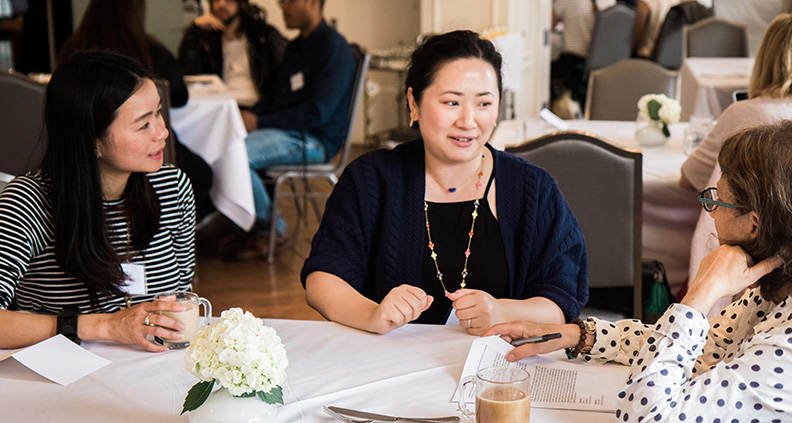 Additionally, Annika Glac's Radient will be the recipient of Film Independent's ninth annual Alfred P. Sloan Fast Track Grant. The grant awards a $20,000 production grant to support a film that explores science and technology or that depicts scientists, engineers or mathematicians in engaging and innovative ways.
Said Kushner of the grant, "We are thrilled to continue our decade-long partnership with the Alfred P. Sloan Foundation, championing cinematic stories that engage with the dynamic world of science and technology."
"We are delighted to join with Film Independent in awarding this year's Sloan Fast Track grant to Annika Glac and Robyn Kershaw's narrative portrait of Marie Curie," says Doron Weber, Vice President and Program Director at the Alfred P. Sloan Foundation. "Sloan has long championed stories about women in science, including this year's hit Hidden Figures."
To learn more about Fast Track, check out our website. To learn more about Film Independent's many Artist Development programs, click here. Fast Track is supported by Film Independent Artist Development Lead Funder Time Warner Foundation, Alfred P. Sloan Foundation, EFILM | Company 3 and National Endowment for the Arts.
The 2017 LA Film Festival takes place June 14-22, headquartered at the ArcLight Cinemas Culver City, with additional screenings at ArcLight Hollywood, ArcLight Santa Monica and more. Stay tuned to our Twitter, Facebook and Instagram for the latest new additions and updates. And don't forget to subscribe to our YouTube channel for more exciting announcements.
Tickets and passes are on sale now. Sold out screenings? Get in with a Festival pass. In addition to screenings and special events (even when sold out) Festival passes provide entry to our super-fun Festival Lounge, featuring a 21+ hosted bar and the opportunity to rub shoulders with Festival filmmakers and other film industry professionals. Buy yours today. Film Independent Members save up to 25%.
(Header: Fellows Nijla Mumin, Avril Speaks and Executive Shira Rockowitz at the 2016 Fast Track)