Pitching Do's and Don'ts: Fast Track Fellows Discuss the Art of Making an Impression
Let's say you have an awesome film you're developing that you love. Great—that's the easy part. The hard part is getting other people to buy in (both literally and figuratively) to your amazing cinematic vision. This can seem daunting, but the good news is there are actually tons of production executives out there with cash to burn searching for material—and getting in front of them may be easier to than you think.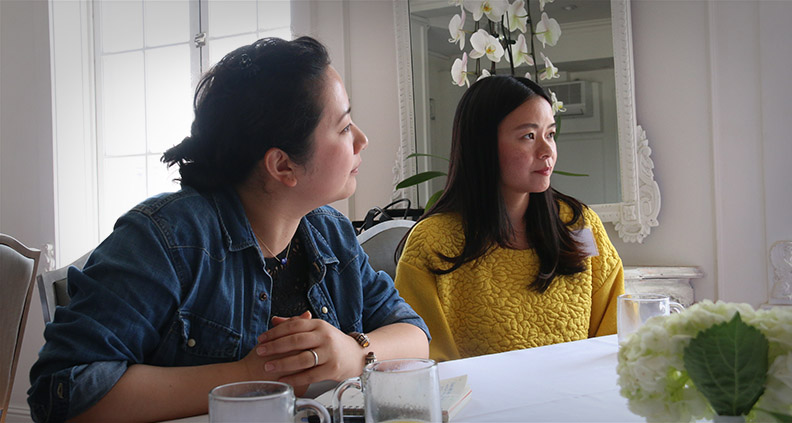 At least, that's the goal of Film Independent's Fast Track, a three-day quick-pitch (think speed dating) film marketplace held each year at the LA Film Festival, wherein select participants are invited to pitch their fiction or documentary projects to top industry execs, financiers, agents, managers, distributors, granting organizations and production companies hungry for new ideas.
Applications for Fast Track 2017 are now open. But before you rush to Expedia to begin pricing out mid-June hotel rooms in Culver City, you might want to brush up on your pitching skills with these helpful "Do's" and "Don'ts" courtesy of the Fast Track Class of 2016: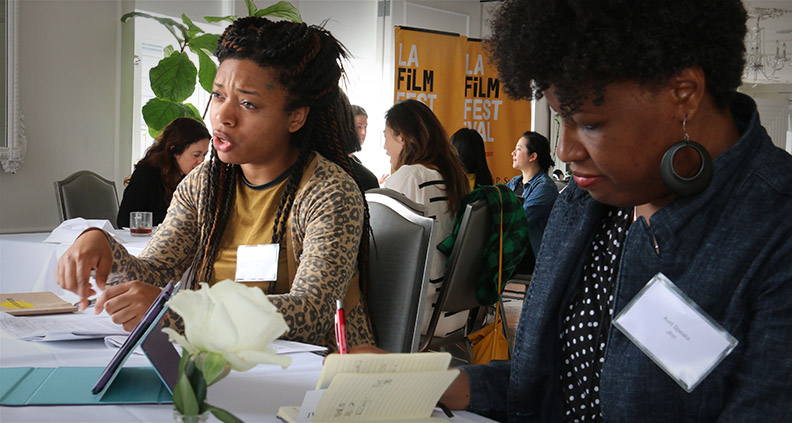 DO always get out right away a concise set-up of what the project is: the Who, What, When, Where and Why.
What is it? A feature film, documentary, TV series, etc.
When does it take place?
Where? What's the setting?
Why should the listener be interested? Is [your movie] based on a true story or book? Why are you interested in it?
Who are the main characters
-Anne Clements, producer, Fast Track 2016 Fellow
DO get to the main arc of your story as soon as possible and allow your listener to respond. You don't want to miss this opportunity because your pitch was too long and time was up before you got to the meat of the interaction.
DO prepare by identifying key elements of your story: the world, characters and conflict. Let that inform the pitch. Everything else can come later when they ask to read the script. If you believe in your pitch, you're listener will believe in it too. This may sound cheesy, but it's true. Your energy and confidence will rub off, and [the executive] be more inclined to listen.
–Nijla Mu'min, writer/director, Fast Track 16 Fellow
DO your research. Find out what they're looking for and what type of projects they've worked on. 
DO be early. You want to be calm, so it's a good idea to show up early so you can relax before it all starts. DO know your project inside out (you probably know already, but you need to be able to put it into words). 
DO remember: It's not a monologue. You're sitting across from a person. Try to make a connection, watch their reactions and listen to what they have to say. DO be ready to adjust your pitch accordingly—don't just recite a script. 
DO think long-term. These are lifelong connections. You never know how, when or what project could lead to a collaboration. If the company [you chat with] is looking for something else, be ready to let go of your pitch and talk about what they're looking for—something good may come of making such adjustments.
DO keep notes and all business cards organized. You'll be meeting lots of people, and you don't want to miss out on an opportunity because you didn't follow up. I like to have multiple sets of business cards—both my own and project-specific ones with the graphic design, title or still from the project I'm pitching.
-Sara Seligman, writer/director, Fast Track 2016 Fellow 
DON'T measure the success of your pitch by whether or not you make a deal or set an immediate follow-up meeting in the moment.
DO prioritize making a genuine human connection. This is a business meeting, but it's also a first date of a potential long-term relationship. You're in the room because you have something to say, and your listener is in the room because they want to hear your voice. If you can connect with your listener, s/he will believe that your work can connect with a ticket-buying audience with.
-Joshua Tate, writer/director/producer, Fast Track 16 Fellow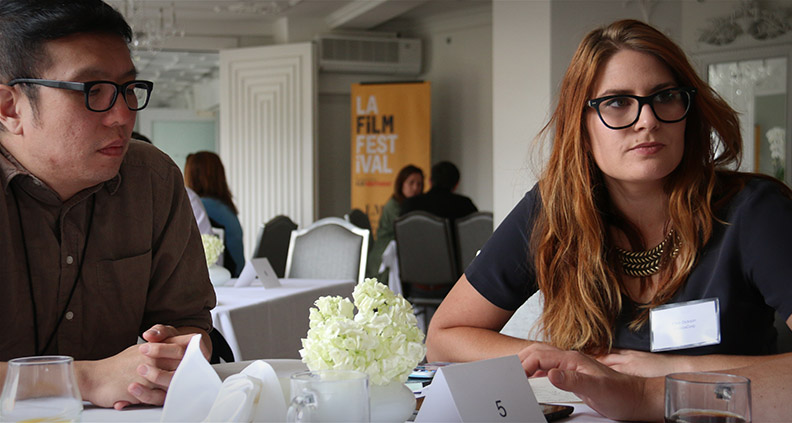 DON'T be afraid of telling the industry execs what your project means to you personally. This can be very empowering and insightful, especially if you're a woman or a Person of Color. Just because the person you're talking to might not be an immediate fit, it doesn't mean you can't have a constructive conversation. Ask them about what they do, what they're looking for, etc. You'll never know if they might be the right fit for you (or your friends) later down the line.
-Yen Tan, writer/director, Fast Track 2016 Fellow
DO be respect, courteous, on time and honest about where you are in production. DO follow up when you say you'll follow up. DO make eye contact.
DON'T use your cell phone. If they do, that's fine. But it's okay to be offline for 10 minutes. DON'T forget to take your time. DON'T forget to be yourself. Showing that little bit of personality could be the edge that separates you from all of the many filmmakers and projects they'll meet on any given day. Be human. Smile.
-Reinaldo Green, producer, Fast Track 2016 Fellow
DO be prepared to talk about what other projects and ideas you're working on if [the film you're pitching] isn't the right fit for the company. You're there to not only pitch your project, but also yourself! 
-Jennifer Suhr, writer/director, Fast Track 2016 Fellow
DON'T have a particular goal in mind: be open, present, relaxed and genuine. You're just trying to connect. I see events like [Fast Track] as an opportunity to expand my network of human beings in the entertainment industry.
-Amy Goldstein, director, Fast Track 2016 Fellow
DO get a good night's sleep!
-Elizabeth Ai, producer, Fast Track 2016 Fellow
---
 The non-Member Deadline for Fast Track 2017 is January 9, so be sure to budget some time over the holidays to sneak away from your family to apply—don't worry, that extra-boozy cup of egg nog will still be waiting for afterwards.
Are you a Member of Film Independent? Great! The extended Member deadline for 2017 Fast Track applicants is January 23. And if you're not a Member of Film Independent yet, what are you waiting for? Become one today.
Click here for more information about all of our Grants and Artist Development programs, and be sure to follow us on Twitter, Facebook, YouTube and Instagram for more updates about film programs all throughout the year.
(header: Fellows Elizabeth Ai, Yu Gu and Executive Heidi Levitt)