Play Film Independent's Awards Season Bingo!
Awards season is upon us. This weekend saw the release of awards hopefuls like Bridge of Spies, The Assassin and Room. Next weekend Steve Jobs and Suffragette hit theaters. As we move toward the Film Independent Spirit Awards and the Oscars, we'd like to challenge you to a little game of Awards Season Bingo.
Here's how it works: Print out the bingo card below, and as you head to the theater over the next few months (or stay at home on your couch), fill in the spaces with the movies you see. When you get five in row (vertical, horizontal and diagonal bingos all count), snap a picture and tweet us your bingo using #FilmBingo. We'll retweet all completed bingos and draw three winners who will receive brand new Film Independent merchandise at the start of the new year. The real reward, of course, is the films.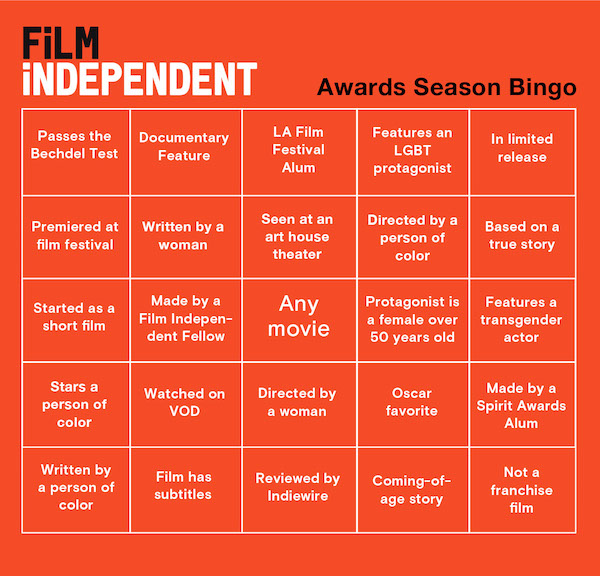 We spoke with Roya Rastegar, Director of Programming for the LA Film Festival about what her board might look like and she gave us a bingo's worth of picks for the coming months.
Stars a Person of Color: Straight Outta Compton
"Straight Outta Compton is one of the most rare and dynamic films I've seen in a long time, and should have a few awards coming its way. F. Gary Gray creates a super hero origin story from NWA's pivotal role in music history. The film also provoked much debate around how filmmakers tell stories—especially biopics—what they choose to include or exclude in service of the story."
Straight Outta Compton is currently in theatres and is expected to be released on DVD and VOD in December.
Watched on VOD: Beasts of No Nation
"Beasts of No Nation is epic. Based on a novel by Uzodinma Iweala, Cary Fukunaga's latest directorial effort brings out intensely human characters in the most inhuman context. The commanding warlord is terrifying, and yet, you empathize with him as well as the child soldiers. Idris Elba pulls it off brilliantly—talk about depth! The film is also a really nuanced coming-of-age story about a young boy who must quickly adjust his morals to survive after his family is murdered. And then, he has to adjust them again. Abraham Atta epitomizes the resilience of the human spirit with his performance."
Beasts of No Nation was released in theaters and on Netflix on October 16.
Directed by a Woman: The 33
"I'm excited for The 33, based on the true story of 33 Chilean miners trapped underground for 69 days when a mine collapsed. It's directed by Patricia Riggen, whose first feature was La Misma Luna, a sweet, coming-of-age film. Riggen has range to be able to also direct a survival thriller. The cast includes Antonio Banderas, Naomi Scott and Juliette Binoche."
The 33 comes to theaters on November 13.
Oscar Favorite: Mustang
"Mustang, which a lot of people are likening to a Turkish Virgin Suicides, is a stylish and stirring portrait of five sisters who push back for their freedom when their entire world gets closed off. It's also a first feature film from Deniz Gamze Erguven, who is a major filmmaking talent and demonstrates a strong hand in directing this remarkable ensemble of young actresses."
Mustang, a co-production between France, Turkey, and Germany, is France's submission for the Best Foreign Language Film Oscar, selected over Palme D'or winner Dheepan, which is also French production. Mustang will be released on November 20.
Made by a Spirit Awards Alum: Creed
"I cannot wait for Creed. It is the most anticipated film of the year for me. [Spirit Award Winner] Ryan Coogler made a phenomenal film right out of the gate with Fruitvale Station. I love when directors and actors stick together from one film to the next – and the symbolism of following up Michael B. Jordan's breakout performance as Oscar Grant, with him as a champion fighter (named Adonis! The son of Apollo! Come on!) is so powerful and poignant. Add in supporting actresses Phylicia Rashad and Tessa Thompson, and I could not be more excited. This is just the beginning of a long-awaited moment when more and more black directors are able to wield their storytelling talent—in independent and studio films—to give the world unapologetically powerful, nuanced, and revolutionary reflections of black people."
Creed hits theaters on November 25.
What's on your Awards Season Bingo board? Tweet your bingos to @filmindependent and enjoy the films!
Tom Sveen / Film Independent Blogger