Reconnoitering 'Deadwood' Live Onstage with Film Independent Presents
"We had no illusions about the show coming back." So said actor Ian McShane, who for three seasons between 2004 and 2006 had played, famously, colorfully profane saloon owner Al Swearengen, on HBO's critically acclaimed Deadwood. The sentiment—expressed onstage during Film Independent Presents' An Evening with… Deadwood event, on April 23 at the Wallis Annenberg Center for the Performing Arts in Beverly Hills—mirrored that of the landmark TV Western's fans, who had given up all hope of Deadwood ever returning following a stalled, and eventually abandoned, fourth season more than a decade prior.
A full 13 years after its initial demise, Deadwood has returned, in the form of a feature-length reunion film, written by series creator David Milch, directed by frequent series episode-helmer Daniel Minahan, which premieres on HBO tonight, Friday, May 31. But don't expect a simple retread. The film—which picks up with the outlaw mining camp Deadwood's residents 12 years later—explores themes of encroaching modernity and Civilization as a brute force all its own.
"You want something that reminds you of Deadwood but takes you somewhere else," said McShane, summing up Milch's approach to revisiting the world of his convention-shattering Western. He also reiterated the unlikeliness of any more further Deadwood to come: "Enjoy it, because there isn't any more of it," he said.
A RETURN TO 'DEADWOOD'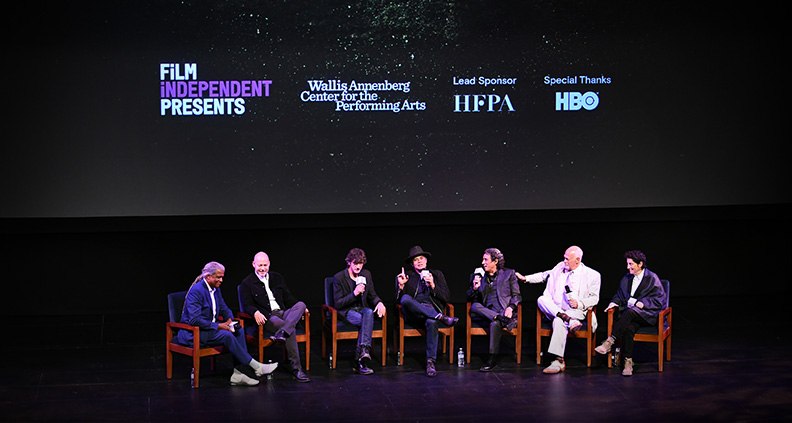 Moderated by outgoing Film Independent Presents curator Elvis Mitchell, the event (following on the heels of Film Independent Presents and The Wallis events featuring Black Panther composer Ludwig Goransson and a Nick Kroll/John Mulaney's My Dinner with Andre Live Read) featured Deadwood actors McShane, John Hawkes, Timothy Olyphant and Gerald McRaney as well as Minahan and producer Carolyn Strauss. But there was one absentee figure that loomed large: eccentric Deadwood creator/writer David Milch, who the very following week went public with news of his recent Alzheimer's diagnosis.
Much of the praise centered on the showrunner's expressive, artful and frequently vulgar use of language. Said McShane, of reading Deadwood's pilot: "No cocksucker was out of place; every fuck means something." Said McRaney— who plays primary latter-series antagonist George Hearst (father of William Randolph Hearst)—"actors rarely get words that delicious."
According to Minahan, Milch's dialogue dictated creative choices behind the camera as well, saying that during the show, Milch told him: "Don't try and tell the story with the camera." The director added: "the language of it was always at the heart of [the show]… I had an epiphany when I saw Milch working on one of the scenes—it's all rhythm; it's music."
The actors expressed high praise for the depth of characterization found within the show's motley collection of gregarious frontiersmen. "Deadwood is the ultimate petri dish," Said Hawkes (a 2013 Film Independent Spirit Award winner) of the show's lawless Dakota Terrirories setting. Hawkes—who plays comparatively mild-mannered businessman-turned-mayor Sol Star—observed that while the characters' toughness is often front-and-center, it's "the tiny kindnesses between characters" that defines them.
"I have not seen a show where everyone who speaks has so many contradictions and characterizations," said Olyphant, who plays series protagonist Seth Bullock, Deadwood's reluctant sheriff and moral center—this, despite Bullock's near-crippling anger, impulsiveness and frequent professional impotence. "This is one of those gigs that I had in mind when I became an actor," Olyphant said.
Milch's creative dexterity also expressed itself in Deadwood's embrace of spontaneity. The cast lamented often having to re-learn reams and reams of new dialogue last-minute, which Milch would write in erratic and unpredictable fits of inspiration. That inspiration led to other production quirks as well—such as a willingness to shed or retain characters, on the fly, despite whatever preordained story arc had been sketched out for them in the writers' room.
"David gave context to everything," said Minahan, while Strauss expressed admiration at the showrunner's ability to "question his own work and let go of his ego." Said McShane, matter-of-fact: "We're all here because of Milch."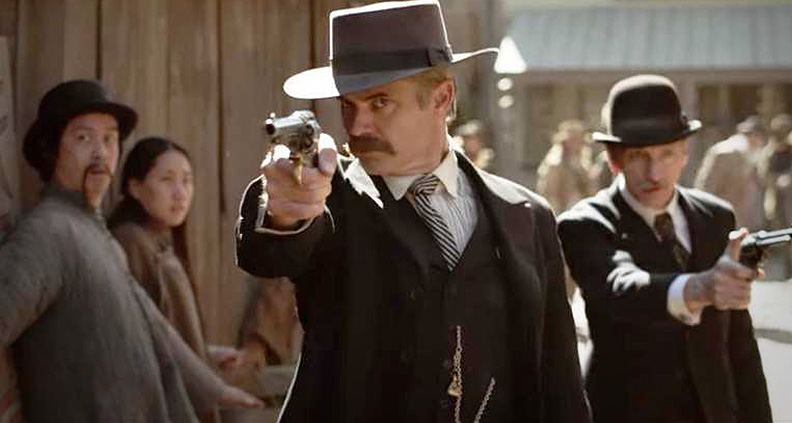 The conversation eventually wound its way back to the sheer improbability of Deadwood: The Movie's arrival in 2019, following a prolonged fallow period that saw its cast scattered to the four winds, across a variety of different projects. As McShane said, "What the hell would be the point of Deadwood without all the characters?"—a scenario that seemed all but impossible as players moved on.
"I was on record saying no fucking way," said a grinning, hat-wearing Olyphant, tucking into a warm stage whiskey. "I was just waiting for the other shoe [to drop]," said Hawkes, "Or the other boot, in this case." But then… it happened. "All the stars sort of aligned. It felt like the right script at the right time," said Strauss, admitting that, "getting everyone together was a Herculean task."
Despite his iconic character's verbose flare, McShane's final word required no further profanity or embellishment: "It's really great to be here talking about this show we were all on" he said, earnestly. Welcome back to fuckin' Deadwood.
Deadwood: The Movie premieres tonight, May 31, on HBO. If you want to see what we think are the best Deadwood episodes ever, click here. For more information about upcoming Film Independent events, click here.
Coming up at Film Independent Presents…